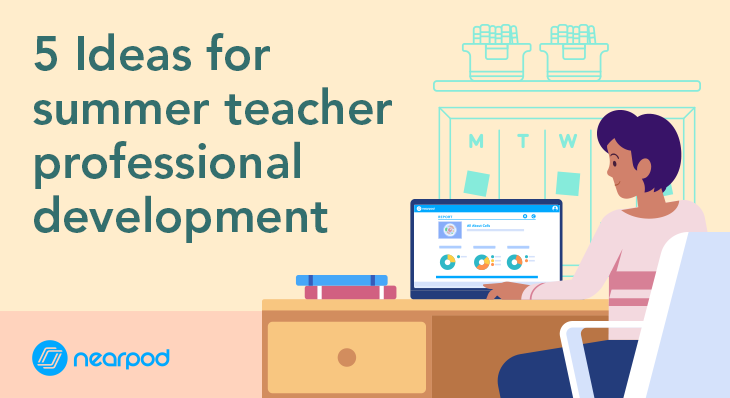 5 Ideas for summer teacher professional development
Summer is the perfect time to focus on teacher professional development and learn new tech tools and teaching strategies for the next school year. If you're attending conferences, leading PD trainings, or expanding your tech toolkit, Nearpod is here to support you. Use this time to get familiar with Nearpod so you can put your knowledge to use in the new school year. You can even practice using the platform while delivering PD, it's a win-win! Whether you're presenting to teachers or students, use Nearpod to provide an interactive and engaging experience that will captivate any audience.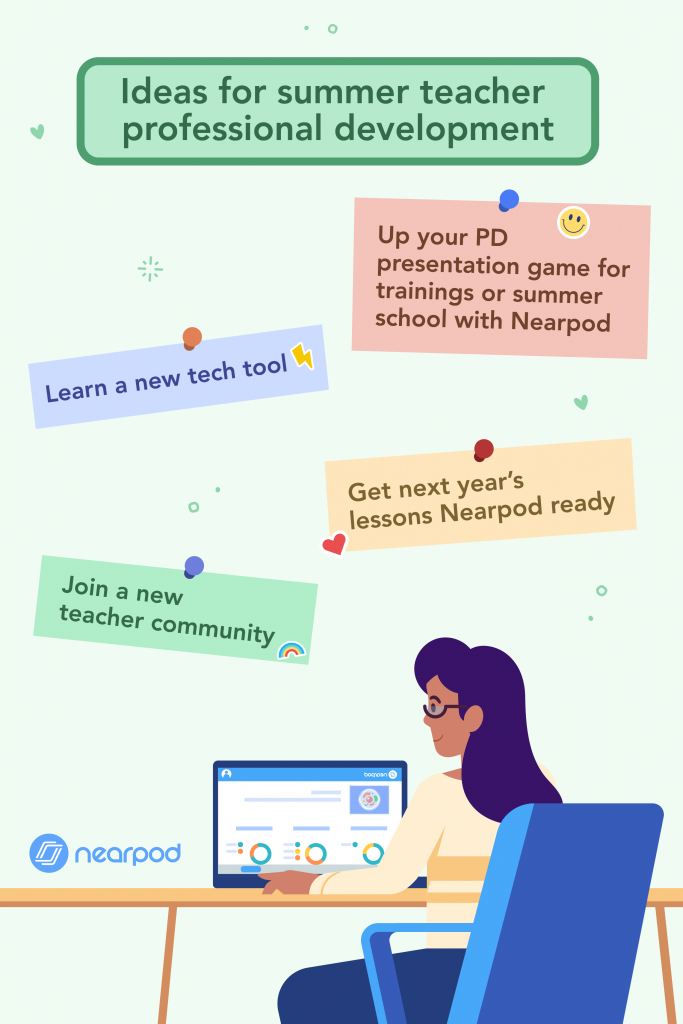 Teacher professional development resources to learn Nearpod
1. Teacher Resources: Webinars, trainings, tutorials, and more
Seeing is believing! Learning a new tech tool can be daunting and we all have different styles of consuming information. We recommend registering for our upcoming summer webinars. Join the Summer School Made Simple with Nearpod webinar to boost summer school engagement in ways that are easy for you and fun for your students. These tips will support you for the new school year as well. Reduce the stress of summer school planning and make an impact on student growth with lessons and activities that spark student engagement, insights, and creativity. Learn how Nearpod can support your efforts to address performance gaps in ELA, math, and more due to the pandemic.
Nearpod's Teacher Resources page allows you to explore all types of training and tutorials within a few clicks. Not only does Nearpod cater to all student learners, we also try to cater to our fellow teachers and administrators to make their experience as seamless as possible. Here are some suggestions on how you can navigate these handy-dandy resources:
If you like to watch sessions real-time and follow along with a presenter, register for one of our live webinars. Scroll through our calendar and pick a topic, date, and time that works for your summer schedule.
Prefer to learn at your own pace? Watch our on-demand webinars and trainings. There's a full library of recorded teacher professional development webinar sessions you can choose from. Sit back, grab a snack, and watch at your own leisure!
Prefer a bite-sized tutorial style? Watch our getting started videos. There's a huge list of how-to videos on our YouTube channel you can use to learn Nearpod in minutes.
More of a reader? Bookmark our blog to read tips and guides from the Nearpod team and teachers. You can also sign up for our Teacher Newsletter to stay up to date on all things Nearpod.
2. Join our lively teacher communities
Learning a new skill as a teacher takes a village and you don't have to do it alone. Luckily, there's nothing like a supportive and motivational teacher community to be a part of! We saw it when shifting to distance learning, and we're still seeing it today. There are so many benefits to joining our communities, such as: professional networking and peer connections, joining summer professional development for teachers, extra Nearpod support and resources, and opportunities to grow as an educator and a leader.
The educator community as a whole is impactful, inspiring, and packed with knowledge to share. The Nearpod community isn't any different. Meet teachers from all around the globe who share the same love of student engagement. Join a community to gain exclusive resources, support for sharing Nearpod, and a network of educators transforming teaching with technology.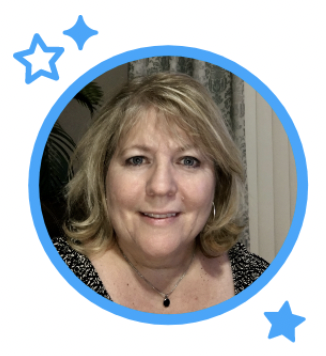 I love using Nearpod! Being a member of the Nearpod Certified Educator community has opened up such incredible opportunities of collaborating with other professionals who are just as excited about Nearpod. I'm constantly learning of so many new techniques and tools through my fellow Nearpod Certified Educators! Thank you Nearpod!

Sharon Low, Teacher, Florida, PioNear & NCE
Become a Nearpod Certified Educator (NCE): NCEs are ed tech enthusiasts who love using Nearpod, want to connect with a global educator community, and receive special opportunities. NCEs are eligible for further PD with advanced badges available only to this community. Learn more about joining here!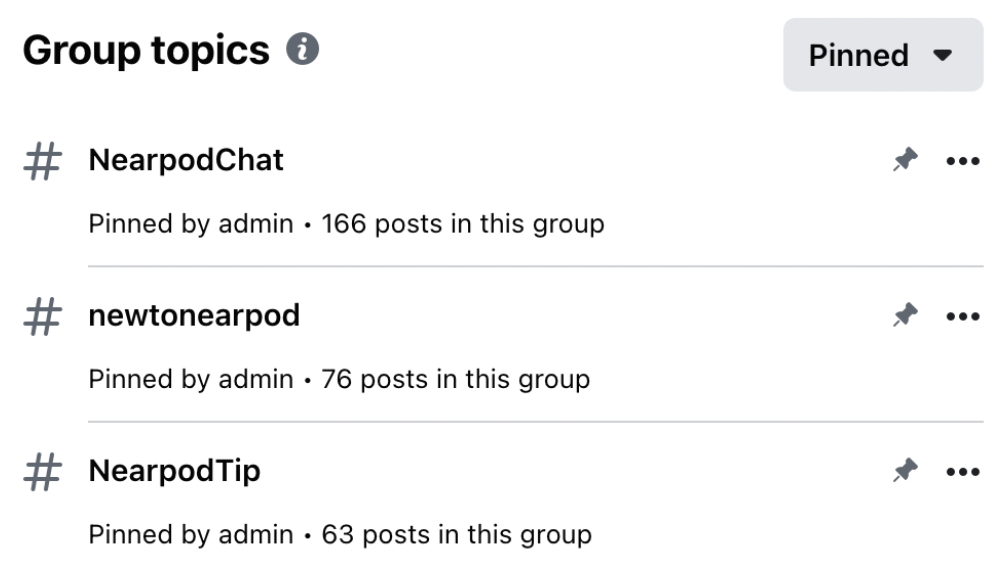 Join Nearpod's Educator Facebook Group: Brainstorm with other teachers how to seamlessly integrate Nearpod in your classroom. Regardless if you're a beginner or expert, join this group to plug into exciting resources and impactful conversations!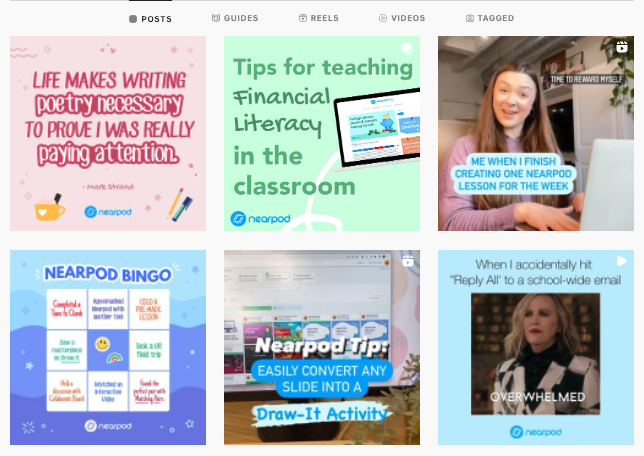 If you are looking for some free virtual teacher professional development, then Camp Engage is the event for you! At Camp Engage, you can learn how to create Nearpod magic alongside thousands of educators around the world. Camp Engage helps you expand your Professional Learning Network (PLN) in happy hours, event community resources and icebreaker activities throughout the entire event. Campers have the opportunity to earn a certificate of attendance with up to 15 PD credits for free. We host Camp Engages year-round, so keep an eye out for the next one you can join!
Get next year's lessons Nearpod ready
3. Familiarize yourself with the power of Nearpod
Our mission is to make teaching easier with the interactive tools, resources, and content teachers need, all in one place. You can make slides-based lessons interactive and gather data on student understanding at the same time. Use existing PowerPoints or Google Slides, or easily create your own slides on Nearpod. You have the ability to add formative assessment tools and activities within your lesson to guide teaching and improve student outcomes.
If you're delivering teacher professional development over the summer, use existing training slides and upload them onto a Nearpod lesson. Add in interactive activities to get participation and feedback from your audience. Teachers will leave your session feeling inspired and reinvigorated!
Here's what makes Nearpod great in a nutshell: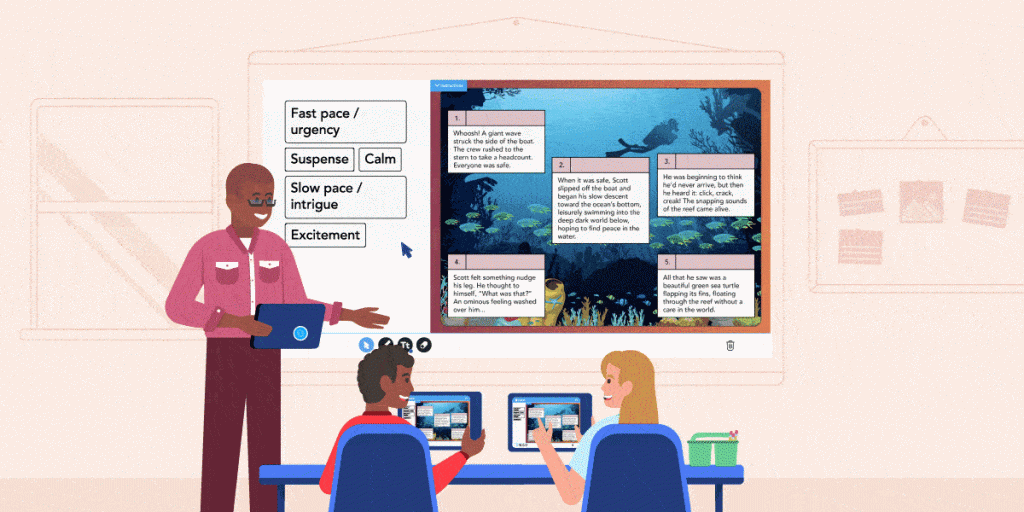 Interactive slides: Teach with slides-based lessons and choose from 20+ interactive formative assessment and dynamic media features.
Interactive video: Create active video learning experiences by including checks for student understanding.
Gamification & activities: Keep students engaged while getting real-time insights into student understanding with gamified learning & activities.
To boost engagement, we recommend starting off with an interactive activity that you can implement into any classroom setting. Increased engagement can lead to increased learning gains and greater student retention of learning material. Utilize Nearpod in the next school year to ensure your students remain engaged, focused, and eager to learn more. See for yourself Nearpod in action by testing it out during a teacher professional development session. This is a great way to practice using the tech tool, while also sharing it with your teachers!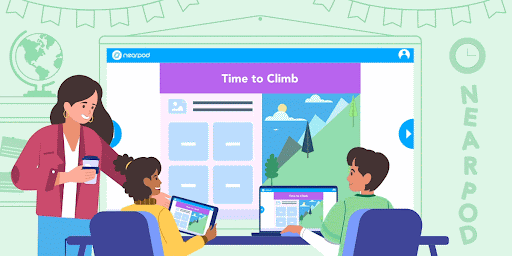 With our growing selection of activities such as Drag & Drop, Draw It, Time to Climb, Matching Pairs, Collaborate Board, Quiz, Poll, Open-Ended Questions, and more, teachers have multiple options to meet specific needs of the diverse learners in their classrooms. You can learn quick ways to use these interactive activities in your classroom by clicking below.
4. Explore our lesson library and/or create your own lesson
Making a Nearpod lesson is simple! Gold, Platinum, and School or District users can integrate Nearpod activities & content directly within Google slides with the free Nearpod add-on. Learn more about building your lessons in Google Slides. Teachers also have the option to create their own lessons from scratch within Nearpod. Our Slide Editor gives you the ability to add visually appealing slides. You can add images, GIFs, shapes, and audio all within your slide. Don't forget you can always upload slides from your existing presentations as well! We recommend getting familiar with our Slide Editor for a seamless Nearpod experience. That way you can keep all of your lessons and activities in one place as you head into the new school year!
Additionally, you have access to trusted standards-aligned lessons, videos, and quick activities for all grades and subjects. Lessons can be searched by standard and have clear, measurable learning objectives. Nearpod also allows for easy customization to fit the unique needs of your students. This is a great resource to use to assign summer learning assignments. Explore the lesson library and save lessons you'd like to use next year. If you're interested in exploring your options, check out this tutorial to see how to filter through the library.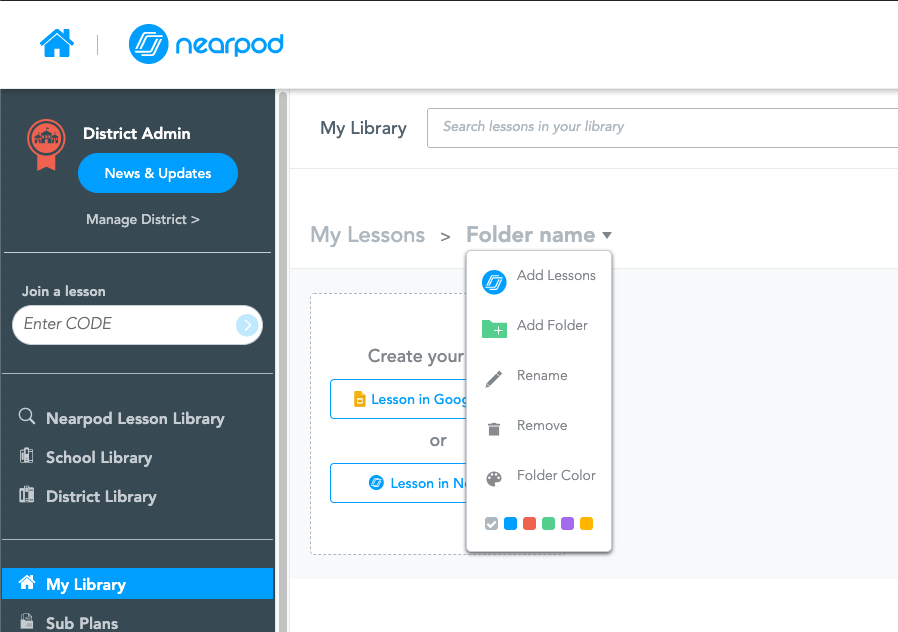 TIP: If you're using the summer time to plan ahead for next year, create folders for easy access later on. You can drag lessons into folders and organize by name and color-coding.
How can you make teacher professional development fun?
5. Transform your next conference or training presentation
Now that you know the basics of Nearpod and how to make a lesson, let's see it in action! Summer is the perfect time to use Nearpod for PD trainings or during summer school. Practice your Nearpod skills now and then you'll be ready to use with your students in the new school year. Here are some tips you can use at your next teacher professional development:
Add a background onto a Draw-It slide and have teachers draw their responses. You can view their progress in real-time and also project responses to discuss. This is great for when you split your audience into groups during your PD workshops.
Utilize the Collaborate Board to spark further discussion. Collaborate Board is an interactive discussion board that allows participants to post text and images to a shared class board. This is an amazing feature to use to brainstorm and hear from all participants!
Time to Climb is MUST for your next presentation! In this gamified quiz, participants can compete to see who gets to the top of a mountain first by answering a series of questions both correctly and quickly to increase their own points to become one of the top three winners of the game. Reward the top teacher with a special prize to boost morale!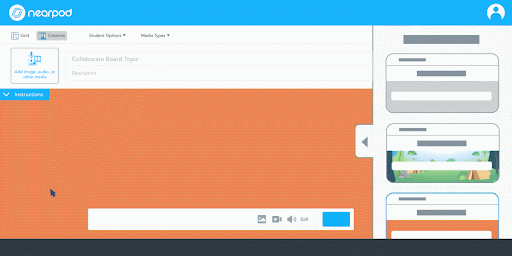 When presenting at a PD conference, you can use this tech tool to hold the room, eliminate multi-tab clicking, collect feedback, conduct brain breaks and more! If you're looking for these style of training tips you can use for any summer professional development for teachers session, click below.
It's time to put your Nearpod knowledge into action! Use this time during the summer to truly understand the power of Nearpod and the potential it has to keep your students engaged in the upcoming school years. Friendly reminder you have a community of teachers willing to help every step of the way! The Nearpod team is also always here to support you anyway we can.
Interested in reading more about this topic? Check out this blog post: Summer learning activities to eliminate the summer slide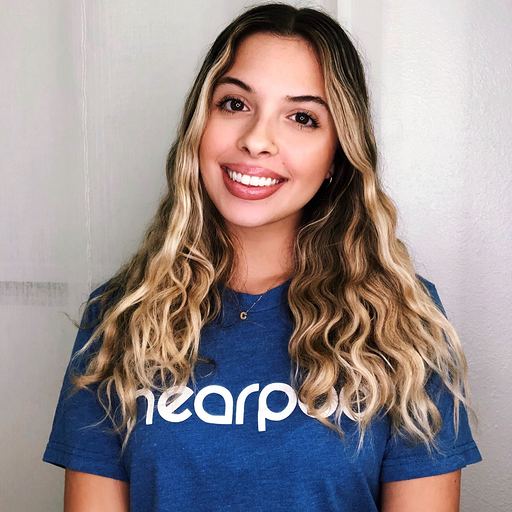 Carol Chinea is a Growth Marketing Associate at Nearpod.