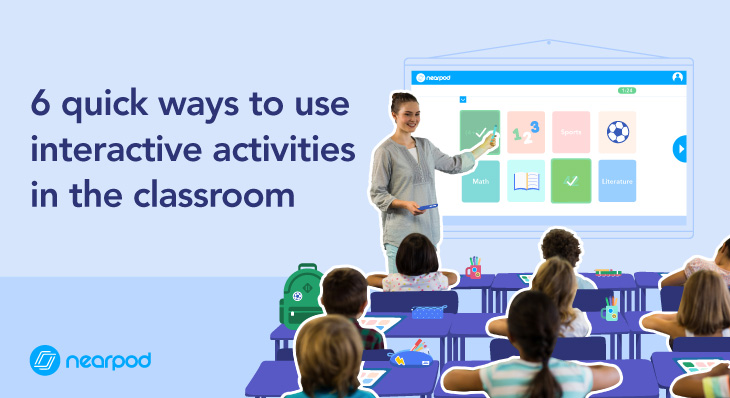 6 quick ways to use interactive classroom activities
Interactive classroom activities can help students develop critical thinking skills, give students more control over their learning, and increase engagement. Increased engagement can lead to increased learning gains and greater student retention of learning material. Additionally, learning retention can be increased when students are engaged in collaborative, peer-to-peer interactions. Here are 6 quick ways to use interactive classroom activities in the classroom.
Nearpod's interactive activities in the classroom have the power to add interest and excitement to everyday learning. Using digital activities such as gamification, drag and drop, drawing, matching, and collaborative discussion enhances classroom learning for all students.
To access the interactive activities shared in this blog post, sign up for Nearpod below for free!
What interactive activities keep learners engaged during a lesson?
Interactive activities keep students engaged by providing a creative and collaborative learning experience. With our growing options of Drag & Drop, Draw It, Time to Climb, Matching Pairs, Collaborate Board, Quiz, Poll, and Open-Ended Questions, teachers have multiple options to meet the specific needs of the diverse learners in their classrooms.
Activity Banks offer an ever-growing collection of ready-to-use engaging activities. With 2,000+ activities available, and hundreds more being added, there's something to meet the needs of every classroom.
Our standards-aligned activities provide comprehensive opportunities for:
Recalling prior knowledge
Supporting a student's learning progression
Building an understanding of essential skills
Collecting essential assessment data
6 quick ways to use interactive classroom activities
1. Use gamified interactive activities
Gamification keeps students engaged and alert! Not only does friendly competition and gameplay lead to increased participation, but it also motivates students to dig deeper into what their learning. When used consistently, educational games can increase students' social and emotional learning skills, such as problem-solving, collaborating with peers, behavior management, and more. Teachers can also get real-time insight into how students are doing while keeping them focused and smiling.
A teacher and student favorite activity is called Time to Climb. With this activity, you can assess understanding with a gamified multiple-choice quiz where students can race to the top of a mountain with their favorite characters.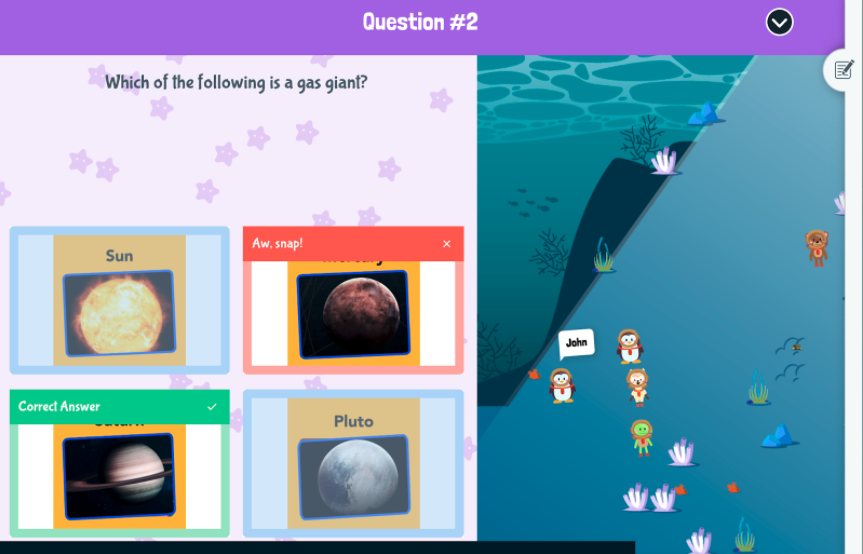 2. Demonstrate steps, labels, and sorting with interactive diagrams
Captivate learners through problem-solving and critical-thinking activities. With interactive diagrams and models, students can show their understanding of the concepts being taught. Use these classroom activities to have them create timelines, outline steps, pair labels, and sort ideas into buckets to demonstrate what they learned.
Drag & Drop activities teach concepts in a fun and engaging way. Students can sequence events in a timeline and steps in a process, label diagrams and models, or sort properties, categories, and characteristics. You can also create your own activity by uploading a background and inputting draggable text or images. Drag & Drop activities provide students with gamified learning opportunities and increased engagement and retention. As students physically engage with concepts, learning will be transformed within an interactive classroom environment.
Here are some Drag & Drop activities you can use in your classroom:
3. Provide opportunities for creative expression
Let students express themselves creatively through drawing. This could be on a blank sheet of paper, the board, canvas, or their devices. Having students draw on their devices can address common misconceptions as they work in real-time, creating a truly adaptive, interactive classroom.
Our Draw It activities provide interactive tools for students to represent problem situations and a working space in which teachers can see in real-time the progression of student thinking as they write, draw, and record their thinking processes. Draw It activities are the perfect fit for when teachers want to see work in progress. It's one of our most used activities on Nearpod because it is easy for teachers to customize and collect student responses. You can create your own Draw It activity by creating a prompt for students, using a blank background or uploading your own, adding a reference media if you please, and then having them complete the activity on their own devices.
Here are some Draw It activities you can use in your classroom: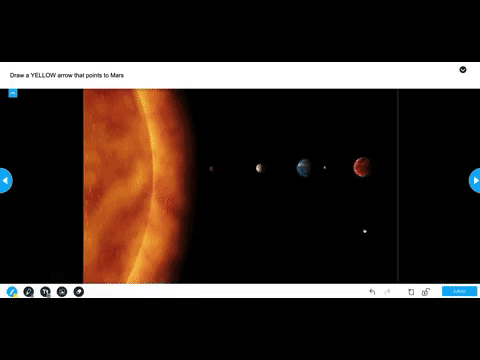 4. Prioritize classroom discussions
Encourage classroom discussions to create a rich dialogue, facilitate discussion for all student learners, and give students multiple opportunities to see how their peers solve problems and hear the language they use to describe representations. Not only will this keep your students focused, but it will also help them practice social and emotional learning skills.
How can you ensure all students are participating and can be heard? Through our Collaborate Board, students can share ideas with a larger audience as they begin their discovery on selected topics. With this activity, students can share their thoughts and ideas on an interactive digital board that's moderated by the teacher. Teachers can support a whole class discussion while ensuring all students' ideas are heard and considered.
Here are some Collaborate Board activities you can use in your classroom: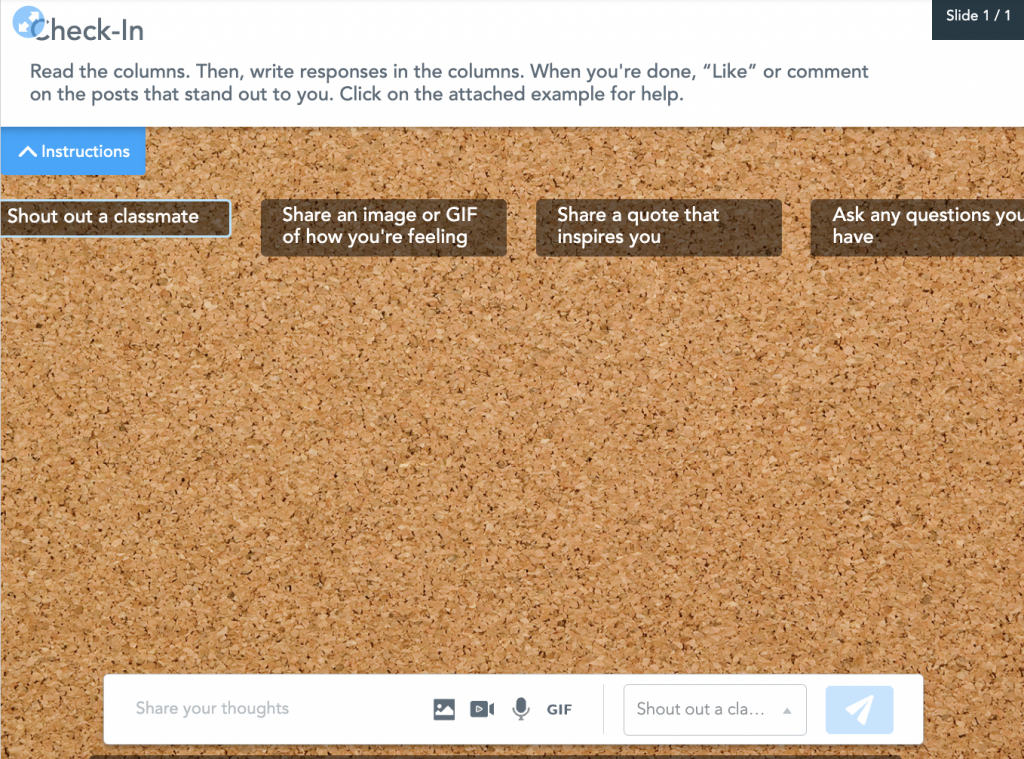 5. Matching activities for students to self-asses
It's important for students to assess themselves to see how they're understanding the lesson. Our Matching Pairs activities guide students in thinking through processes, demonstrate student understanding and provide accessibility for visual learners. With this activity, students can match two cards that pair together. They are given instant feedback to allow for opportunities to self-assess and guide students in refining and revising their thinking. In the end, you'll be able to see how many tries it took for them to get all pairs correct. Teachers can create their own Matching Pairs with just a few clicks on Nearpod!
Here are some Matching Pairs classroom activities: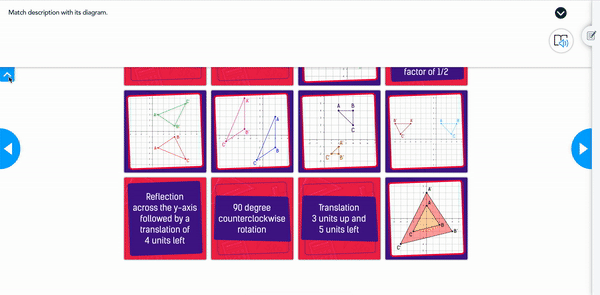 6. Keep students focused by launching activities on-the-fly
Through our Quick Launch feature, teachers can add activities to drive adaptive teaching and differentiated, personalized instructional decision-making that accelerates learning for all. Teachers can use Quick Launch to launch an Open-Ended Question, Collaborate Board, or Timer!
Use Quick Launch to create a quick exit ticket, bell ringer, or do-now. You can also consider using this for those in-the-moment sparks of inspiration or when you're trying to get students' attention back to a lesson.
Sign up for free to use these interactive classroom activities
Increase transformative learning in your classroom through these tips. As features and tools become more engaging, teachers have the ability to design learning experiences that are more effective, interactive, and personalized. Use Nearpod's collection of features to create an interactive classroom where student learning comes first truly! Sign up below to access standards-aligned interactive classroom activities, lessons, and videos, and create your own with Nearpod.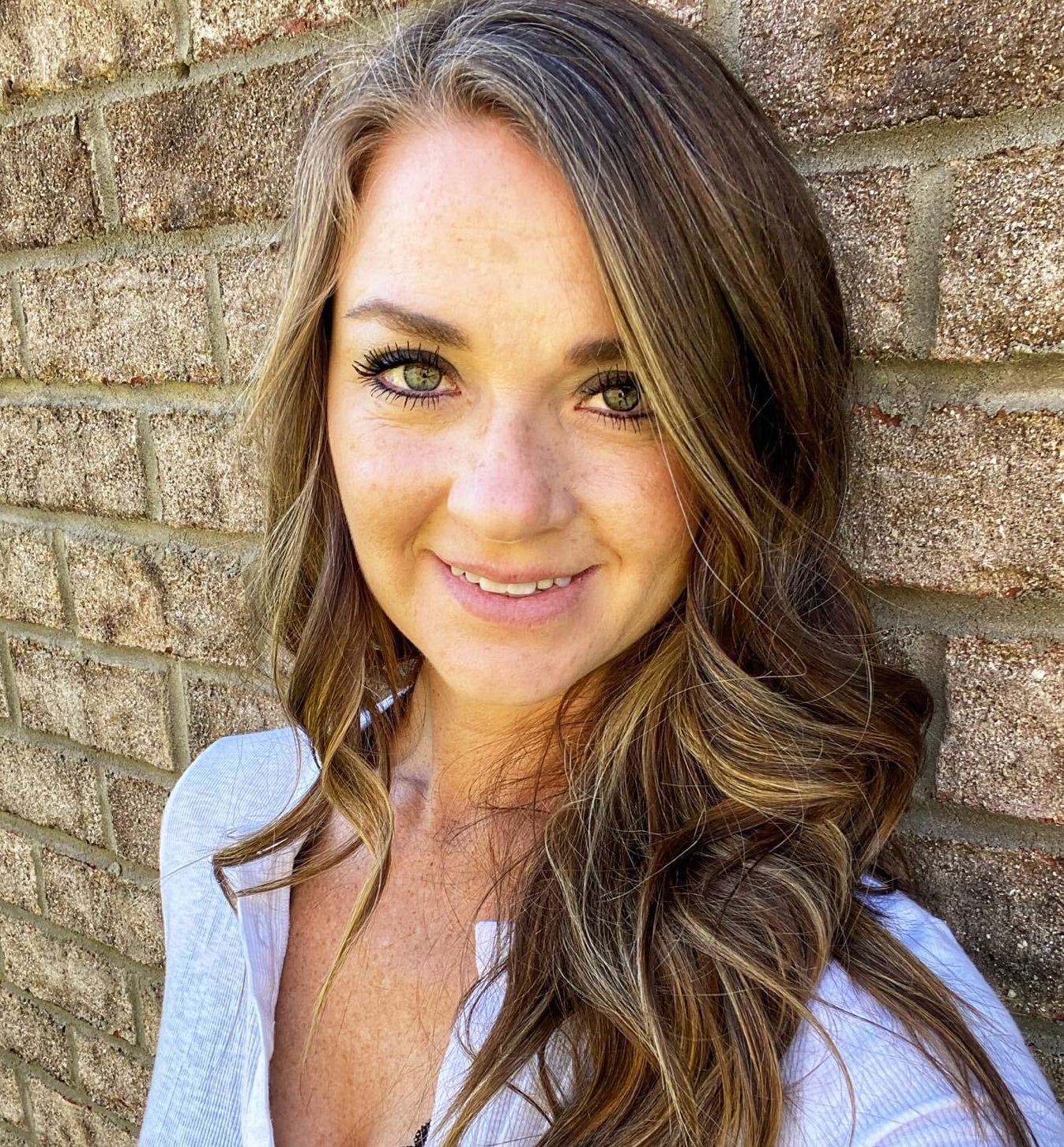 Jessica Clarke is the Curriculum Manager at Nearpod.