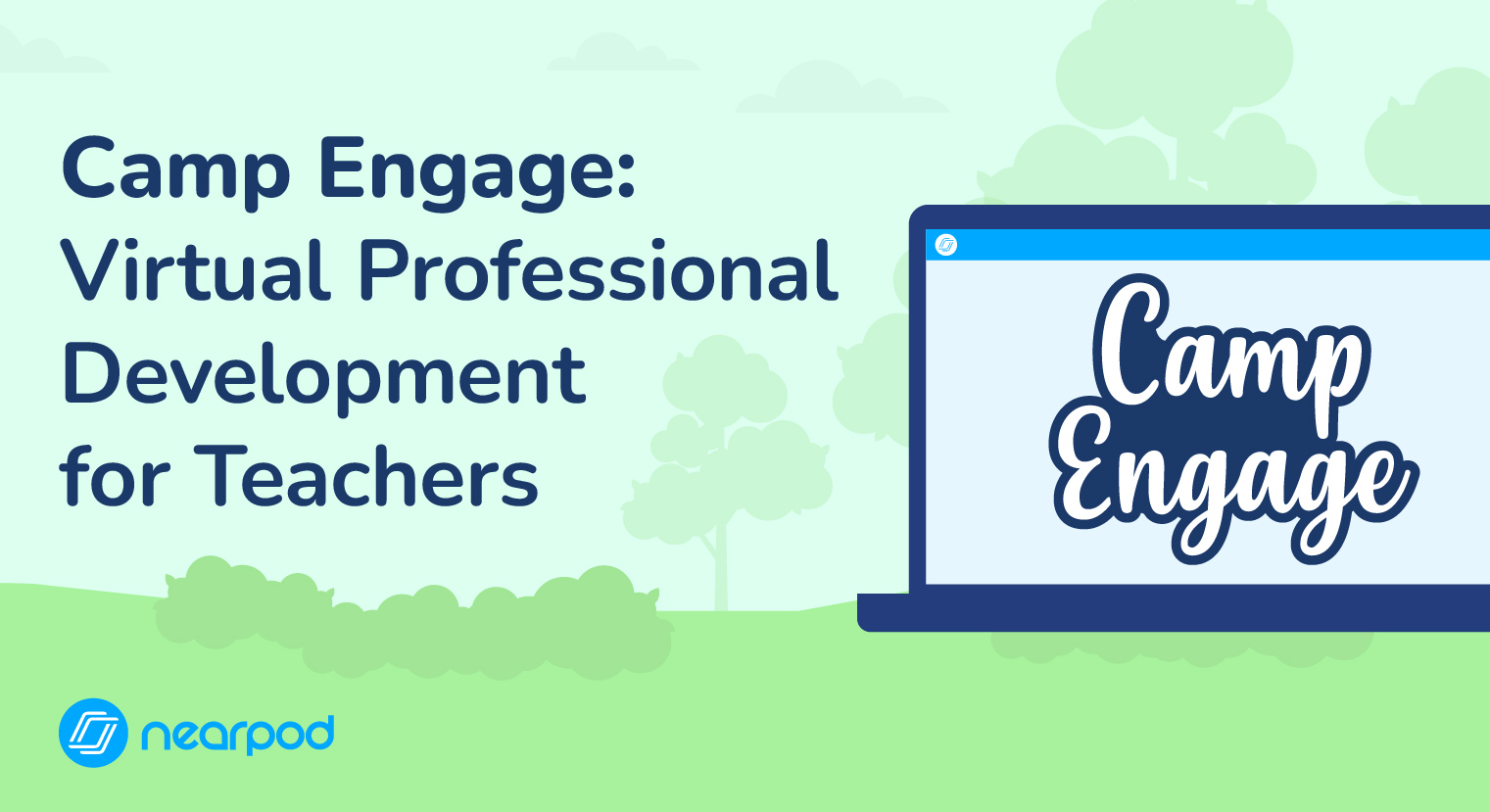 Camp Engage: Virtual Professional Development for Teachers
If you are looking for some free virtual professional development, then Camp Engage is the event for you! This virtual PD event is all about growing, collaborating, and innovating. You inspire us at Nearpod, and so we are excited to provide you with a whirlwind of inspiration. Register now for Camp Engage by clicking below!
You can still sign up for Nearpod and Flocabulary's Camp Engage to access on-demand sessions, resources, and a community of educators!
As schools shifted to virtual environments, many educators turned to Nearpod to support their classroom needs. Armed with new tools, educators sought out PD resources for best practices to maximize engagement, flexibility, and instruction. Nearpod heard these calls, and Camp Engage was born.
What is Camp Engage?
At Camp Engage, you can learn how to create Nearpod magic alongside thousands of educators around the world. There is a wide range of topics for teachers and administrators with nearly 30-50 sessions per event. Beginner and advanced users will walk away with a better understanding of the different ways Nearpod can help with differentiation and streamlining instruction in the classroom. Meanwhile, admins can gain useful tips and tricks on how to implement Nearpod in their schools or districts.
Camp Engage helps you expand your Professional Learning Network (PLN) in happy hours, event community resources, and icebreaker activities throughout the entire event. That's not all! Campers have the opportunity to earn a certificate of attendance with up to 15 PD credits for FREE. Don't take it just from us. Listen to what past campers have said about this Nearpod PD event:
"Finally, a PD you WANT to attend! This week was full of energy, inspiration, and ideas on how to keep our students engaged across the curriculum! With a variety of tools to implement embedded into one program, it's very user-friendly and our students will love Nearpod!"

– Angela Rabon, South Carolina
"It was just what the PD doctor ordered, no pain involved"

– Latisha King, Tennessee
"Camp Engage is full of various camp and activities which takes you back to your childhood days – full of fun and excitement"

– Nidhi Khurana, India
"It was the best week that I spent on learning something new to help my students engage."

– Katherine Quick, Florida
Here are some things you can look forward to when you attend Camp Engage!
Camp Engage: Virtual Professional Development for Teachers
Live trainings and workshops that will help you hone your Nearpod skills
Camp Engage is a Virtual Professional Development event for teachers and admin to bring their Nearpod use to the next level. Past sessions have covered implementing Nearpod in your school/district to hybrid learning to create fun review games for your students. There is something for everyone!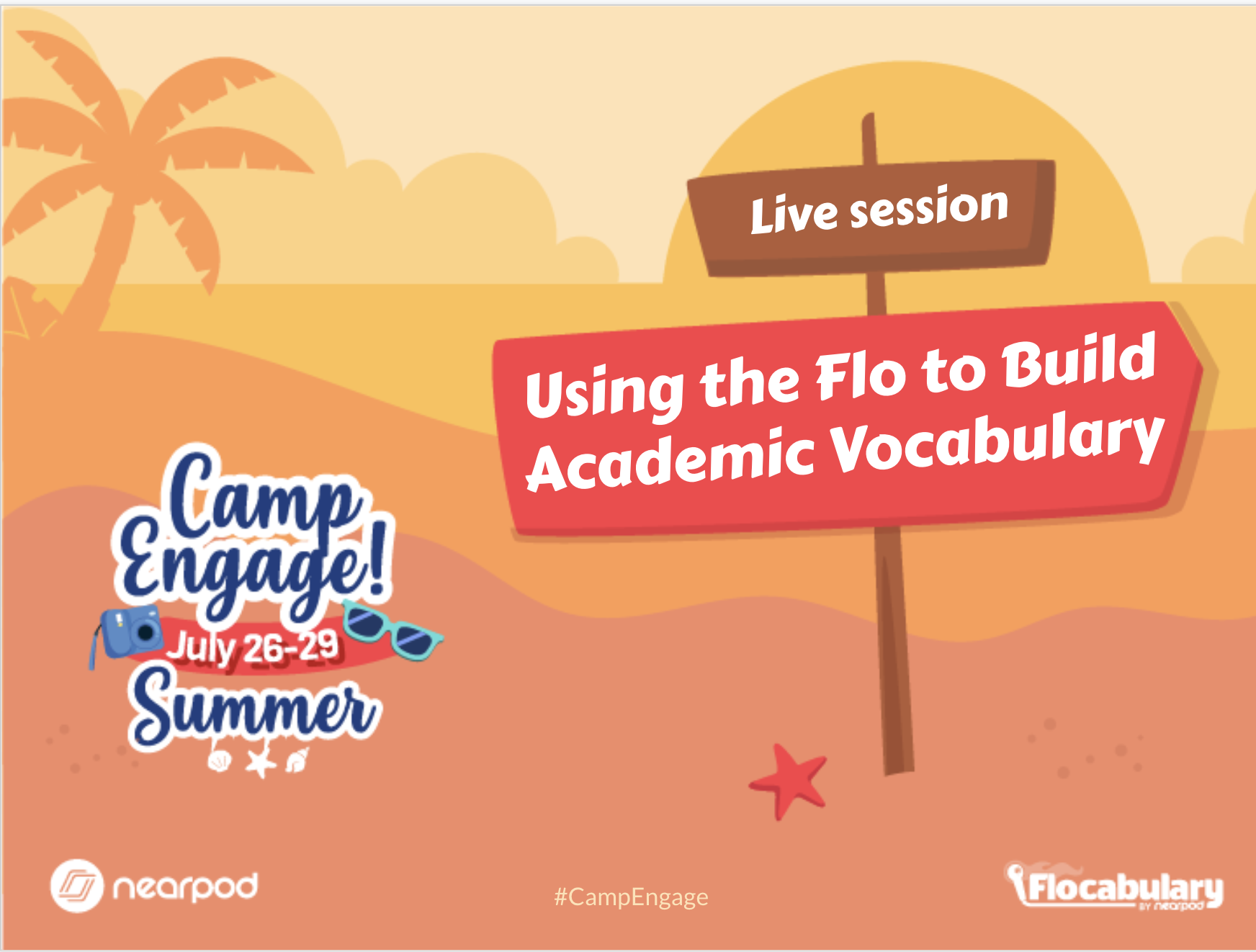 "If you want Pro-Tips for Nearpod, this is the place to be! "

– Cheryl Hullihen, New Jersey
"You will be amazed at how much is available to teachers and students on Nearpod!"

– Janine Anderson, Illinois
"It was one of the most inspiring teacher training I have ever had."

– Jannel Smith, Bahamas
"It is an experience you MUST go through as you will never find it anywhere else. It has covered all the areas you might think of and conducted by real experts in the field of using technology in facilitating the teaching/learning process."

– Mohamed Al Mo'omen Sadawi
"The sessions are just the right amount of time to learn something that can be implemented easily. The camp is easy to navigate and the presenters are amazing."

– Kristen Staub, New Jersey
Sneak peaks of Nearpod's latest product updates
This Virtual Professional Development experience will help you refresh what you already know about Nearpod while showcasing what's coming in the future. At Nearpod, we're always launching new features and enhancing the product based on your feedback. By attending Camp Engage, you have the opportunity to be one of the first teachers to try these new updates during our sessions.
Opportunities to connect and share ideas with educators all over the world
Are you looking to build your PLN? Camp Engage is the place for you! Camp Engage is not only a Virtual Professional Development opportunity, but it is also a community. There are thousands of campers at every Nearpod PD event, representing 150+ countries. Sessions are specifically targeted so you can learn about the Nearpod magic alongside a group of like-minded educators.
Camp Engage has something for K-12 teachers, higher ed, and admin no matter where you are in the world. Come connect with educators through session Zoom chats, the campsite, icebreakers, happy hours, and more!
See above the number of countries represented during a live Camp Engage session. We have campers who wake up before the sun rises just so they can connect with other Nearpod teachers!
"An awesome experience, just like being in a real camp! For an isolated nation, it was great to meet people from around the world. Definitely Recommend."

– Bryanna O'Regan, New Zealand
Happy Hours
If Camp Engage is going to be anything like actual camping, then it surely needs to be fun. Energize your Virtual Professional Development by attending Camp Engage social hours! Join members of the Nearpod community in fun activities and icebreakers that are led by fellow campers, using Nearpod or Flocabulary in creative ways. You might even walk away with new ideas to replicate for other teachers or students!
"I met several people from other countries in one of my sessions as part of our breakout room activity. It was great to share and connect."

– Lorena Martinez, Texas
Demo Slam
We believe that the best learning experience for educators is when the learning is facilitated BY educators. Additionally, we see Camp Engage as the perfect opportunity to shine the spotlight on the innovative members of the community. During the Camp Engage Demo Slam, select educators present how they've used Nearpod or Flocabulary in creative ways – all under three minutes! Campers are invited to vote for their favorites, and a winner is crowned at the Closing Ceremony!
Connect tab
We encourage campers to connect with others via our "Connect" portion of the campsite. We've learned of many collaborations that have taken place because of connections made during camp. You can search campers by job title, organization and country.
With dozens of sessions, you won't want to miss this Virtual Professional Development opportunity. What are you waiting for? Come camping with Nearpod at #CampEngage!
Keep reading to see our Camp Engage FAQ.
Camp Engage FAQ
What is Camp Engage?
Camp Engage is a free event that meets teachers' needs for professional development credits. Teachers are looking for new ideas, resources, and content to support their teaching.
Why should I attend Camp Engage?
When teachers attend Camp Engage, they feel like they're a part of a community, not being sold a product. The sessions are designed to support their needs, so they walk away not just knowing how to use Nearpod/Flocabulary, but also with creative ideas they can bring back to their classrooms.
When did it start?
Camp Engage started at the beginning of the pandemic as a PD opportunity for teachers just starting to use Nearpod. With educators all over the world looking for more ways to enhance their instruction and connect with others, Camp Engage has turned into a yearly event.
When does it happen?
Camp Engage happens several times a year – around February, July, and November. You can follow Camp related announcements on our social media accounts @Nearpod and through our
newsletters.
Does Camp Engage cost money?
Camp Engage is a FREE PD event that we're providing to you.
How do I register for this Nearpod PD event?
Camp Engage registration will open a few weeks before each event. Make sure you're following @Nearpod social channels to learn when registration opens. To see if there's an upcoming Camp Engage, you can also head here: nearpod.com/camp-engage
How do I earn PD credits?
Teachers can earn up to 15 hours of PD instructional hours. Certificates will be sent after camp concludes and will take on-demand views into account. Note: we provide certificates with total hours but can't guarantee that specific districts will accept them officially per varying district requirements.
If you have any other questions, please reach out to [email protected].