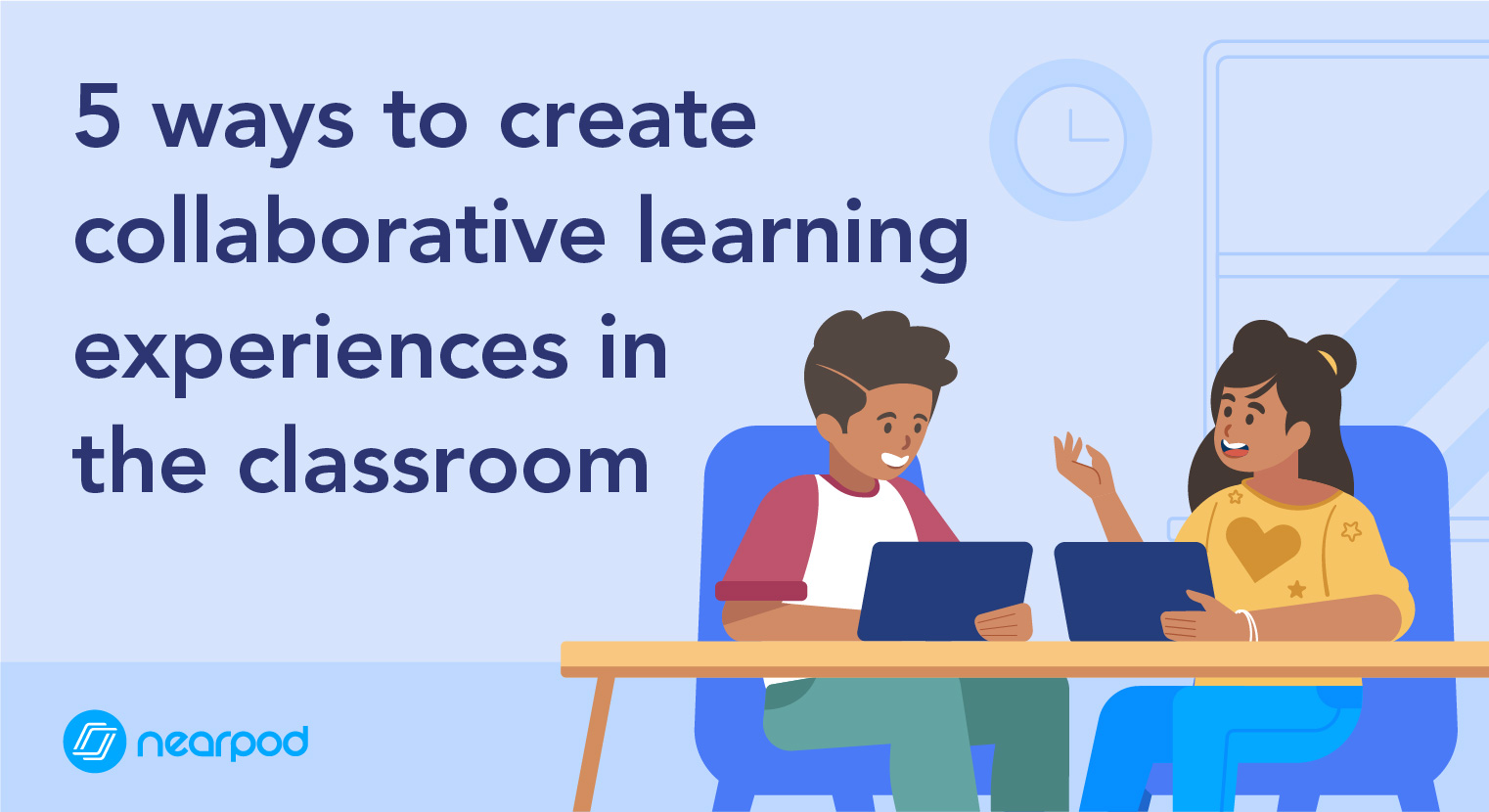 5 Ways to create collaborative learning experiences in the classroom
What is collaborative learning?
Collaborative learning is all about coming together with others to understand a concept or work on a common task. In the classroom, collaboration is a great way to practice life skills that students can take into the future. Classroom communities often reflect a smaller version of a future workplace or project where students must work together on a joint task.
Nearpod's Collaborate Board
With Nearpod's Collaborate Board, teachers have an opportunity to connect technology with pedagogy in the classroom. Students work to understand how their individual thoughts, ideas, and contributions fit into a larger shared collection of thoughts in Nearpod. Whether you are new to Nearpod or an experienced user, an individual feature like Collaborate Board can offer many unique ways to bring student-centered discussions to life.
New to Nearpod? Sign up for free to access interactive activities, create engaging lessons, and more!
5 Ways to create collaborative learning experiences in the classroom
1. Make collaborative classroom discussions part of every lesson
Classroom discussions in any subject are an essential part of the learning process for students. Discussions are an opportunity to brainstorm creative ideas, put students at the center of their learning, learn from peers, and develop critical thinking skills.
When discussions happen in the classroom, students are at the center of learning. They listen to and learn from their peers while actively absorbing knowledge from each other's thoughts. Additionally, discussions emphasize the need and importance of multiple and different perspectives.
However, most students don't naturally engage in discussion around academic content that builds their understanding of something they're learning. Sometimes students choose not to participate in a traditional classroom discussion. When students aren't engaged in classroom discussions, they aren't benefiting from the critical thinking and problem-solving skills of their peers.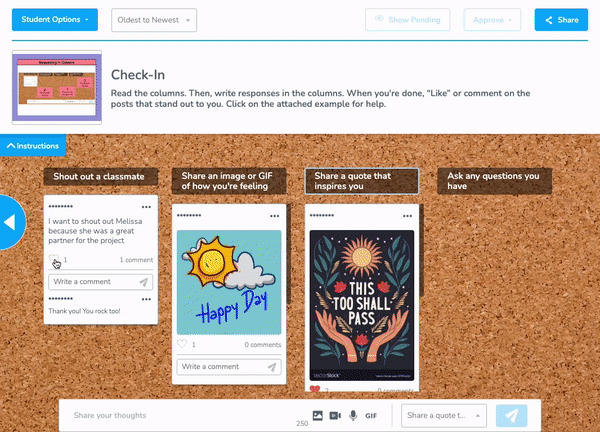 With Nearpod's Collaborate Board, student-centered discussions merge with technology to ensure students have a platform where it's easier than ever for their ideas to be heard, shared, and developed. Using technology to support discussions helps all students develop the confidence to participate, which broadens the different perspectives and ideas all students are exposed to in the classroom.
Teachers use Collaborate Board to pre-assess students' knowledge of a new concept they're about to learn, check in on students' well-being, and foster a sense of community around academic learning. Collaborate Board provides students with even more opportunities to build confidence around discussions in the classroom. Just add a question for students to respond to and let them take charge of their own learning.
2. Keep feedback at the center of classroom discussions
Discussions are most beneficial when students receive feedback on their contributions. Student-centered feedback is especially effective. Feedback and ongoing conversation during a collaborative learning discussion help students develop skills like learning to agree and disagree respectfully, leadership skills, and social skills and allow them to learn and grow from each other.
In today's classroom, students are engaging with technology more than ever, and digital citizenship skills are especially important. Learning social and interpersonal skills in the digital world can be especially challenging. Still, with student-centered technology like Collaborate Board, teachers can support students and model how to recognize ideas, cooperate, and share appropriately. Teachers can even model how a student's idea may change someone's perspective, helping to create a safe environment and boost confidence in the classroom.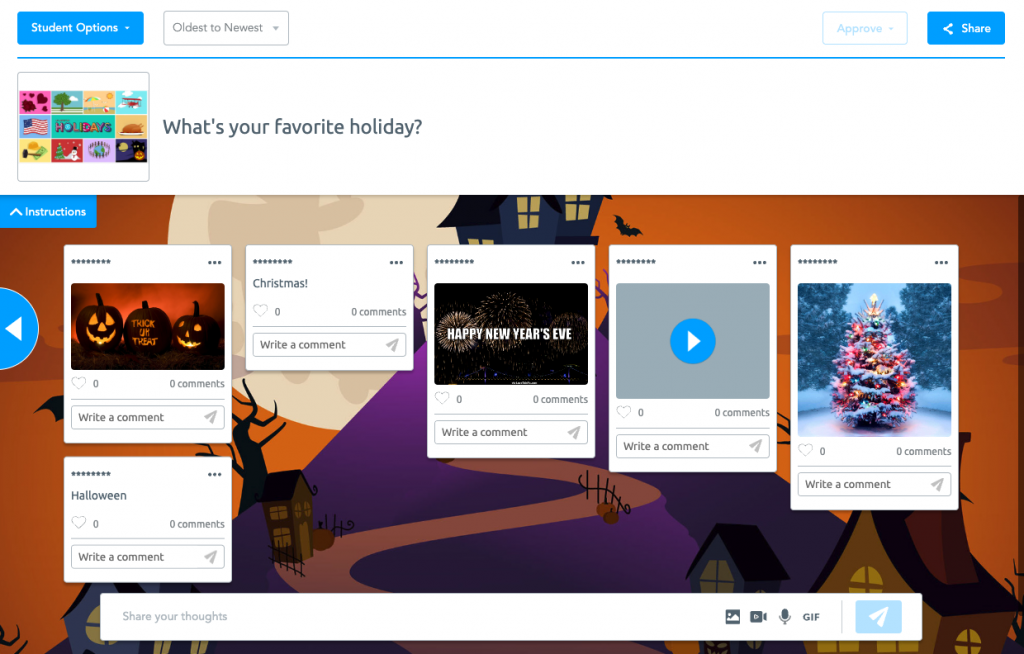 Students can provide feedback on each other's posts on a Collaborate Board with hearts. Teachers with a School or District Premium Plus license can allow their students to comment on each other's posts, bringing even further development to classroom ideas and higher-level thinking skills. This feature ensures that discussions brought into Nearpod don't end at individual contributions. Instead, those initial posts and thoughts from students can change and grow over the course of a discussion with additional input from their peers.
3. Make collaborative learning visible
Visual learning helps students break down information into manageable pieces that are easier for them to understand. Classroom discussions are often not visual. However, when you can connect technology to a classroom discussion, teachers have the opportunity to give visual purpose to every discussion and reach visual learners.
Collaborate Board helps students collect and share thoughts or information all in one spot, making it easier for every learner to track the discussion and digest the information. When students learn in ways they like and understand, students are more likely to engage, pay attention, and be motivated to participate. Making learning visual in a discussion will also increase students' interest in that subject matter which leads to long-term retention and makes communication easier and quicker.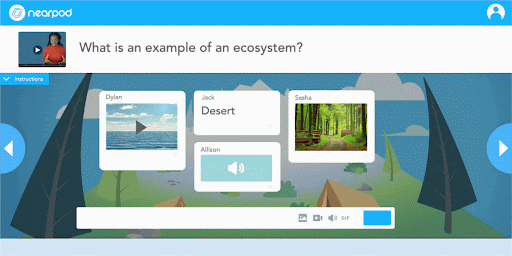 4. Collaborate and contribute in multiple formats
In a traditional classroom discussion, students raise their hands and participate by talking. It can be difficult to hear from every student and increase participation in a method that only some students may feel confident using. When integrated with technology, students can participate in multiple ways. Providing multiple media formats values everyone's contributions to the class. It helps personalize student learning and can even boost comprehension for students.
Collaborate Board allows all users to share their thoughts with more than just a text or image post. Students can record an audio response, upload a video responding to a discussion, or even post a gif.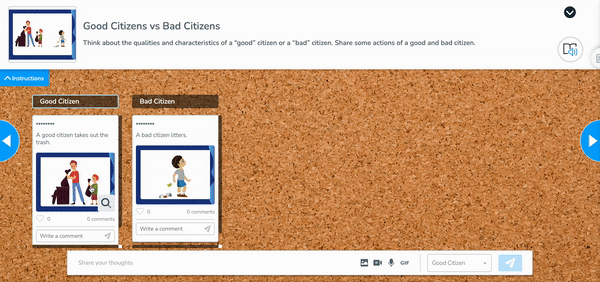 In order to get all students actively engaged and collaborating in a classroom, students need their different needs met. Some students may require specific scaffolds or support. Collaborate Boards allow teachers to add new reference media to support student understanding. Teachers can provide a web link, video, PDF, an audio file, or image with their discussion question as a way to ensure all learners can access the information or have the support they need to engage confidently in a discussion.
5. Build community and social emotional skills
Each classroom's community is representative of the types of communities students will find themselves in as adults. Building a strong sense of community in class will help set up students for success when collaborating and building those life skills they'll take into the next stages of life.
Collaboration helps build relationships by allowing students to access diverse viewpoints, acknowledge their peers' differences without critique, and create safe, comfortable learning spaces. When students are in a learning community, they build interpersonal skills that allow them to work with all types of people. Engaging in culture-building and social emotional learning activities further enhances students' ability to develop empathy, emotional intelligence, and effective communication within their learning communities.
Collaborate Board can be used at any point in the classroom to not only facilitate academic and collaborative learning but to build community at the same time while practicing academic skills. We encourage teachers to use opportunities to collaborate in every lesson and ensure every student's voice or perspective is heard during discussions.

Start using Collaborate Board
Technology only makes collaboration easier in the classroom by giving students multiple ways to collaborate and the supportive tools to make it happen. It brings so many benefits to 21st-century skills students will take anywhere in life. Using Collaborate Board will help nurture responsible citizens with global perspectives who can collaborate to solve real-world problems. Here at Nearpod, we can't wait to see how working together in the classroom creates a better learning experience and positively impacts student achievement!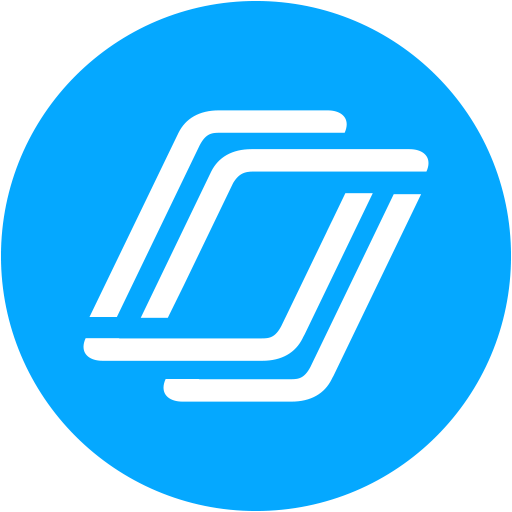 Nearpod's award-winning platform is used by thousands of schools around the globe, transforming classroom engagement.