How to use educational games in the classroom
Educational games in the classroom can transform traditional lesson plans into an engaging learning experience. In a classroom, games might be typically used during independent work time, during indoor recess, and even to review for the next day's test. However, they're not often thought of as purposefully instructional activities. Using educational games for learning is a great way to start small when bringing technology into the classroom to keep students engaged while also interacting with their peers.
Why are games in the classroom important?
Using games for teaching helps students learn additional skills beyond the academic concept that is being taught. They will also build 21st-century social skills, problem-solving skills, and build community all while learning core subject material.
Games are most effective when well-planned and integrated into learning objectives. With Time to Climb, you can include an existing Nearpod lesson or use it as a quick stand-alone activity.
New to Nearpod? Sign up for free to access interactive activities, create engaging lessons, and more!
How to use educational games in the classroom
1. Use gamified learning consistently to increase students' skills
In the classroom, an educator hopes to teach the math, reading, writing, or science skills a student will need to succeed in the world. However, students need more skill sets beyond academics. They need to have social and emotional learning skills such as problem-solving, collaboration, behavior management, responsibility, social skills, and more to excel in the real world. These life skills get carried beyond the classroom into everyday life and can be used in nearly every setting.
When teachers bring gamification into the classroom, they provide students with the opportunity to practice these life skills as well as to see them in action from their peers. Whether students are narrowing down answer choices on a question, using logic to select the correct answer, or practicing decision-making opportunities, they're working on those 21st-century skills.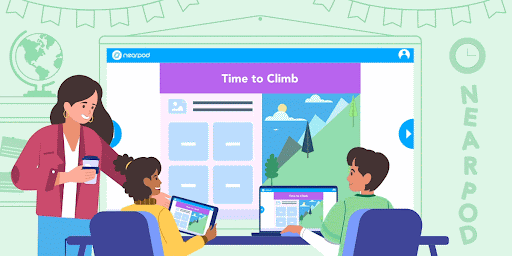 In Nearpod's Time to Climb, students compete to see who gets to the top of a mountain first by answering a series of questions both correctly and quickly to increase their own points to become one of the top three winners of the game.
This gamified quiz helps increase memory and allows students to become responsible for their own learning while developing social skills along the way. With the ability to select multiple correct answers and use images or text, teachers can customize a gamified quiz for their needs.
2. Create engaging learning experiences
Educational games in the classroom can bring high levels of engagement to students during the learning process. When students engage in a game, their motivation increases, leading to better participation and the ability to form connections and positive memories of learning. Student outcomes and achievement increase when students are engaged and motivated to learn.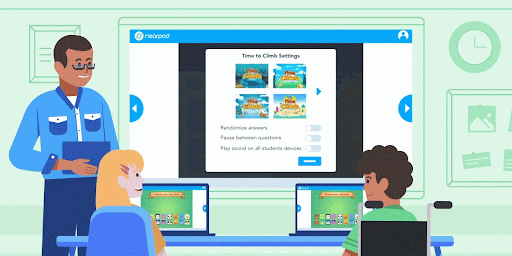 On Time to Climb, students can select their own characters and compete with them. The competitive nature and playful themes bring even more excitement and engagement to your classroom. Teachers can also select themes such as a beach, carnival, underwater, space, or mountain. Our Valentine's, Halloween, and Winter Holiday themes will be accessible during these holiday time frames.
3. Keep students on track with learning
Formative assessment as a daily practice in the classroom has many benefits. It can help teachers better understand where their students are on the learning continuum, collect feedback on how a lesson could be more effective, and know exactly which students may need additional support. Using games in the classroom is an effective way to assess students before, during, or after a lesson.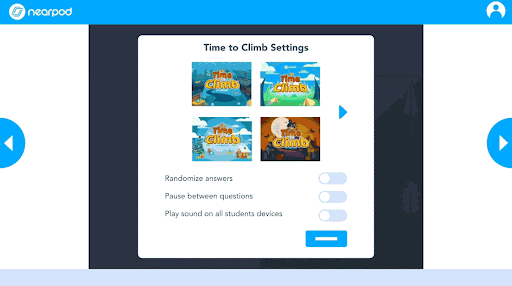 Time to Climb allows teachers to pause between questions and access new data as they teach. When a question is live, the teacher can collect instant data on students' understanding of the concept. If pausing between questions is turned on, the teacher will have an opportunity to reflect quickly on that data and address any misconceptions in real-time during the game. Teachers can ensure that when a student gets a question incorrect, they have an opportunity to strategize and try again.
Start using games in the classroom!
When Time to Climb is played in a live classroom environment, students of all ages laugh and enjoy the integrated community-building elements of their learning experience! This educational game is built with an instructional design that keeps students engaged in any learning environment. Teachers can create a gamified quiz as a Student-Paced activity or launch one in the classroom for Live Participation.
Gamified quizzes have always been a favorite for teachers and students. Some teachers use them as a pre-assessment to get a deeper understanding of what students already know before introducing a new concept. Others use them as an engaging formative assessment in the middle of a lesson, final assessment, exit ticket, or opportunity to review key concepts for test prep. No matter how you assess, a gamified assessment can help you transform quizzes into engaging instructional moments in the classroom.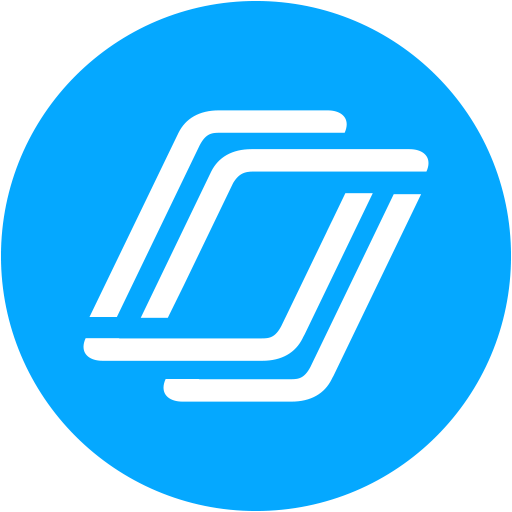 Nearpod's award-winning platform is used by thousands of schools around the globe, transforming classroom engagement.