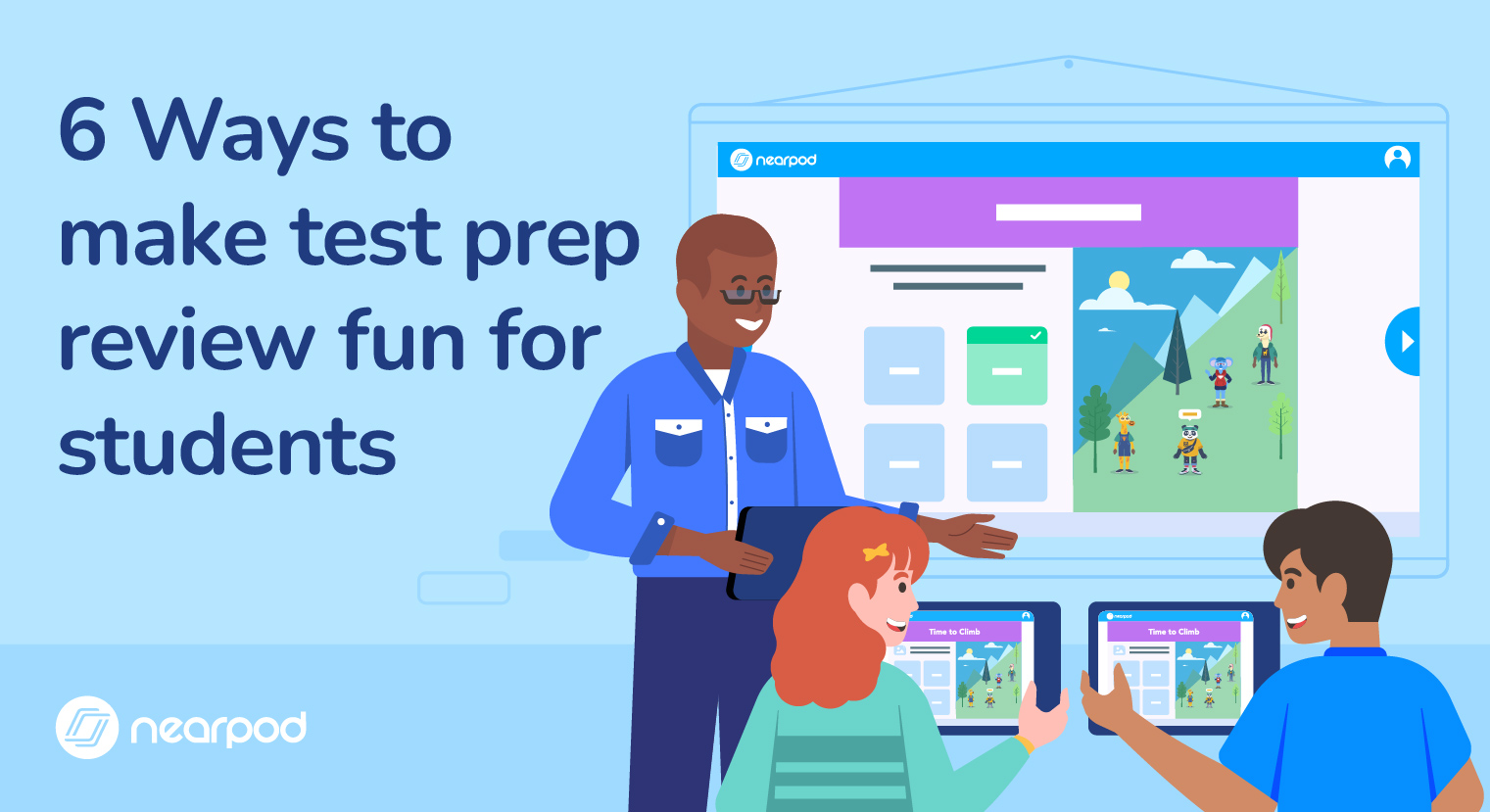 6 Ways to make test prep review fun for students
Test prep can be turned into an interactive, engaging, and fun activity to review test knowledge. Test prep does not have to be a static activity conducted in a manner that is formulaic, tedious, and monotonous for students. Educators need to have a clear understanding of what their students know as well as what they need additional support with to ensure content mastery. With Nearpod, there are many fun ways to review for a test and prepare students for state testing.
New to Nearpod? Sign up below to access the fun and academic activities shared in this article.
How can I make test prep fun and instructional for students?
While it is vital that test prep activities are designed to engage all students, it is equally important that they also address and target standards for individual state testing assessments such as PARCC and CAASPP. Broad summative assessments only inform educators about one point in time. Students need to engage in a multitude of ongoing formative test prep assessments to ensure progress toward content mastery and confidence. Assessment variety should include gamification, categorizing, real-world connections, collaboration, multiple response type quizzes, and opportunities for students to engage in Social Emotional Learning (SEL) activities and brain breaks.
Utilizing technology in the classroom can bring fun ways to review for a test and create a sense of excitement in any classroom. We must remember that our students are digital natives, and technology is second nature to them and their educational experiences. For many of our students, technology is expected, not an addition to their work at school. Children regularly use technology to communicate, share pictures and videos, and look up information that is pertinent to them. We must use this connection with technology, not fight it.
5 Ways to make test prep review fun for students
1. Spark excitement with educational games
Gamification in assessments can bring about an increase in student engagement. Friendly competition sparks excitement as well as engages students in an interactive setting. Time to Climb is gamified learning appropriate for all ages of students. It can be used for targeted test prep, linked to state testing requirements by allowing teachers to create their own questions linked to a specific standard or use an activity bank tied to specific learning targets.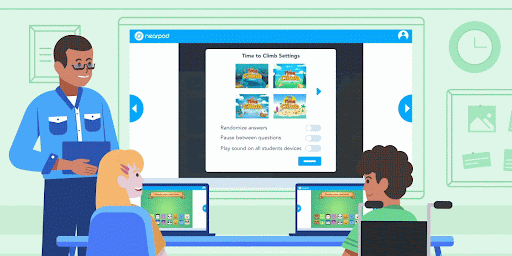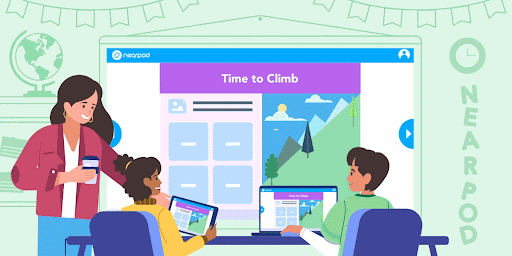 Time to Climb allows students to receive immediate feedback on their progress through the activity. At the end of each timed question, students see if they got the question correctly or not. This immediate feedback will give them the information they need to be successful when answering the subsequent questions in the activity. Additionally, teachers can instantly see which students are being successful and which students need more support. Teachers can even pause the activity in order to engage in a teachable moment if many students are struggling. Time To Climb is a great exit ticket or culminating checking for understanding activity during test prep season in order for teachers to be able to link progress or regression on a specific standard to an individual student.
2. Make learning interactive with Drag and Drop activities
Having students categorize information is a high-yield learning strategy. Key terms and vocabulary can be used in these activities to support test prep and content mastery. This type of activity supports learning by having students identify similarities and differences through categorizing, labeling, and matching.
Drag and Drop allows students to move either words and phrases or pictures into categories. One of the most powerful aspects of Drag and Drop is the ability for teachers to upload backgrounds. This helps to personalize the activity in order for teachers to target specific standards and learning goals. In using customized or downloaded backgrounds, students can drag and drop the names of capitals into states or countries, odd and even numbers into corresponding buckets, and vowel or consonant blends into words. Drag and Drop is a truly universal tool that can be used in all subject areas.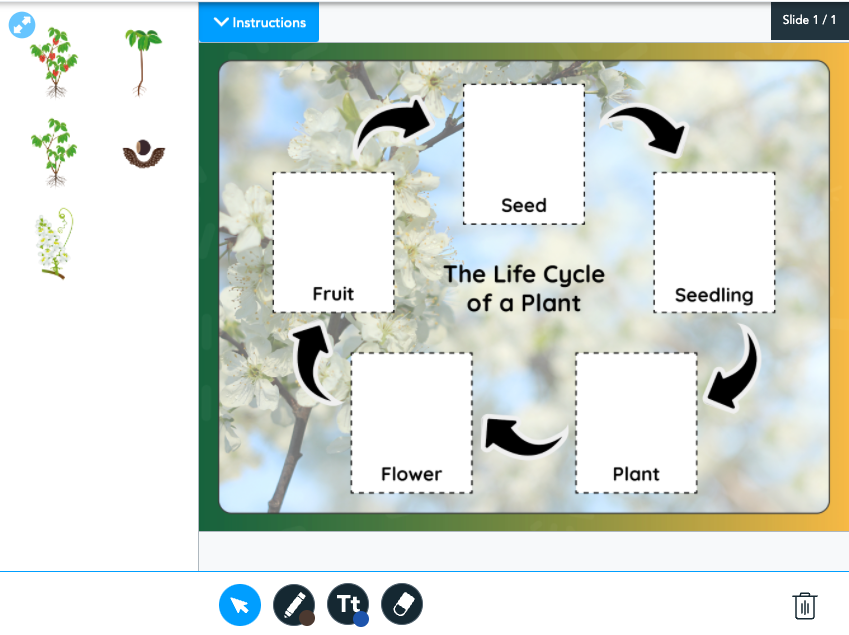 Matching Pairs activities give students the opportunity to connect vocabulary words with definitions, linked together cause and effect properties, and practice math facts for faster memory recall. Teachers can take this activity a step further and have students submit their own vocabulary terms and content ideas for their peers to engage with to create a greater sense of ownership and inclusion.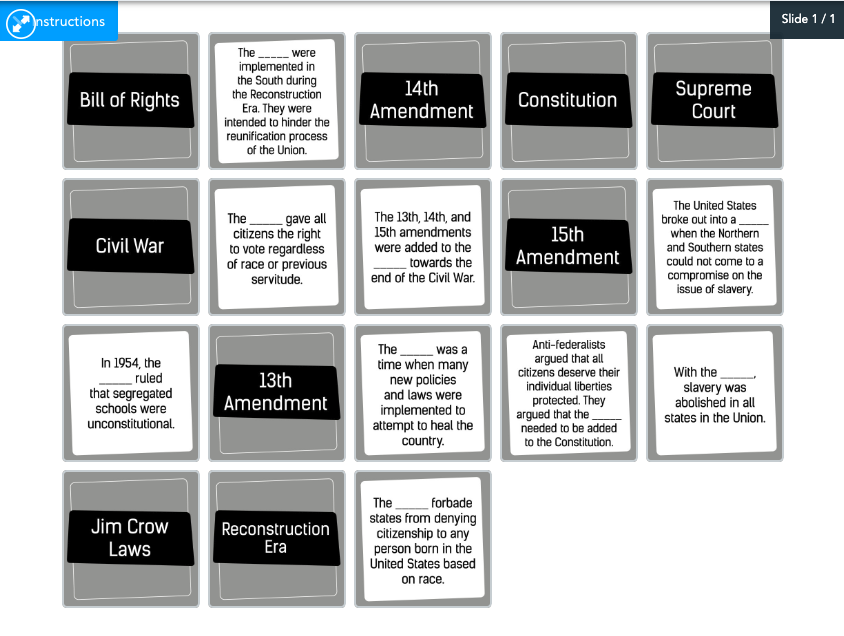 3. Combine VR and simulations with interactive lessons
By using Nearpod in a test prep environment, students can annotate their thinking on top of interactive features such as the Virtual Reality (VR) Field Trip and PhET Simulations. By doing this, students are making their thinking visible to teachers and engaging in fun ways to review for a test. Combining these types of elements allows students to utilize higher levels of Bloom's Taxonomy and reach the upper levels of Webb's Depth of Knowledge.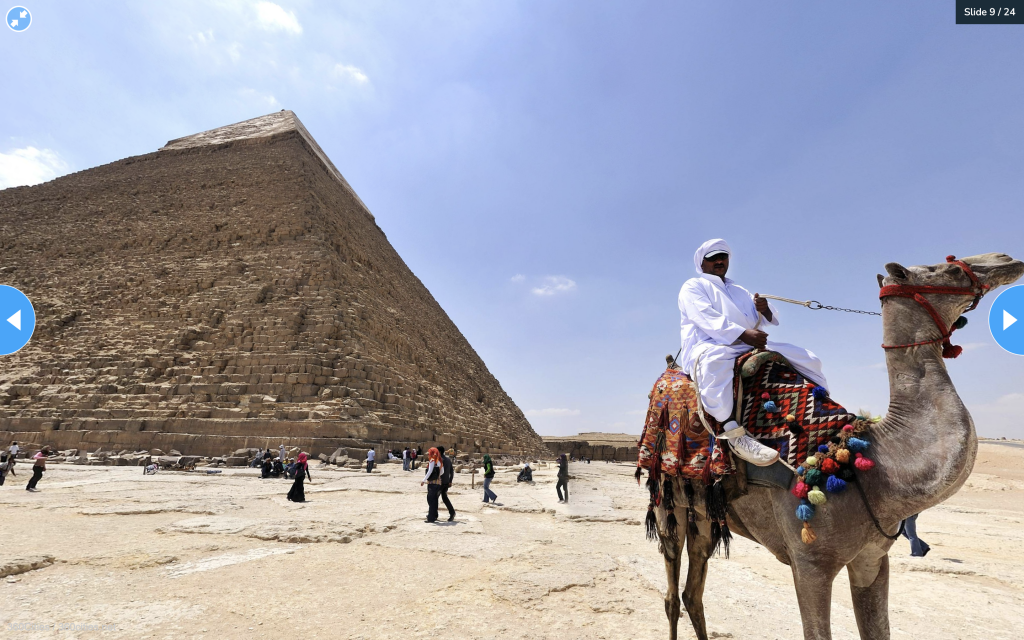 For example, having students explore the tomb of Ramses III using VR Field Trips, noting the hieroglyphics on the walls. The teacher or individual students can take a screenshot of the hieroglyphics from the activity and post the picture on a Draw It slide. Students can then annotate their thinking on the picture by drawing on the slide or using a text box.
You can also take students on a nature walk using Virtual Reality (VR). On their exploration, students can identify certain types of foliage, ground coverings, and tree lines. By using a screenshot of the VR experience, students can then annotate on a Draw It to expand on their thoughts. By conducting this type of activity, students have more control and choice when it comes to their answers.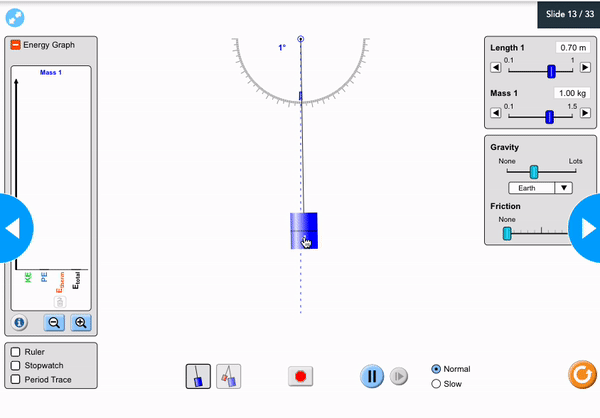 The same notion can be applied to PhET Interactive math and science simulations. Students can complete the simulation and then take a screenshot of their work for their teacher. For example, one of the simulations has students creating a shape with tiles of different areas and perimeters. Once students create these shapes, they can take a screenshot of their work, upload it to a Draw It, and then explain to their teacher how each shape meets the required criteria.
4. Get real-time insights using multi-format quizzes
Multi-format quizzes are a more standard method of test prep. However, ensuring that data is tracked will help both teachers and students ensure that progress is being made. On Nearpod, Quiz content can be created to align with state testing standards and mirror testing formats of state assessments.
Quizzes can be used in multiple ways to stimulate excitement and engagement in the classroom. Teachers can use quizzes for bell work as a way to both pre-assess as well as create an exit ticket to ensure that students leave for the day understanding the concepts covered during the instructional day.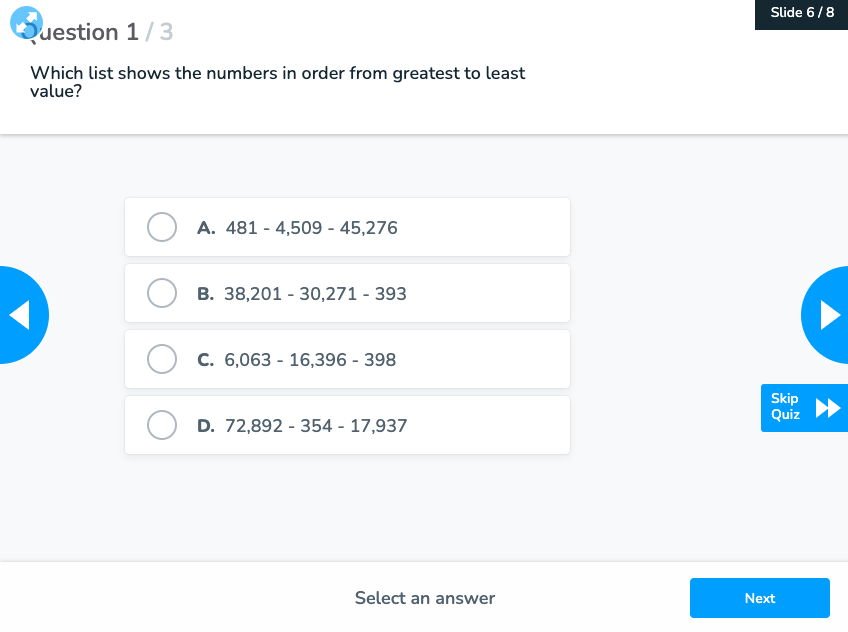 One of the most powerful ways to support students while using quizzes is to insert reference media at the moment to give students a way to research the answer. Teachers can insert videos, websites, audio clips, pictures, and more alongside quiz questions to stimulate higher-level thinking and mirror testing protocols from state and national assessments, getting students used to using different types of questions.
5. Temperature check the room with polls
Polls can be utilized to check the temperature of the room during test prep season. Teachers can create a Likert scale poll asking students how they are feeling about their level of knowledge of a certain content standard. This activity will help tests decide if they want to move forward with content delivery or pause to reteach certain elements again. By having students self-assess their level of understanding, it helps to put them in the driver's seat of their own learning journey.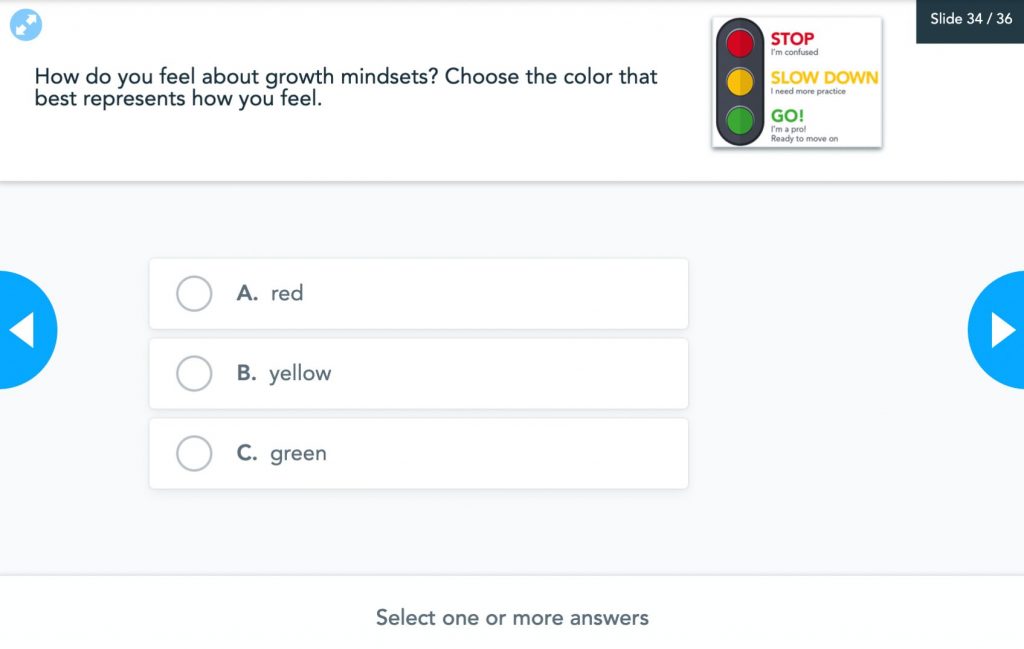 6. Make time for brain breaks!
Empirical research indicates that regular brain breaks from seat work help to increase knowledge retention and engagement during an activity. This is especially true in the younger grades, where teachers need to break instruction into small, digestible chunks in order to encourage retention at high levels.
Teachers can work in VR Field Trips into lessons that have students explore a beach, gardens, or other calming images to help relieve stress and to allow them to take a brain break. Students can then express their feelings in a Draw It or a Collaborate Board in order to support one another. Time To Climb can be another fun way to break up the stress of test prep by providing students with an entertaining, competitive outlet.
Another great way to give students a brain break is to bring movement into the classroom. Teachers can create a slide that takes students through a physical or breathing exercise, allowing them to disengage from academic work for a short period of time.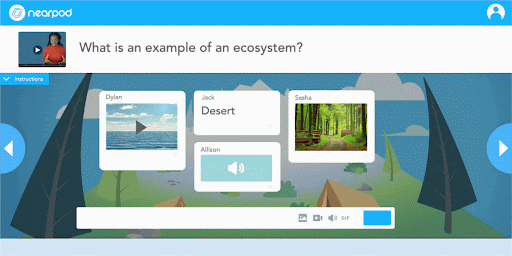 It's time to make test prep review fun for you and your students
Test prep is often thought of as a necessary evil in education. However, Nearpod can make test prep interactive, engaging and fun for all students, regardless of age or current ability. Teachers can access informative data to help inform the next steps with an instructional review or selecting individual students for reteach opportunities or intervention. By increasing engagement, teachers can get 100% of their students involved in test prep activities leading to more successful learning outcomes for all students.
New to Nearpod? Sign up below to access the fun and academic activities shared in this article.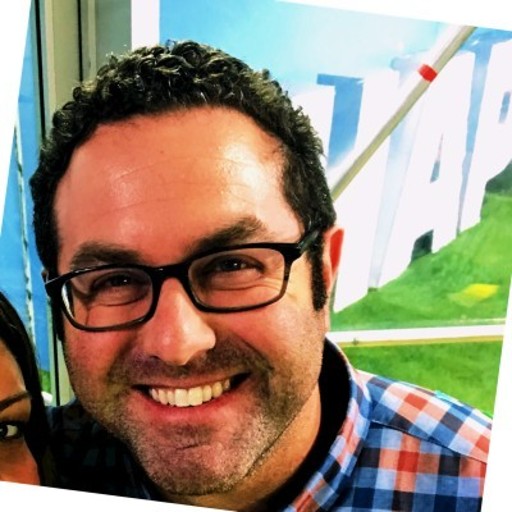 Dr. David Franklin is District Strategy Consultant for Nearpod as well as an award winning school administrator, education professor, curriculum designer, and presenter. He earned a Doctorate in Educational Leadership from California State University, East Bay, a Master's Degree in Education Technology from National University, and holds a B.A. in Music from the University of California, San Diego. Dr. Franklin is also an Adjunct  Professor of Education for Colorado State University. Dr. Franklin has presented at national and international education conferences and is a sought after presenter in the areas of academic intervention, school leadership, creating a shared vision, creating common assessments, and data analysis.