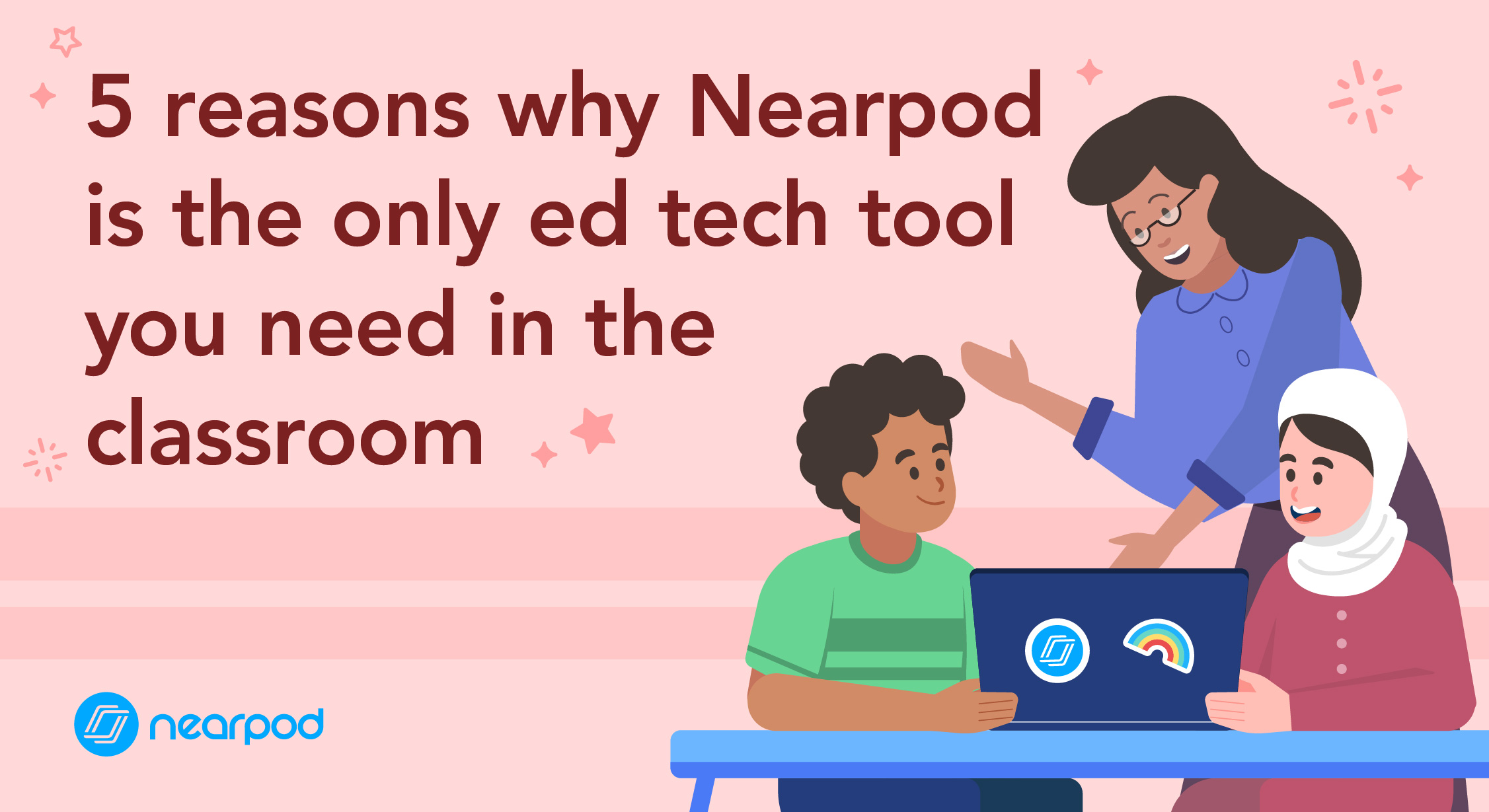 5 reasons why Nearpod is the only edtech tool you need in the classroom
Overwhelmed with tons of classroom tech? Can't figure out how to engage your students? Spending too much time learning how to use all your tools? Nearpod offers multiple solutions in 1 tech platform, which means there's no need to hop around from tab to tab in an effort to find and provide an interactive learning experience in your classroom. Let go of worry, allow Nearpod to relieve your stress, practice mindfulness in instructional planning – and have fun while you're at it!
Teachers are now more comfortable with tech than ever before. Technology offers us so many different choices for increasing engagement in the classroom. Read on to learn why Nearpod is the go-to and only ed-tech tool for millions of teachers around the world.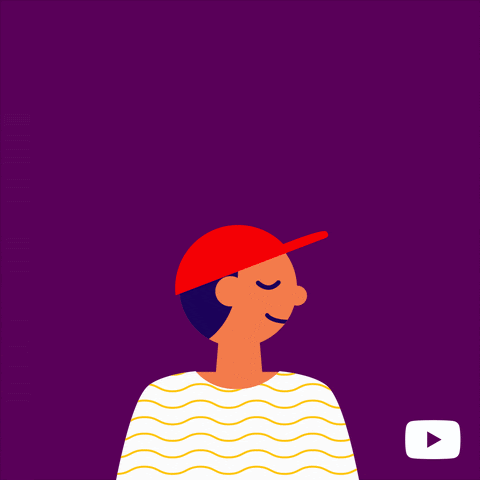 The days of sit and get are done, the best way to increase engagement between students and teachers is to close the reflection and feedback cycle with real-time insights. A "cool" presentation is no longer enough. Nearpod goes beyond presentation, into a world where you can integrate a variety of formative assessment and rich-media options to support a wide range of student proficiency levels. With Nearpod's Interactive lessons, you get more ways to teach, and support to get you started and make sure you conquer throughout your Nearpod journey.
1. Create and download interactive lessons you can trust
Use our interactive features to address students' academic and social-emotional needs, and unlike other interactive slides solutions, Nearpod has a library of thousands of resources which are thoroughly vetted and created in partnership with trusted educational publishers. Plus, you can easily upload your existing lessons, or create lessons right within Google Slides. This is much more than powerpoint on steroids. With Nearpod you will be able to switch from a live lesson to student paced lesson to maximize instructional time and launch on-the-fly activities to capture learning moments that were perhaps not a part of your original learning plan. The "On The Fly" options enable you to collect real-time insights  and adjust your instruction in the moment by adding content slides, open-ended questions, True/False questions, Draw It slides, or websites all with the quick click of a button!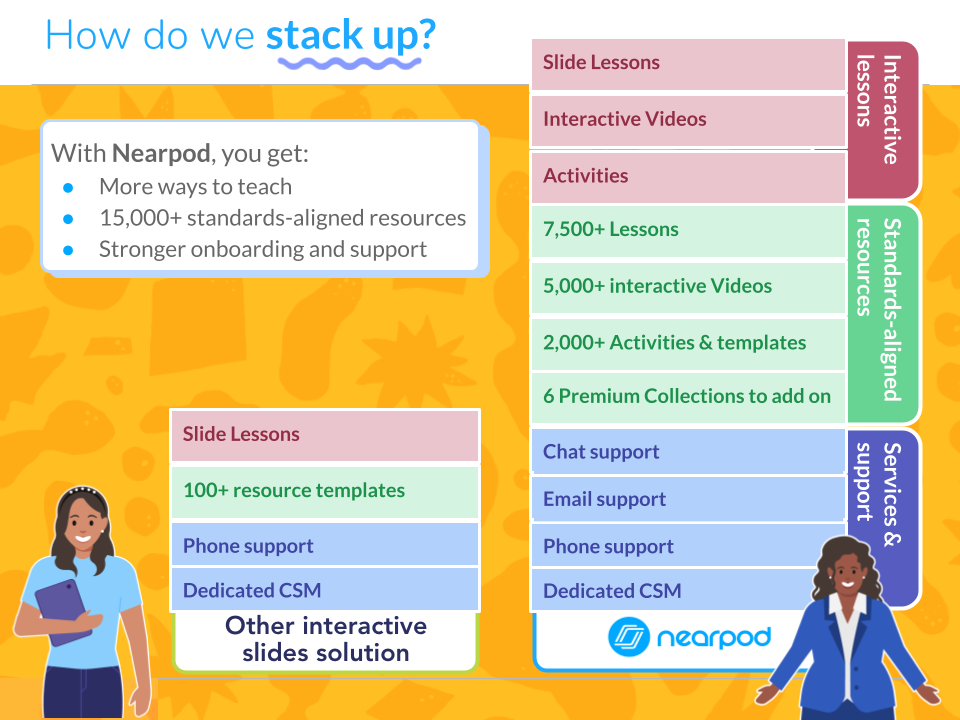 2. The power of Interactive Video
We all know videos are a great way to help students scaffold their understanding and make real-life connections. Videos are wonderful resources, but one drawback is that you have to wait until the end of the video or press pause along the way to capture learning. With Nearpods interactive video feature you can make any video interactive by embedding questions directly into the video. This is a great way to guide information processing. You can upload your own video, select one from YouTube, or choose from our pre-made video lessons made by trusted publishers. Better yet, you will not experience the frustration of having to delete videos when you reach 20 like other interactive video solutions, with Nearpod's Premium Plus license the possibilities are endless! Even with a free Nearpod account, you can still use Nearpod's Interactive Video feature without disrupting the flow of your lesson.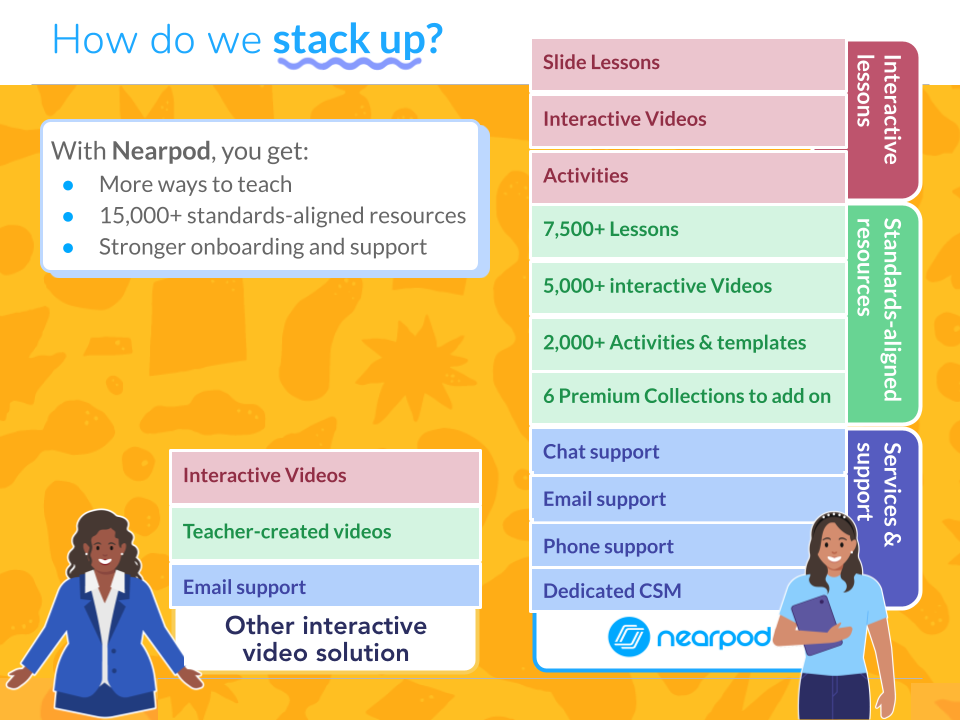 There are several options to ensure you maximize the interactive video feature in the platform. Want to amp up collective engagement? Watch the video as a whole class to keep everyone working at the same pace, or allow students to play the video at their own pace and set an ending point. Interactive Videos allow students to collectively respond to a multiple-choice or open-ended question at a designed breakpoint in the video. Either way, watch the excitement fill up your classroom with this fun and interactive activity that facilitates rich classroom discussion and promotes collaboration & critical thinking.
3. Gamified activities without the multi-tab clicking
Everyone loves a good gamified activity, but having to stop the flow of your lesson to provide wait time for your students to log in to participate can allow students to become disconnected and disengaged with the lesson & content. The key to a fully engaged classroom is the smooth flow of a lesson from one activity to the next. With Nearpod you can create engaging and rigorous student experiences using our Time To Climb feature. Time to Climb is a highly interactive gamified activity that's great for bell ringers, learning checks, exit tickets, and more. We also offer Matching pairs, which takes traditional classroom matching activities to the next level. With Nearpod you can easily create your own gamified activity or make use of our embedded Activity banks full of activities you can easily insert into your lesson. The best part is: there is no wait time needed for students to login in order to participate and all of your data is housed in your Post-session reports!

4. Address misconceptions in real-time with Whiteboard and Slide annotation
When facilitating a Live Nearpod lesson, teachers can annotate on content slides during the session. Students will then be able to see the annotations on their screen as well. You can also launch a whiteboard at any time in the lesson and the students will be able to see what the teacher is doing in real-time. This feature is great for teacher modeling, responding to, or addressing a misconception.
5. Less time clicking and planning, more time teaching and building relationships
Now, let's talk about the obvious…technology CAN be awesome and provide so much GOOD in your classroom. But, it can also be very daunting, difficult, and stressful to navigate successfully. Saving time by having everything in one place maximizes instructional time, having students use and learn one tool increases time on task and creates space for creativity as students conquer and innovate with Nearpod. As a teacher organization is key, with Nearpod you can keep all of your existing lessons and reports in one place which will make student conferences more efficient and productive, this is why Nearpod is your go-to for multiple solutions in 1 classroom edtech tool.
Now it's time for you to explore, we know your innovative, creative, and engaging juices are flowing. Keep in mind, Nearpod is a multiple solutions in 1 tool that provides teachers with over 20+ ways to engage and teach your students. We know there are multiple edtech platforms for gamification, interactive lessons & videos and formative assessments, however, each comes with its own set of learning and navigation that you frankly don't have time for. With Nearpod's gamification, formative assessments, interactive lessons & videos, simulations, VR field trips, and a lesson library with over 15,000 standards aligned ready-to-run lessons, teachers just like you are empowered to do what they do best, teach!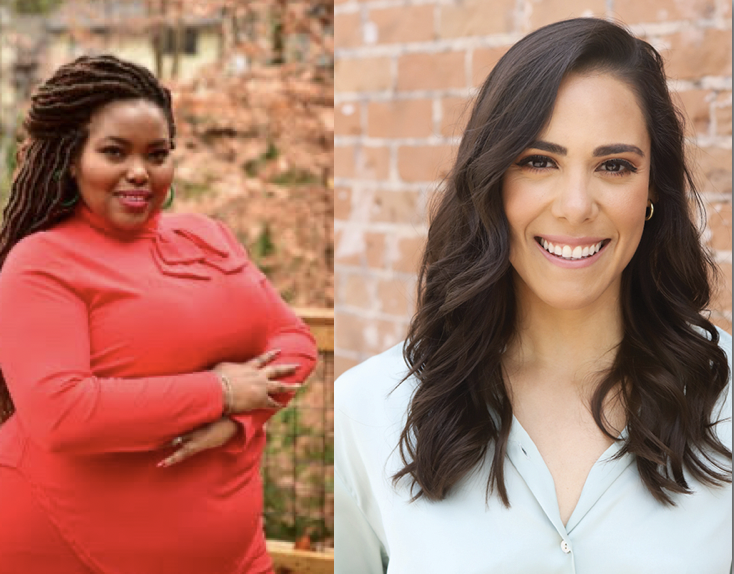 My name is Quinae Jackson, I am in my 10th year in education. I am the East Coast Brand Ambassador for Nearpod. I'm passionate about sharing ways for teachers to maximize instructional technology and facilitate learning environments that promote discourse, and collaboration.
My name is Marcela Labrador, I am a former teacher and professional development specialist. I am currently the West Coast Brand Ambassador for Nearpod. I am passionate about educational equity, social justice, and using technology with fidelity for educational purposes.