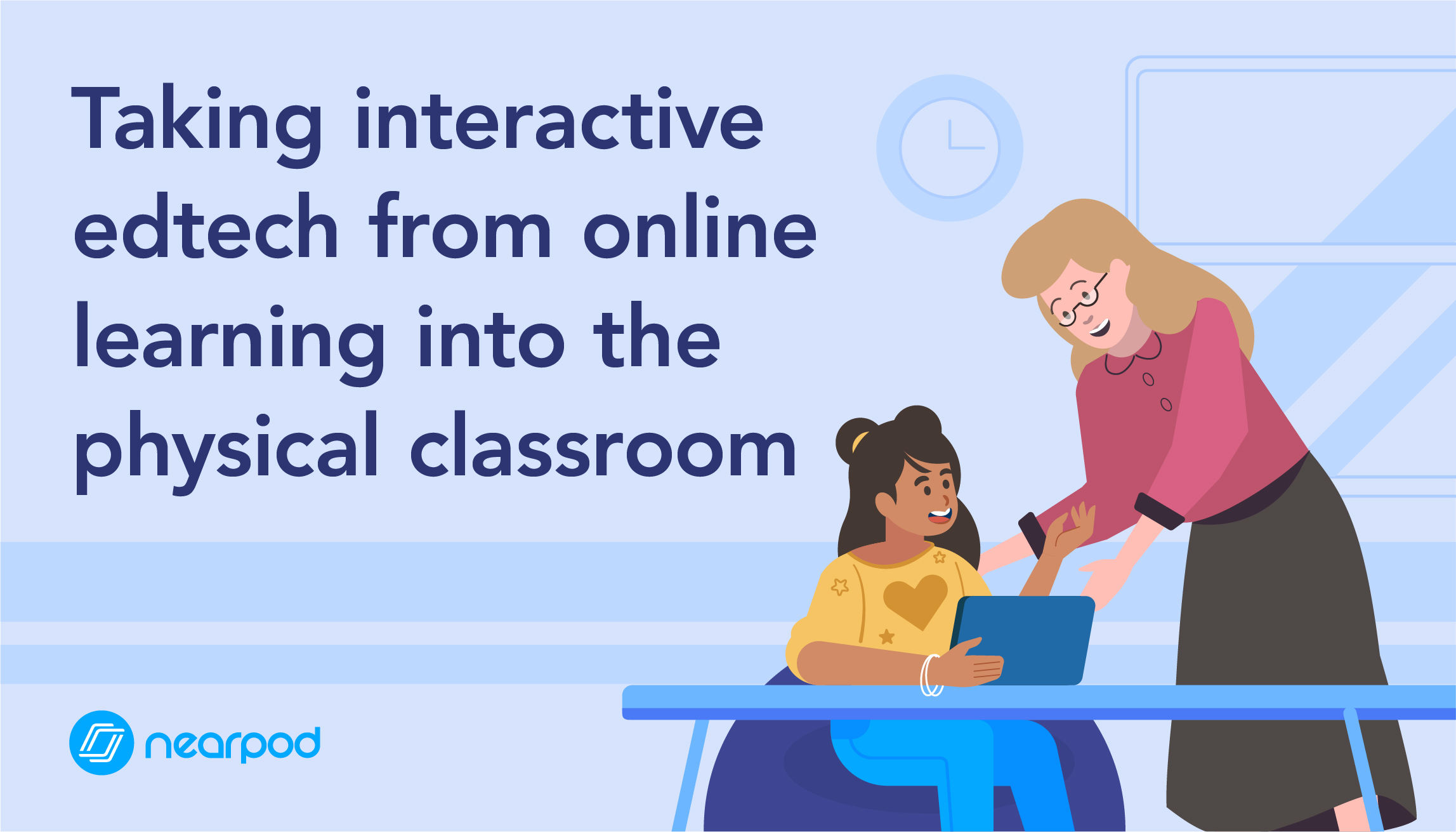 Taking interactive edtech from online learning into the physical classroom
The 2020-2021 school year will probably be remembered as one of the most unusual years as many students around the globe engaged in some version of online learning for the first time and it led to many teachers searching for interactive ed tech that could help facilitate meaningful learning experiences outside the physical classroom. For some educators, it was the first time they were introduced to Nearpod. Others that were already familiar with the platform found themselves using it and relying on it for every day instruction. As we transition back to the physical classroom in the upcoming school year, there might be questions and concerns about how to take the tech tools that many are familiar with in the virtual setting and integrate them into the traditional physical classroom. Fortunately, Nearpod is a program that can easily be transitioned into daily in-person use.
Using Nearpod in the physical classroom might intimidate some, but trust me, it is SO similar to using it during virtual learning. However you shared your screen before, the number of devices you used to connect with students, and your willingness to try something new all carries over as you transition back into the physical classroom. Instead of sharing your lesson through Zoom, Microsoft Teams, Google Meets, or whatever video platform your school used to engage in online learning, you can launch live or student-paced lessons through your LMS and project (should you choose) directly onto your screen in your classroom.
Let's pause for a second and consider why we should still use tech during in-person instruction. Not only does effective ed tech provide students with practice of computer skills consistently, it also provides opportunities for students to engage in and develop digital citizenship and literacy. The physical classroom is a great place to model safe, effective, and responsible use of technology, and using an ed tech tool like Nearpod can enhance your instructions and create more meaningful learning experiences for the student. Nearpod empowers teachers with data and provides students with a voice.
Present a lesson in the physical classroom
I love to pair my Nearpod lessons in the physical classroom with other hands-on activities that promote the use of "best practices" and get students moving and interacting with one another face-to-face. How you assign your lessons will depend on the goal for the learning experience (i.e. whole group instruction vs. independent practice) and what exactly that looks like will depend on what technology is available, the age of your students and the content you teach. You may set up your lessons and assign them in a way that will provide opportunities for effective differentiation. You may set them up to work as station-type activities that promote movement within the classroom and a variety of learning activities. Regardless of how you present your lesson, the interactive elements Nearpod offers allow for increased student engagement and provide all students with a voice that will improve your classroom culture.
Support students with formative assessment tools
Using Nearpod's formative assessment tools like Open Ended Questions, Quizzes, Poll questions, Collaborate boards, and Draw-It activities in the physical classroom allow you to easily address misconceptions and meet students where they are instantly. Accessing these tools through Nearpod can eliminate your need to go to multiple other websites that offer similar services. All student answers are recorded in real-time with your ability to see their names or hide them to keep answers shared out anonymous. Using these tools in the physical classroom gives you the opportunity to walk over and support a struggling student in a way that online learning did not allow. Plus, some of your learning activities from previous school years pre-COVID can be incorporated into your Nearpod lessons. I used to assign warm-ups or bell-ringers on paper and we would work through the activities at the beginning of each class period but not turn them in until Friday. Adding my warm-up activities to the beginning of my Nearpod lessons has given me immediate access to who is understanding the learning objective and who isn't so I can address it in the moment — not after the students turn the paper in and "forget" what we did.
One of the things I loved most as an educator during the pandemic was seeing how so many businesses, organizations, and foundations stepped up and provided virtual access to learning for students. From museums to zoos to meteorologists on local news stations to authors of childrens' books to NASA to so many others, the world came together to open metaphorical doors to things so many students would never be able to see or learn about pre-COVID. Nearpod's Virtual Reality Field Trips have the ability to do this as well, moving kids beyond the 4 walls of the physical classroom and giving them global access and experiences. As a teacher, you don't have to search for all the different programs or websites to access these experiences. They have a massive bank of locations, activities, and experiences ranging from geographic information to college visits to SEL activities connected to growth mindset that are readily available for you to use. The possibilities of exposing students to the world are endless and one of my absolute favorite features of this platform!
Eliminate the need for other edtech tools
Nearpod's activities like the Collaborate Board, Matching Pairs, and Time to Climb provide students with a way to safely and anonymously share ideas, learn from their peers, practice connecting ideas and affirming newly learned skills, while also removing the need to access other sites or apps like Padlet, GimKit, Kahoot, Quizlet, and Quizziz. These activities are a gift to teachers because they don't require you to navigate to another website, create an account, pay for any additional services or access, or try to remember another password. You can easily create these within your lesson to provide students with an ability to practice and reflect on what they've learned, engage in a debate, and students love gamification which makes Time to Climb a fan favorite!
Maximize impact of technology in the classroom
As a high school teacher, I often use a variety of websites and programs for students to access for information, to complete activities, or to create a representation of their learning. The ability to add Web Content to any lesson is a fantastic tool for teachers. This tool allows you to link to any website on the web without leaving the lesson or forcing students to navigate through multiple clicks and tabs. Additionally, Interactive Video eliminates the need to find or create interactive videos outside of Nearpod like Edpuzzle. This tool can easily be added to your lesson and lets you insert questions to any video from outside sources or of your own creation and make them an active instead of passive experience. During online learning, I often used FlipGrid to create quick video announcements to share with my students each week. I love that Nearpod offers a Flipgrid integration where students can create audio and video responses, record their screens to do presentations, and interact with one another all within 1 easy access point for students. In the physical classroom, I've given students the choice to either present their learning from the front of the classroom in a traditional presentation style or to record their presentations using Flipgrid within a Nearpod lesson. For students who struggle with public speaking, this has become a great alternative while also providing an opportunity for students to learn how to record a presentation, a skill many colleges and universities expect their students to know how to do.
While Nearpod offers many interactive tools and activities to increase student engagement, it is also a very teacher-friendly platform. It can displace the need for any additional slides, presentation, or delivery platforms. The Lesson Library is filled with premade and easily editable lessons that can be searched by type (lesson, activity, video), learning standard, grade level, and subject/content area.  There's a multitude of lessons that have been curated by partners like Eduptopia, Khan Academy, PhET, TEDEd, PBS Kids, Biography, BBC Worldwide, and Learning for Justice to name a few.  Nearpod also offers add-on lesson collections for schools and districts dealing with topics like digital literacy and citizenship, social and emotional learning, English Learners, college and career explorations, historical perspectives and literacy, and professional development. You don't have to reinvent the wheel to use this platform.  You can take something that is already out there for your use, tweak it to fit your students' needs, and be ready to teach within minutes. This can help eliminate stress and free up some of your planning time and you can easily share and collaborate on lessons with your teacher team.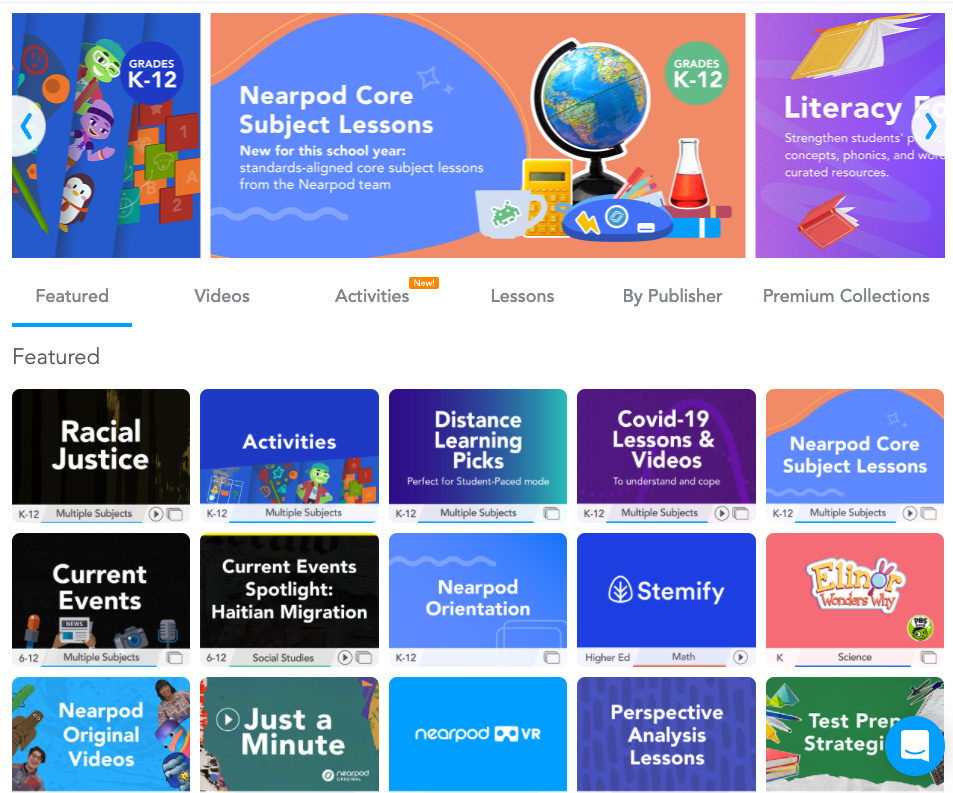 Be in the know!
Looking for a place to start? Consider finding Nearpod on all its social media platforms as so much information about product updates, upcoming PD opportunities, and tips and tricks for using Nearpod in your classroom is shared. The Nearpod Educators group on Facebook is a great resource as you can ask questions and get quick help not only from Nearpod staff but also from teachers across the globe who are also using Nearpod in their physical classrooms. This summer Camp Engage is coming back July 26-29! Camp Engage is the most insanely helpful and uniquely tailored FREE professional development for teachers. Many sessions are tutorial-based or specific to awesome ways to use this platform in your classroom and you choose which sessions to attend based on your professional goals in addition to having many opportunities to network with other educators around the world. Stay tuned for more updates!
Throughout the past 7 years or so, Nearpod has become my favorite ed tech tool to use in the physical classroom. It was born with the physical classroom in mind and relies heavily on teacher feedback to improve and meet the needs of teachers and students. It is a one-stop shop to create engaging lessons for your students that will increase academic performance and build classroom community. Everything can be created and saved in one spot, requiring 1 login from you as the teacher. Students don't need user logins to a multitude of websites to be able to access the information and they don't have to click on a bunch of different links to get to the material. It's a one-click, easily accessible lesson for students and can easily be shared through any LMS. It also doesn't require you to spend hours learning how to navigate and creating lessons from scratch. You can utilize the Lesson Library for inspiration or easily take what you've been doing for years and give it a facelift with all of Nearpod's amazing interactive features. Nearpod and its partnership with Flocabulary and Renaissance is the ed tech platform you will want to use because it was built with you in mind: the teacher, the student, and transforming how we use technology in the physical classroom to have clear insight into what kids are learning and to provide equitable access to education for everyone.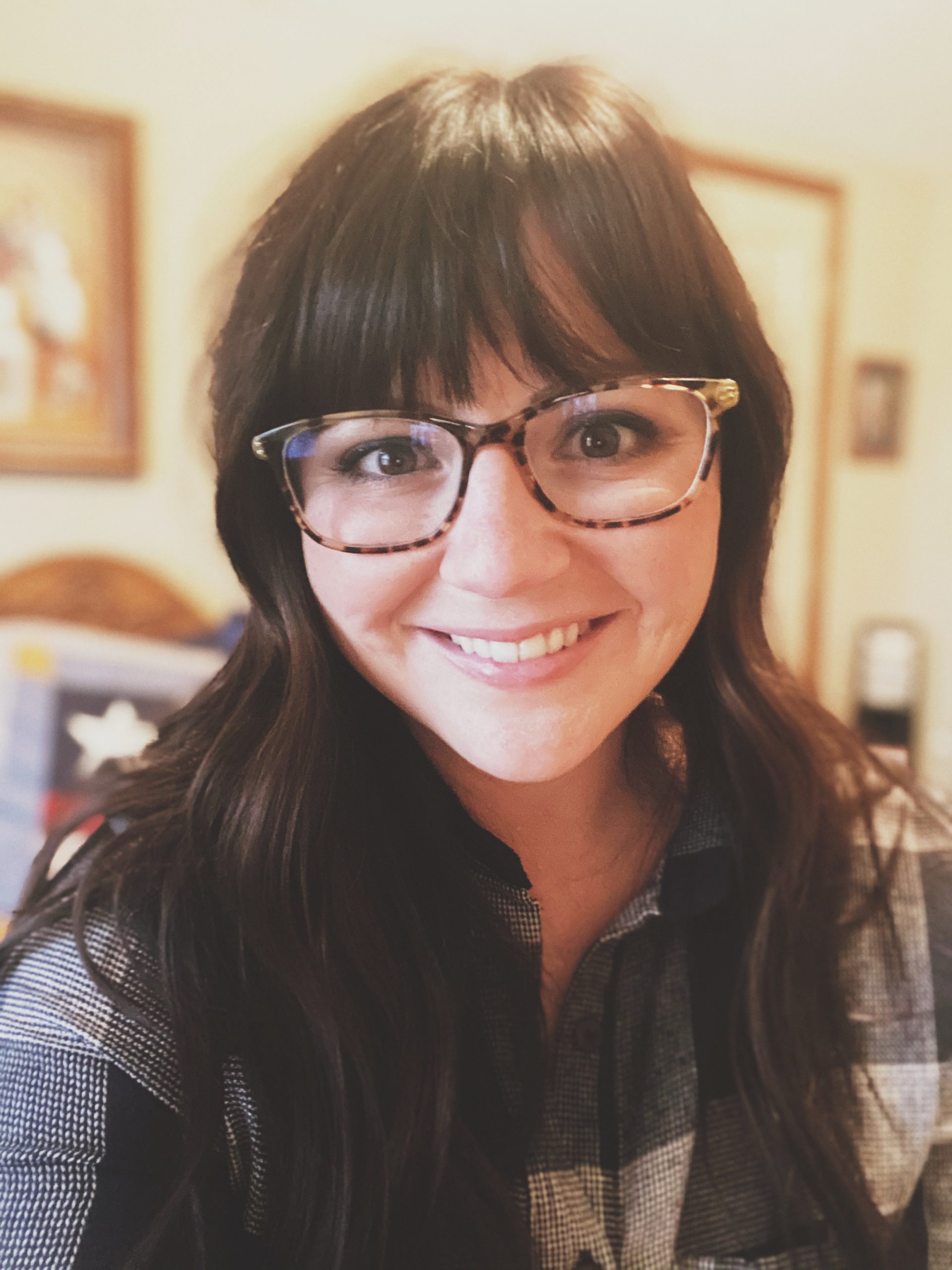 Brittanie Payne is an English teacher at El Campo High School in El Campo, Texas.  She has spent the past decade incorporating engaging ed tech in her classroom to improve student learning outcomes and prepare students for real-world learning experiences outside of the classroom.