Check all 4C's with Nearpod's Collaborate!
Collaboration is simple when students have a place to share ideas, interact with classmates, showcase their work, and actively engage in a lesson. Nearpod's Collaborate! is such a place. Collaborate! allows students to interact with instruction and demonstrate the 4Cs (collaboration, communication, creation, and critical thinking) in one platform.
Collaborate! is an interactive brainstorming board for teachers and students to share text and images in real time during live or self-paced sessions.
Here are some tips:
Responses can include text (up to 250 characters) and/or images.

Teachers can opt to moderate posts.  

Learn more

Students can view responses and "like" each other's posts.

Moderators/Teachers can sort responses by the time of entry, the number of "likes," or student name.

Here's how

.

Boards can easily and quickly be shared via email, social media, or direct link.

To enable Collaborate! for student-paced mode,

read this post

.

Not a Silver User? Anyone can make a quick and simple standalone Collaborate! too. It's easy. Try it

here

.
Collaborate! and the 4Cs
Collaborate! provides a myriad of opportunities for students to share their ideas. At the same time, students work with others while hitting those 4Cs! For best results, it s always a good idea to first discuss proper etiquette and establish specific guidelines for posting.
Collaborate! to Communicate
Collaborate! gives students the opportunity to convey their thoughts, ideas, or questions in a safe, risk-free environment. Improve and encourage communication in your classroom by trying Collaborate! in these ways:
Create a Collaborate! parking lot

for questions and comments during a presentation, movie or training. Students can post throughout the lesson.

Share a strategy used to solve a problem. Compare strategies to demonstrate more than one right answer.
Have students create and share success criteria for assignments or tasks.
Create a thank you, greeting, or honor board to share with another class or with a specific person or group.
Keep parents informed about the great learning that is happening in the classroom. Share your board on your website, social media or in an email.
Collaborate to Collabor-GREAT
It's called Collaborate! for a reason! Level up real-time collaboration with these innovative ideas:
Create a Think-Pair-Share board. Set a timer. Think, ding. Discuss, ding. Then POST!
Try a Color Code Challenge. Students post resources, ideas, questions, etc. to indicate different difficulty levels.  Students will include an image of a solid color box to represent the level. (Easy to find in image search.) Red-challenging, yellow- on level, green-easy.  Visually see levels on the shared board.
Give students choices and a chance to vote. Ask a question then solicit a response. For example, "What do you want to learn today?" or "What should we study next?" or "Here are our choices for learning. Tell your preference and why." Have students vote on their preference. Sort by "likes" and you have your answer!
Create a board in response to peer presentations (might want to approve these first!). Create a Collaborate! slide for each presentation and have students provide peer review during and after the presentations.
Collaborate in real time with another class in another city or country! Share your board topic and see what different perspectives are posted.  

Connect with other schools here

.

Spark a classroom discussion or debate.

Here's how

.
Creation – Collaborate! is a Showcase
Students can add images to Collaborate! to showcase their creativity when posting. Teachers can compose a question prompt to encourage creation. The teacher or moderator has documentation of the work. Here are ideas to try:
Project Meme – Students love memes and they love creating them.  Propose a question to students. To answer, the students must create a meme (or other visual) to answer. They will explain the meme and post the image with their answer.  (There are plenty of

free meme creation tools

out there! Try this

Google drawings

template or

Quozio

)

Visual Vocabulary – Provide a vocabulary word as your prompt. Students must define the term with one word and an image. This also works with math and science problems.  (Bitmojis and emoticons are really fun to use here. Also, check out

The Noun Project

for icons and more.)

Instagram Post – Have students imagine that the Collaborate! board is Instagram's feed screen. Ask your students to post some subject related photos with creative hashtags along with the image.
Screenshots from field trips or 3D objects – As students are exploring a VR field trip or 3D image, have them take a screenshot to show what they found. (For example, when studying simple machines, use the 3D image of a locomotive and have students screenshot a portion to show where simple machines were needed!)
The About Me (not necessarily a person!) – Have students describe themselves, a character from a book, or even personify a place, historical event, or a math problem. Then create or find an image to match their responses and descriptions and post.  
Collaborate! for Critical Thinking
To promote critical thinking, craft the question or prompt to elicit critical thought responses. A challenging question that is not found on Google is the goal. Here are question stems to get you started. Having students add an image to support thoughts is always a great idea.  Let's get to thinking in Collaborate!
What will happen? Have students make predictions before reading a story, solving a problem, performing an experiment, etc.
What Would You Do? Present a situation to the students and have them post on what they what they would do in the same situation.
Reflection – Have students answer,  "What do you think about," or "Why is this the best way?" and provide support in their responses.
Say it differently – Post a phrase as the title and students must repost the phrase, but in an entirely different way!
Ask the Expert – Have students craft questions to ask a character from a novel, a person from history, a scientist, a mathematician, etc.
Collaborate! is a simple solution to level up student engagement and add a little fun and excitement to lessons while hitting the 4C's.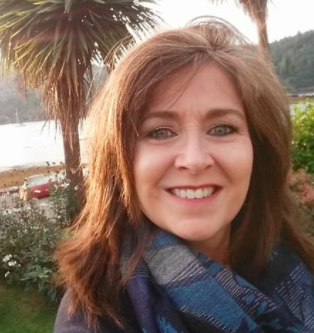 Angie, a Nearpod Certified Trainer and PioNear, is an educational technology consultant, digital coach, presenter and trainer specializing in technology integration, mobile and blended learning, BYOD, and technology-rich lesson and curriculum design.  She has over 25 years of experience as a classroom teacher, district technology integration specialist, and instructional coach.