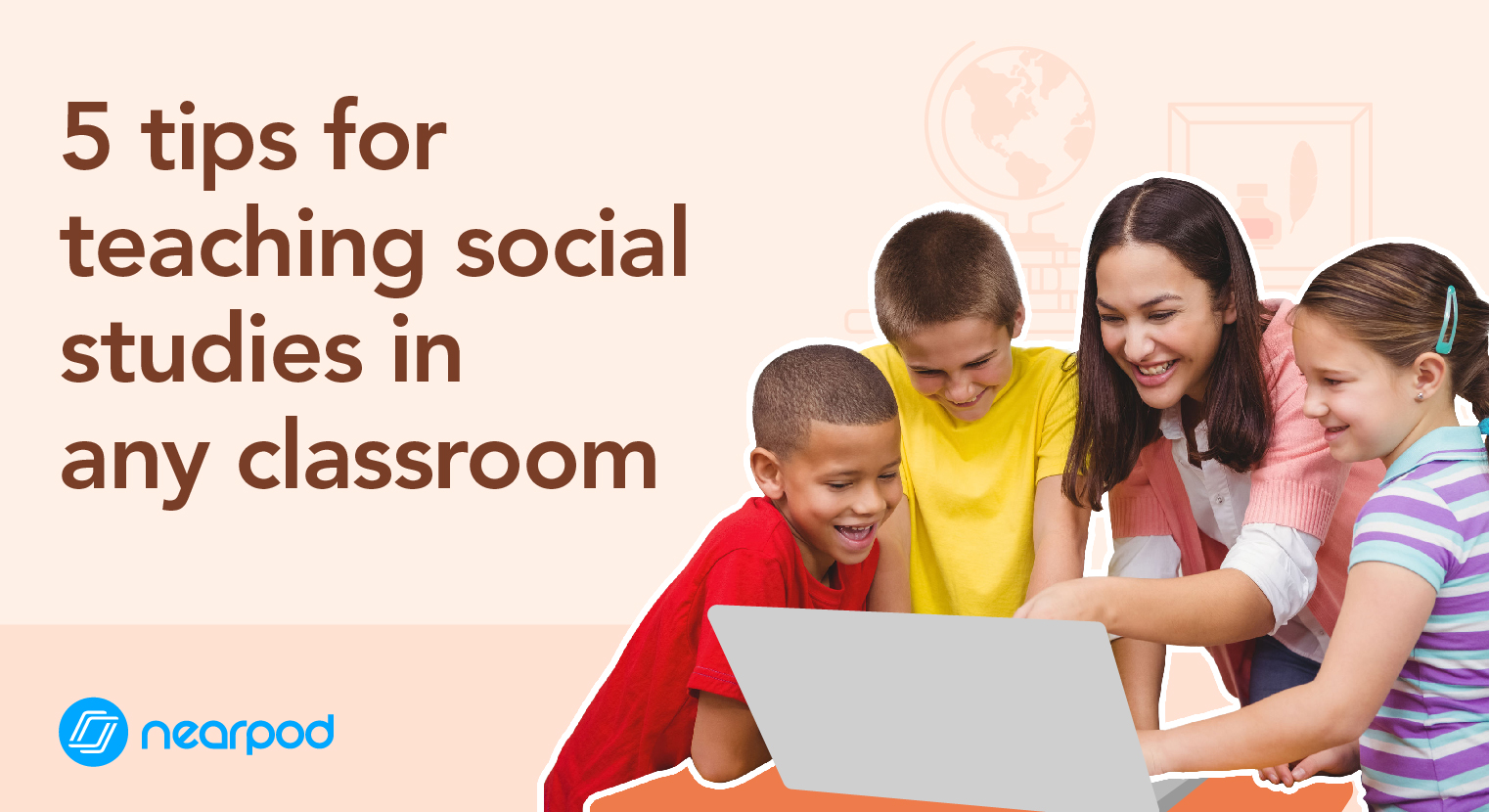 5 tips for teaching Social Studies in any classroom
Are you looking for ways to increase engagement and learning in your social studies classroom? Nearpod can elevate traditional classroom presentations to interactive experiences that will take students to the next level in their learning. Nearpod is a presentation tool that has interactive features. The teacher controls the presentation on their device and the students' screens move as the presenter wants. Students will be immersed in fascinating social studies topics by actively participating in all kinds of activities, including virtual field trips, embeddable digital media in text and video, and even exciting assessments. Furthermore, Nearpod has partnered with the best organizations in Social Studies, like ICIVICS, Khan Academy, Common Sense, and National Geographic to offer amazing lessons that are just a click away. In addition, all this can be done synchronously or asynchronously for all forms of learning in the post-pandemic school. As educators know, getting students from being passive participants to active participants in their learning can be the difference between a failing classroom and a flourishing classroom.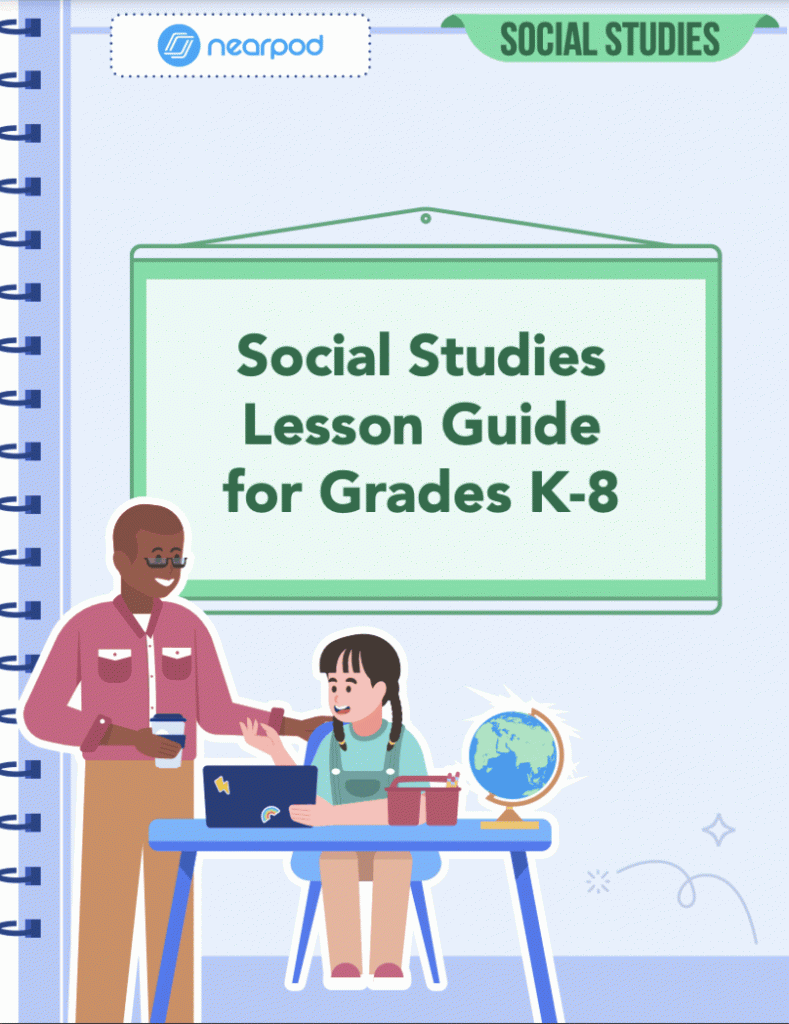 We've curated a Social Studies Lesson Guide for Grades K-8 so you can spend less time searching for resources and more time doing what you love: teaching. With ready-to-launch lessons, activities, and videos, these guides can help you remediate key skills, reteach concepts, and even prep for testing time.
5 tips for teaching Social Studies in any classroom
1. Start using Nearpod as a hook
The attention of school-aged children and adolescents is short. That is why teachers are trained to begin each lesson with something that will hook their learners. This is called the launch, do now, or for those of you who have been around a while, anticipatory set (thank you, Madeline Hunter). Even more so, teachers today are competing with video games, social media, and everything else for students' attention. Nearpod has some amazing tools to use at the beginning of the lesson to hook today's learners. Here are a couple: Polls are an easy way to get students to interact with the lesson. Asking the students their opinions about something will lead to some great dialogue. Collaborate Board, another Nearpod tool, allows students to respond and see other responses. Nearpod has options that look like post-its or bulletin boards and allows teachers to review student responses before being shown to the students. In the classroom, a teacher may poll the students to rate their opinion about a topic such as taxes to hook their learners into a class discussion before jumping into an economic lesson or civic lesson. Or, use the Collaborate Board to ask students what they know about taxes to engage them. Either way, using Nearpod to catch the interest of your students will help them as they dive deeper into the material.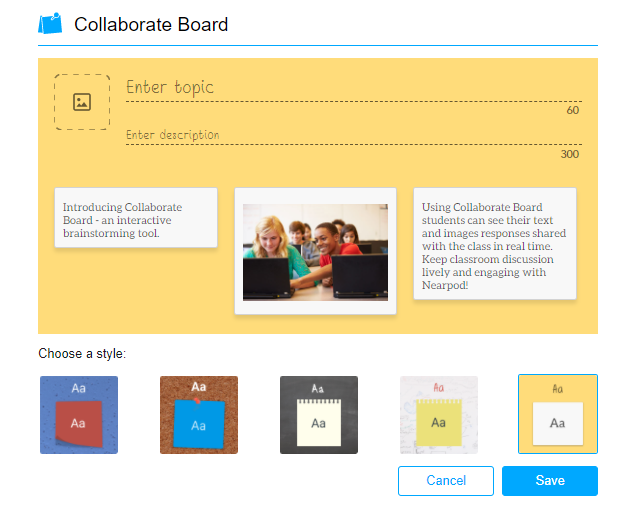 2. Use dynamic media to engage students
After some excitement has been generated about the lesson, now the students need to build some knowledge around the topic. This is important because, eventually, students will need to apply their new information in traditional and/or authentic assessments. When today's generation, and previous ones,  want to learn something new, what do they do? Yeah, they go to the internet. Nearpod has a multitude of ways to share information from the web. In order to keep engagement a top priority in the lesson, students need resources that allow them to explore. Nearpod 3D is a great way to get students thinking about a particular topic. Students can actually observe and manipulate 3D images of temples from Mesoamerica or buildings such as the Sydney Opera House or Taj Mahal. If a video is what you are looking for, Nearpod has you covered. With Nearpod's interactive video tool, teachers can embed formative assessment questions into any video to take it from passive to active. You can create your own video, upload your favorites, or use one of Nearpod's thousands of K-12 standards-aligned videos from trusted educational publishers. BBC Video also has a collection to select from that includes everything from Athens and Democracy to Immigration, as well as Flocabulary Video, which are videos about topics with hip-hop style lyrics. And if you are looking for just audio or text, Nearpod has an Audio tool and PDF Viewer. With all these attractive options for students to explore and build their knowledge, the excitement around your lessons will continue to build!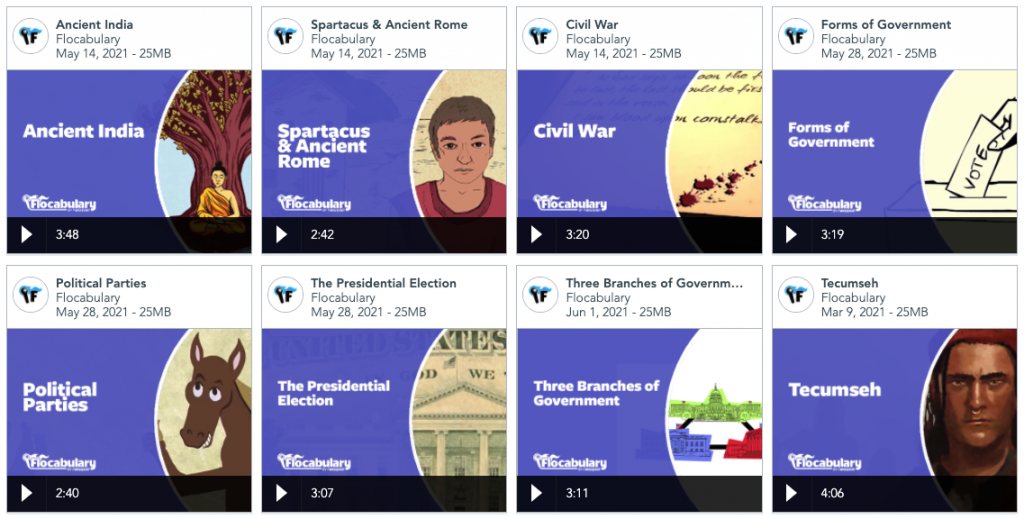 3. Check for understanding with virtual reality lessons
Even without the interactive tools, Nearpod is useful in the classroom for direct instruction. Even as teaching transforms into a more facilitating role, students will still need some lecture-style lessons to clear up misconceptions and clarify the content for some learners. Nearpod gives the teacher the ability to control the information on the student devices for a more personal presentation. This is great and seamless for virtual learning, as well as the classroom. In addition, Nearpod gives teachers the power to engage during the presentation with tools like  Nearpod VR, Slide, PhET Simulation, Sway, and Slideshow. Nearpod has a collection of virtual reality presentations that will transport students out of the classroom and into social studies. Can you imagine how powerful a lesson could be if you could 'time-travel' back to the Boston Tea Party when learning about the causes of the American Revolution. Or visit South Africa virtually while learning about natural resources or Apartheid. Now that is transformative learning! The best part is teachers can do some informal assessments via tools like Fill in the Blanks, Quiz, or Draw It. These tools allow for some checks for understanding before students move on to some independent activities. The accountability ensures engagement even during teacher lectures.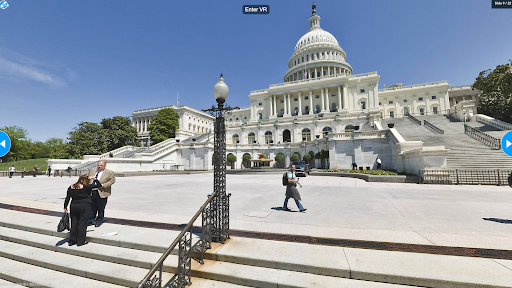 4. Practice and apply with formative assessment tools
Now students are becoming proficient in the new topics and need some practice and application. First, Nearpod has various ways to allow students to practice their new knowledge and skills. Again, Draw It is a great tool to have students complete graphic organizers and diagrams to practice. Nearpod allows the presenter to share student examples with the class anonymously or with student names attached. Matching Pairs and Memory Test also fit well in this part of the lesson. Lastly, Quiz and Fill in the Blank tools will work here too. Afterward, students can apply their learning using Open-Ended Questions or, a  student favorite, Flipgrid. Flipgrid, which works alongside Nearpod, is a tool that allows students to create videos to authenticate learning. Often, these videos become remixes of videos that students watch on their own. Think about how-to videos (makeup tutorials anyone?), top ten lists, or even mock news reports. Think about the fun students could have to create news programs with top stories, weather, and sports about the different nations in Africa during a geography unit. Whatever the goal, your students will be engaged during the learning process and will be able to share their learning in original ways.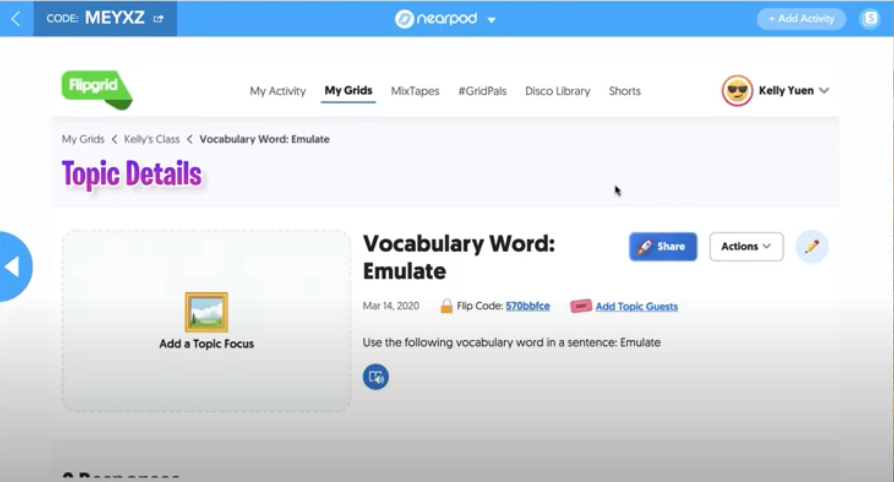 5. Turbocharge engagement with gamified learning
Even though your Nearpod presentation has allowed for multiple assessments during the lesson, there is one more tool that must be shared. Of course, Quiz, Fill in the Blank, Memory Tests, and other tools can be used to assess students at the end of the lesson. But Time to Climb is a gamified Nearpod assessment tool. Instead of a traditional assessment, students compete using different characters to climb to the top. A review of the causes of the American Civil War will be an experience the students will immerse themselves in if it is gamified in Time to Climb. As the facilitator, cheer on the students, do some play-by-play, and give rewards to the winners and participants! There is music, sound, and competition that will fuel engagement as the lesson comes to a close.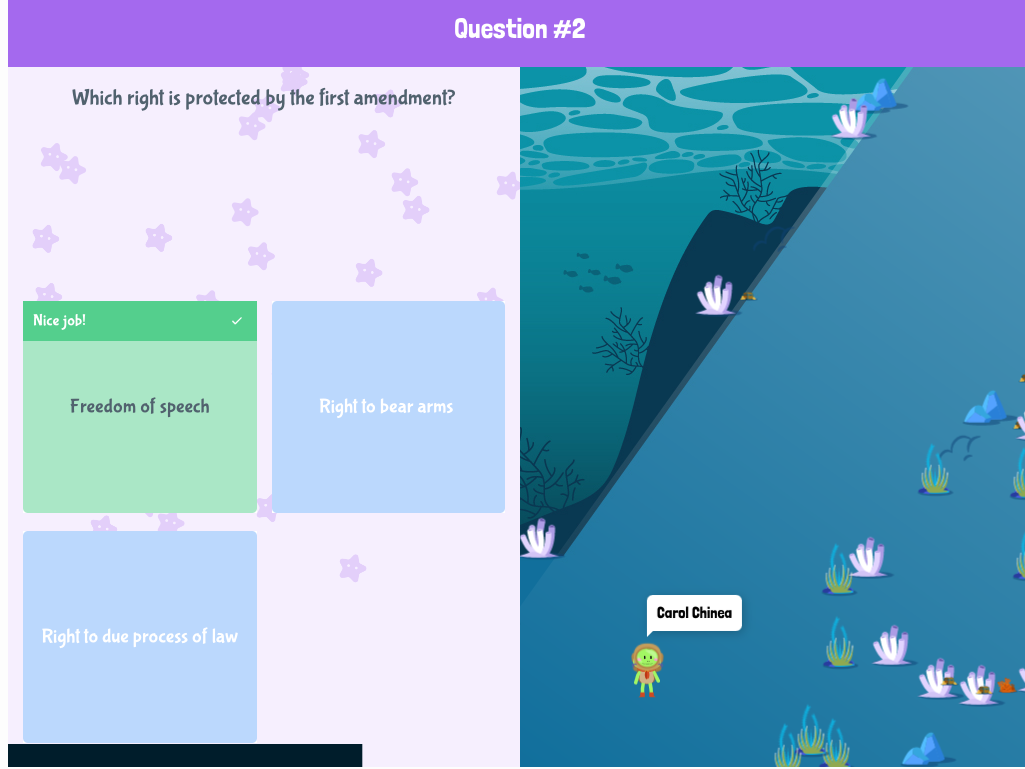 Nearpod is the best educational technology tool because of its myriad interactive tools that increase student engagement throughout the entire lesson. Whether you use UbD, hyperdocs, the 5 E's , or even a traditional format like Madeline Hunter's, Nearpod has the tools and lessons that will have your students excited to learn in your classroom.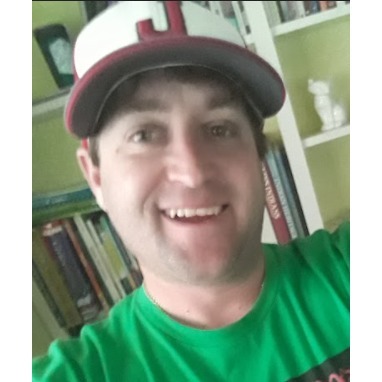 Arthur Vambaketes has been teaching in Computer Science and Social Studies in the St. Louis area for over 10 years, and loves modeling lifelong learning with his kiddos. Using technology to allow students to acquire knowledge, practice skills, and make digital media to share with others, students go from media consumers to media creators!