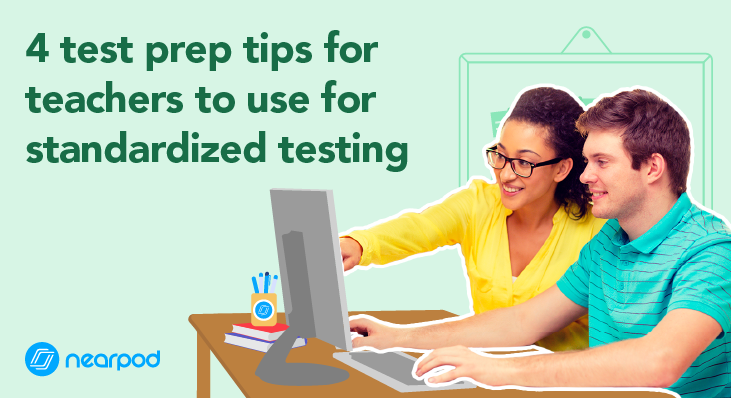 4 test prep tips for teachers to use for standardized testing
As standardized testing season approaches, the classroom can become a whirlwind of test prep and practice for both students and teachers. We know how stressful standardized testing is, but Nearpod can help whether you are gearing up for test prep or just want to do some end-of-the-year review with students. 
Students must be able to utilize computer and keyboarding skills for digital testing environments, understand what high-stakes assessments are looking for and mitigate test-anxiety. Teachers also need to produce content for testing preparations or end-of-the-year reviews while saving time. Here are a few tips to help.
1.
Use edtech in the classroom to help students test prep
Digital testing, and in-person testing, environments add an extra layer of test anxiety for those teachers or students who are not as familiar working with edtech in the classroom. Before standardized testing begins it's important to regularly use technology in the classroom to build familiarity, especially for younger students who may be less familiar with technology or standardized testing.
When you regularly incorporate edtech in the classroom you provide students the opportunity to practice computer and keyboarding skills to increase their proficiency in navigating technology, which will support during test prep. Nearpod's edtech platform gives students regular practice navigating digital assessment settings and typing no matter their grade level. Early elementary students can also benefit from learning to select answers, submit questions, or practice early typing skills to develop a familiarity with finding letters on a keyboard. 
Click below to view these Nearpod lessons on digital citizenship and literacy to build computer skills and keyboarding practice before standardized testing season. 
2.
Create lessons with student test exemplars to discuss 
For many students, it's easier to accomplish what's expected of them when writing when they see examples of finished student work. Past student writing exemplars for standardized tests are available online for teacher reference or to share with students. These examples are a great test prep tool to model how standardized tests typically score various levels of student responses. 
Pull these test prep resources into a Nearpod lesson for a chance to model different student responses. Teachers can give students a chance to guess scores or proficiency levels with Nearpod's Poll feature. Teachers can follow up a Poll with a discussion on what successfully written responses to questions might look like and include. 
3.
Mediate test anxiety or end-of-year stress with SEL lessons
With Nearpod's SEL lessons on test taking strategies, teachers of all grade levels can help support students socially and emotionally when preparing for high-stakes assessments.
4.
Save time creating content with pre-made lessons and activities
Nearpod's lesson library has thousands of premade standards-aligned lessons for K-12. Save time and use a lesson or activity from the lesson library to review concepts already taught over the course of the school year to support test prep. Instead of creating new lessons for review or preparing materials for past lessons, teachers can easily find ready-to-go lessons from trusted educational publishers.
With Nearpod's activity banks, teachers can quickly grab pre-made and standards-aligned Matching Pairs, Draw-It, and Time to Climb gamified quizzes to add or customize any Nearpod lesson.