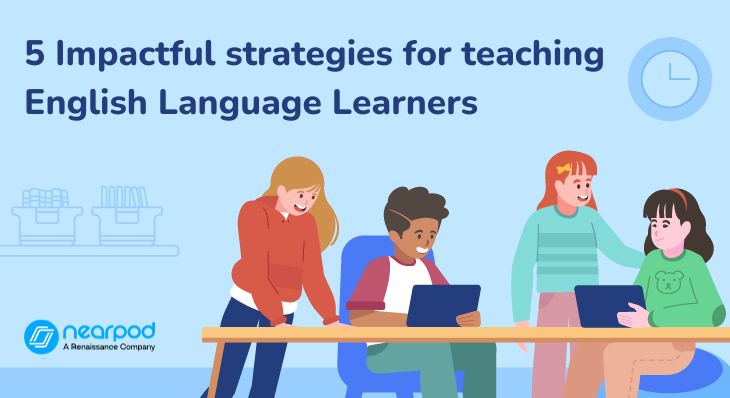 5 Impactful strategies for teaching English Language Learners (ELL)
One of the most rewarding parts of being an English as a second language (ESL) and English language learners (ELL) teacher is supporting our newcomers with effective teaching strategies. Every newcomer is so different. Some arrive eager to jump into whatever their class is doing. Others arrive too terrified to move. It's our job to help them feel welcome, support second (or third! or fourth!) language acquisition, and provide resources for tackling grade-level content.
How can technology be used to support ELL instruction?
Technology in the classroom offers a multitude of innovative strategies for teaching English language learners. By integrating digital tools and resources, educators can create a more inclusive and engaging learning environment. Technology for ELL students can help provide personalized instruction and immediate feedback through real-time insights into student learning. With tools like Nearpod, you can enhance language acquisition for ELL students, making the learning process more interactive, flexible, and effective. You can establish engaging classroom routines for repetition, making it easier for students to follow structured activities and boost their comfort and confidence. It also simplifies the process of showing parents their child's progress with user-friendly reports, even across language barriers. You can also use interactive lessons that include embedded assessments and dynamic media such as Virtual Reality (VR) Field Trip experiences.
Using Nearpod makes technology for ELL teaching a bit less daunting. Keep reading to explore 5 impactful strategies for teaching English language learners.
New to Nearpod? Make sure you're signed up to access these lessons and activities!
Teachers can sign up for free below to access and create interactive lessons. Administrators can schedule a call with an expert to explore the English Language Learners K-12 Program and unlock the full power of Nearpod for schools and districts.
5 Impactful strategies for teaching English language learners (ELL)
1. Make newcomers feel at home with VR field trips
Virtual Reality Field Trips offer an innovative and immersive approach to enhance English language instruction and help newcomers feel at home. These virtual experiences can transport ELL students to various countries and culturally significant locations, providing them with a unique opportunity to explore different environments, practice language skills, and gain a deeper understanding of English in real-world contexts. VR field trips can engage students in interactive and visually stimulating language immersion, allowing them to observe and imagine what it would be like to listen and communicate within authentic scenarios. This not only builds their language proficiency but also fosters cultural awareness and broadens their knowledge base.
Nearpod helps me celebrate newcomers' diverse life experiences. When a student first joins your classroom, go on a Virtual Reality Field Trip to their home country and virtually tour the world as a class. It helps build classroom community and valuable and diverse background knowledge.
2. Create engaging routines for repetition
Many newcomers spend much of their day just trying to keep their heads above water. What did the teacher say? Why is everyone in my class standing up all of a sudden? Where are we going?
Having routines helps students who struggle with verbal directions. They see familiar content and get started immediately, thanks to the structure and routine.
There are various ways you can implement this as one of your ELL strategies. For example, you can write three consonants on the board daily. Add them to a Collaborate Board and have students list as many English words that begin with each letter sound. Students enjoy getting to "heart," or like their peers' posts and respond with comments. Early finishers complete review questions at the end. Using Nearpod to build this routine helps any newcomer feel comfortable and builds confidence. Explore more ways to build easy classroom procedures and routines to engage students.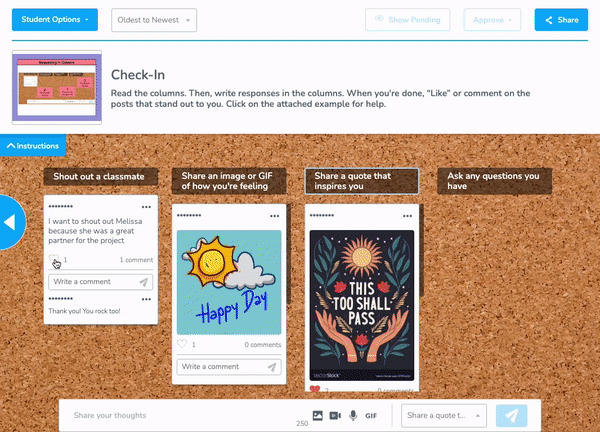 3. Utilize student data for instruction and parent-teacher conferences
Utilizing student data to inform and implement effective strategies for teaching English language learners is crucial for targeting language development. It helps educators create personalized learning experiences by assessing individual language proficiency levels and tracking progress in specific language skills. This data-driven instructional approach ensures targeted support and effective language development. Nearpod has data reports for the whole class and each student that teachers can use to differentiate instruction and track learning. Additionally, in Nearpod's teacher dashboard, teachers can see student responses to assessments and activities in real-time.
As an ESL teacher, there are times when I am pulled into last-minute parent-teacher conferences. You should always be able to access students' performance reports and work in an organized, in-the-moment, and manageable way. Nearpod helps me walk into that meeting confident and prepared. With limited time given to prepare, Nearpod allows me to quickly print out reports. I take them as evidence to show the student's progress. Even across language barriers, the user-friendly student reports help parents see how their student's language skills are growing. These strategies for teaching English language learners will impact students' language development by analysing their prior knowledge and their learning outcomes over time.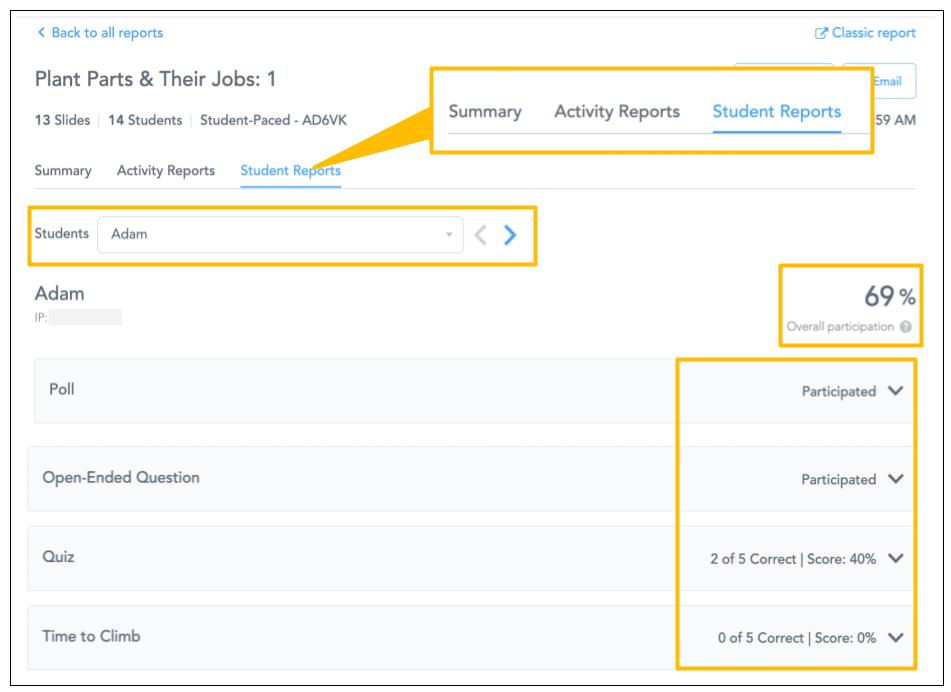 4. Use educational resources you can trust
As an ESL teacher, I work with newcomers across grade levels. This means that I need resources to support many different lessons. Nearpod makes that easier. The Nearpod Lesson Library has an extensive collection of high-quality, ready-to-use lessons. I can use them as-is or edit a few slides to suit specific small-group needs. This is helpful for those times when I receive an update from a homeroom teacher and need to adapt the lesson quickly. You can use the filters to narrow lessons down by grade level, subjects, standards, and activity type.
This week, 3rd & 5th grade ELs at #FarragutIntermediate were learning to recount the story and condense clauses using the texts in Unit 2 #BenchmarkEdu ALL curriculum. Ms. Long provided ELs with sentence stems & Ms. Zhao utilized #Nearpod to engage and assess ELs. @KCS_ELL pic.twitter.com/9T1joaQyph

— 𝒟𝓇.𝐻𝒶𝓃𝓃𝒶𝒽 𝒪𝑒𝓈𝒸𝒽 (@Oesch_ELL) October 2, 2021
Additionally, Nearpod's EL Program includes thousands of lessons, videos, and activities available for schools and districts. In this program, ESL or ELL teachers can use premade content with these supports already built into their favorite Nearpod lessons. Additionally, they can find newcomer-specific content and vocabulary lessons. Explore sample lessons from the program here.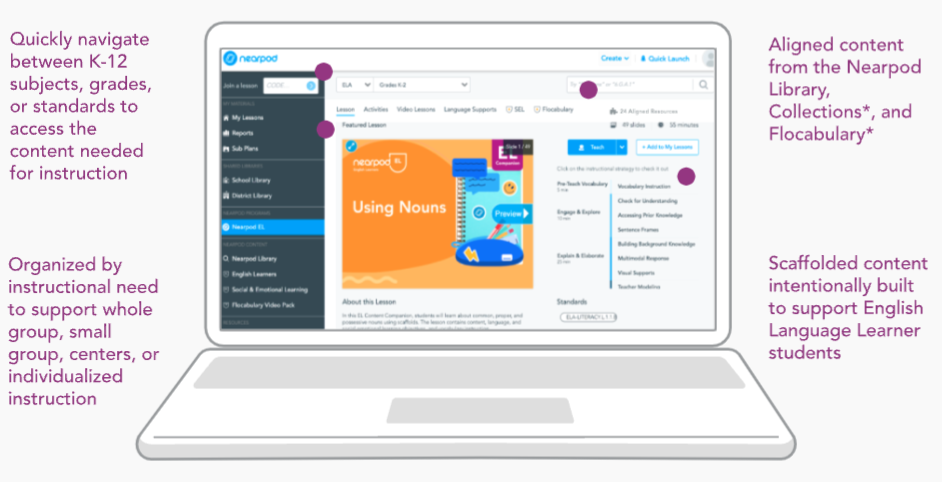 5. Amplify, don't simplify, with vocabulary support
Teaching academic vocabulary to newcomer students is essential for their academic success, effective communication, and cognitive development. Proficiency in academic language enables ELL students in the classroom to comprehend lessons, excel in assignments and assessments, and engage in critical thinking and discussions. This empowers them to navigate educational challenges and fully realize their academic potential.
Nearpod helps break down academic vocabulary words and vocabulary instruction in general. From virtual field trips to engaging visual slides, Nearpod allows me to amplify, not simplify, grade-level texts. Instead of giving fifth-grade newcomers a kindergarten passage on the same topic, I will use the same grade-level passage from their teacher. I chunk the text on slides and support each piece with extra visual supports.
Additionally, tools like Microsoft's Immersive Reader on Nearpod offer valuable support for teaching vocabulary to English language learners. Through features like text-to-speech, translation, and word highlighting, Immersive Reader provides a multisensory experience that aids in comprehension and retention. It helps ELL students hear, see, and understand new words, making vocabulary learning more accessible and engaging. One way of teaching English language learners through technology that's impactful is through the translation feature on this tool. It bridges language gaps, facilitating a deeper understanding of word meanings, and word highlighting reinforces correct pronunciation and context.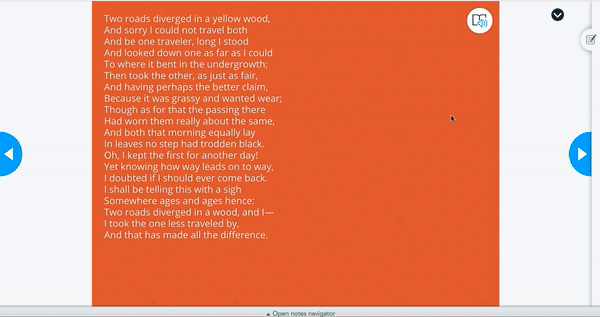 Start using Nearpod for teaching English language learners
As an ESL and ELL teacher, supporting newcomers with effective teaching strategies is an immensely rewarding experience. By leveraging technology, educators can create a more inclusive and engaging learning environment for ELL students. Tools like Nearpod can support the instruction of language acquisition through interactive lessons and activities.
New to Nearpod? Make sure you're signed up to access these lessons and activities!
Teachers can sign up for free below to access and create interactive lessons. Administrators can schedule a call with an expert to explore the English Language Learners K-12 Program and unlock the full power of Nearpod for schools and districts.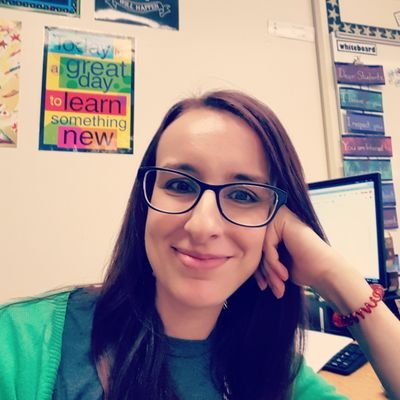 Melissa is an ESL teacher in a large, urban district in the Southeast. She enjoys using effective Ed Tech to address the needs of a diverse ELL population. Before becoming a resource teacher, Melissa was an upper elementary literacy teacher for several years and taught EFL in Japan.