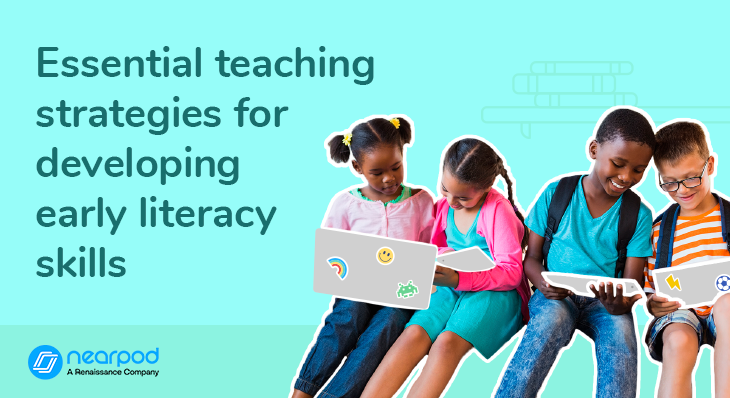 Essential teaching strategies for developing early literacy skills
What are early literacy skills?
Early literacy requires exposure, practice, and repetition to help children learn and build their skills and make them lifelong readers and writers. A love of reading and all things literacy related cannot be cultivated early enough. We are a species that thrives on storytelling, from the early days of Homer's orator skills to social media nowadays. Find ways to encourage partnership between your school's teachers and families so that reading and writing are emphasized early and often.
Why is early literacy development important for students?
Developing early literacy skills is crucial for healthy brain development, and its importance extends far beyond success within a school's walls. Obtaining basic literacy skills by third grade has been tied to higher academic success later in schooling and then in the workplace. Plus, there are physical and mental benefits, too. Reading 30 minutes daily has been shown to reduce heart rate and blood pressure. Lower reading scores in high school have been tied to health issues in adolescence and adulthood, partly because poor reading skills can affect informed decision-making about one's health. Basic literacy and skills can help thwart the ills of poverty and even incarceration.
If a child is not reading at grade level by fourth grade, they are statistically likely to remain illiterate throughout their life.

LucyProject.org
Social and emotional wellness and strong literacy skills help support good mental health. Social and emotional learning can help support students in expressing themselves, their feelings, and their needs. SEL and literacy thrive in such supportive and nurturing classroom environments.
What are early literacy skills literacy skills examples?
When it comes to examples of literacy skills, the key areas are reading, writing, listening, and speaking. Then, the areas become more nuanced as we begin to look at awareness of sounds, relationships between those sounds and letters, awareness of print, building comprehension, gaining vocabulary, and learning how to spell. These skill sets are the foundational blocks for literacy proficiency and growth.
Nearpod's instructional delivery platform helps educators connect with their students through meaningful interactive learning experiences. Engage every student in their learning through impactful features, from collaborative tools to formative assessments, and use data to inform your next instructional decision. Whether you're looking to enhance existing resources or supplement your curriculum with 22,000 standards-aligned lessons, videos, and activities, Nearpod has everything you need to facilitate transformational learning experiences.
New to Nearpod? Teachers can sign up for free below to access these resources, interactive activities, and engaging lessons. Administrators can schedule a call with an expert to unlock the full power of Nearpod for schools and districts.
Teaching strategies for developing early literacy skills
Reading strategies
1. Embrace the Science of Reading
You've probably heard quite a bit about the Science of Reading (SOR). This newer movement relies on decades of research about the best strategies to employ for teaching reading. SOR is not a program but rather supports a return to a highly structured set of approaches rooted in decoding skills and language comprehension versus phonics, whole language, or balanced literacy.
Within Nearpod, you can explore the Nearpod library by standard or focus on one of the English Language Arts (ELA) strands for teaching reading: Conventions of Standard English, Vocabulary Acquisition and Use, Knowledge of Language, Phonics, Word Recognition, Fluency, Key Ideas and Details, Craft and Structure, Integration of Knowledge and Ideas, or Range of Reading and Level of Text Complexity.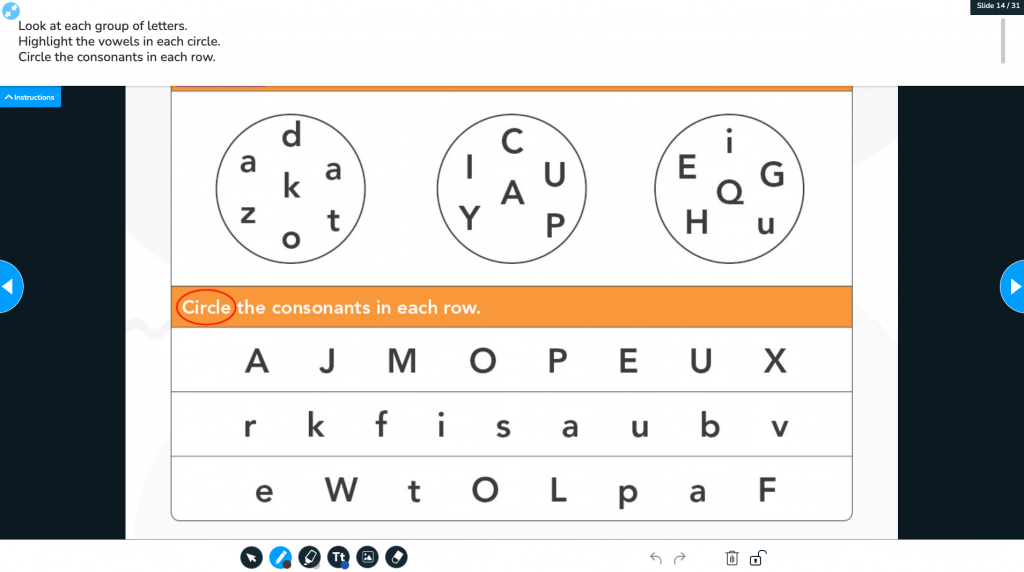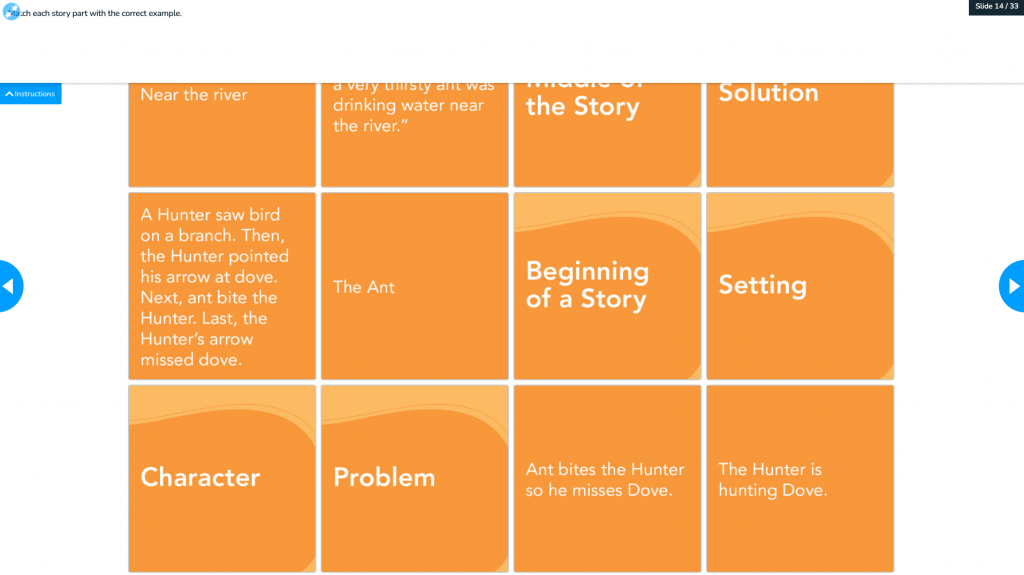 2. Read aloud every day
It can't be underscored enough that children reap countless benefits from reading every day—and from having someone read aloud to them. From an early age, kids who are read to can begin to understand concepts conveyed in books and other written materials before they can actually read independently. When you read aloud to kids, they not only lose themselves in stories but also learn to appreciate the lyrical nature and cadence of language. They begin to understand intonation and the rhythm and rhyme of the written word.
I still remember that my sixth-grade teacher used to read aloud to us for 20 minutes after lunch and recess. She called it "bulge" time. She would read a chapter or so each day, and it was a time for us to rest, recoup, and relax. I remember she even cried gently while reading Incident at Hawk's Hill. Encourage your families to read aloud to their early literacy learners, as well as their older children, at home. Parents can read with their kids at bedtime or even record themselves reading aloud if they can't be there in person.
In turn, with Nearpod, you can enable Audio Record for kids to capture their own read-alouds. Let them practice sounding out words, reading with punctuation, and bringing their personality to the storytelling. Additionally, Immersive Reader is available on Nearpod slides and activities. Have students use the text-to-speech feature to have the text read aloud to them.
3. Level up with chapter books
Don't hesitate to read more sophisticated stories to children for developing early literacy skills. Often, a reader's phonetic and comprehension skills don't progress at the same pace. However, students can begin to appreciate concepts such as story elements and literary devices, and understand dynamic plot twists in stories that are above their reading level. Plus, they can engage their active listening skills and inferential reading skills as they hear more complex story arcs. If you're interested in exploring reading material options, check out our list of 27 engaging books for beginner readers.
Nearpod's Immersive Reader is an adaptive feature to help students unable to see text, those learning a new language, and even emergent readers. Early readers can employ the Immersive Reader to dive into a story or text that may not be at their current reading level.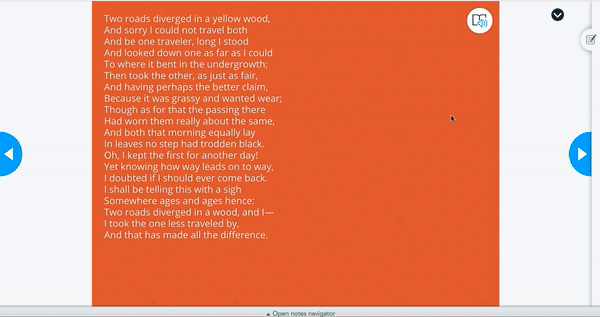 Writing strategies
4. Hunt for letters
As students begin to correlate sounds and words with letters and better grasp the alphabetic principle, go Sesame Street-style and choose a letter of the day or week. Ask students to print the letter on a brown lunch bag and then focus on collecting items that begin with or contain that letter. Make a game of it, to engage a little extrinsic as well as intrinsic motivation.
Kids need to see letters and words, write them, and hear them to fully bring together the complex aspects of basic early literacy skills. Check out the vast library of Letter Lessons and letter-related songs, in which students focus on one letter in the alphabet, are introduced to the letter, and explore the sound that it makes.
5. Embrace invented spelling
Did you know that English has 44 phonemes, or individual sounds? English, however, does not have a 1:1 relationship between the written form (graphemes) and the spoken form (phonemes). Don't let spelling get in the way of kids' storytelling. Phonetic spelling, sometimes called invented spelling, happens as students try to make sense of sounds and letters. They may stumble on the many nuances of the rules of the English language, but make sure that this doesn't hinder their overall progress. Sometimes, educators can use such non-words or pseudo-words as a tool to evaluate a student's phonetic decoding ability. Likewise, looking for patterns in a child's phonetic spelling can help you address which phonics rules should be readdressed or reinforced.
Here are some early literacy activities you can use: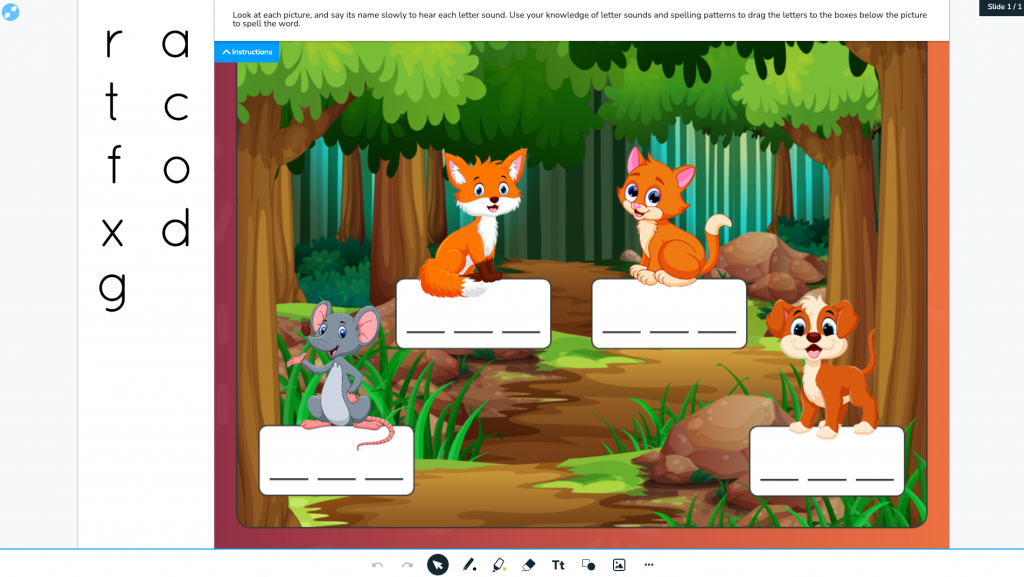 6. Highlight real-world examples of the written word
To support both reading and writing skils, point out everyday words not just in books but on the classroom walls and around the school. Make your classroom a print-rich environment with posters, signs, teaching aids, and student work to emphasize frequent sight words or words they may see frequently in the real world (like "EXIT"). Such sight or word recognition is a key skill alongside phonological awareness and decoding. Showcase the different types of writing as well—not just fiction and nonfiction, but also instructions, advertisements, signs, and newspapers. At home, encourage families to read what is written on cereal boxes, in comics, and out and about on the town. Children will begin to better understand not only the purpose of writing but also what kind appeals to them most. Forming early opinions around reading and writing empowers them to own these literacy processes.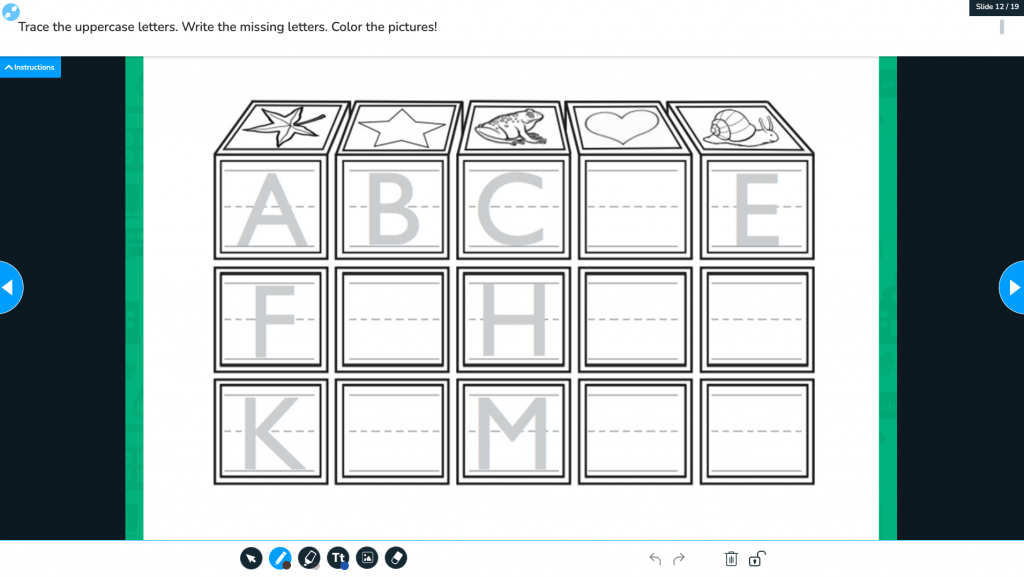 Nearpod offers a Skill Builders series for early learners. Lean on the interactive Draw It feature to explore the lessons (Part 1 and 2) for Write and Draw Sight Words and Trace and Write the Missing Letters. Additionally, this lesson scaffolds for first and second graders with Identifying Sight Words (see Part 1 and 2).
Speaking strategies
7. Play with expressive language
Expressive language, aka, speaking, develops post-receptive language (listening). Early learners will often mimic what they hear; that's why you hear quite emotive babbling from babies. Give kids the opportunity to play with language through pretend play, cooperative activities, and singing songs. Play a simple rhyming game so they can begin to understand the rules of phonics (and the exceptions!) and expand their vocabulary in the interim. Find several ways to incorporate songs or poetry into your classroom with creative ideas for teaching poetry to use as examples of literacy skills.
For early childhood education, specifically K-2 grade levels, consider using songs. After all, songs are poetry! Here are some video lessons with songs that can help teach about creative and expressive language, including letter knowledge:
8. Ask open-ended questions
Think of Bloom's Taxonomy. In order to appeal to students' higher-order thinking skills, ask questions that do not have a yes/no answer. Encourage them to form their own opinions and articulate their own perspectives through open-ended questions. Ask for supporting details and arguments. Open-ended questioning can involve asking kids how they feel, so that they begin to expand their vocabulary to define how they are doing or feeling.
With Nearpod, you can add open-ended questions to activities and lessons to help check for understanding. Additionally, such questions can be used to facilitate creative writing, using text or images as a prompt. To focus on the learning objectives for speaking, ask students to provide their answers using the interactive Audio Recording feature.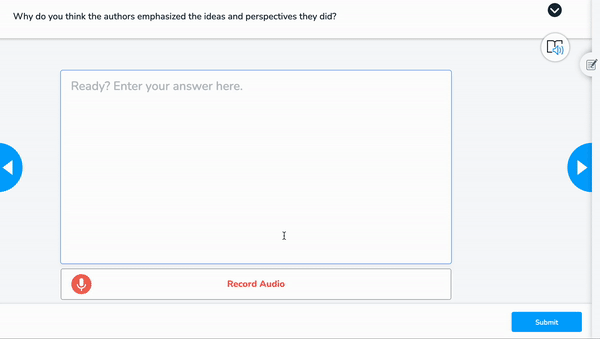 9. Encourage student-to-student conversations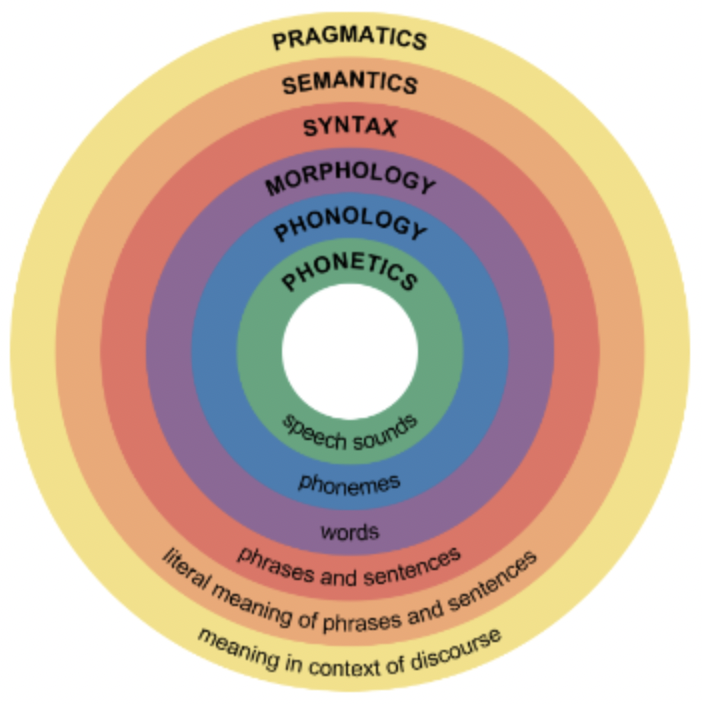 Oral language development is a process involving semantics, phonological skills, pragmatics, syntax, and morphological skills (Moats 2010). It's important to make time for meaningful conversations in the classroom between you and your students, to model how to listen, respond, and ask related questions. Then, encourage student-to-student conversations by creating collaborative activities where they have to take turns participating and articulating their ideas to each other. Encourage shared reading, where they can build comprehension skills while they converse about the characters and plot line. Students can practice retelling a story, too—this will give you a sense of how well they listened and how well they can recall the shared details and incorporate new vocabulary.
In addition to supporting emergent literacy learners, Nearpod also supports oral language skill development for English language learners (ELL) and English as a second language learners (ESL). Nearpod's EL K-12 Program includes thousands of lessons, activities, and videos available to schools and districts. Check out this sample lesson!
Listening strategies
10. Encourage receptive language
Active listening differs from plain ol' listening. I used to tell my students that they may be able to hear, but I'd question whether they could listen. Listening comes down to whether or not a child can make sense of the language they are hearing. And often, there can be aggravating factors, whether developmental, cognitive, or even health-related. Mitigate early literacy development obstacles by modeling what it means to be a good listener; ensure your students are positioned well within the classroom; remove noisy distractions and/or provide fidget toys to help with inattentiveness.
Check out this Nearpod interactive video lesson about Active Listening. In this one-minute video, a host explains what active listening looks like, and students consider the steps they can take to show speakers they are listening.
11. Give step-by-step directions
One way to encourage active listening is to give students directions and see if they can follow the instructions step by step. In the first two years of life, kids usually can follow a one-step instruction. But by 3-4 years of age, kids can begin to follow three-part directions, and most kindergartners can follow four-step instructions. Consider prefacing or adding numbers to the steps (e.g., "I'm going to ask you to do three things") to support their working memory. Your words can be supported by visual examples or gestures, as well. These basic literacy skills will also encourage executive functioning and critical thinking.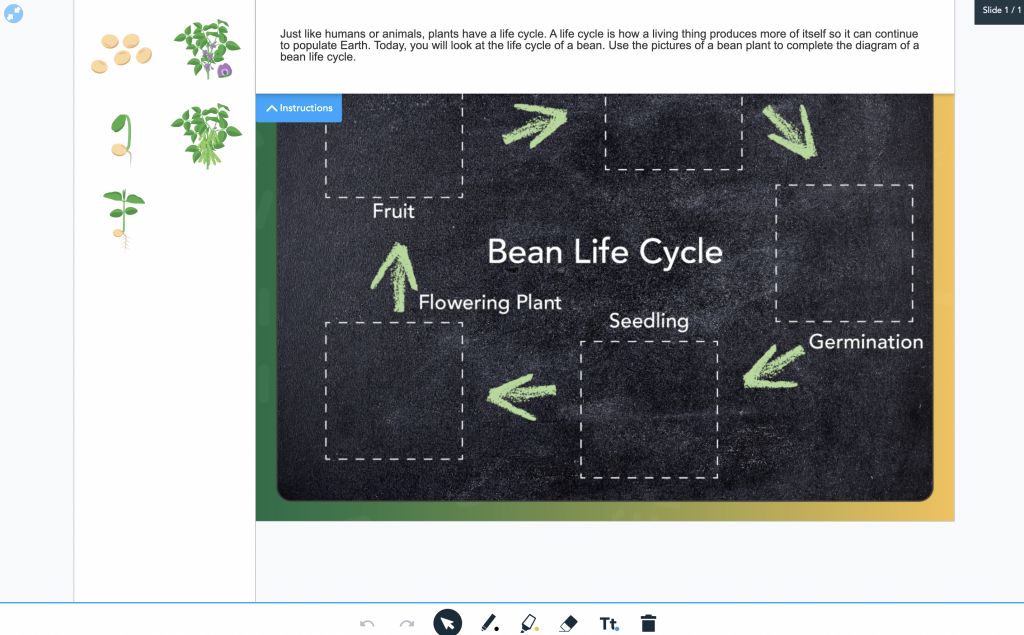 Once students can follow directions well, they can try their hand at giving clear and precise instructions. Using Nearpod, they can use words, images, and drawings with the Draw It interactive tool to give sequential steps to someone else. Take it one step further with Drag and Drop to have students sort and sequence images and text.
12. Play games
Try a simple Google search and you will find a plethora of classroom games and activities that require active listening. Most don't even require special resources or expensive props. Try games that require students to follow directions, like Hokey Pokey. Similarly, they will need to listen well to succeed at activities like musical chairs, musical statues, or stop/go games. Introduce popular games such as Follow The Leader, Simon Says, or I Spy. Bring music into your classroom games to further underscore basic literacy skills such as sounds, words, rhythms, and basic comprehension.
Consider using Nearpod's Time to Climb to create your own creative way. It's a favorite for teachers and students!
Teach early literacy skills with Nearpod
There are many factors that contribute to a child becoming literate—not all of which are within teachers' control. However, teachers model a love of learning each and every day, and most will admit to being avid readers, maybe even writers as well. At the very least, they appreciate the art found in literacy and extol its lifelong benefits. Nearpod can help support teachers in instructing early literacy learners and partner with families to continue developing early literacy skills 24/7 throughout a learner's first years.
New to Nearpod? Teachers can sign up for free below to access these resources, interactive activities, and engaging lessons. Administrators can schedule a call with an expert to unlock the full power of Nearpod for schools and districts.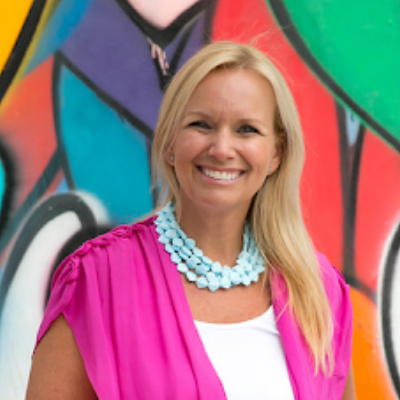 Darri Stephens is a dedicated LX (learning experience) designer, passionate about creating quality content and programs for kids, families, and educators. With MAs in Education from both Harvard and Stanford, and work experience at best-in-class ed tech organizations including Wonder Workshop, Nickelodeon, and Common Sense Education, she is steeped in the design thinking process and committed to agile and iterative project management, which has resulted in multi-award-winning programs and products.