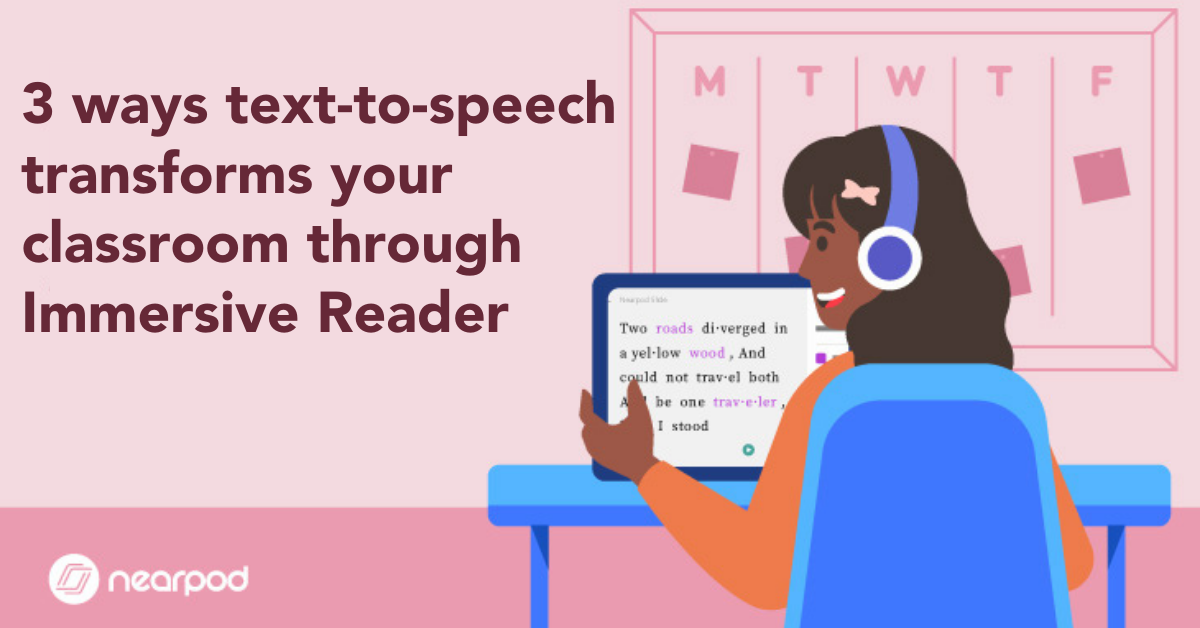 3 ways text-to-speech transform your classroom through Immersive Reader
3 ways Immersive Reader transforms your classroom
Students of all ages and abilities can struggle with accessing text in classrooms or at home. Text-to-speech options allow students to access content that may have previously been beyond their reach. Nearpod's integration with Microsoft Immersive Reader helps make text accessible to students in every Nearpod lesson. With Microsoft's Immersive Reader students can have text read aloud, reformat the text for easier reading, break apart words, translate to different languages, and more.
Make text more accessible to all students
Microsoft's Immersive Reader can support many different student needs but is especially helpful for translating languages for English Learners, supporting struggling readers with text decoding features, and providing text-to-speech accommodations to meet student needs in the classroom.
Using Immersive Reader within Nearpod makes text more accessible to all students by ensuring students no longer need to raise their hand and disclose a struggle with reading in front of their peers to receive help or text-to-speech support from their teachers. Instead, students feel empowered to access Immersive Reader's tools on their own, once they've been shown how it works.
Get started using Immersive Reader within Nearpod by going into your account settings and enabling Immersive Reader access. This will turn on Immersive Reader in every lesson Live or Student-Paced for all students. Once enabled, students will be able to use Immersive Reader features on Open-Ended Questions, Quizzes, Draw It, Polls, Multiple Choice Questions, and on any slide created with Nearpod's Slide Editor or any slide made in a lesson using the Google Slides Add-On.
Increase Immersive Reader functionality within Nearpod by creating slides right within Nearpod using the Slide Editor. This Slide Editor allows teachers to use a variety of fonts, sizes, layouts, and add features like video or gifs to any slide. Slides created directly within Nearpod are readable by Microsoft's Immersive Reader, allowing students to access even more information and feel confident showing what they know when using Nearpod.
10 ways to provide scaffolded student support
No matter what text accommodations your students need, Microsoft's Immersive Reader has you covered with a variety of supports students can use on their own.
Adjust font sizes and colors to meet individual student needs
Decode word and text with text decoding features that support phonics decoding lessons students see in their curriculum
Translate 60+ languages and use 40+ languages in text-to-speech to support English Learners
Meet classroom accommodations for students who need instructions read aloud with text-to-speech options
Provide students with a picture dictionary to understand vocabulary
Label words with their parts of speech to support grammar lessons
Use focus mode to block out everything on their the one line they are reading
Help students pronounce words with a syllabication feature
Adjust font spacing and focus on shorter lines of text to make reading less overwhelming
Highlight the word a student is on as they read to match fluency to decoding
Save time and meet student classroom accommodations
We know that many students struggle with reading proficiency across all subjects and grade levels. One common accommodation teachers and schools provide struggling students is to read text on all tests or work aloud. This can begin to be a time-consuming endeavor if teachers have a high load of struggling readers in their classrooms. For students, the ability to work independently and showcase their mastery over material can be deeply impacted by the need to have instructions read aloud.
With Immersive Reader built into Nearpod, teachers can deliver independent work, homework, or any lesson in Live Participation or Student-Paced and ensure these students have support. This classroom support ensures students build confidence over reading skills and that teachers can spend their time addressing misconceptions in the material instead of reading instructions out loud.
References
All about the Immersive Reader. (n.d.). Microsoft Educator Center. https://education.microsoft.com/en-us/resource/9b010288
McKnight. (n.d.). Leveling the Playing Field with Microsoft Learning Tools. Azureedge.Net. https://edudownloads.azureedge.net/msdownloads/Learning_Tools_research_study_BSD.pdf
Dyslexia Awareness: Part 1, in partnership with Made By Dyslexia. (n.d.). Microsoft Educator Center. https://education.microsoft.com/en-us/course/30a7b5e8/overview
Research related to Immersive Reader. (n.d.). Microsoft Educator Center. https://education.microsoft.com/en-us/resource/9786fb2a