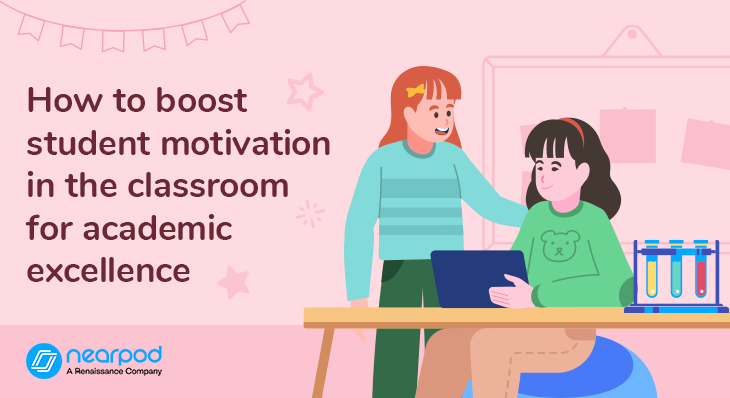 How to boost student motivation in the classroom for academic excellence
Motivating students is a significant challenge for teachers as they aim to combat low motivation and ignite a strong sense of enthusiasm in the classroom. What if one of your students lacks motivation to set goals, to progress, to dream big? How and when do you try to inspire a student's mindset to be more motivation-oriented? "Motivational processes are personal/internal influences that lead to outcomes such as choice, effort, persistence, achievement, and environmental regulation" (Schunk & DiBenedetto, 2020). In the classic children's book The Little Engine That Could, the little blue engine relied on both extrinsic and intrinsic motivation to reach its goal of bringing toys up and over the mountain while chanting, "I think I can, I think I can, I think I can."
Why do some students lack motivation?
Students may lack motivation due to various factors such as external hardships in their home life, a disconnect between learning and real-world applications, disinterest in the subject matter, potential undiagnosed learning challenges, and the developmental stage affecting their ability to foresee the consequences of disengagement.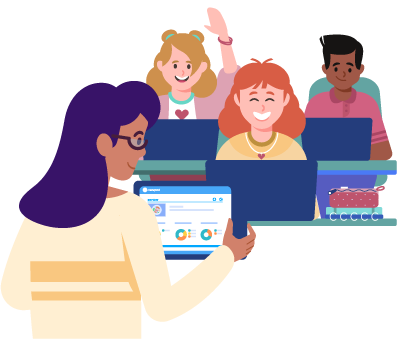 Perhaps there are extenuating circumstances in their home, whether it be familial strife or lack of food, that can cause them to lack presence and connection to the classroom or instruction. Too often, we're unaware of the many layers of a child's life and the stressors they encounter daily. Lack of motivation can come from not understanding the real-world applicability of skills. Students need to learn the skills alongside the use cases – and that use case can't just be for a test this coming Friday. Perhaps a student lacks motivation because the subject just doesn't interest them.
Passion is a critical driver in learning, so many teachers aim to help students make personal connections so that the content sparks interest. Or, a child may be facing an undiagnosed learning disability that is constantly keeping them from feeling successful. Furthermore, developmentally, younger students live more in the moment. They don't fully comprehend the longer-term ramifications if they don't engage, since their prefrontal cortex isn't fully developed – meaning they may lack the foresight for reasoning, judgment, and planning.
What is the difference between intrinsic and extrinsic motivation in the classroom?
In the classroom, teachers strive to personalize and individualize lessons to reach every child, and the difference between intrinsic and extrinsic motivation is crucial. Intrinsic motivation originates from within, driven by personal satisfaction, leading to increased persistence and enjoyment; extrinsic motivation relies on external rewards or pressures.
Intrinsic motivation speaks internally. In an ideal world, all motivation would be intrinsic. One's drive and sense of purpose toward accomplishing a task or goal is done for one's own satisfaction. Research shows that intrinsic motivation can lead to more persistence and more enjoyment. In a classroom, intrinsic motivation can be seen when a child chooses a title on their own because they want to dive into a book or when they keep their head down to solve a problem because they're up for the challenge. A child who is intrinsically motivated tends to be more attentive, more participatory, and more engaged, and thus can perform better and realize higher achievement (Ryan & Deci, 2020).
When there is a carrot at the end of a stick or a brass ring, so to speak, the motivation becomes extrinsic. Extrinsic motivation comes from the desire for a reward or to avoid negative consequences. So, if a child is trying to earn a goodie from the prize box or please a parent with a good grade, that drive isn't from within. Now, extrinsic motivation does have its place in the classroom: There are good forms of it when it can provide feedback, encouragement for something outside one's comfort zone, or reinforcement for completing a task well. Grades are a form of extrinsic motivation, and most teachers use them to applaud students' work or frame how they can do better. How they do or do not internalize such feedback is up to the students. Often, it can be helpful to look at the Motivation Matrix (internal-positive; external-positive; internal-negative; external-negative). While all the quadrants can lead to change, only internal-positive motivators tend to be associated with personal happiness.
How teachers can boost student motivation for academic excellence
According to Dr. Anders Ericsson, motivation is the most significant predictor of success. Those with motivation can make and manage change, prepare, take action, and persevere toward goals. There are several ways teachers can help encourage student motivation throughout the school year, day in and day out.
Foster a love of learning in every student with Nearpod. Interactive technology tools like Nearpod can support educators in boosting student motivation.
Teachers can sign up for free below to access the lessons in this post and create their own interactive lessons. Administrators can schedule a call with an expert to unlock the full power of Nearpod for schools and districts.
1. Spark their interest
At the beginning of each school year, take the time through surveys, interviews, and good old conversations to get to know each child. What do they like? What do they shy away from? Use the trick of asking five "whys" to drill down to the root cause of a child's nascent opinion. Then, lead them to high-interest content to help them dive deeper into a topic or broaden their horizons on another. Such motivational activities for students can yield great results.
Nearpod offers a robust library of standards-aligned content, and you can let students pick their own paths and take an active learning approach when it comes to exploring subjects and working through levels of proficiency.
Additionally, Nearpod gives you the option to integrate high-interest multimedia content, catering to students' diverse passions and backgrounds. Incorporate dynamic media such as Virtual Reality (VR) Field Trips and Interactive Videos into their lessons. Teachers can tap into students' interests and connect classroom content to their real-world experiences. This not only captivates their attention but also fosters a deeper connection to the subject matter, ultimately fueling their motivation for academic success.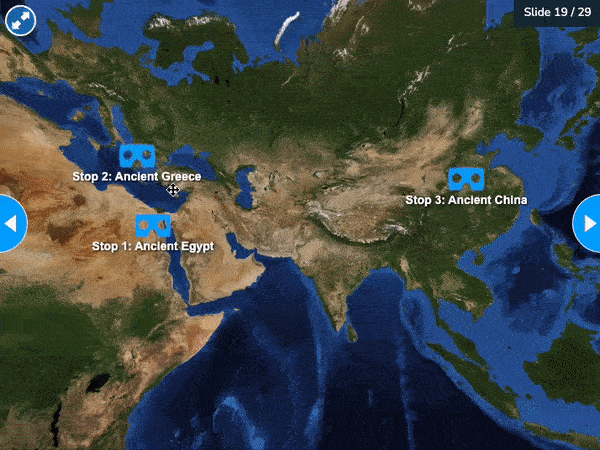 2. Let them drive
Another way to motivate students in the classroom is to empower them with a sense of agency through student voice and have them make choices based on their own personal interests. Research from Edward L. Deci and Richard M. Ryan in the 1970s and 1980s put motivation on a continuum. The self-development theory (SDT) ranges from amotivation, the lack of any motivation to engage in tasks or activities, through layers of extrinsic motivation, to intrinsic motivation. Their early work highlighted the need for individuals to feel self-determined, self-directed, and autonomous, and to have a sense of control over their lives and destiny.
Curiosity is the engine of achievement.

Sir Ken Robinson
Nearpod supports student choice and voice through interactive features like Collaborate Boards and Open-Ended Questions, enabling students to share their perspectives, collaborate with peers, and engage in meaningful discussions. This fosters a sense of ownership and autonomy in their learning journey, as they can contribute their unique insights and learn from others.
By providing a platform for student voice and choice, Nearpod helps create a student-centered learning environment that values their opinions, promotes active engagement, and encourages student ownership in their learning experiences.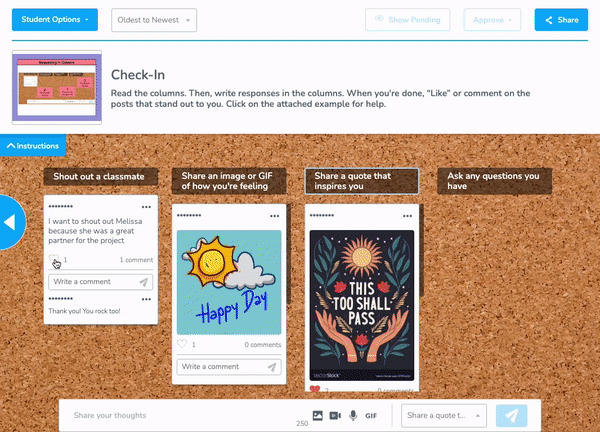 3. Encourage the "pleasantly frustrating" paths
Professor James Paul Gee has written seminal research on learning and video games. He's known as the godfather of game-based learning (GBL). He touts several good "learning principles" that video game design has exemplified in terms of hooking and incentivizing students. By challenging kids with levels of achievement, you can help motivate them to find the inner drive to keep moving ahead, one step at a time.
Check out Nearpod's educational game Time to Climb to encourage students to push themselves a bit more under gamified conditions. Digital platforms like Nearpod allow for in-the-moment interactivity that is designed to push the child to try and try again.
Nearpod's Time to Climb and other educational games contribute significantly to the promotion of active learning and student motivation. The competitive element, sense of achievement, and enjoyable experience provided by these games enhance student engagement and encourage active participation in the learning process.
For example, in a science class, a teacher can use Time to Climb to reinforce concepts related to the water cycle. The game can present questions with visuals and scenarios related to the topic, challenging students to apply their knowledge. Students can compete against their peers to climb the leaderboard by answering correctly and quickly. This not only encourages active participation but also creates a sense of achievement and enjoyment as students progress through the game.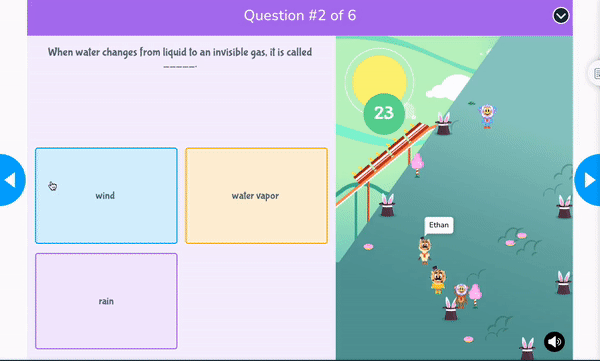 4. Show the long-tail effect
Developmentally, many students struggle to think about the long-term future. Jim Taylor, Ph.D., writes that motivation to change often begins with the 3 D's: direction, decisions, and dedication. So, teachers often become masterful storytellers who weave tales of the real world, future careers, and passions to encourage student motivation. They showcase subjects like math outside of drill-and-kill worksheets and word problems by sharing everyday practices or career-advancing (and enhancing) skill sets that rely on math proficiency. Students need to understand that they are not learning for learning's sake alone; they are learning to whet their appetite to expand and hone their skills.
Learning isn't confined to specific subjects; it's about acquiring a toolkit of skills that empower individuals to analyze problems, make informed decisions, iterate on ideas, and share their insights effectively. By integrating crucial skills known as the 5Cs – critical thinking, computational thinking, collaboration, creativity, and effective communication – educators can show students the real-world relevance of their studies in their lessons. Nearpod's interactive platform allows teachers to seamlessly weave these essential skills into their lessons, illustrating their long-term value in preparing students for success in any field they choose to pursue.
5. Provide feedback
Everyone likes a gold star once in a while. Extrinsic motivation isn't necessarily a bad thing, as long as it's not excessive to the point of having an overjustification effect, where the extrinsic cancels out any intrinsic motivation. Consider ways to give feedback that builds their confidence, encourages them to reach just a bit higher, and rewards them for taking chances. Remember that asking questions and modeling active listening is a way to provide authentic feedback.
Nearpod's formative assessment tools provide you with real-time data on student responses so that you can plan your instruction not only for the whole group but for individuals as needed, just in time. The best feedback is given immediately.
The true power of feedback lies in its immediacy – addressing questions and misconceptions while they are fresh in students' minds. Nearpod's feedback features, such as stickers and writing options for teachers in Draw It and Drag & Drop activities, enable educators to respond instantly to each student, tailoring guidance to their specific needs and ensuring that the learning experience remains personalized. By harnessing Nearpod's capabilities for real-time feedback, teachers can motivate students to thrive and excel academically, creating a supportive learning environment.
6. Talk about procrastination
Procrastination for many is not merely a time management issue, postponing a more important task in favor of a less important one. Often, procrastination is an emotional management conundrum when fear, frustration, anxiety, insecurity, or self-doubt thwart the best of plans. Students and adults alike battle with procrastination. Procrastination can cycle and build into negative thought patterns called procrastinatory cognitions (the Procrastinatory Cognitions Inventory (PCI) has 18 such items). Social and emotional learning (SEL) supports students' development of self-awareness and self-regulation skills, which can help in such emotional management. SEL promotes a growth mindset and grit, too.
Nearpod offers over 400 SEL lessons, activities, and videos built on CASEL's five core competencies in the 21st-Century Readiness Program. This program offers a simple method for incorporating SEL practices, such as fostering positive interactions, promoting gratitude, facilitating reflective moments into daily learning routines, and contributing to the establishment of safe, inclusive, and effective classroom environments.
Nearpod also offers free social and emotional learning (SEL) lessons and activities. Features such as Collaborate Board, Draw It, Drag & Drop, Time to Climb, and Interactive Video can be used for emotional check-ins and practices. Here are some examples of motivational activities for students: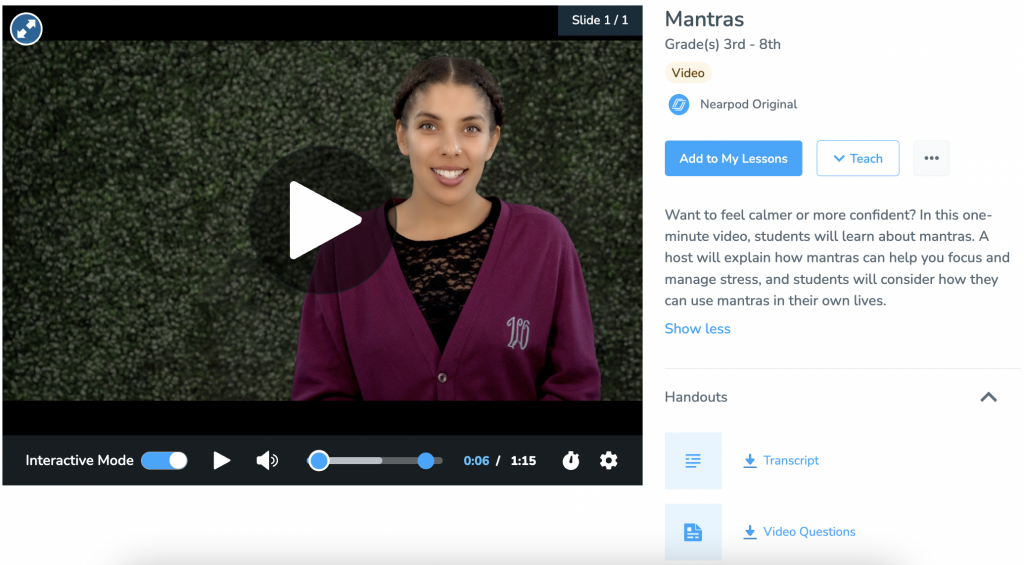 7. Show that you're human, too
So much of what teachers do well is model. And modeling means showing the messy side of life, too. Share how you've failed forward and pushed through tough times or daunting tasks to inspire student motivation. Talk about lofty goals you had and how you modified or broke them down into smaller goals that build upon one another. Illustrate how strong goals are reframed as SMART goals. Share future goals that you have and the power of "yet" – that you have yet to achieve it all.
Share some of Nearpod's lessons and activities on goal setting to motivate them forward: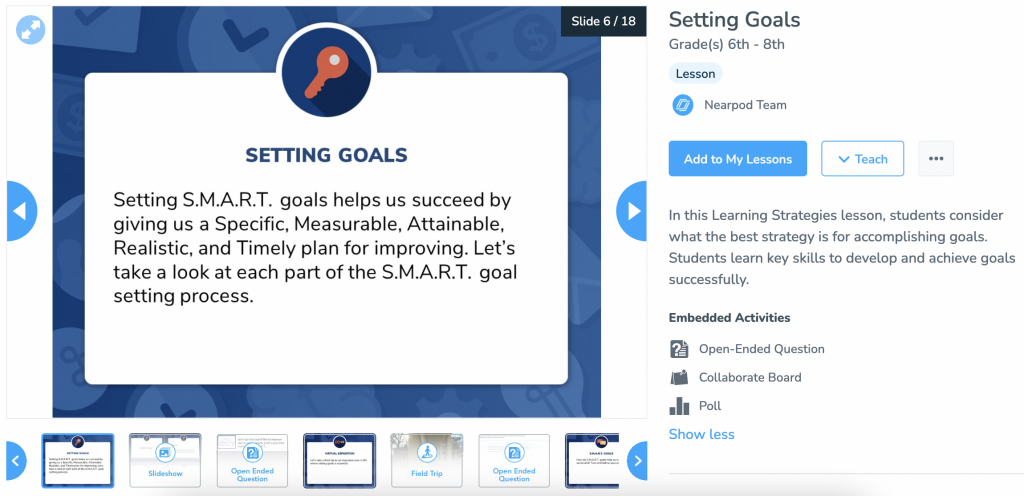 Boost student motivation with Nearpod's support
Staying motivated is a key goal not only for our students but for teachers, too. We are facing high teacher attrition rates due to factors that are overriding teachers' intrinsic sense of pride and purpose in their careers. Teachers are lifelong learners who look to inspire the next generation. As Samuel Johnson wrote, "Curiosity is, in great and generous minds, the first passion and the last." Seek to motivate the curiosity in yourself and those around you! And just remember: "I thought I could, I thought I could, I thought I could!"
Foster a love of learning in every student with Nearpod. Interactive technology tools like Nearpod can support educators in boosting student motivation.
Teachers can sign up for free below to access the lessons in this post and create their own interactive lessons. Administrators can schedule a call with an expert to unlock the full power of Nearpod for schools and districts.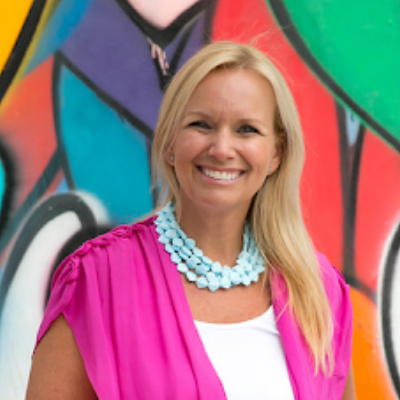 Darri Stephens is a dedicated LX (learning experience) designer, passionate about creating quality content and programs for kids, families, and educators. With MAs in Education from both Harvard and Stanford, and work experience at best-in-class ed tech organizations including Wonder Workshop, Nickelodeon, and Common Sense Education, she is steeped in the design thinking process and committed to agile and iterative project management, which has resulted in multi-award-winning programs and products.