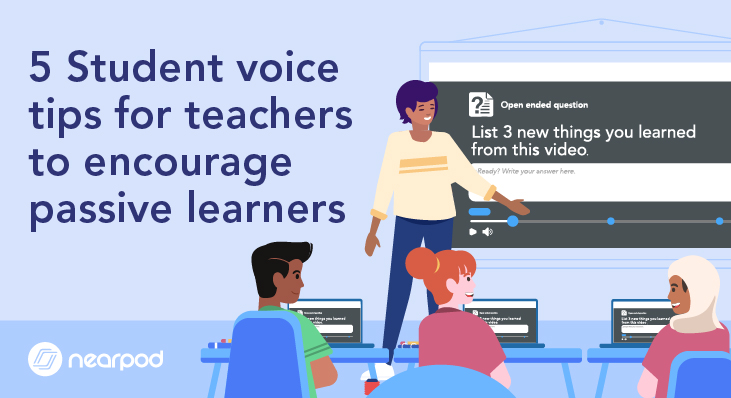 Inspiring all students to participate in lessons can often be a challenge, and most educators are looking for student voice tips that enhance their efforts in the classroom. Classrooms are not unlike Facebook communities where some "friends" shine in the spotlight, joining in, voicing opinions, and sharing commentary. Others are content to remain in the background, passively absorbing information.
However, all teachers know that active participation in the classroom is the key to academic success and success in life. Encouraging student voice in the classroom doesn't have to be an ongoing struggle. Technology tools like Nearpod are designed to help you build student expression strategies to benefit all your students.
New to Nearpod? Sign up to access these resources, interactive activities, and more!
Why is it important to encourage student voice in education?
Students come from a variety of backgrounds and bring with them different personality types. Some arrive fully motivated and confident in their abilities, ready to take risks with a growth mindset. Others, for various reasons, are held back by a lack of self-esteem and self-confidence. Perhaps they're shy or introverted. Maybe they're dealing with learning difficulties, established or hidden. Or perhaps they come from a culture outside the mainstream, leaving them marginalized and not included. In many cases, a sense of panic and anxiety can set in, leading to passivity in the classroom.
Teachers can dial down the panic, anxiety, and boredom by creating a supportive, comfortable, challenging learning environment using effective student voice examples and tips. The goal is to create an active environment where all students are engaged, on point, and ready to tackle the learning goals for the day.
Allowing students to express themselves in an orderly manner through interactive activities gives them a growing sense of who they are. It gives them a chance to experiment and modify their values, opinions, and beliefs and grow into the adults they are meant to be.
In turn, this growing voice provides teachers with a rich repository of student preferences, passions, and interests to build lessons. The classroom becomes a wellspring of give and take, heard and be heard, and academic achievement often increases.
How is student voice in the classroom impactful?
According to the Quaglia Institute for School Voice and Aspirations, students given a voice are seven times more likely to be academically motivated than those who do not view themselves as having a voice.
Heather Wolpert-Gawron, an award-winning middle school teacher and author of Just Ask Us (Corwin, 2018), expresses this idea succinctly. "Give them a voice in their decisions. In a society that barely listens to each other, listen to our students. Let your classroom be one that allows voices to trickle up in a system that can be a flood of top-down. In our classrooms, we have the brains that will solve the problems of tomorrow, but to give them training means we have to give their neurons a chance to solve problems today."
Encouraging students to progress from a passive presence in the classroom to active learning can be a joy for students and teachers. All students walk away with better retention, improved critical thinking skills, enhanced collaborative skills, and increased motivation.
Teachers rely on specific strategies to foster student participation during lessons. And it's always good to replenish that library with fresh tips. Here are five tips you can use with Nearpod to break the silence and get those neurons sparking.
5 Student voice examples to encourage passive learners in the classroom
1. Create trust in the classroom
On a scale of one to ten, building trust has a value of ten on the scale. Helping students feel accepted, and part of the community can go a long way in encouraging them to take the risks needed to learn something new or complex. A simple task like striking up a conversation before class and listening and responding without judgment can prompt students to open up. Make sure to let them know their thoughts are valued. As their comfort level increases, they will likely speak up more often. Nearpod supports the whole class with social emotional learning (SEL activities). They're a great way to start a lesson and promote a conversation.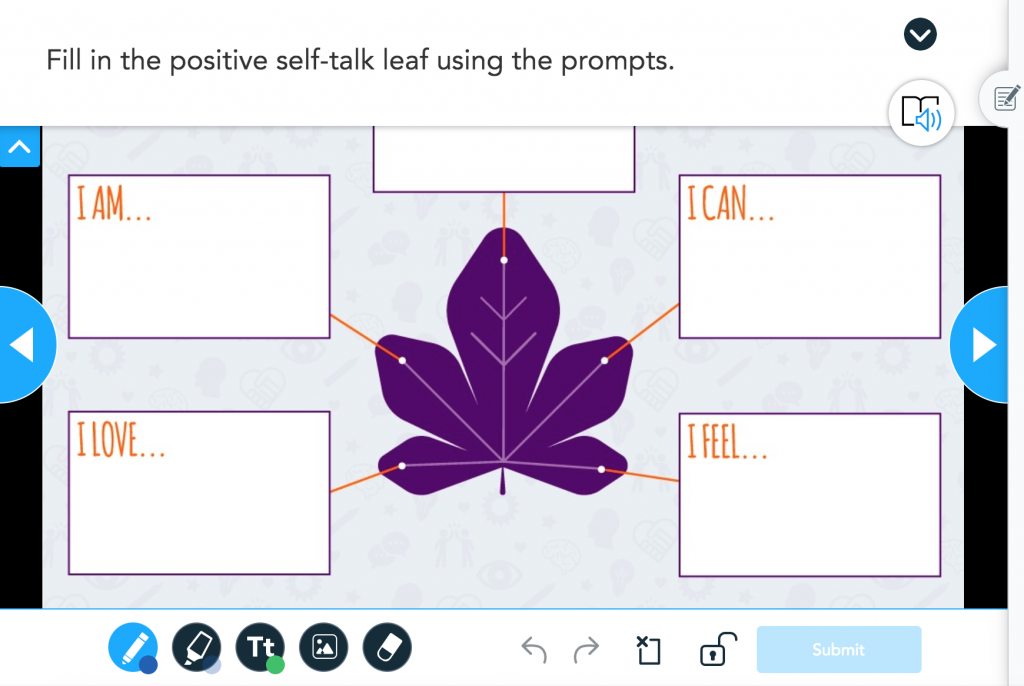 2. Make learning relevant
Relevance can make or break the amount of student voice in the classroom. How often have you heard students say, "Why are we learning this? I'll never use it." Make sure you explain how helpful this knowledge can be in their lives. Watch enthusiasm rise when lessons connect to students' experiences. A quick and easy way to communicate with students is through Nearpod's Ice Breaker Mini-Lesson for K-5 or 6-12. It's a great way to find what students are thinking, which can inform how you create lessons in the future. Students are encouraged to articulate their interests while learning how to use Nearpod's interactive assessments. These are the tech tools students will use throughout the year to amplify their voices and demonstrate their learning.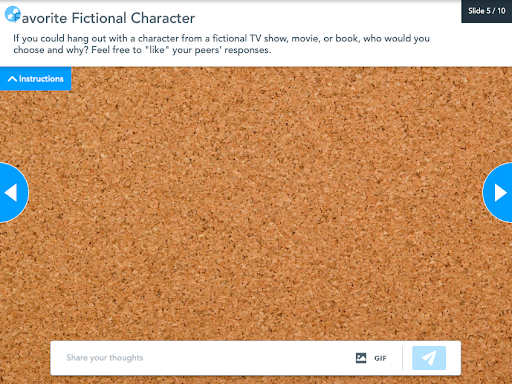 3. It's okay to make mistakes. Put yourself out there.
Making a mistake can sometimes be debilitating. But fearing mistakes can impede the creative process. The key is to normalize the act of making mistakes. Educators can help turn a fearful experience into a joyful and playful session by modeling the creative process. Work along with your students to create something. Have the students join in to write a narrative, for instance. Guide them through the process and show them it's okay to make mistakes. Let them hear how you work through a problem and solve it. This transparency helps them in future projects, gives them a sense of control, and motivates them to participate.
Collect students' ideas using a Collaborate Board and encourage them to help you write a narrative using the Whiteboard. It takes the mystery out of writing and helps them step away from themselves and embrace the fear of failure to produce something they never thought they could create. It's a great way to model the advantages of a growth mindset, and it will probably change a few beliefs and perceptions along the way. Guaranteed, they'll look for more creative opportunities as the year progresses.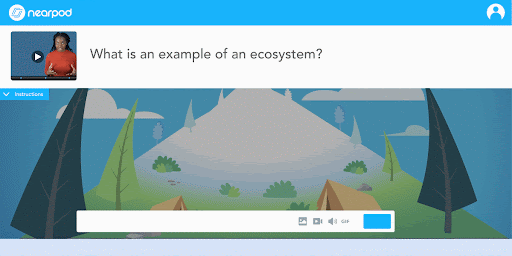 4. Allow Student Choice to Encourage Participation
Giving students choice helps them put skin into the game. It gives them a sense of control and increases their motivation to learn. It empowers students to decide how they want to present their learning. Do they want to create a video presentation or express their understanding through art or something else?
Nearpod offers a variety of ways for students to demonstrate their learning and empower them with effective student voice examples and activities. Students can record their understanding via a recording if they're inclined to talk. Draw It showcases students' thoughts through images, text, annotation, and highlighting. Socially motivated students can share ideas using the Collaborate Board. And some might even want to demonstrate knowledge through rap using Flocabulary's Lyric Lab.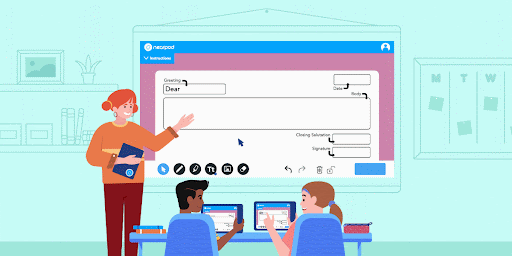 5. Let Them Self-Report Their Progress
Giving students the responsibility to design their learning options can be one of the most exhilarating exercises your students will experience. Teacher-led assessments are the most dreaded aspect of the learning process. The thought of getting something wrong can be a humiliating experience. But yet, how are we to check for evidence of understanding?
The trick is to hand some control over to the students. Let them, on occasion, create their assessments (formative or summative), so they can see the connection between performance and assessment.
Many kids play sports or some competitive activity. They learn the rules and then perform. Afterward, they self-access and often plan with a coach on how to improve for the next game. Bring that same dynamic into the classroom, and watch the light bulbs go off.
Fostering student-led assessments requires some planning on your part. It's essential to set up a framework for them. Here's an example:
1. Prepare a list of basic requirements they need to know to meet the learning target.
2. Create a list of non-negotiables to ensure there are criteria for success. Provide some structure and scaffolding to help guide them in developing assessment ideas.
3. Let them brainstorm on the Collaborate Board and develop ideas for Nearpod assessment activities that meet the standard.
This strategy may become the ultimate assignment of the year. Kids will love it, and participation will go through the roof.
Start encouraging student voice with Nearpod
Opening doors and encouraging students to be dynamic participants in the learning process opens a world of opportunities for your students. Encouraging "quiet" students to dial down the panic and anxiety and experience the joy of learning and the opportunity it brings can be the best gift you can give your kids. It paves the way for confident, competent lifelong learners who unlock their inner talents and find purpose in life.
Implementing these tips takes a little more time and thought. Still, planning activities with all students in mind can result in a rich, dynamic, and inclusive learning environment where all students matter and all have a voice. Who knows. That passive student at the back of the class just might blossom into a class leader. That's the moment teaching becomes the greatest job on earth!
New to Nearpod? Sign up to access these resources, interactive activities, and more!
Interested in reading more about this topic? Check out this blog post: 6 ways to create opportunities for student voice in Nearpod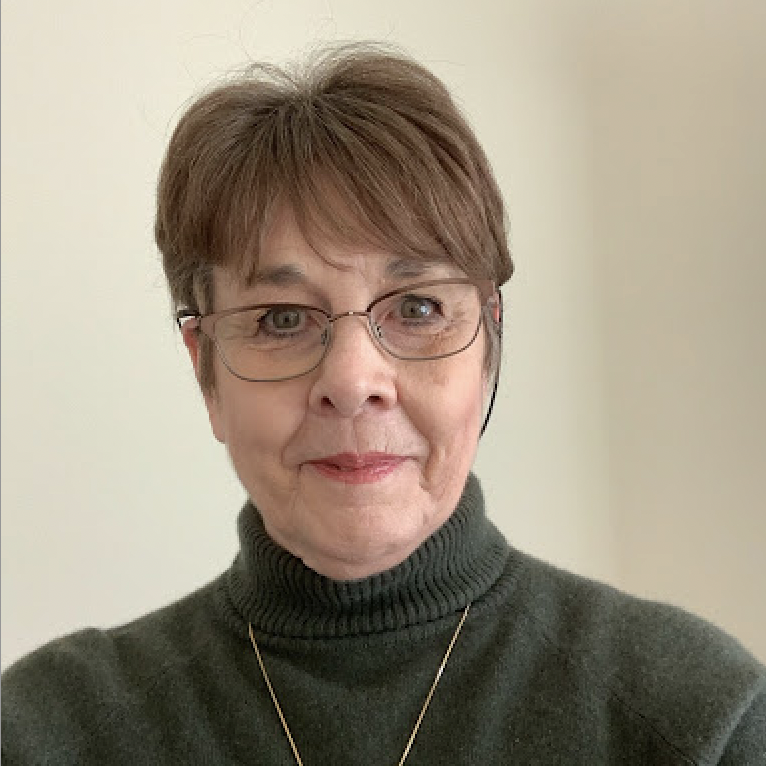 Rose is a freelance content writer and former education technology sales consultant who spent eight years helping teachers and administrators improve their practice. She now hangs out at the corner of pedagogy and edtech, building her writing business in this dynamic and gratifying niche. Her spare time is spent fly fishing the beautiful, crystal clear streams of Pennsylvania with her husband.