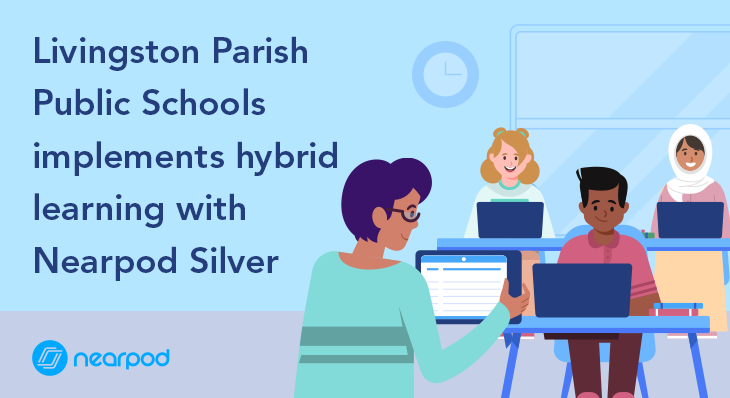 Livingston Parish Public Schools implements hybrid learning with Nearpod Silver
Hybrid Learning is a concept that was created because of the need for alternative learning paths after experiencing repercussions from virtual learning during the Covid-19 stay-at-home order of 2020. At the return of school in the fall, Livingston Parish Public Schools allowed parents to keep their students home and attend schooling with their regular classes virtually. The district immediately realized that the workload was too much for the teachers. They decided to create a completely virtual program for grades K-8 utilizing an online curriculum. At midterm, the program shifted in grades K-8 to contract district teachers as virtual teachers during after-school hours. The intent was to ease teacher, parent, and student frustrations and improve the learning gap.
Throughout this process, massive deficits and issues were quickly uncovered. Parents and guardians were not necessarily capable or available to help students navigate programs, curriculums, or concepts. Students were not engaged in the online software and struggled to find the motivation necessary for self-directed learning. Also, the critical motor skills of students were stagnant or declining as they were no longer forced to write or use other hands-on skills.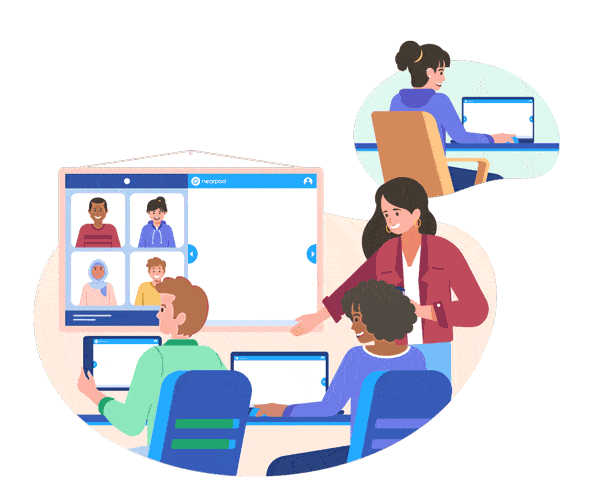 The goal of the virtual program shifted so that teachers could meet with the students virtually to build relationships and help students navigate the software, learn the concepts, and hold them accountable. Teachers began using Nearpod's free Silver version to present material in a hybrid learning setting. Implementing Nearpod allowed students to show personality and assess their understanding of the material. An uptick in the improvement and virtual attendance proved that students still needed that personal relationship with teachers for a better chance at success despite learning virtually.
Implementing a hybrid learning model
In-person learning
Considering the decline in motor and social skills, the Livingston Parish Public School district shifted the elementary program to become the first hybrid learning program of its kind in the state of Louisiana. This program became the Livingston Parish Literacy and Technology Center Virtual Hybrid 3-5 Program (LPLTC). The LPLTC hybrid learning program removed the third-party curriculum and hired full-time, certified teachers to teach using the district and state curriculums. Students are educated using in-person, asynchronous, and synchronous learning. They also had "Charge Time," a flexible learning time dictated by the teacher according to need.
For the in-person portion of hybrid learning, students attend campus from 7:00-11:30 am on Mondays and Wednesdays. They engage in hands-on education in Science, Social Studies, English Language Arts, Math, Art, and P.E. with their grade cohorts. In-person hybrid learning includes recess, nature walks, science experiments, monthly visits from the public library bookmobile to check out books, and holiday social gatherings.
Online learning
Online synchronous learning occurs from 8:00-11:30 am on Tuesdays and Thursdays. Students log in with their cohort for live, remote learning. Students must have a "learning guide" present in the home so if issues arise, an adult nearby to assist. A typical synchronous lesson involves students logging into the day's Zoom meeting. They are greeted with the teacher's ClassroomScreen, which has an introduction question or problem for students to begin working on. It also includes a list of materials, a countdown to the start of class, and the Nearpod lesson code. Teachers still use the free version of Nearpod weekly (both synchronously and asynchronously), with the paid version being on the school's wish list with hopes of being funded.
How Nearpod helped our hybrid learning model
At the start of the school year, students and teachers were trained on how to use Nearpod. Teachers were initially required to use the free, Silver version of Nearpod, along with other online programs, in order to get a firm grasp on different ways to deliver content. After using the required programs, teachers were then allowed to choose which program(s) worked best for their teaching methods.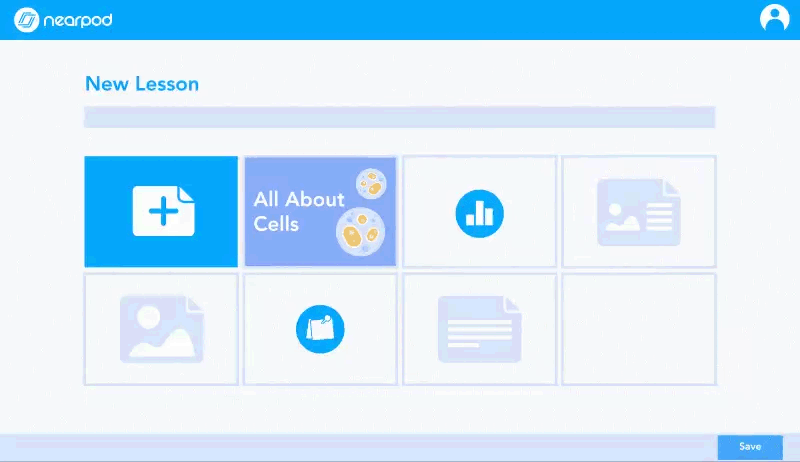 Teachers fell in love with Nearpod and relied heavily on it for lesson delivery. Teachers love that students are forced to remain on-task during presentations and cannot get left behind or skip ahead. They also appreciate that Nearpod offers helpful teacher resources to remind them how to plan, create, or edit a lesson.
The classroom management benefits of Nearpod help with many of the common discipline issues seen in remote learning. The interactive components keep students engaged, and teachers are encouraged to incorporate an interactive activity every slide or two. Our teachers value the option to search for pre-made lessons by standard. Several teachers uploaded and customized their lessons, while others preferred the premade lessons, especially in science. Math teachers appreciated the Draw It tool option. Students could work out an assigned problem by drawing or typing, and the teacher could see their work and thought process. It helped point out which student needed more help in that concept.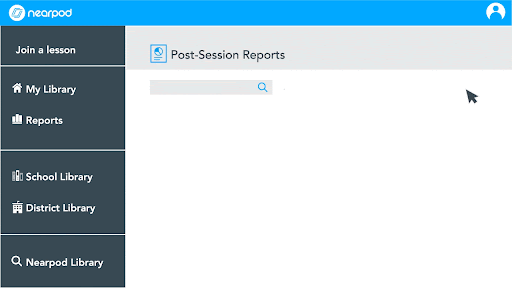 Nearpod has also helped build those important student-teacher relationships by allowing students to respond to the teacher without speaking and slowly build that trust. As a result, they now submit their answers and are eager to explain their conclusions to the teacher and to their classmates. This is an entirely different observation experience than at the beginning of the year, where students would submit answers and avoid looking at their teacher or the camera in fear of being called upon.
How to make parents and students comfortable in a hybrid learning environment
While many parents and guardians were apprehensive about the in-person fraction of hybrid learning, they have come to love bringing their children to school. Students are excited to see their teachers and friends and to participate in the activities planned for the day. Several students started the year with severe social anxiety and would avoid social contact. These same students now challenge others in friendly games such as tetherball, foursquare, and target toss. They're also volunteering answers in class or asking for input from other students. Feedback from the parents regarding social skills has been remarkable. Several parents plan to transition their children back to traditional schooling for their middle school years. They claim this would have never happened had this school not given them the opportunity to "baby-step" their way through social situations utilizing the hybrid learning model.
Asynchronous remote learning gives students and their families the flexibility they crave. Students can complete their required learning tasks throughout the week making use of the afternoons. They can develop their own schedule for success as long as assignments are completed by the specified date.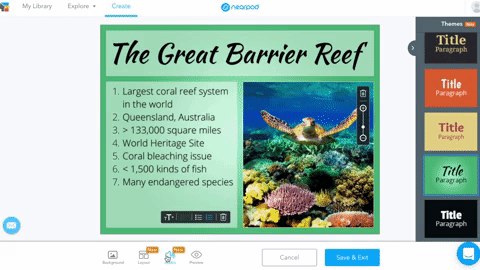 Nearpod is fantastic for this type of learning using the Student-Paced option which is available on the Silver version. This option allows the student to access the lesson at any time before the due date. It gives the teacher options to require responses and prevent skipping. Because of this autonomy, students develop ownership and self-sufficiency in terms of their education to the point where the teacher no longer has to require student responses. The students will now do the work because they know they are supposed to and want to show their learning.
Supporting students through charge time and intervention
Charge time is used at teacher discretion. It is typically dedicated to assisting students who are struggling and need more one-on-one assistance, virtually or in person. Time can be scheduled with a teacher for assignment assistance, tutor subjects, help with interventions, or help with make-up work. Nearpod is extremely valuable during this charge time. Using Nearpod, teachers can do whole class test reviews, reteach a difficult lesson, or have students deliver their own lessons.
The LPLTC Virtual Hybrid program places emphasis on student academic improvement whether they are at the top or struggling. Nearpod allows for differentiation with the Student-Paced option because students can be assigned lessons based on their skill level. At the end of this school year, 100% of students saw growth in almost every subject. The ability to differentiate the lessons makes huge strides with students of all levels. The best part is – it costs the school nothing by using the Silver version of Nearpod.
The flexibility of hybrid learning using Nearpod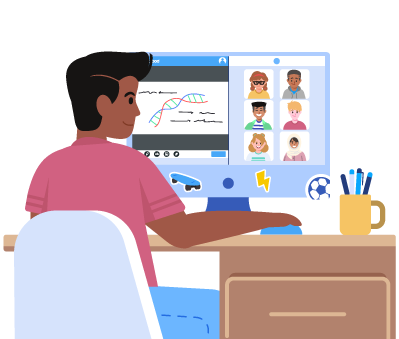 This hybrid learning model lends itself to flexibility: In Louisiana, hurricane season is always a threat. In 2021, Hurricane Ida closed schools for two weeks with many losing power and internet for longer. Some students evacuated to other states and were able to attend school 100% remotely, using student-paced Nearpod lessons until their homes were repaired enough to return. Others attended school 100% in-person until they had power and internet restored. Because of this, students were able to continue with their education seamlessly and successfully.
This flexibility has made the hybrid learning program valuable to many families who prefer a non-traditional educational setting, and the results are encouraging. Improvement can be seen in many aspects: social skills and fine motor skills (such as handwriting and signatures), reading comprehension, math applications, and more! Students are also developing proficiencies in self-management, focus, goal setting, and organization. While the implementation of this hybrid learning program has been monumental, Nearpod has aided in creating an engaging and manageable educational experience. It has been beneficial in developing a remarkable opportunity for those learners who have found their niche and are currently improving their educational and life experience.
Interested in reading more about this topic? Check out this blog post: Actionable steps to address learning loss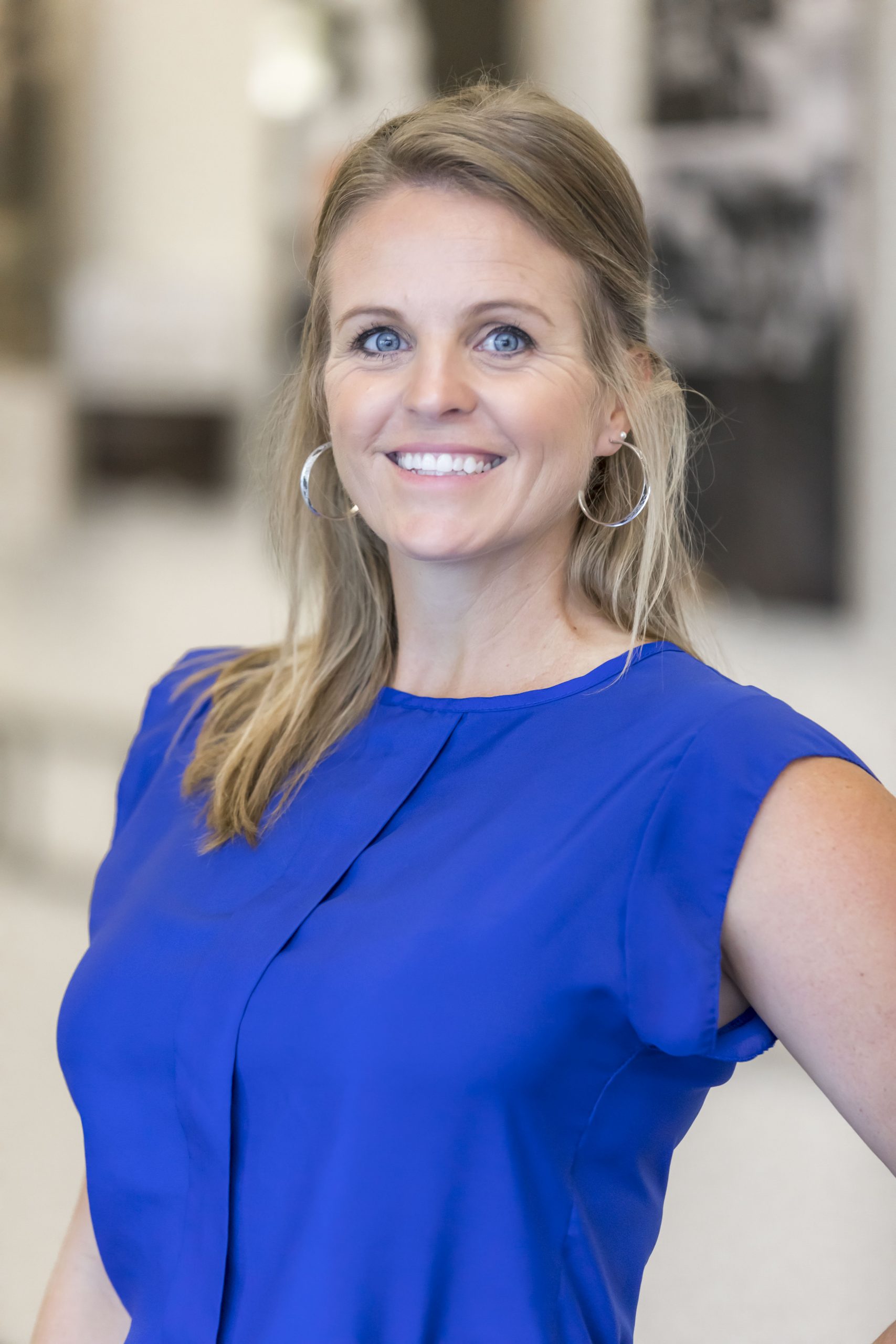 Nikki is a Google Certified Innovator, Educator, and Trainer and works as the Assistant Principal of the pioneer LPLTC Virtual-Hybrid program for grades 3-5. Prior to this position, she was the District Instructional Technology Facilitator and developed a love for helping make teachers' lives easier through technology training at Nvision Consulting.