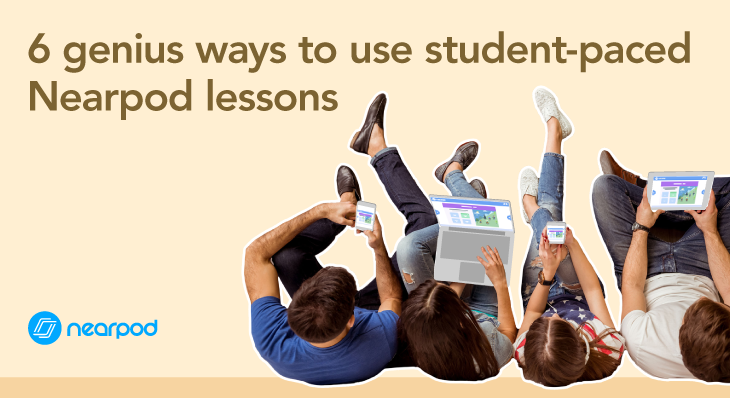 6 Genius ways to use Student-Paced Nearpod lessons
Recently, I've been using a lot of Student-Paced Nearpod lessons in my classroom. Just like with a Live lesson, students enter a 5-letter code, but rather than the teacher leading, students pace themselves through the lesson. Teachers can use this feature to simplify differentiation, facilitate choice, or send Nearpod lessons home as homework or newsletters. Take a look at how to maximize Student-Paced lessons and bring these ideas to your classroom!
Don't have a Nearpod account? Sign up below for free to start using these tips!
How to use Student-Paced mode on Nearpod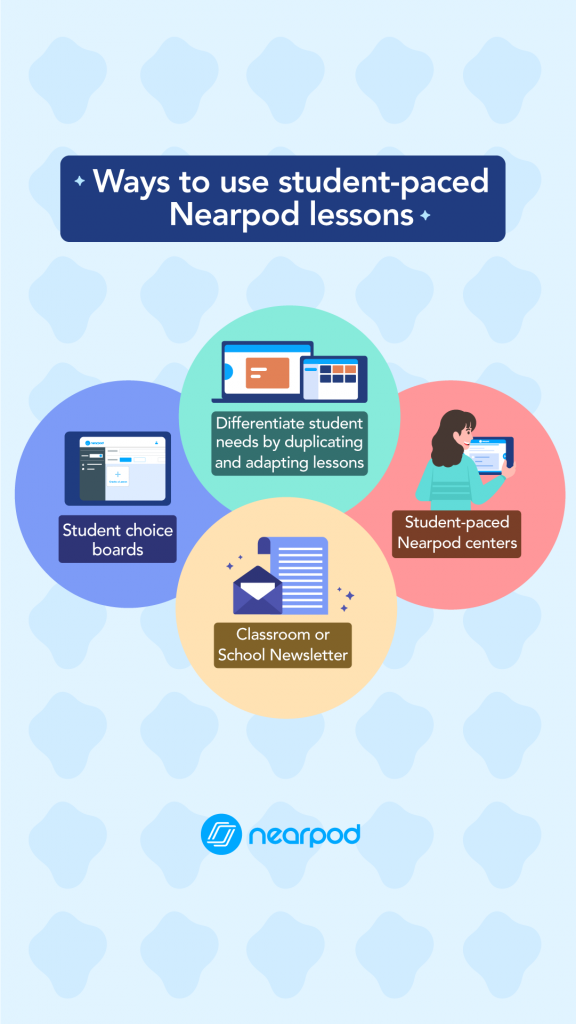 1. Choose an interactive lesson from the Nearpod lesson library or create your own. They'll all be saved under "My Lessons."
2. Hover your mouse over the lesson cover. Click on "Student-Paced." This will launch the lesson and create a code. (TIP: Once you create a code, you can no longer edit the lesson, so make sure your lesson is ready. If edits need to be made afterward, you will lose the first code and must create a new one.)
3. Add an expiration date for the new code generated if needed.
4. Click on the new code and select "Share" to view sharing options.
5. If you don't want students to skip ahead through the lesson without completing the activities, toggle on "Require student responses and prevent skipping."
6. Share the code with students, and have them type it on Nearpod. You can also share the link, embed the lesson, or use your learning management system (LMS) to give them access.
7. Follow students along in real-time by clicking on "View Progress."
6 Genius ways to use Student-Paced Nearpod lessons
Duplicate to differentiate
Differentiation can be intimidating, but the hard part shouldn't be delivering differentiated content to your students. To easily administer differentiated instruction or practice, you can leverage Nearpod's Student-Paced mode to enhance your classroom differentiation.
Offering several adaptions of a lesson is #TeacherGoals, for example, baseline, remediation, and enrichment lessons. Nearpod has 22,000+ pre-made standards-aligned customizable lessons. Use the filter in the lesson library to search lessons by subject, resource, grade, and standards. The best part is: once you download your Nearpod lesson, you can edit it!
Nearpod offers the option to 'Duplicate' each lesson. Consider duplicating and adapting your lessons to meet the remediation and enrichment needs of your students.
Launch multiple versions of your lesson with different Student-Paced codes, and allow each student to independently work on their Nearpod lesson while you facilitate, host student conferences, or work in small groups.
Reports to identify prior knowledge
A difficult concept of differentiation is identifying the variety of student levels based on prior knowledge. An added layer of difficulty is completing this on time. Consider giving a Student-Paced pre-assessment lesson at the start of your lesson, then access reports immediately to identify areas where students need remediation or enriched content.
Nearpod's Post-Session Reports allow you to access student data from the lesson. You can also use the Teacher Dashboard during the lesson to see responses in real time. Now, you've eliminated the need to take papers home to grade that night and assign differentiated lessons the next day. With Nearpod's easy-to-read reports, you can immediately group students into the appropriate Student-Paced lesson & centers.
Skill and Drill Centers
Create a Nearpod Student-Paced lesson built off Skill and Drill practices. Skill and Drill is very similar to memorization, but it involves repetition of specific skills, such as addition and subtraction or spelling. To be meaningful to learners, the skills should become the building blocks for more meaningful learning.
Set up Student-Paced Nearpod centers. Create a competition with your students, engage them, and reward them. If your student can learn, master skills, and have fun. You're off to a great start!
Nearpod has premade interactive activities for Matching Pairs, Draw It, Time to Climb, and more! Reduce lesson planning time and use these activities in your centers.
Student choice boards
Choice boards have become extremely popular with students because students choose how they will learn a concept. Teachers love this technique because choice boards keep students more engaged.
Inside each choice on the choice board, provide a Student-Paced code for a unique lesson.
How to set up a student choice board: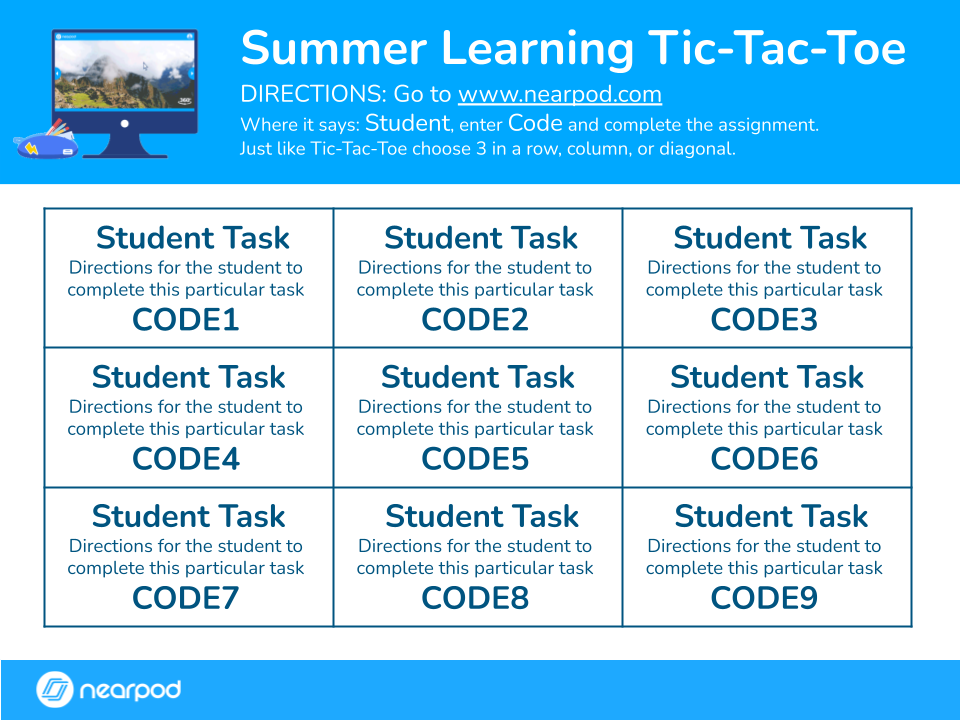 1. Select a topic to focus on and decide what element of choice you want to provide (Rigor? Depth of knowledge? Type of practice?).

2. Create multiple lessons, tasks, or activities aligned with these choices

.
3. Arrange the activities on the board (You can write or link the Nearpod code directly on your choice board!).
4. Have students choose tasks to complete (I like to have them choose either adjacent or diagonal tasks, like a tic-tac-toe board).
Classroom or school newsletter
Communicate with your parents by leveraging a Nearpod Student-Paced newsletter. Fill your newsletter with information and a variety of activities. Gather data from your audience along the way.
Here are some ways to use Nearpod for your Parent Newsletter:
Poll: Identify parent volunteers for special events
Open-Ended Question: Ask for feedback for improvement
Collaborate Board: Open the door for parents to collaborate with one another and share ideas
By utilizing a Nearpod Newsletter, parents also have the opportunity to see what their child's classroom experience is like. This is a very powerful and transparent approach. You can also empower your students to help their parents use Nearpod, too!
Flipped Classroom / Flipped Faculty Meeting
Share codes with your students to complete the lesson either in or outside of the classroom. Students can access these lessons at any time for content review or find resources. As an administrator, coach, or in a leadership role, consider using this approach when presenting content to your teachers. Provide a Student-Paced code to view before a faculty meeting. Now, you can spend more time collaboratively working together and having rich discussions instead of spending the majority of the time teaching content.
Start using Nearpod for free!
Nearpod's Student-Paced feature opens up so many possibilities for using Nearpod in your classroom. Utilizing both Student-Paced and live lessons, your student's engagement and achievement will soar. So, are you looking to give Student-Paced lessons a try yet? Test drive one of these suggestions and see the benefits for yourself!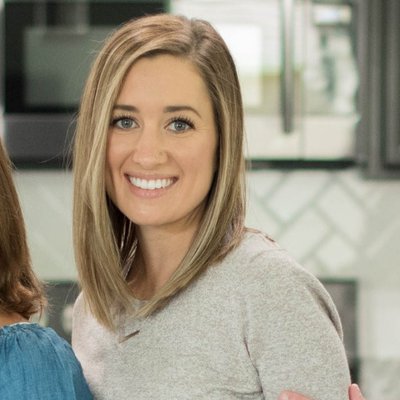 Katie is a Personalized Learning Leader in Volusia County Schools. She helps teachers incorporate educational technology into their curriculum. She believes that students deserve an instructional practice that resonates with their daily lives, and that includes the utilization of technology. She is on a mission to promote the endless benefits that edtech can have on 21st century instructional practices.