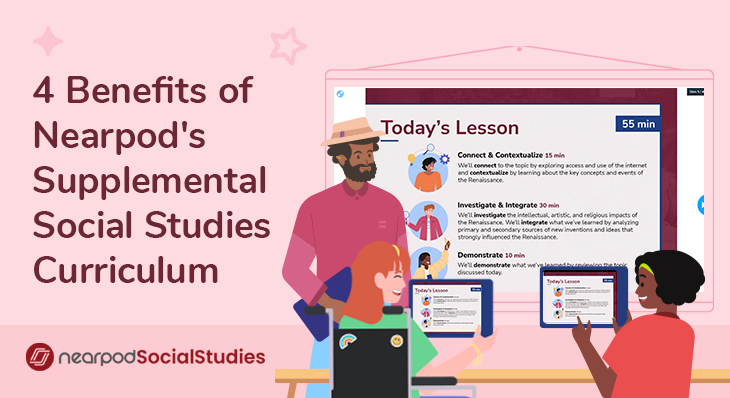 4 Benefits of Nearpod's Supplemental Social Studies Curriculum
Social studies teach students about the past, the societies that surround them, and the institutions that shape their daily lives. However, teachers can spend hours searching for the right supplemental resources to present these essential subjects in ways that resonate and excite today's students. One teacher told us, "I can't watch a million videos to get five minutes of lesson out of it." Despite these challenges, finding the necessary time devoted to teaching social studies is crucial. As the latest NAEP scores indicate, the need for enhanced social studies instruction is a critical element of our current educational landscape.
Social studies resources are among the most used in Nearpod, and our community of educators tells us they need more. But, rather than simply adding lessons and activities to the Nearpod Library, we set out to create something that genuinely supports the various social studies needs of our schools, teachers, and students.
Meet Nearpod Social Studies, our newest program that supports teaching and learning through engaging and rigorous instructional resources in various social studies subjects.
What should you look for in a K-12 social studies supplemental curriculum?
An effective supplemental social studies curriculum must have two key components. First, quality social studies instruction requires trusted, accurate, age-appropriate, and standards-aligned content. It should share stories and perspectives that history often overlooks, teach skills related to analytical and critical thinking, and, most importantly, make learning relevant so students can better connect and explore different aspects of their experiences.
Second, a social studies supplemental curriculum must provide active-learning opportunities. Avoiding passive learning techniques that don't promote deep learning or foster motivation is difficult. Nearpod Social Studies provides opportunities for students to actively engage with the material, share their perspectives in class discussions, investigate the "why," and show what they know through exercises that require higher-order thinking.
What is Nearpod Social Studies?
Nearpod Social Studies is a K-12 supplemental curricular program that helps teachers create immersive social studies experiences. With standards-aligned interactive lessons, videos, and activities built using the power of Nearpod, teachers make students a part of every instructional moment. Teachers can search, customize, and download resources beyond history essentials, covering subjects such as civics, geography, historical figures, and economics and financial literacy. Our team of experts and industry-recognized partners create, vet, and update every resource in the program, giving educators a trusted source to design and deliver their instruction.
4 Reasons your school needs Nearpod's supplemental social studies curriculum
1. Give teachers a reliable source of content
Teachers and social studies departments commonly tell us that searching for social studies resources is exhausting. Many schools and districts rely on their teachers to decide which materials to use because they haven't adopted a core curriculum or the one they have is very outdated. This is especially true in elementary grades, as an analysis from RAND Corp. highlights. Nearpod Social Studies provides a single source of reliable resources tied to standards to build consistent, high-quality instruction across classrooms, grades, and buildings. Teachers can easily incorporate effective social studies instructional models, tailor their instruction to the needs of their classrooms, and deliver an engaging experience.
2. Adopt a guided inquiry approach
Think back to your own time in grade school; were there any lessons or activities that were more memorable than others? We believe the pedagogical model plays an important role in sparking—and keeping—students' interest in learning.
Nearpod Social Studies uses an inquiry-based approach to fully immerse students in the learning process and material. This framework asks students to:
Connect: Tap into prior knowledge by sharing what they know in collaborative discussion, visiting landmarks using VR Field Trips, or anonymous responses
Contextualize: Represent learning in multiple ways using dynamic media and activities
Investigate: Analyze secondary sources such as articles or videos
Integrate: Apply new knowledge by annotating primary sources or responding to higher-order thinking questions.
Evaluate: Draw conclusions and make connections
Strategically combining this framework with the powerful features in Nearpod helps teachers create immersive learning experiences that engage critical-thinking skills. Students analyze primary sources, gather real-world context, gain perspective, participate without feeling pressured to speak, and more—making lessons truly memorable.
3. Enhance civics instruction
The latest NAEP score results show 31 percent of eighth graders performed below NAEP Basic in civics, representing a 3-percentage increase from 2018, and average scores decreased by two percentage points. Although we can't determine an exact cause, we haven't done enough to increase proficiency since 1998. The Nearpod team and our partner, iCivics, aim to address this gap by giving teachers access to high-quality civics resources.
Nearpod Social Studies includes hundreds of iCivics lessons enhanced by the Nearpod team by strategically applying formative assessments and media features like Quizzes, Open-Ended Questions, Interactive Videos, and Collaborate Boards. Teachers get access to high-quality civics lessons and activities that can be delivered to students with a click of a button.
In addition, Nearpod Social Studies includes iCivic's K-5 Private i History Detectives curriculum. These standards-aligned interactive lessons lead students through inquiry-based mysteries to explore historical investigations that strengthen content knowledge and critical thinking skills. Students analyze primary and secondary resources, practice vocabulary, and apply inquiry skills to solving problems.
4. Support your teachers
Without question, teachers are motivated to do their best to educate their students. But, the Voices from the Classroom 2023 survey shows an overwhelming amount of teachers feel they have too many responsibilities to be effective. The survey also tells us how teachers feel about instruction, such as how they:
Value measuring learning but don't have aligned formative assessments
Need better curricular materials to provide effective instruction
Want professional training to implement their resources
Teachers who had positive views of their curriculum and assessment tools were more likely to recommend the teaching profession than those with negative views, indicating the profound effect high-quality instructional tools and resources have not just on our students but on the outlook of our teachers.
Everything we do at Nearpod is to support teachers. And Nearpod Social Studies caters to their social studies instructional needs—whether it's finding the perfect lesson within minutes of searching, getting real-time insights into student learning, or having the entire class engaged and excited about learning.
Bring Nearpod Social Studies to your school
Every social studies classroom is different; perhaps you're looking to strengthen your own curriculum or give teachers more access to resources. Nearpod Social Studies provides exciting, rigorous, and purposefully designed resources to help students learn about their past, present, and future in relevant and impactful ways.
Learn more about our program and have a Nearpod representative contact you for a demonstration.