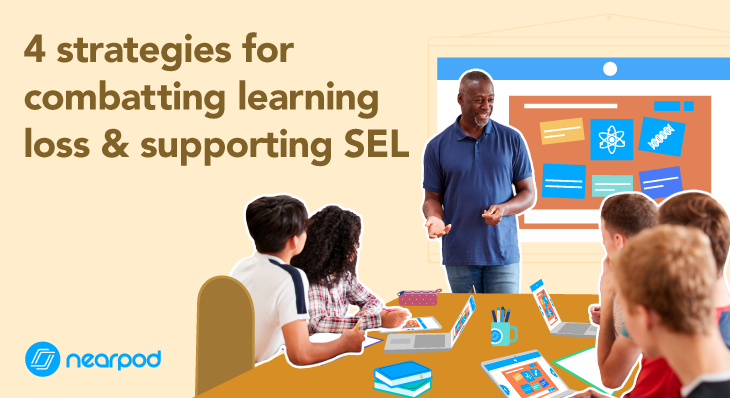 4 strategies for combatting learning loss and supporting social-emotional learning with Nearpod
The problem of learning loss is it's not the only problem
'As educators and parents grow increasingly concerned about the impact of the COVID-19 pandemic on students, "learning loss" has become the center of many conversations. Often, the discourse implies that educators should focus on precisely measuring and monitoring the amount of knowledge and skill lost to the pandemic. But this narrow view of the issue may miss the true scope of the problem. This unprecedented period of loss goes far beyond lost learning—milestones missed, loss of normalcy, and lives lost. This is why, at Nearpod, we've reframed the issue around what we should do moving forward: How can educators create an environment where both learning and whole child needs are maximized?
To address this question, we must confront a reality that has only been exacerbated by the pandemic; COVID-19 has compounded existing inequalities, and as a result, learning loss (as well as other loss) is predicted to disproportionately affect Black and Latinx students. This has the potential to impact educational outcomes for years to come. Therefore, any solutions must be culturally responsive and equity-based.
There won't be one simple answer; overcoming the impact of this period of loss is going to take innovative solutions and a dedication to students' social and emotional needs, as well as their academic ones. In these efforts, we know that teachers will be critical, which is why at Nearpod we build tools and content that equip and empower teachers to address the unique and diverse needs of their students.
The collective results of over 20 studies clearly support the efficacy of using Nearpod to improve learning outcomes and facilitate a classroom community where students feel a sense of belonging and emotional safety, which is more critical than ever. Below, we outline four research-backed, equity-minded strategies teachers can use to maximize whole child benefits in the wake of learning loss:
1. Foster strong relationships in the classroom
Relationships are a core tenet of a culturally responsive classroom and they are crucial to addressing learning loss. Students need to trust and feel safe in their classroom community in order to be comfortable with the vulnerability that learning entails.
Using Nearpod makes it more likely for students to identify themselves as members of the learning community, through authentic interactions with their teachers, as well as strengthened peer interactions.(i) Here are three Nearpod strategies to help foster a sense of community in your classroom:
Post an anonymous Collaborate Board to check in with all your students at the beginning or end of class.
Whether you're in-person or remote, try our Ice Breaker Mini-Lesson for K-5 or 6-12 so students can get to know their peers.
Use our Gratitude Jar or Helpful Habits SEL mini-lessons. These unlocked samples from the unlocked SEL samples from the 21st Century Readiness Program are quick and engaging ways to establish a comfortable learning environment.
2. Facilitate authentic and relevant experiences for students
For students to learn most effectively, they need to see themselves reflected in their curriculum; this is especially true for BIPOC students, who are often underrepresented in curriculum. This is a tenet of both culturally responsive pedagogy and trauma-informed teaching. Not only do these methodologies help students feel a sense of belonging, they also can increase critical thinking skills and contribute to gains in reading comprehension and mathematical thinking.
Nearpod lessons and videos are designed to be culturally relevant and inclusive of all learners, which is one of the core reasons why research shows Nearpod provides more effective learning opportunities for students.(i) Here are three examples:
Nearpod Original Videos feature inclusive casts, work against stereotypes, and reflect the diverse backgrounds of K-12 learners.
Nearpod's Racial Justice lessons are a curated collection of our best resources for an anti-racist education.
Nearpod's Virtual Reality feature and lessons help bring the world into your classroom and can help make students the experts in their own cultures and backgrounds.
3. Deepen use of regular formative assessments
Before you can solve a problem, you need to identify it. That said, experts warn against jumping to standardized tests too quickly. Instead, they are encouraging teachers to incorporate creative and less formal checks for understanding into instruction. Learning loss is difficult to quantify holistically, but formative assessments provide in-the-moment glimpses of student thinking and pinpoint where understanding breaks down. At the same time, lowering the stakes on assessments allows teachers to build the positive learning environment that is crucial for students to thrive.
Nearpod offers countless ways to incorporate formative assessments into instruction, supporting more effective and informed instruction.(i) Below are three examples:
Assessment tools built for engagement: Poll, Draw It, and Collaborate Board were designed to make sure students had low-stakes ways to share their thinking, while Time to Climb gamifies the quiz experience, engaging students in a fun and quick assessment that provides important insights to teachers. In the Nearpod Library, you can find thousands of lessons with these already built-in.
Nearpod Activities: Our newly launched bank of 2000 Activities contains quick and easy-to-implement checks for understanding using some of our best-loved engagement tools.
Interactive Videos: With Nearpod, you can add multiple-choice or open-ended questions into any video or choose one of the 5000 pre-made interactive videos from the Nearpod Video Library.
4. Adapt instruction frequently
In a classroom of diverse students with a range of identities and abilities, flexibility is of the utmost importance. Add to this the inequitable impacts of learning loss, and it's clear teachers will need to be more adaptable than ever before. They may find an unexpected need to re-teach material from the previous year, or to re-teach material to only a segment of students without making those students feel alienated or put on the spot.
With Nearpod, real-time insights into student thinking allow for teachers to more frequently and effectively adapt their instruction. Here are three ways Nearpod empowers teachers to adapt instruction to fit student needs:
When students are struggling, it can help to see information presented in a different way. With the Whiteboard feature, teachers can model for students at any point in a live lesson, launching a virtual whiteboard for all students to see.
Teachers can't always anticipate when they'll need a quick check for understanding. Using Quick Launch, teachers can bring up an Open-Ended Question, Draw It, or Collaborate Board at any point, on the fly.
Sometimes, a quick review of prior knowledge can go a long way. With the Nearpod Activity Library, it's easier than ever to find and launch a short review before jumping into new content.
References: Below are the efficacy studies about Nearpod that support the conclusions presented in this blog.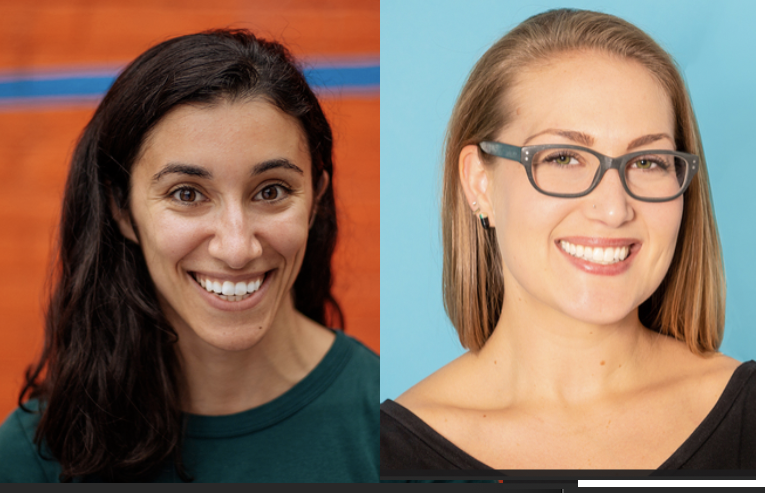 Rebekah Bergman is the Director of Curriculum at Nearpod and Sara Romero-Heaps is the Vice President of Product Strategy