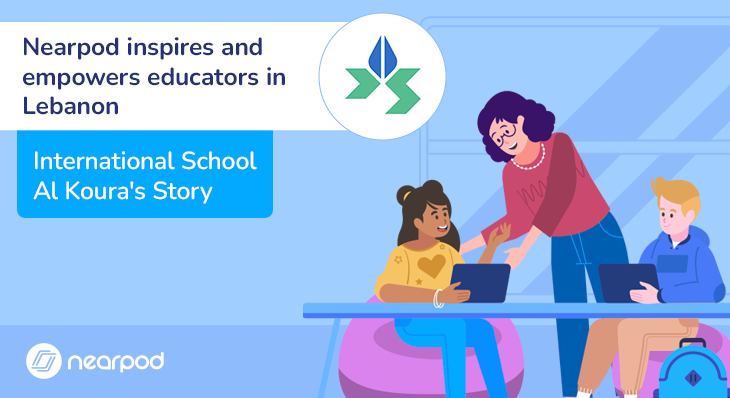 Nearpod inspires and empowers educators in Lebanon
Al-Koura, an International school located in Lebanon, welcomes families into an inclusive, innovative environment by blending its core values with redesigned educational approaches based on Project-Based Learning.
Its dedicated team of educators and administrators strive to cultivate 21st-century success skills in each and every student – as well as in themselves. In 2017, five years before the pandemic hit, the principal and division directors launched the International Schoo (I.S.) Distance Learning Journey campaign. It was designed to leverage technology to build creativity, collaboration, critical thinking, and communication into their curriculum – in alignment with their values and methodology.
The campaign focused on ambitious goals to blend onsite and online learning long before "hybrid" was a popular term. How and where would they find the right tool to help support their goa? How would they ensure acceptance of cutting-edge innovation in a highly accustomed culture of face-to-face communication? A culture where many parents—and some teachers—were not yet ready for such digital transformation.
Key statistics about Al-Koura's experience with Nearpod
Has been using Nearpod since June in 2020 with Silver accounts and then upgraded to Nearpod Premium Plus in January 2022 till present time.
Nearpod key usage stats: 57 engaged teachers, 4,967 sessions launched, 89,189 student joins, and 246,707 activity submissions
Having access to Nearpod's Lesson Library was the most appealing feature initially, and since the beginning of 2023, they officially started using the 21st Century Readiness Program
New to Nearpod? Learn more about international school and district licenses.
Nearpod inspires and empowers educators in Lebanon
With empowering students through technology top of mind, School Principal Rima Nasr seized the opportunity presented in the 2020 lockdown to redesign lessons and methodologies. All of which helped to bringAl-Koura a giant leap closer to meeting its cutting-edge teaching and learning goals.
For Rima, it was a question of the right tool at the right time. Browsing Twitter with the pandemic in full swing, she discovered Nearpod through the online education community and never looked back.
"Everything we were forced to do during the pandemic aligned with what we had laid out three years earlier: to conduct live, online, student-paced lessons. The lockdown sped everything up, and I found Nearpod: which became our lifeline."
Nearpod's impact on the classroom
Today, every new teacher who comes into the school gets access to the school library, with a wealth of teaching resources at their fingertips, through the virtual school library. Nicole Ghobril, Elementary Division Director, explains:
"We have all the lessons ready, and it's making everyone's life easier. New teachers to get on track. Parents and students have gotten so used to Nearpod that they can't live without it."
Nicole explains that Nearpod continues to represent a true game-changer in creating a more inclusive learning environment for students of all levels in the post-pandemic period. Teachers regularly send assignments home with the peace of mind that in addition to students using Nearpod for lessons in class, they can review slides while listening to the teacher's voice by simply clicking a link.
For Nicole, empowering students towards personalized self-paced learning reflects the beating heart of the school's approach.
"No two students are alike. Some take ten minutes to internalize a concept, some half an hour, and some an hour. With Nearpod, they go through the lesson in class and take it home with them. It helps students learn at their own pace, to grasp the needed skills, when they might have listened in class and forgotten the traditional lesson."
From vision to action
Rima fondly recalls how she began experimenting with Nearpod with a small group of teachers who were accustomed to using PowerPoint in class and getting to grips with Google Classroom—which had been activated in 2017 as part of IS 2020.
"When we actually started using Nearpod, it was remarkably simple and self-explanatory. We started off with the free version, and when we upgraded to premium, it was even better."
For Rima, technology goes far beyond devices and software. She knew it was essential to introduce an effective virtual learning platform that would maintain the face-to-face interaction that is so central to the culture in Lebanon and at Al-Koura. "We wanted to find the balance, and we can do both, and we can do them really well if you have the right content and the right training and the right platform."
Olga Sarkis, Ed Tech Adviser, also saw the potential Nearpod offered to continue with "live" teaching in a forced online environment, making lessons more engaging and interactive without overwhelming teachers, parents, or students.
"My mission was to explore Nearpod as one of the platforms we could integrate with the ​​[Google] suite and our existing Alma learning management system. We literally switched all the flip charts we were using to Nearpod."
Olga recalls how teachers were relieved and motivated by being able to present lessons, make formative assessments, and integrate other tools that parents and students could use easily, regardless of their location, such as Google Meet. "Instead of jumping between different apps and sharing multiple links with the students, Nearpod enabled us to deliver one interactive and engaging lesson. It includes all the applications, presentations, features, and assessment tools we could possibly need."
Supporting teachers to support learners
In order to streamline implementation in a time when nobody was in the same physical room, the initial core team using Nearpod prepared step-by-step guides, shared videos, and developed a collaborative process for teachers to experiment, share, and compare ideas and best practices with the tool. Nicole Ghobril recalls it as a learning adventure among the division directors:
"We created lessons, samples, using all the tools across subjects, and then teachers started creating their lessons. We would check them one by one via Google Classroom to see how they could get better. Everything fell into place from there."
For Olga, there was no doubt that Nearpod was the solution the school needed, and her instinct was soon confirmed.
"We didn't need to convince our teachers. They all accepted it. They loved it from the get-go as much as we did, and even the process of practice and fine-tuning was incredibly positive."
The ability to integrate Nearpod with other tools continues to streamline lesson planning and assessment now everyone is back in the classroom. Rima received positive feedback from parents, students, and teachers alike, who have found Nearpod to be a reassuring constant in lessons—onsite or online—despite the pandemic and the ongoing political unrest in Lebanon. It supports her mission as a principal and as a mother to "prioritize students' mental health and wellbeing."
Aligning with core values
While students and parents alike love the user-friendly interface and interactivity of their lessons through Nearpod, for Olga, it's also strengthened the school's commitment to empowering students through skills like critical thinking, creativity, and digital citizenship.
"We believe that the best learning experiences must be effective, engaging, and inclusive. Nearpod's best practices help us to achieve our educational goals and objectives all the way."
Al-Koura is an inclusive school with around 50 students with special needs, and Rima explains that teachers now rely on Nearpod to personalize and prepare activities so each student progresses at his or her own pace and level—without exception.
"It's been a great help for the special programs and education departments in our school. Nearpod really came to the rescue during the lockdown with students with special needs."
Nayla Saadeh, Intermediate and Secondary Division Director, highlights how Nearpod has also strengthened the school's focus on critical thinking.
"I believe that a lot of learning takes place by students on their own, and this is what sticks in their mind and helps them to think critically. They actively try to find solutions for the problems they are facing. Time to Climb is a prime example of a feature that our students of all ages love and that gives them a sense of progress and achievement."
Implementing Nearpod's 21st Century Readiness Program
The four division directors at Al Koura are keen to embrace the future with Nearpod. January 2023 will see the school roll out the 21st Century Readiness Program. The educators for each cycle are already choosing relevant topics for their grade levels. Nicole explains:
"There is something for every cycle, and we're really looking forward to assigning the tops. In Elementary, we will go mostly with SEL and digital citizenship. At the same time, high school students will focus on college prep and budgeting – which I'm sure Nayla is looking forward to."
Whatever tomorrow brings, Al Koura's administrators, educators, and students are ready. The experience with Nearpod has dissipated fears of what might happen if their children are absent from school because there is a system where teachers and technology collaborate to ensure engaging, interactive, and inclusive education.
"Nearpod helped us convince parents that education can continue, even though we're not always in a face-to.face environment. Technology can strengthen the human connection, and learning doesn't necessarily have to stop. The pandemic helped us prove that point, and Nearpod continues to do so daily."
Two years after introducing Nearpod, Rima is excited to introduce the 21st Century Readiness Program in the coming year.
Nearpod's 21st Century Readiness Program, available with Premium Plus, offers educators a unified approach to integrating 21st-century learning into their day-to-day teaching practices.
Ready to bring Nearpod to your school?
We're honored to support the 2 million Nearpod teachers in +160 countries. Interested in learning more about how you can bring Nearpod to your school? Schedule a demo with one of our Nearpod Experts and learn how you can empower teachers with unlimited access to everything they need to engage students.
New to Nearpod? Learn more about international school and district licenses.
About the school
Al-Koura International School in Lebanon is an independent institution that forms part of the AMSI school management umbrella, which includes three sister schools in the UAE. Committed to preparing its 750+ K-12 students for tomorrow's world, wherever they come from, Al-Koura prides itself on cultivating values such as responsibility, courage, empathy, tolerance, and integrity. The school's 70+ teachers and 20+ administrational staff work day in, and day-out to provide a curriculum and Project-Based Learning approach that nurtures critical thinking, self-confidence, and self-sufficiency while ensuring academic excellence. The school is currently pursuing a NEASC accreditation, which recognizes holistic educational best practices and a focus on impactful personalized learning.