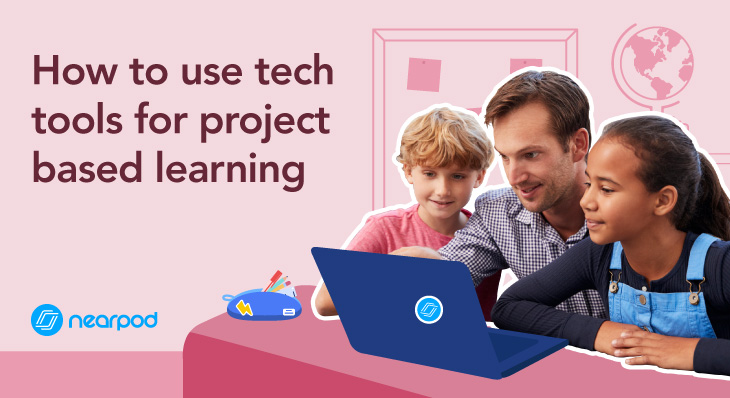 Project-based learning, or PBL, is an instructional approach where students actively think through challenges and explore real problem-solving opportunities. Consider not just having math class but creating a classroom store that makes a profit for a community or global relations initiative. Think about not just learning the plant cycle but creating a school garden that donates food and collects shared pictures of the recipients.
We have evolved from a place of expecting learners to reach understanding through mere repetition and are replacing it with student-centered connections to create critical thinking skills. PBL is an educational approach to consider, and you could use project-based learning technology like Nearpod to help!
New to Nearpod? Sign up for free to access the resources, interactive activities, and lessons in this article.
What is project-based learning (PBL)?
Encouraged by early educator and theorist John Dewey, project-based learning is a pedagogical approach that covers more than one discipline or subject area and is a student-led inquiry with the teacher in a guide or coach role. This kind of teaching and learning actively answers the "Why are we learning this?" question that many students of the past may have had. Students work through critical thinking steps in PBL to research ideas and discover solutions for real-world issues.
Why is PBL important?
Project-based learning benefits are impactful to teachers and students, especially in today's times of global connections and world issues reaching inside homes from afar. It was Albert Einstein who said, "We can't solve problems by using the same kind of thinking we used when we created them." Well, PBL is not merely about finding answers. The thoughtful journey learners take using their own thoughts and expressions of creativity resonates to encourage different ways of thinking and different ways to demonstrate understanding as they explore personal and shared connections.
Lesson content turns into their own content to be shared with the world around them. PBL concentrates on students being more closely connected with why they are learning something and how they can make an impact using what they understand, discover, and feel about the topics. Personal connections, emotions, and interests are key components of PBL. Being able to communicate ideas and questions is critical to developing interpersonal skills essential for teamwork.
What are examples of project-based learning technology?
Teachers can use tech tools for PBL by accessing the Nearpod lesson library for content across subject areas, standards, and grade levels. Learners have the opportunity to work with and communicate with others using interactive activities and dynamic media. Critical thinking, collaboration, and communication are necessary for successful PBL. Nearpod is a great educational tech resource that can support every step!
Keep reading to explore project-based learning examples you can implement using technology tools like Nearpod.
How to use technology tools for project-based learning examples
1. Gain real-time insights for in-the-moment discussions or to make adjustments
Share impromptu text and images using the Nearpod Whiteboard feature or Quick Launch activities during live sessions as ideas flow from student conversations noting student engagement and interactions. During PBL discussions, teachers can toggle from Live to Student-Paced mode sessions for communication to move from whole group to individual work or collaborative teams.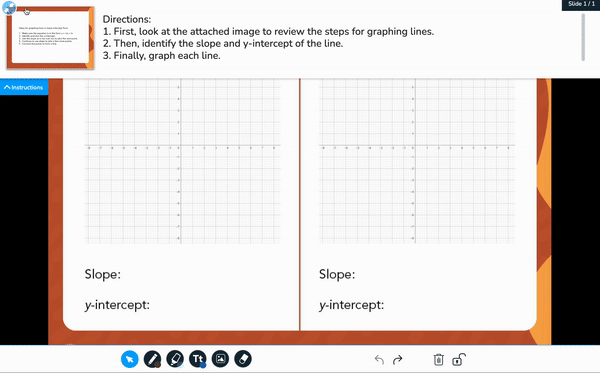 Here are some ideas to use for different subjects:
Math: Create a checklist for students to break down tasks and convert it into a Draw It slide for them to fill out.
Science: Create an Open-Ended Question in Quick Launch to check in on students' understanding and inquire along the way while they work in groups.
2. Use Collaborate Board
Collaborate Board is a virtual bulletin board where students can have shared discussions and ideas using media or text. Learners can express their thoughts and ideas about the activity on this virtual board. Use it for whole groups, small groups, or teams in Live or Student-Paced mode sessions. This is an excellent tool that can be revisited throughout the project or after it concludes. Students and teachers can easily post images and text in one place to capture a visual board of thoughts and ideas throughout the process.
Here are some ideas to use for different subjects:
English Language Art (ELA): Have students use Google Safe Search on a Collaborate Board activity to find images of relevant vocabulary to the project.
Social Studies: Have students use Google Safe Search on a Collaborate Board activity to find images of important historical figures, places, and objects to share on the board related to the topic.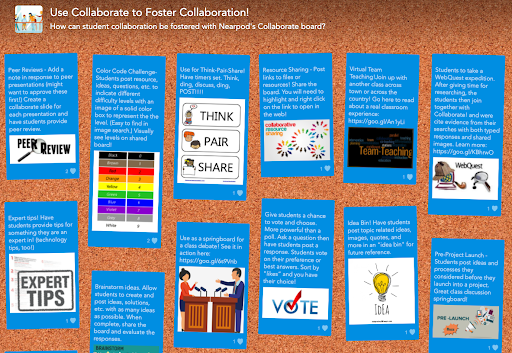 3. Incorporate current events and diverse perspectives
Incorporate current events and diverse voices using educational videos. With Interactive Video, students can learn about current event topics and unique perspectives and gain insightful context. Teachers can explore our standards-aligned video lessons and find one that fits the project. Videos have assessment questions embedded within the video. Students can answer the questions as a class, individually or in groups, using their devices.
Compare and contrast viewpoints by exploring the world using Virtual Reality (VR) Field Trips. Teachers can encourage students to use VR explorations to select topics, explore locations, conduct research, and make real-world connections.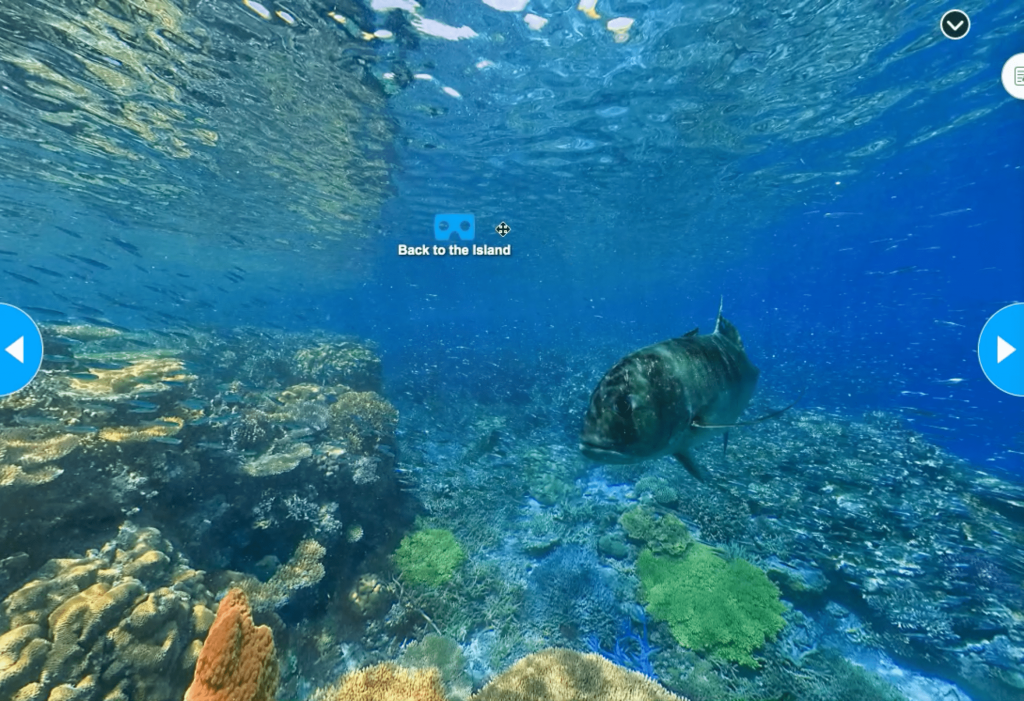 Here are some ideas to use for different subjects:
English Language Art (ELA): Have students watch a nonfiction Interactive Video and ask them to list facts and details on an Open-Ended Question.
Social Studies: Consider having students see examples of videos for them to use as demonstrations of how they might create their own.
Science: Have students take a virtual field trip to a habitat.
4. Reflect on ideas and discoveries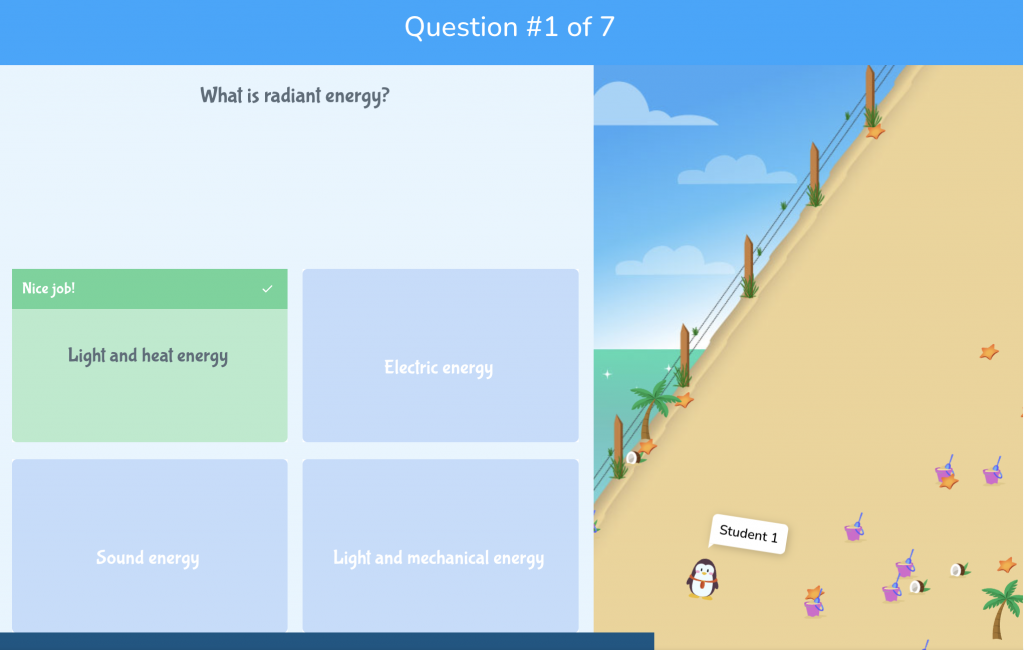 Communication is an important part of project-based learning. Students share their voices and get to explore their choices through the learning process. Have students participate in a gamified activity, such as Nearpod's Time to Climb, for information review. Using a Poll activity to consider their thoughts about essential questions that they have discovered answers to or new ideas they've gained is an easy win for teachers and students! Coach your students through PBL using project benchmarks that complement the educational journey.
Design PBL instruction with Nearpod
Motivate your students through project-based learning to plan a vacation, create a business or change the world one project at a time. Use Nearpod as an educational technology tool resource for flexible, suitable, and accessible PBL support.
New to Nearpod? Sign up for free to access the resources, interactive activities, and lessons in this article.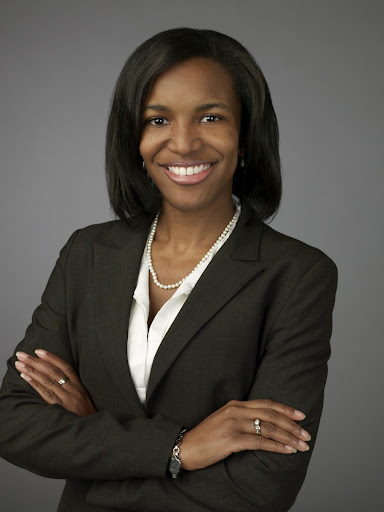 Tech-savvy international educator, Nearpod PioNear, and lover of literacy encouraged by sharing ideas and strategy for the profession that teaches all other professions.