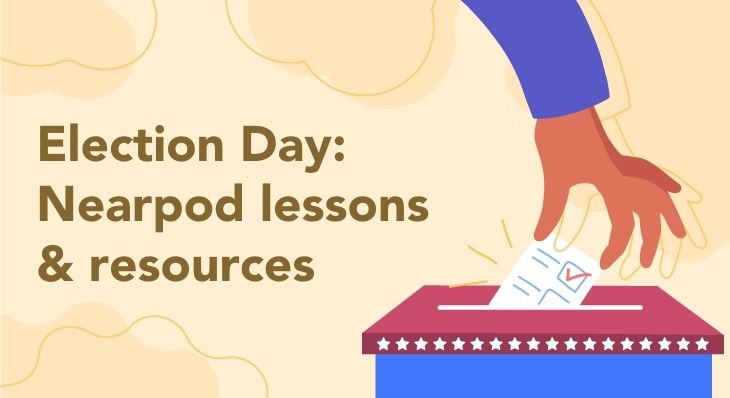 Election Day: Nearpod lessons and resources
Election season is upon us. It's important for students to understand the history, mechanics, and current events surrounding the elections so they can participate in the larger discussion. The future of our democracy will soon be in their hands. We've brought together the following non-partisan learning experiences from publishers like iCivics, Vote by Design, Teaching Tolerance, and more to help you discuss the election with your students. All of our materials are customizable so you can make them your own.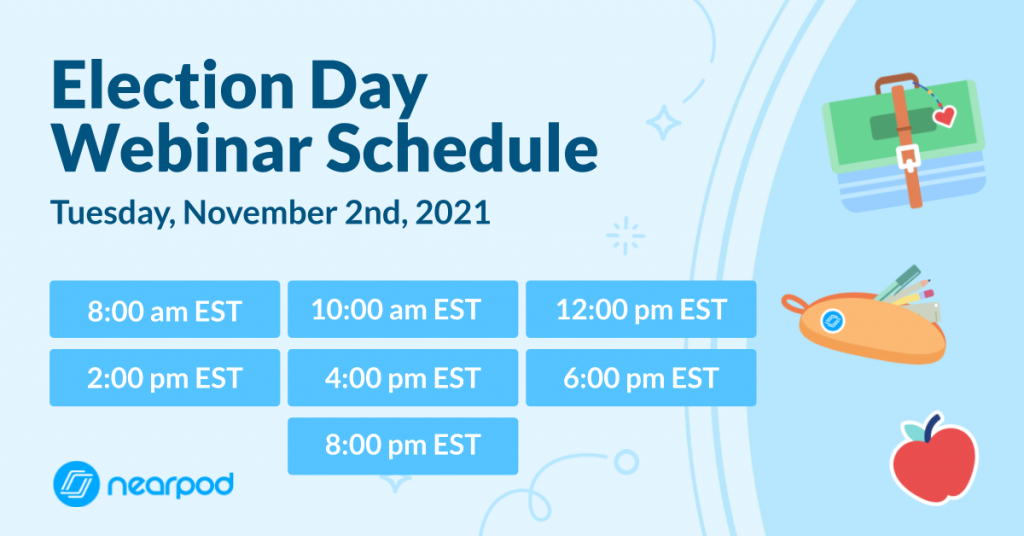 Election Day Exclusive Webinar Schedule
This Election Day, gear up on some Nearpod knowledge! Join our Learning and Creating with Nearpod session to learn the the foundational skills necessary to get up and running with Nearpod.
During these sessions, participants will learn:
The many elements that make up a strong Nearpod lesson.
How to find lessons in the lesson library and edit them to customize them for their students.
The basics of creating a lesson on their own and adding interactive activities and media.
How to launch a lesson and review student data for both Live and Student-Paced sessions.
Build background knowledge with iCivics
The lessons you know and love from iCivics transformed by the experience of Nearpod! Learn about the election process, understand the power of the president, and engage students to become active participants in our constitutional democracy. Check out our comprehensive library of social studies lessons, including our newest additions, Win the White House and Cast Your Vote, featuring iCivics' election-focused games.

Stay up-to-date with current events lessons from Nearpod
Did you know that Nearpod creates timely current events lessons on newsworthy topics? With so many important milestones, it can be hard to keep students informed. Check out our collection of current events lessons, which synthesize major events through engaging media and rigorous activities on a biweekly basis.

Inspire ownership in the next generation of voters with Vote by Design
Maybe you're confident in your students' knowledge of the electoral process but struggling to ignite excitement. Look no further! Vote by Design is a brand new, non-partisan learning experience designed to promote civic engagement and agency among all voters. Their interactive mini-lessons use a design-thinking and student-centered approach to help next-gen voters determine which leadership qualities are most important to them and why.

Bring the election into any lesson
The election is relevant across all subjects. Consider framing lessons around the elections and using Nearpod to make these experiences more engaging. Here are just a few ideas:
In math, you can have students calculate electoral college votes. The president will need 270 votes to win. What are the different paths to get there? You could also look at the math that determines the electoral votes your state has.
In ELA, you can have students write argumentative essays about topics central to this year's election. Have them research the sides of the issue and construct their own argument based on facts.
Using history resources like our Voting Rights Act lesson, adapted from Teaching Tolerance, compare the past and present how Americans are able to participate in government.
Help students process their emotions after the elections
Give students the space, tools, and platform to process their feelings after election day.
Allow students to practice self-awareness by identifying and expressing different emotions. These Nearpod SEL lessons are designed to explicitly teach how to recognize different feelings and emotions with direct instruction and modeling, frequent checks for understanding, authentic group practice, and reflection exercises. Students will also learn to develop self-management by managing stress and controlling impulses through mindfulness.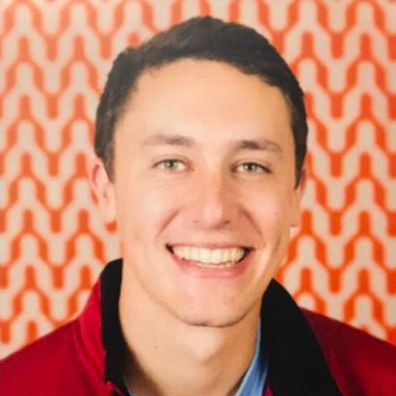 Adam is a Learning Experience Designer at Nearpod. He previously taught High School History teacher in Houston, Texas where he also served as the Social Studies Department Chair. Adam is currently in charge of the quality control of Nearpod's learning experiences. He is also the manager of the Digital Citizenship and Literacy program.