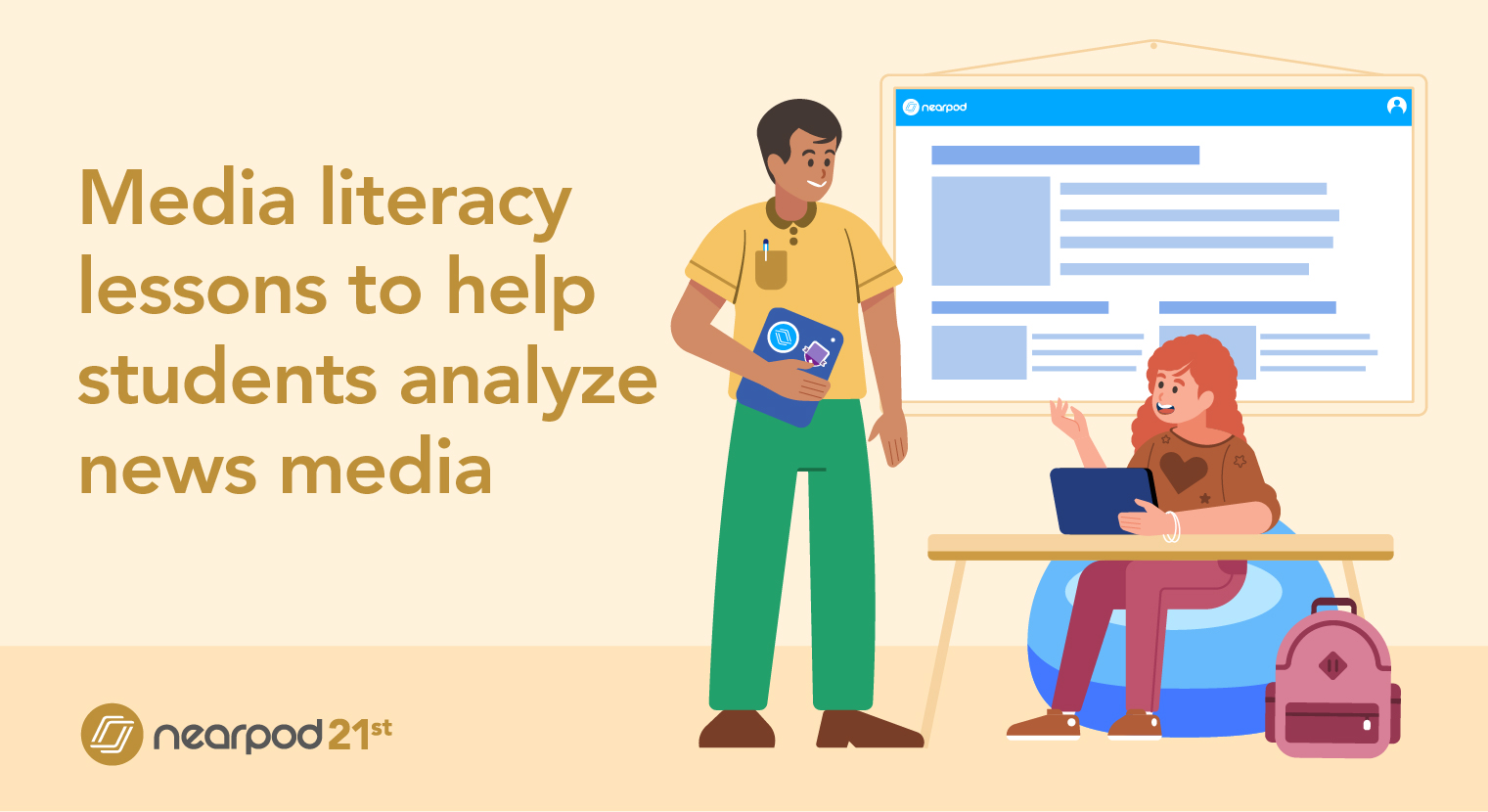 Media literacy lessons to help students analyze news media
Media literacy is an essential skill for students, and even adults, to adopt. Common Sense Education lists it as one of the 6 core elements of digital citizenship. This is an important skill that should be taught to students year-round for their health and well-being. As a teacher, how can you find the time and resources to make media literacy a part of your instruction? Keep reading for tips and resources on how to teach students media literacy in your classroom.
What is media literacy?
Media literacy is the ability to critically analyze, evaluate, and interpret the vast array of media messages we encounter daily, including news, advertisements, social media content, and entertainment. It's crucial for students in today's digital world, as it equips them to critically analyze various media messages. It enables them to identify biases in news articles, comprehend advertiser targeting techniques, and uncover subtexts in informal messaging. By honing these media literacy skills, students can make informed choices, engage in meaningful discussions, and navigate the complex media landscape with discernment.
How do I incorporate media literacy instruction?
Media literacy is a way of teaching. Math, science, history, lunch – the subject list goes on and on! The key is to incorporate it into your existing lessons for any subject. I use Nearpod for tons of subjects, but never have I told my students, "Now, we will have our digital literacy subject time." It's important to create opportunities throughout your instruction for students to showcase their knowledge through media literacy resources. We should use digital resources and tools to teach and expose students to various types of news and media. For example, If you're teaching about asteroids in your science class, have students analyze an article about NASA's DART Mission or draft a tweet to NASA.
Too often, classrooms are filled with students typing or reading articles. Some teachers consider this digital literacy, but one important element is forgotten. Media literacy is all about analyzing various types of text. Students can cover the essentials of it through videos, blogs, interactive experiences, tweets, and web pages. This is a realistic approach to how they would face news media in their everyday life.
There are 5 key questions for media literacy education students should be able to discern:
Who created this message?
What creative techniques are used to attract my attention?
How might different people understand this message differently from me?
What lifestyles, values, and points of view are represented in or omitted from this message?
Why is this message being sent?
Media literacy lessons to help students analyze news media
Nearpod's 21st Century Readiness K-12 Program
If you're looking for even more resources, we've got you covered! Nearpod's 21st Century Readiness K-12 Program offers resources to embed 21st-century skills like digital citizenship, social emotional learning, and college and career readiness into every classroom. The Digital Citizenship Curriculum collection includes technology applications, coding essentials, and media literacy.
Nearpod's free media literacy lessons
With Nearpod's free digital citizenship lessons, teachers can save time searching or creating media literacy resources. In these lessons and activities, students can learn to differentiate and connect clues to fake news sources. They also learn to identify accurate news sources and other sources that do not quite fit the mold. You can use these lessons as they are or modify them. Check out some of these lessons to get started!
If you don't have access to Nearpod's 21st Century Readiness Program, you can still access some unlocked digital literacy resources and digital citizenship week lessons for free. To access the resources shared in this article, make sure to sign up for Nearpod for free!
Primary vs. Secondary Sources (Grades 3-8)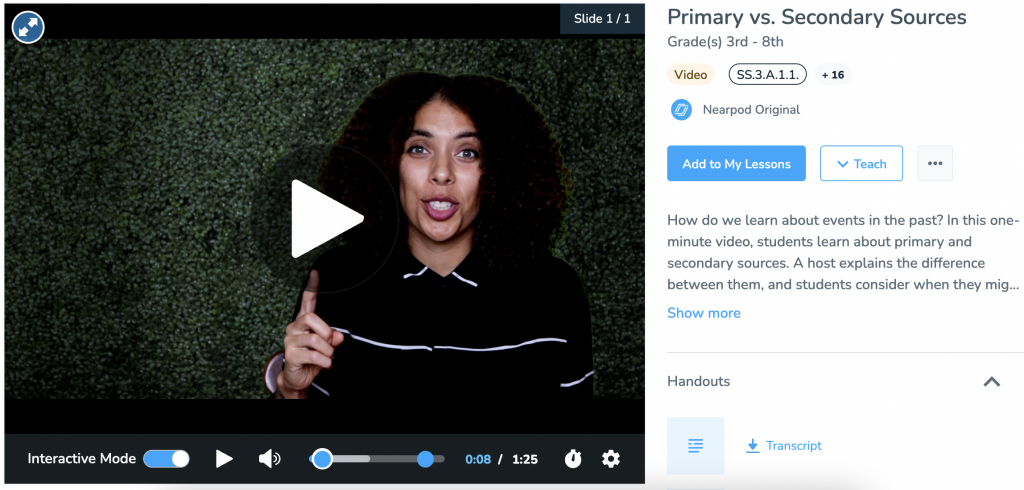 In the Primary vs. Secondary Sources one-minute video lesson, suitable for Grades 3-8, students gain insight into the distinction between primary and secondary sources, helping them understand how we learn about historical events. This lesson equips them with valuable skills for evaluating and sourcing information accurately.
The Role of Media (Grades 6-8)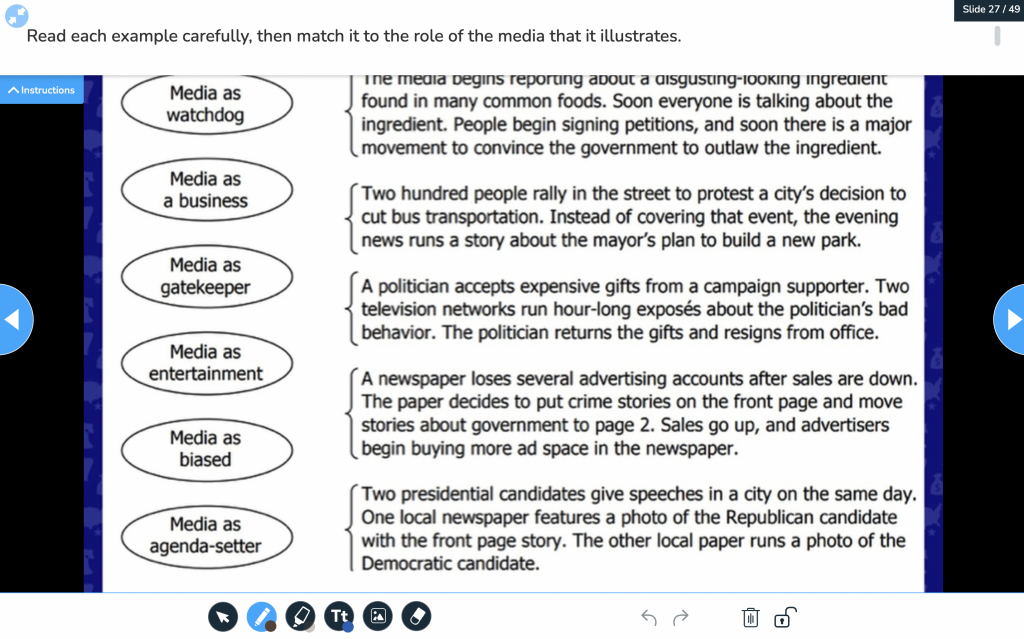 In The Role of Media (Grades 6-8) lesson, students learn how media literacy fosters critical thinking, effective communication, and civic engagement, highlighting the media's role in monitoring and influencing government and public opinions. This lesson equips students with essential skills to navigate the media landscape and become informed and active citizens.
Current event lesson series (Grades 3-12)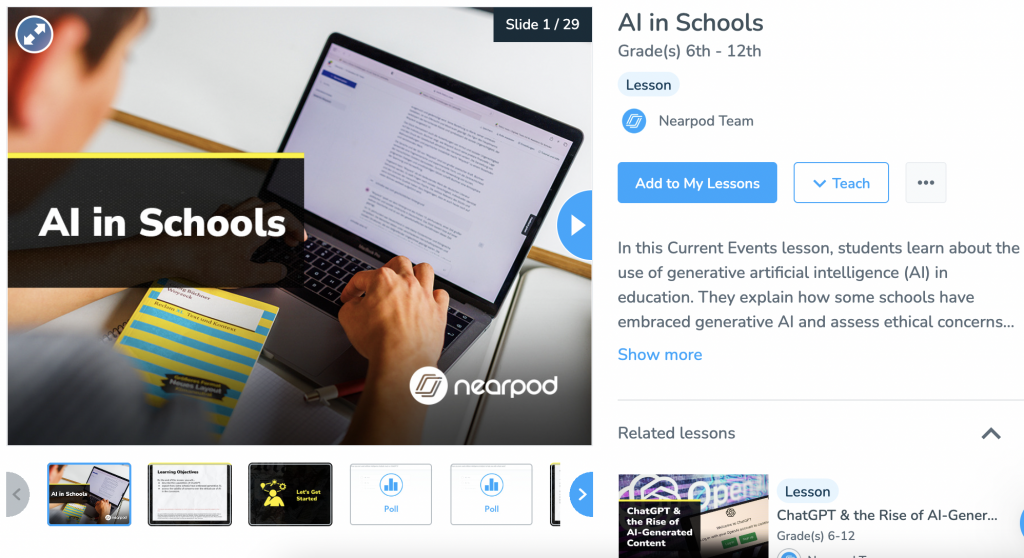 Nearpod's current events lesson series engages students in analyzing real-world news stories, fostering critical thinking and the ability to assess news sources, biases, and information reliability. By exploring current events, students become informed consumers of news, equipping them with essential skills to navigate the complex media landscape effectively.
Trustworthy Resources: Draw It Activity (Grades 6-12)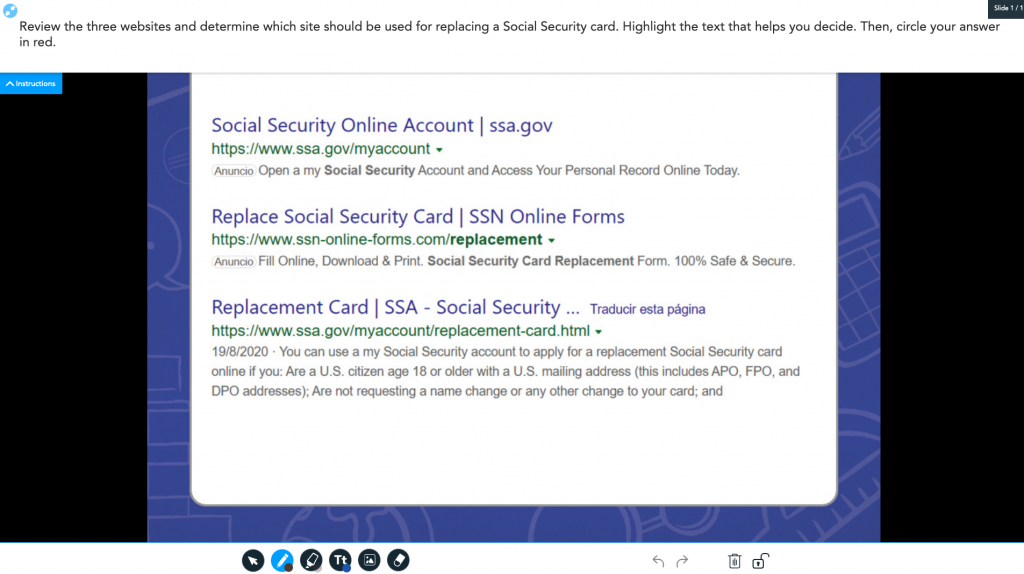 In this 6-12 technology Draw It activity, students learn how to evaluate search results and distinguish credible links from unreliable sources using a Draw It activity. This lesson equips students with essential skills to critically assess online information, fostering their ability to make informed decisions and navigate the digital landscape effectively.
DCL: Sourcing Your Information (Grades 6-8 and 9-12)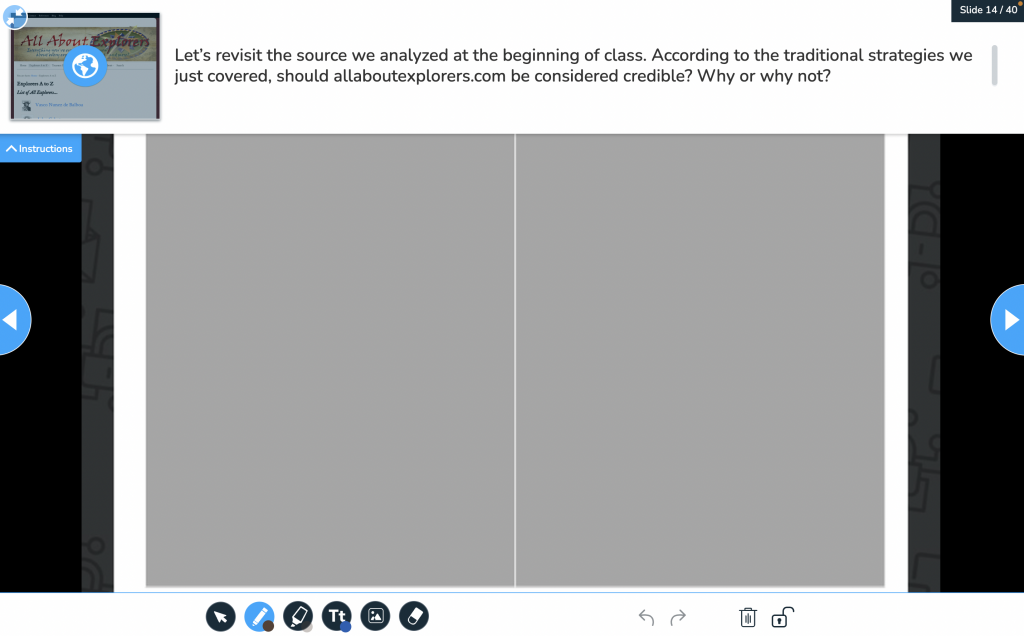 In the DCL: Sourcing Your Information lesson, available for both Grades 6-8 and 9-12, students learn to identify online information creators, evaluate credibility, recognize conflicts of interest, and detect native advertising. This lesson equips students with vital skills for critically assessing digital content, fostering media literacy through interactive activities, and empowering them to make informed choices in the digital landscape.
Top 4 Tips to Spot Bad Science Reporting (Grades 9-12)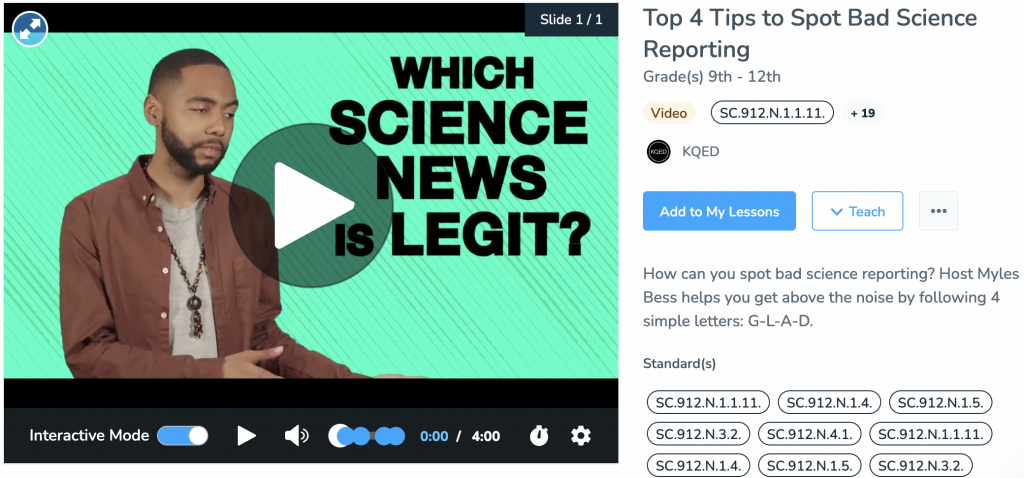 The Top 4 Tips to Spot Bad Science Reporting video lesson, designed for Grades 9-12, equips students with practical guidance to discern unreliable science reporting. By following the simple acronym G-L-A-D, students learn to distinguish credible scientific information from questionable sources, empowering them to navigate the media landscape with confidence and critical thinking skills.
Predictive Advertising (Grades 9-12)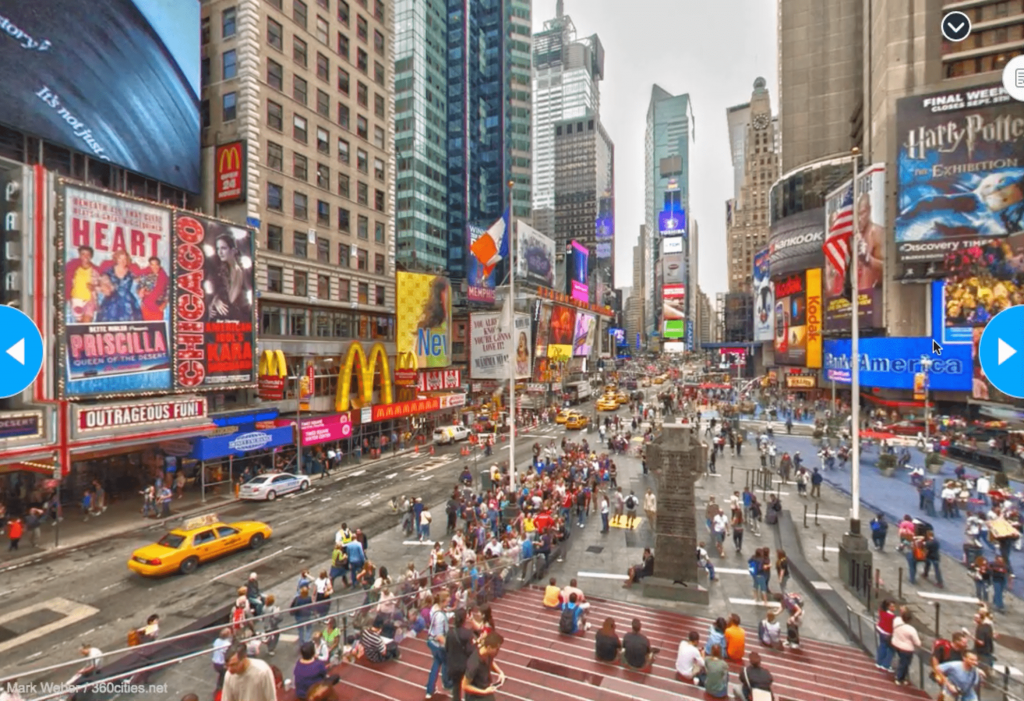 In the Predictive Advertising (Grades 9-12) lesson, students are introduced to the concept of predictive advertising, which guides them in exploring its positive and negative impacts on society. Through a real-world example presented in a BBC video, students develop critical thinking skills to navigate personalized advertising effectively, making them more discerning and informed media consumers.
Start teaching media literacy activities with Nearpod
For students to be media literate, they need to have a lot of practice in mixed media lessons. With access to different types of information and various sources, they can build critical thinking skills about the media they see every day. Students will use this knowledge to spot fake news stories and make informed opinions about the world around them.
New to Nearpod? Make sure you're signed up to access these media literacy lessons and activities!
Teachers can sign up for free below to access and create interactive lessons. Administrators can schedule a call with an expert to unlock the full power of Nearpod for schools and districts.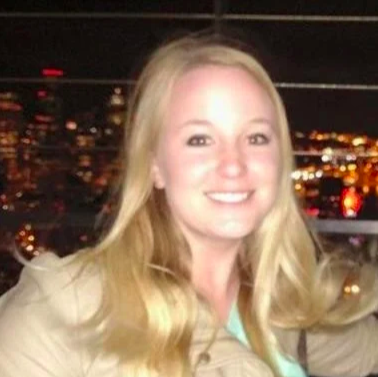 Brianna Owens is a teacher and technology trainer originally from the USA currently teaching at an International school in Finland.  Brianna strives to help redefine what education looks like through use of technology in the classroom and making connections with her students through technology.  She is a certified special education teacher, general education teacher, and TESOL teacher as well as a technology trainer and awarded educator with Nearpod, Discovery Education, Microsoft and SMART Technologies.