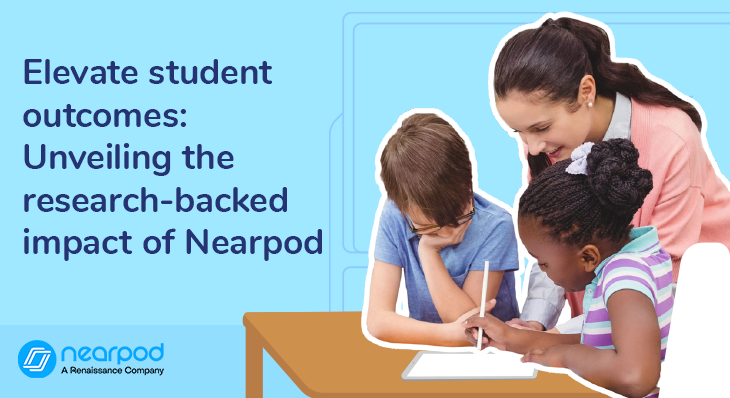 Elevate student outcomes: Unveiling the research-backed impact of Nearpod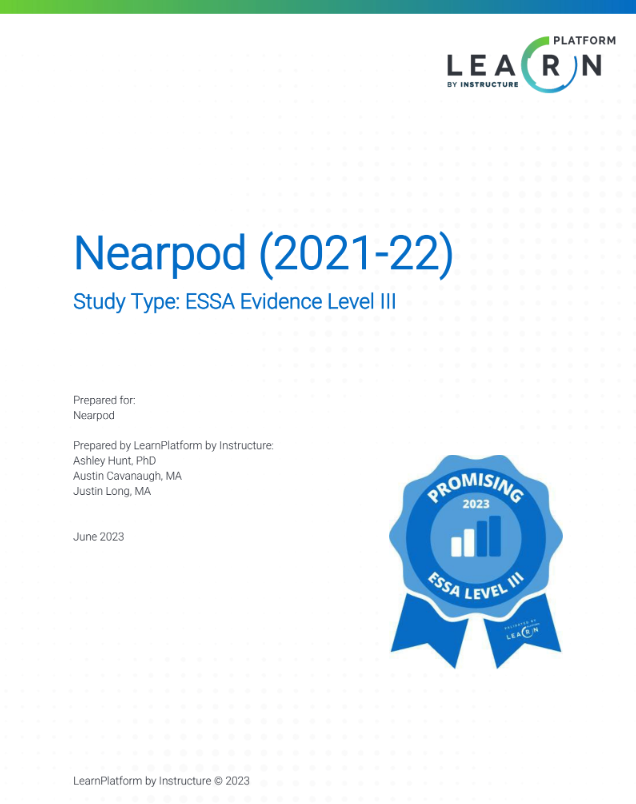 Look across the multitude of surveys and studies asking teachers about the obstacles they face in delivering quality instruction, and often the underlying issue is related to the lack of time. Time is such a precious commodity in teaching. Educators don't have the time to assess and address individuals' learning needs by having quality content and programming on hand. Too often, they find themselves scrambling to identify high-quality resources or modify a lesson for a student during a new school year. At the same time—or lack thereof—educators are also trying to keep up with the changing landscape of education by staying abreast of the latest and greatest teaching practices themselves, whether it's new tools, technology, research, or pedagogy.
The power of Nearpod
Since its inception more than 10 years ago, Nearpod has aimed to optimize teachers' instructional time by promoting student motivation, engagement, and achievement. It supports educators with intuitive tools, real-time data, and a plethora of curated content resulting in effective instruction. Nearpod's core principles focus on:
Transforming students' educational experiences through active learning
Providing rigorous, scaffolded content that appeals to students while aligning to core standards
Illustrating real-time data to highlight individual and group insights to guide meaningful instruction and feedback
Nearpod makes it easy for teachers to source high-quality, research-backed, interactive lessons for whole class, small groups, and 1:1 instruction to accelerate learning for every student at a time when math and reading scores are lower than ever. A new LearnPlatform by Instructure research study explores the relationship between Nearpod usage and student outcomes, and shows that Nearpod satisfies ESSA Level III (Promising Evidence) standards.
What are the ESSA Tiers of Evidence?
The ESSA Tiers of Evidence provide districts and schools with a framework for determining which programs, practices, strategies, and interventions work in which contexts and for which students." This framework helps school leaders and administrators confidently choose evidence-based interventions since the ratings are related to five factors:
Study design
Results of the study
Finding from related studies
Sample size and setting
Match

To achieve a rating, the research studies' methodologies should thus point to interventions bettering student outcomes. With LearnPlatform's most recent findings, Nearpod earned a Tier III rating of "Promising Evidence."
Nearpod ESSA Evidence Level III
Background
Nearpod collaborated with LearnPlatform by Instructure, a reputable edtech research company, to conduct the recent 2021-2022 study. LearnPlatform analyzed the top 100 most-used edtech platforms from August 1-December 31, 2022, and found that of the 100 tools, only 26 had published research aligned to ESSA. With the release of this report, Nearpod is one of few tools featured in the LearnPlatform Top 100 to have studies that satisfy ESSA Evidence Level III or better.
Overview
The study focused on an extensive sample size of 28,968 students and 4,020 teachers from various grade levels within a large, urban school district in Texas and sought to answer if Nearpod implementation was associated with better student performance at the end of the year. According to LearnPlatform, researchers used descriptive and correlational analytic approaches, including student-level covariates (including prior achievement when available), to control selection bias.
Was Nearpod implementation associated with higher student scores on end-of-year ELA and math STAAR (State of Texas Assessments of Academic Readiness)?
Did the relationship between the average weekly frequency of Nearpod sessions and student STAAR scores differ by the consistency of usage?
Did the relationship between the average weekly frequency of Nearpod sessions and student STAAR scores differ for English learner students?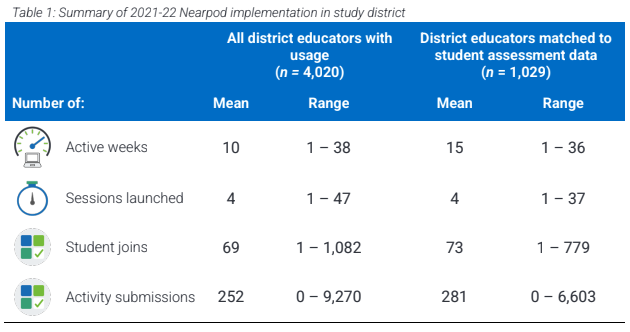 Summary of research findings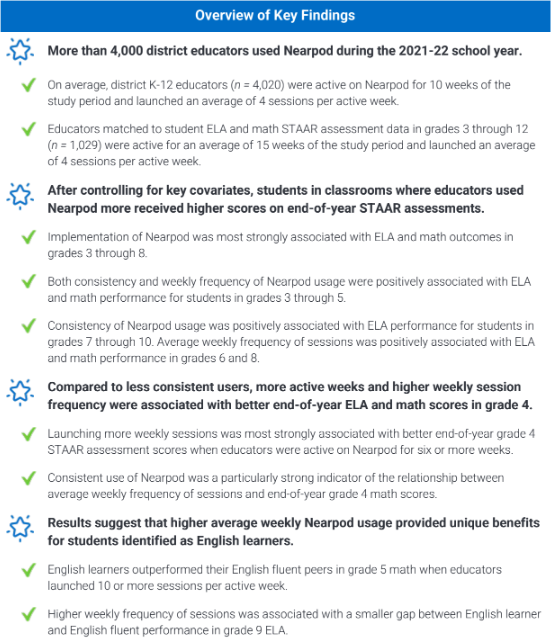 Based on the strong results, Nearpod meets ESSA Level III evidence standards. LearnPlatform's research findings highlight three key takeaways for classrooms that used Nearpod on average 4 times per week for a duration of 10-15 weeks. First, Nearpod positively impacts students' end-of-year State of Texas Assessments of Academic Readiness (STAAR), with students scoring higher in ELA and math. Educators and administrators can rely on Nearpod to deliver on its goal of efficacy when it comes to improving student performance throughout the school year. Second, a direct correlation exists between increased Nearpod sessions and higher student STAAR scores. This positive relationship underscores frequent and consistent usage of Nearpod boosts student performance. Third, Nearpod was able to support English language learners. Nearpod's interactive digital content and learning activities support language learners in a more personalized approach, and thus, the frequency of Nearpod sessions also impacts English learners' STAAR scores.
Impact student learning with Nearpod
This latest study from LearnPlatform augments a prior study conducted in 2019 by MBZ Labs in Hendry County, Florida that indicated Nearpod satisfied ESSA Level II requirements. As classroom teachers and school leaders seek to optimize each and every minute of the school day, high-quality and evidence-based tools like Nearpod provide educators with the confidence to identify a quality edtech solution for diverse school communities. They need to rely on edtech platforms that are truly research-based to transform teaching and learning practices. With an evidence standards rating like ESSA Level II and Level III, educators can continue to rely on Nearpod with confidence in its impact on student outcomes (also named the top-ranked Supplemental Platform in the most recent LearnPlatform Top 40 most widely used edtech tools report).
Foster a love of learning in every student with Nearpod. Teachers can sign up for free below to access and create interactive lessons. Administrators can schedule a call with an expert to unlock the full power of Nearpod for schools and districts.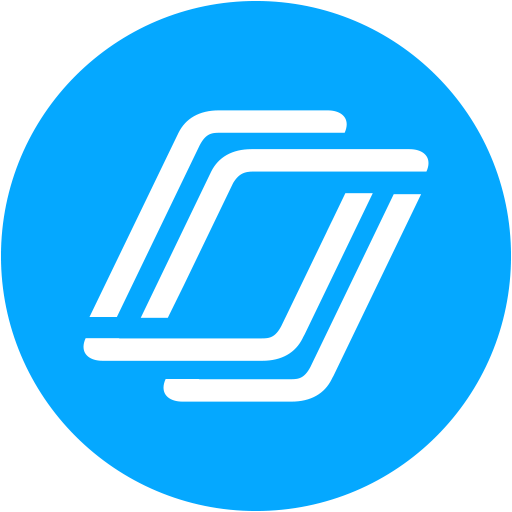 Nearpod's award-winning platform is used by thousands of schools around the globe, transforming classroom engagement.