5 tips for creating a virtual field day
Field day. It immediately brings to mind being outside all day, playing silly games that might also be messy, and sunshine that tells us summer break is right around the corner. This is one of the most exciting days of the whole school year and because of that, those people who are in charge of planning and executing field day at their school have big responsibilities to make sure everyone is safe and also has a great time! But how do you have field day if you need to socially distance? What if your school district is completely remote or hybrid? No one wants to miss out on their field day experience. Creating a virtual field day that will engage all students, even if they are remote is possible with Nearpod's plethora of tools to help with planning!
1. Kick off field day with Interactive Videos
Videos are a great tool for any virtual field day. Create an Interactive Video for each event or activity where the rules or instructions are given. These videos can also include demonstrations of how to do the field day event or activity. Let's be honest, most people are visual learners, right? If you aren't feeling too creative or you don't have the ability to create your own videos, that's okay because Nearpod also allows you to embed videos from YouTube. You can make videos interactive on Nearpod by adding in activities or questions for students to answer before, after, or during the video as they watch. Double check that they understand the rules, use it to report scores, or use them to help students follow along! For more information on how to create Interactive Videos, check out this short video from Nearpod.
2. Have students share about their day with Draw It
Using the Draw It feature on Nearpod can be fun for students and useful for teachers. Images can be used to help students track their scores or times (if that's relevant to the activity). The Draw It tool also allows students to upload pictures of themselves completing the activities and can be a fun way to share their day with the field day planners.
3. Stay connected with Flipgrid
Nearpod has integrated with Flipgrid so while students can't embed videos of themselves playing right into the Nearpod, virtual field day can still be a collaborative event. Prompts for the Flipgrid can range anywhere from "Tell us about your favorite event" to "Show us your favorite event" where students can demonstrate an especially successful attempt. Using Flipgrid gives students the opportunity to feel like they are a part of something bigger than their backyard and allows them to see how other students did in the events.
4. Wrap up field day with Polls, Quizzes, and Post-Session Reports
Formative assessment sounds like something that shouldn't be associated with a virtual field day because it should be a day with less content and more fun! That may be true but there are still benefits for using these tools. Don't test students or expect a grade but use them to gauge how successful the day was for your students. Which events did they enjoy? Which were hard to understand? How did they change the activity to be more challenging or easier? Share the data you collect with your community via social media with Nearpod's easy to understand graphs. These options also allow you to gain feedback from students, teachers, and parents about what worked, what didn't work, and if they have any ideas for a future virtual field day event.
5. Have students use Student-paced mode at home
Nearpod gives users the opportunity to have a lesson be used live or student-paced. Parents of your students may work different hours and not all be available at the same time to complete a synchronous event. Making the virtual field day Nearpod Student-paced means that families can access the fun anytime when they can be together. The students won't feel like they "missed" field day if there was a specific time or date they had to access it.
Here are a couple more ideas on what to keep in mind when planning a virtual field day:
Plan events that use household items that most homes would have to avoid students skipping events. You can also suggest a variety of objects to use.
Set a "Field Day" date but make it flexible for when the student can participate.
Make a hashtag to share with the community and it will be one more place where families can share their day.
It takes a village. Between creating videos, setting up and planning the Nearpod, and monitoring, you will need some back up.
Participate! You did all this work and now you're just going to watch others enjoy it? No way! Families love to see teachers and administrators playing along with them.
Need ideas for games or events? Check out OPEN National Field Day!
Virtual field day. Although it may seem like an oxymoron, it is completely possible to create and execute. You can do it. Using the tips given above will give you a good starting point. Nearpod has all the tools you need to keep everyone organized and make it a successful day that students will remember forever.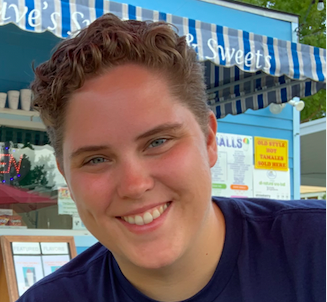 Brittany is an elementary physical education teacher who has become a master at incorporating technology into her classroom. She has used Nearpod since her first year of teaching and is a Nearpod PioNear.