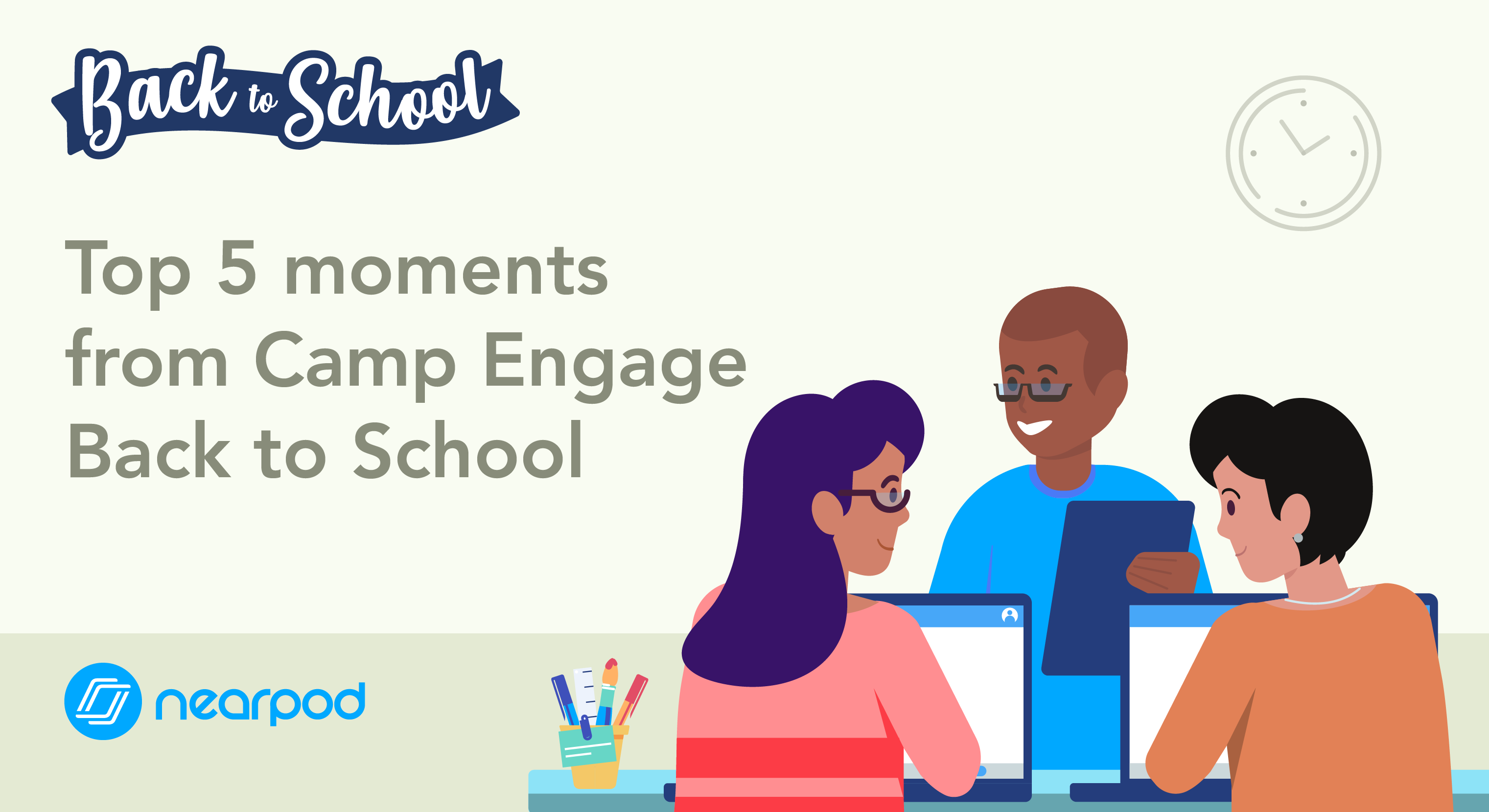 Top 5 moments from Camp Engage Back to School 2022
Did you miss the most recent Camp Engage? Well, you're in luck because the campfire isn't out yet! We're rounding up the top moments from Camp Engage Back to School 2022.
Interested in experiencing Camp yourself? View the recordings of our most recent Camp Engage sessions by registering below. This virtual PD event is all about growing, collaborating, and innovating. You inspire us at Nearpod, so we are excited to provide you with a whirlwind of inspiration.
Camp Engage takes place during various periods of the school year. Click on the link below to register and join our next Camp Engage! If there are no upcoming dates on the site, don't fret! You can still sign up for our most recent Camp Engage to access on-demand sessions, resources, and a community of educators.
Top 5 moments from Camp Engage Back to School
Camp Engage is a free professional development opportunity for educators to learn how to bring Nearpod and Flocabulary into the classroom. The 39 available on-demand sessions are targeted at beginner to advanced users to inspire, brainstorm, and create new lessons and practices for back to school.
Unsure where to begin? While we think Camp Engage was spectacular from start to finish, we've highlighted some of our campers' and our favorite moments.
1. Opening Ceremony
We were honored to be joined by seasoned educator Lei Washington who helped kick off the week with an inspirational talk about what true engagement looks and feels like.
Lei Washington is a 24-year veteran in the educational profession. A field she claims as her birthright as she is the grand-niece of Dr. Mary McLeod Bethune, the national civil rights pioneer, educator, and activist. In 2021, she began a new role in Guilford County Schools as the Director of Learning and Leadership Operational Support. Her educational philosophy is grounded in the ideology that culturally intentional systems yield customized championship-worthy outcomes.
She used Flocabulary in its early days to offer struggling learners reading intervention that was culturally relevant and Tier 2. While implementing the program the school's score rose from 24.7 to 87.
One of the most touching aspects of Lei's keynote was the story of "The Little Man," a young student she encountered many years ago who had been told time and time again that he wasn't capable of meeting expectations. Rather than accept that judgment, Lei worked with this student to meet him where he was. Through her framework of "ACT – Activate, Cultivate, Time on Task," this "Little Man" flourished. Lei was introduced to our audience by Nearpod employee and former teacher Nik Knight, who is also Lei's son – and wouldn't you know it, was that "Little Man." Watch the Opening Ceremony below!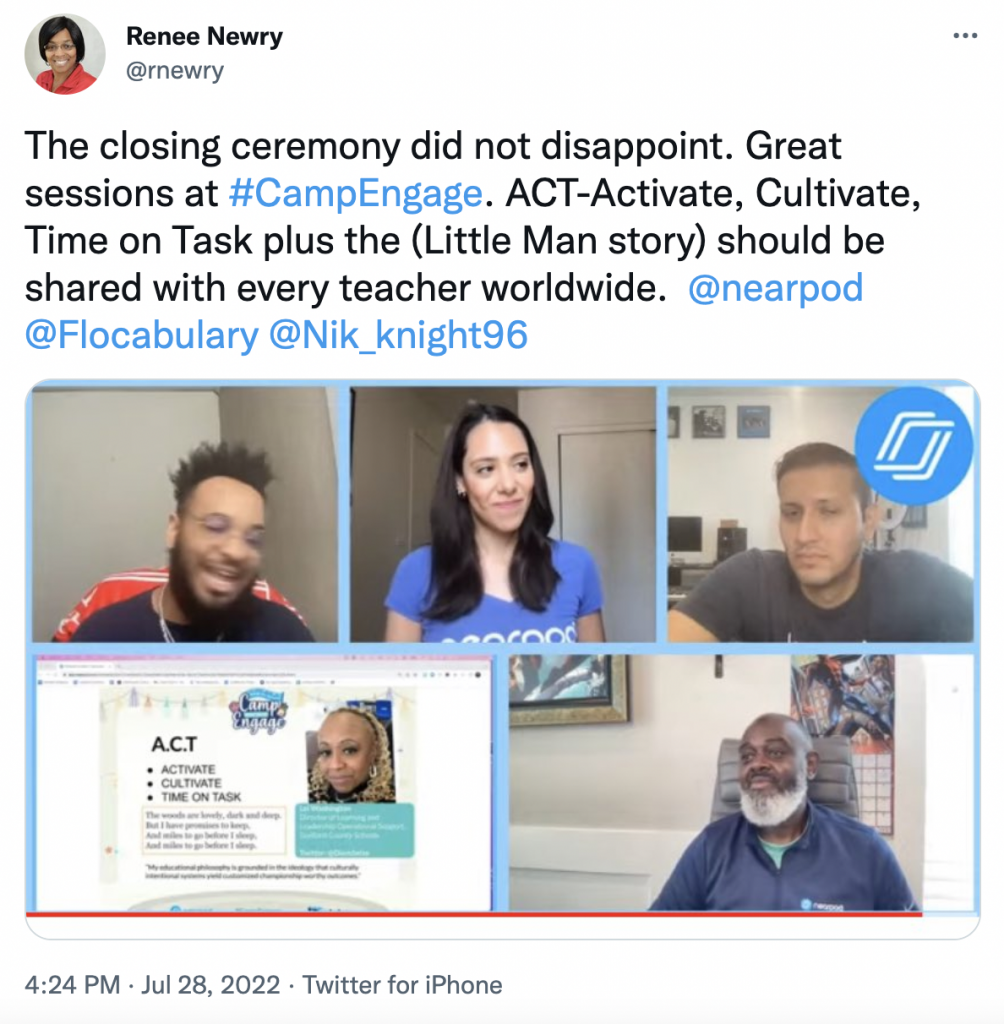 2. Demo Slam
The Demo Slam has become quite the fan favorite of Camp Engage traditions, and we're not surprised. This friendly competition is an opportunity for members of the Nearpod community to #humblebrag about how they are using Nearpod or Flocabulary in innovative, effective ways. And we, the audience can both celebrate their work and quickly jot down notes to replicate all the incredible ideas.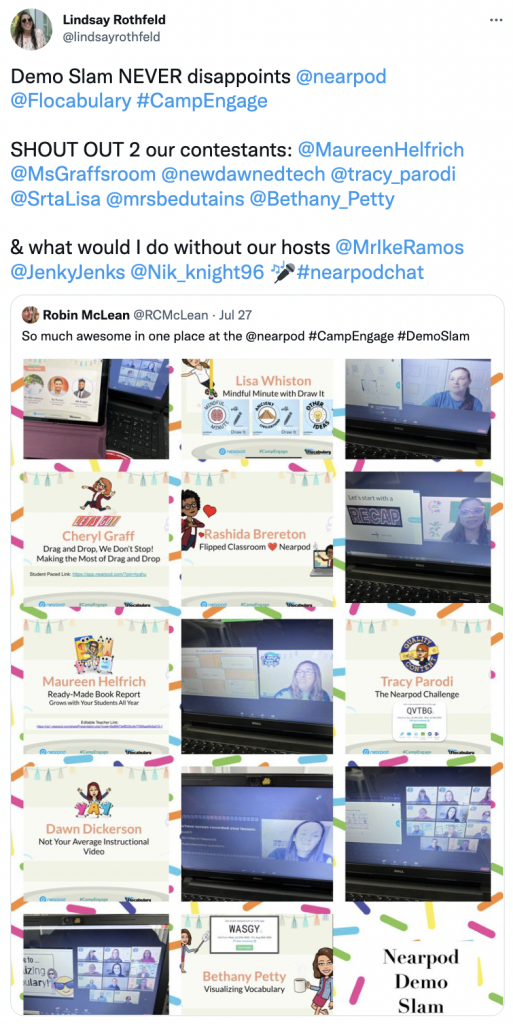 Here were the contestants!
Maureen Helfrich – Ready-Made Book Report Grows with Your Students All Year
Cheryl Graff – Drag and Drop, We Don't Stop! Making the Most of Drag and Drop
Tracy Parodi – The Nearpod Challenge
Dawn Dickerson – Not Your Average Instructional Video
Lisa Whiston – Mindful Minute with Draw It
Rashida Brereton – Flipped Classroom ❤️ Nearpod
Bethany Petty – Visualizing Vocabulary
3. Community connections
One of the things about Camp Engage Back to School that makes it stand out from our ongoing Nearpod and Flocabulary PD is the opportunity for educators to connect in and out of sessions. All 5,000+ campers around the world formed connections and built their PLN over social media, happy hours, session breakout rooms, and more! You can still collaborate with other educators through the 1:1 Networking tab on the Camp Engage website.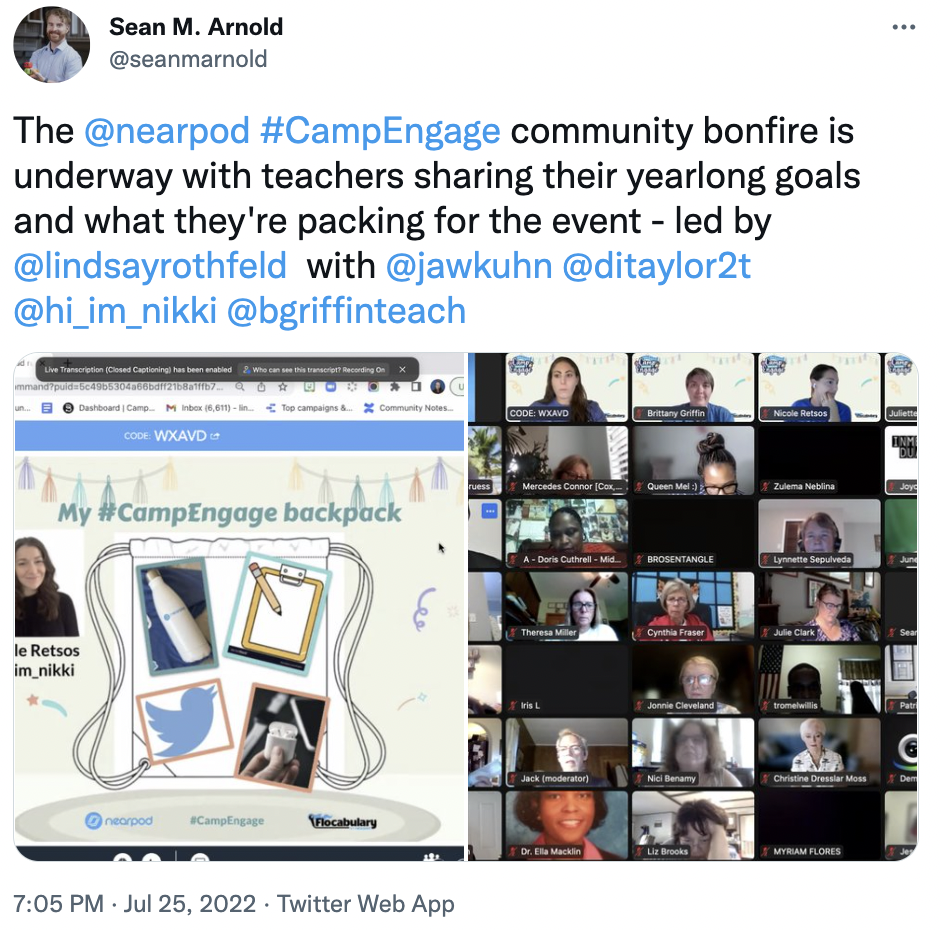 4. Product sneak peeks
It wouldn't be a Camp Engage without substantial sneak peeks about what's coming to Nearpod and Flocabulary in the weeks and months to come.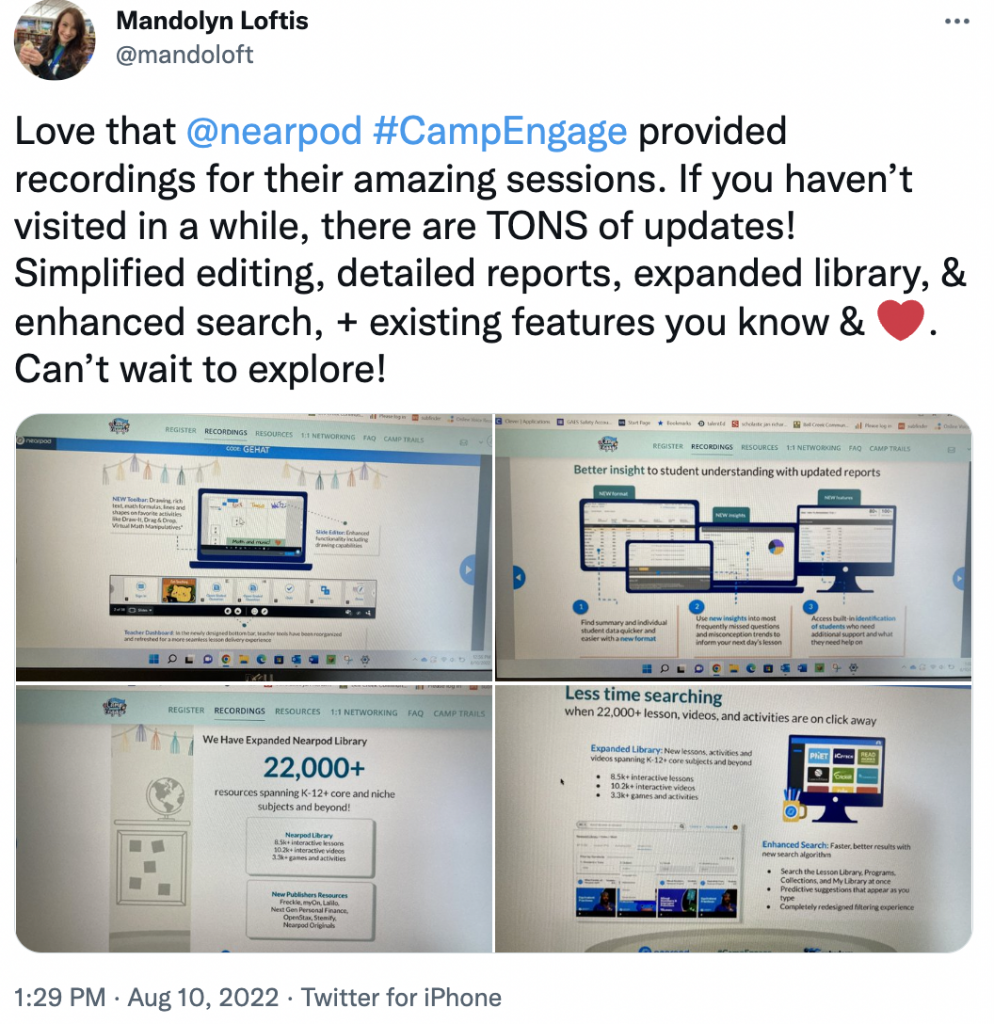 5. Back to school inspiration
We were blown away by the creativity our presenters infused into their sessions, especially those who focused on how to cultivate classroom community and bring social and emotional learning into the fold for back to school.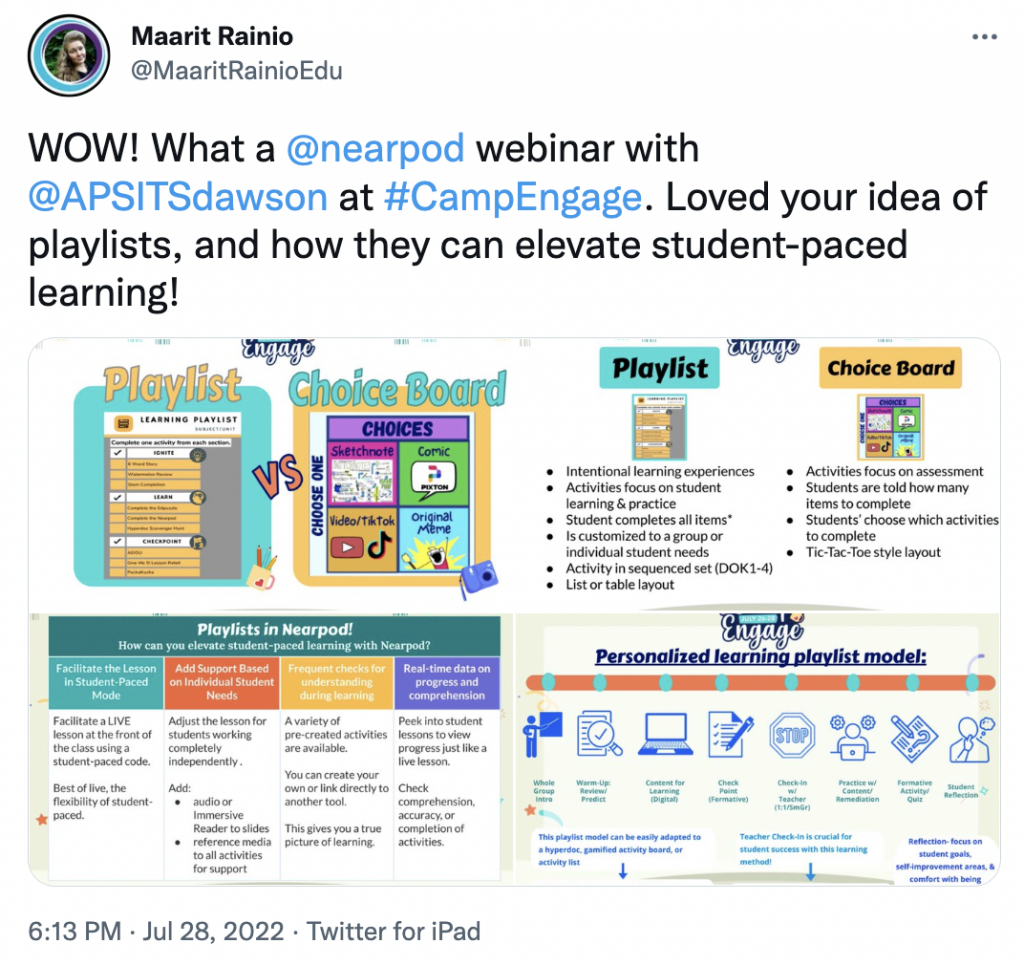 Experience Camp Engage yourself!
Now that you know the magic of Camp Engage, come experience it yourself! Join us for Camp Engage this fall from November 3rd – November 5th. Save your seat by registering below for the free virtual professional development event you don't want to miss out on.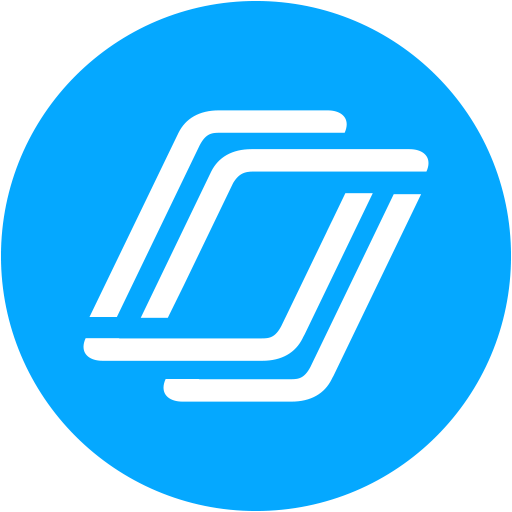 Nearpod's award-winning platform is used by thousands of schools around the globe, transforming classroom engagement.