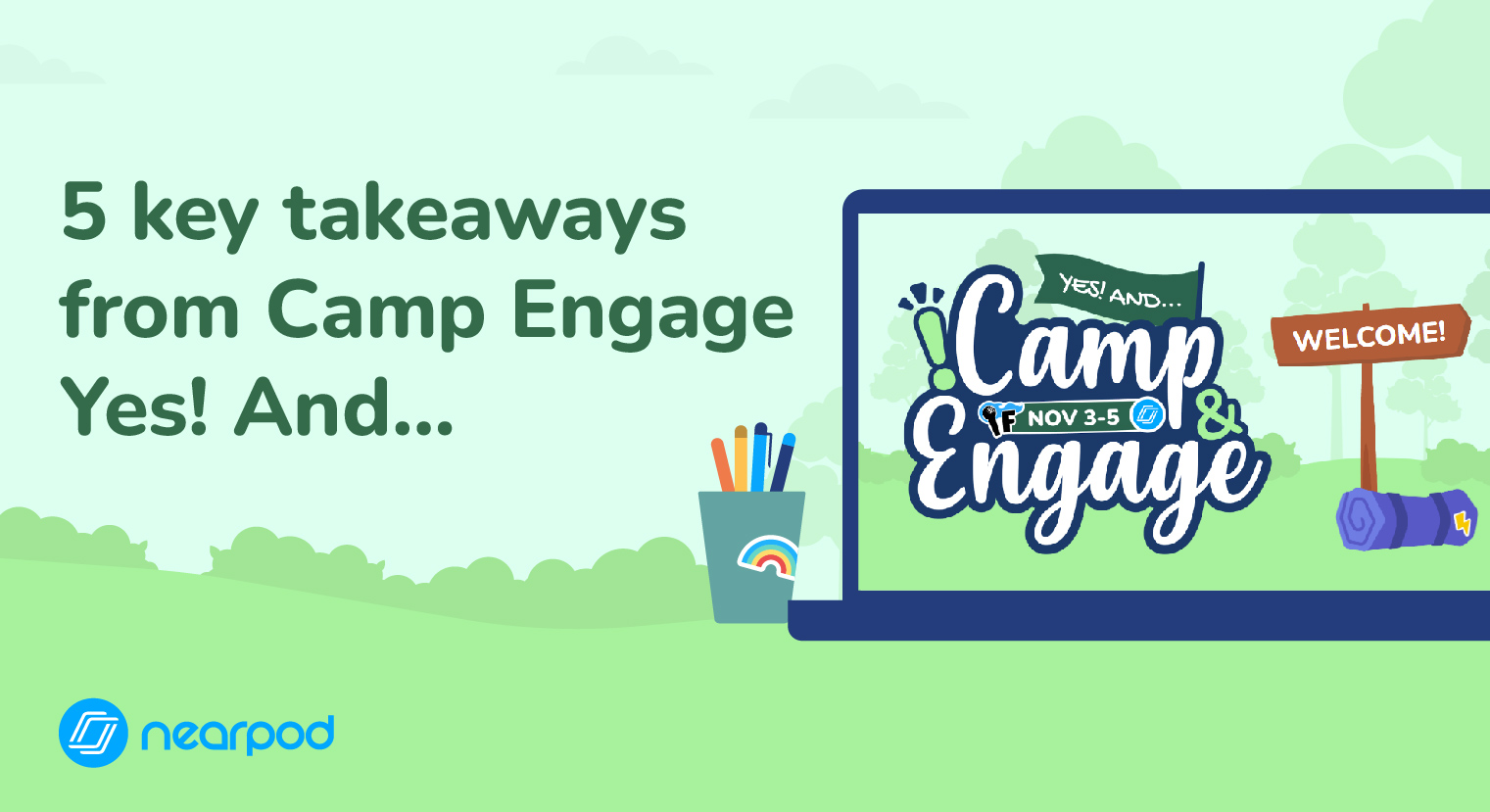 5 key takeaways from Camp Engage Yes! And…
Even though the most recent Camp Engage has ended, we are still saying, "Yes! And…," to collaboration and learning. Now, it's time to share the 5 key takeaways from Camp Engage: Yes! And…
Join thousands of educators around the world in an extraordinary learning adventure! Whether it's your first Camp Engage or your 10th, you are in for a few days of growth, connection, and inspiration.
Camp Engage takes place during various periods of the school year. Click on the link below to register and join our next Camp Engage! If there are no upcoming dates on the site, don't fret! You can still sign up for our most recent Camp Engage to access on-demand sessions, resources, and a community of educators.
What is Camp Engage?
Camp Engage is a free virtual professional development opportunity for educators to learn how to bring Nearpod and Flocabulary into the classroom. Even though the deadline to earn PD credit has passed, Nearpod and Flocabulary educators, beginner and advanced, can still view the 30+ available, on-demand sessions. You will walk away with new ideas to enhance your instruction with every session you view.
Are you ready to explore the possibilities of the virtual PD event? We have highlighted campers' 5 key takeaways from Camp Engage that helped them say Yes! And… in and out of the classroom.
5 key takeaways from Camp Engage: Yes! And…
1. How to embrace a "Yes! And…" mentality
Yes! And… is a concept from the improvisational theater that discourages actors from saying the word 'no,' and instead prompts them to accept the direction a scene is going. At Camp Engage, we spent three days redefining what it means to have a Yes! And… mentality as an educator. Take a second to consider the following:
✓ I am open to new ideas from my peers
✓ I try to think outside of the box
✓ I believe collaboration increases our impact on students
Did you check off all the boxes? If so, you are already on your way to having a Yes! And… mentality!
2. When we work together, we win together
Education is a team effort. When we help each other find new ways to say, "Yes! And …" we can put our best foot forward for our students. At Camp Engage, we saw that by working together, we win together. Here are some of the ways educators collaborated and connected during the event:
During happy hours, we learned that building personal connections with one another is just as important as professional connections.
Our new "Office Hours for Newbies" session showed the power of collaboration and how we can all help each other succeed.
In the Demo Slam, presenters went outside of their comfort zone to inspire educators with their creativity.
The What's Keeping Us Up At Night panel was an honest discussion about the obstacles as an educator while also offering possible solutions.
Educators continued to lift each other up in the session chat and over social media. Our enthusiasm to work together at Camp Engage showed that we have the power to impact classrooms all over the world. Every day we can say YES! to working together AND… winning together.
3. Nearpod has something for everyone
Can Nearpod work for all your classroom needs? Yes! And… the possibilities are endless when we brainstorm ideas together. Camp Engage presenters shared their knowledge and experiences to teach us new ways to use Nearpod. With sessions covering special education, social-emotional learning, English learners, math, differentiation, and more, there is something for everyone.
4. Joining the community has never been easier
At Camp Engage: Yes! And… we discovered all the ways to join the community! During the What's New With Nearpod session, we learned that becoming a Nearpod Certified Educator (NCE) is easier than ever. All you need to do is go into your account and complete the steps at the top of the page.
In addition to becoming an NCE, you can continue the conversation over social media. With so many Nearpod and Flocabulary educators on Facebook, Twitter, and Instagram, expanding your PLN is as simple as making a post or leaving a comment.
5. There's so much more to Flocabulary than what meets the eye!
We hosted 8 sessions dedicated to Flocabulary during Camp Engage. Each showcased the unique and creative people who create the videos that students love!
Below includes some sneak peeks of what you will learn:
Celebrating Student Voice: Flocabulary Student Contests: Flocabulary student contests promote student voices while encouraging them to think about different cultures and historical figures. See some of the Flocabulary videos that were created in partnership with student contest winners!
In the Classroom and Behind the Scenes: The audio, art/animation, research, and video teams work together to create content that both excites and educates. In this session, we heard from both a teacher who uses Flocabulary with her students and one of the Art Directors who created those very same lessons!
View Camp Engage recordings
With 30+ sessions, 2,600+ participants, and 81 counties represented, Camp Engage: Yes! And… was full of creativity and collaboration.
To watch any of the recorded sessions, click below to register for free! Then, navigate the library of recordings and resources to ensure you are all set to bring joy to your classrooms with Nearpod and Flocabulary!
New to Nearpod? Sign up for free here!