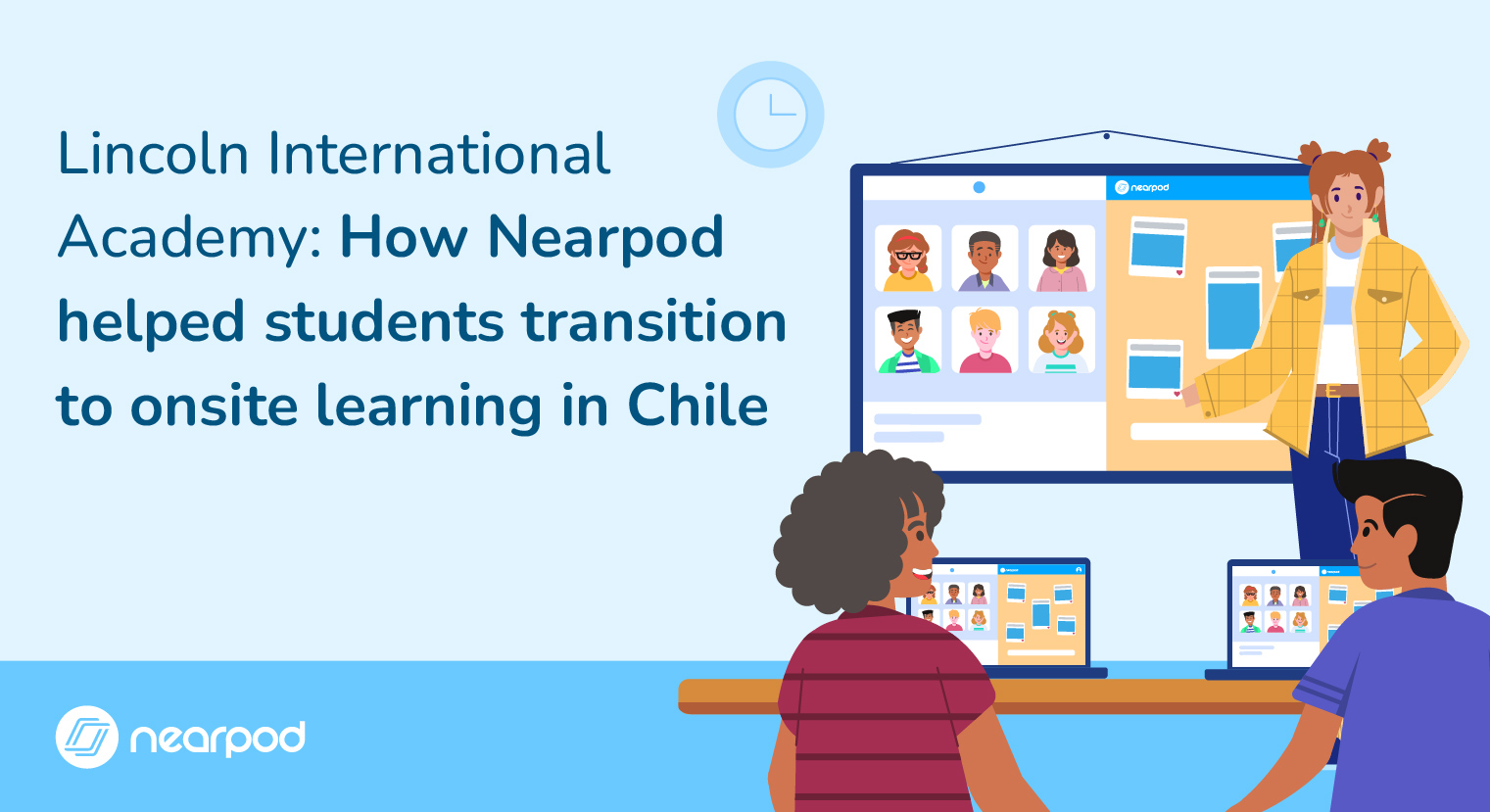 How Nearpod helped students transition to onsite learning in Chile
After the pandemic, educators across the globe encountered a range of new challenges as they transitioned back to in-person learning. It was no different for Valentina Vergara – Academic Coordinator at Lincoln International Academy (LINTAC) in Santiago de Chile.
Lincoln International Academy is a K-12 private international school based in Chile that offers students a fully bilingual education. The Academy consists of two schools – one in Santiago and one in Golina – that work as one. Lincoln also has a high rate of special needs students.
The last three years have been unimaginably hard for students and teachers at LINTAC. After the pandemic-induced school shutdown was finally over, they were again challenged to create valuable learning experiences while adapting to a new reality.
Nearpod supported LINTAC's transition back to onsite learning and helped teachers engage with their students in new and effective ways, reducing their workload and activating their creativity.
New to Nearpod? Learn more about international school and district licenses by clicking below.
How Nearpod helped students transition back to onsite learning in Chile
Implementing Nearpod at Lincoln International Academy
During the lockdown period, education suddenly turned from formal to fragmented. With students from her international school scattered around different cities, sometimes different countries, and a high percentage of special needs students who couldn't just turn on, tune in and keep up. Valentina and her colleagues tried various tools and platforms to boost engagement and participation among students who were used to a traditional school with very high standards.
Some solutions worked, others didn't, and the gap widened. The teachers needed a platform that could deliver a comprehensive solution that would work equally as well in the classroom as in a remote setting – Valentina knew the pandemic wouldn't last forever. Still, the challenge of engaging students in the new normal would remain.
Looking back, Valentina recalls the turning point clearly, in the midst of the pandemic, when she and a group of her fellow teachers were doing a course – they shared their challenges and frustrations, and a participant mentioned this about Nearpod: "It blew my mind. It was exactly what we needed."
Interactive learning experiences for the special education classroom
She decided to test Nearpod with the class of special needs students she was teaching remotely at the time. After seeing their response to the activities, especially drawing assessments using Draw It, Valentina went straight to the headmaster. She insisted that Lincoln officially use Nearpod to engage students, help teachers reach their objectives, and nix the frustration both teachers and students were feeling from using scattered platforms and methodologies.
Valentina gathered a group of interested colleagues who began implementing the free version in their virtual classrooms. By mid-2020, Valentina had presented Nearpod to the whole school.
In March 2021, the school decided to move forward with a Premium Plus license and have access to all features and functionalities. The Nearpod team partnered up with teachers and admins. It provided training sessions, dedicated assistance, onboarding, and all the support they needed to immediately start using Nearpod as a part of their regular instruction. Since then, Nearpod has saved teachers at LINTAC countless hours and enhanced the interactivity of daily lessons and activities.
Transitioning back to onsite learning with Nearpod
Because of Nearpod, the transition back to onsite learning was smoother than Valentina expected. "Nearpod was made before the pandemic as a classroom tool, and it was actually a huge support to us in coming back to school."
Lincoln has a strict lesson planning protocol – enter, and exit tickets must respond to certain learning objectives. The results were practically instant: "the teachers were thrilled to see the students achieving the objectives we gave them and monitor their progress. With Nearpod, they were able to look at and see in real-time if their students were doing well or if they needed a little extra help."
Amazed by the high uptake of Nearpod, Valentina constantly monitors usage and recognizes teachers who use it consistently. In collaboration with Nearpod, she invites them to different workshops. This year, all Lincoln's exit tickets are done officially through Nearpod.
High School: From teacher-centered to student-centered classrooms
Valentina is now the coordinator of all K-12 English students at Lincoln and supports teachers across all levels. One of the things that surprised her most was high school students and teachers' love of Nearpod.
While middle school and elementary school teachers love features like Time to Climb and Matching Pairs, Valentina feels that high school is where Nearpod has been most effective: "It's something that high school teachers did not have. It has made lessons easier for them and more exciting for the students because it puts the student in a central, much more active role."
Open-Ended Questions have been particularly cherished as it gives the teachers full insight into what students are thinking and has them all organized into one single document that can be downloaded and printed to review each students' answers and offer a truly personalized learning experience.
Make videos into interactive learning experiences
Valentina also feels that Nearpod's integrations with existing tools like Google Slides, their own PowerPoint presentations, and YouTube has been central to the natural uptake.
"The ability for teachers to ask questions before the video or in the middle of the video, to see answers, share answers, and review again at home really helps us to see where students' passion points are and support those who need help in a non-invasive way."
Supporting all teachers
Time management has been a struggle for teachers at Lincoln. Lessons are typically 45 minutes long and consist of an intro and outro of about five minutes, with 40 minutes in the middle. Teachers would typically set phone alarms or just try to feel it out. The Nearpod timing and freeze feature has been extremely useful in helping them to time and pace their lessons accurately.
"I haven't met a single person who I've shown Nearpod to who believes that it will not work for them." For Valentina, the results speak for themselves. When it comes to advising anyone interested in bringing Nearpod into their school or district, she recalls the first time she knocked on the principal's door and insisted that educators really need to know how their students are doing in terms of formative assessment for everyone to progress. Since then, neither Valentina nor Lincoln has ever looked back.
It's also a way to embrace the future for teachers and students alike: "Our students don't write on their copybooks [or notebooks]. They use computers." Faced with this reality, it's essential for Valentina that students use tech in positive ways toward their learning.
"Our goal is to make sure that all of our students can learn, want to learn, and love learning."
Going beyond grades and tickets
Now in its third year with Nearpod and with over 300 active teachers, Lincoln has switched almost entirely to student-paced learning and has woven Nearpod firmly into the fabric of daily life at the school.
This year, the Academy has transitioned from using it strictly for academic purposes to incorporating Nearpod into its large special needs and psychology department. Students, especially 12th graders in the run-up to their exams, have found it to be a great support in providing relaxation techniques and breathing and meditation exercises. "From Yoga poses to posing questions about ourselves."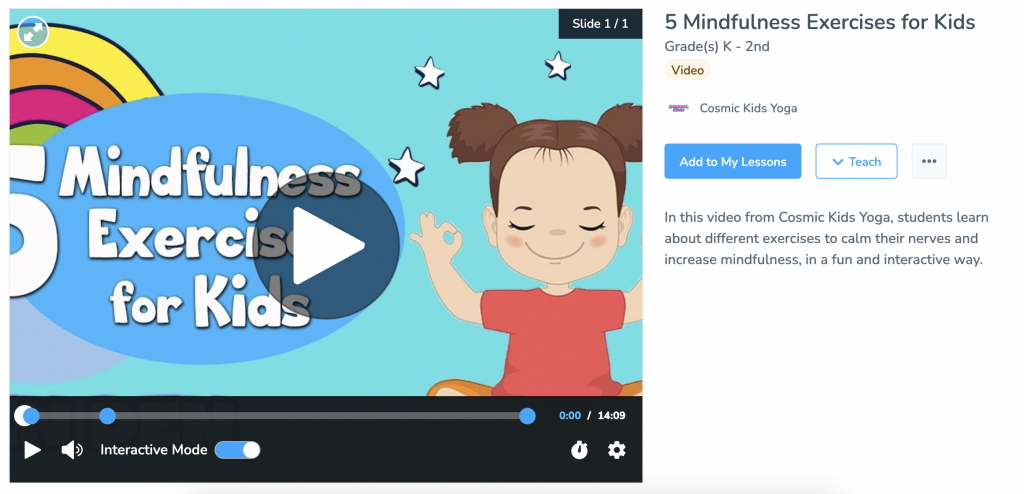 Valentina's aim is that during the upcoming academic year, all teachers at Lincoln will be using Nearpod. All new teachers coming in will be introduced immediately to the platform and guided in how to use it for formative assessments.
She feels that Nearpod has been a powerful ally in propelling professional development among educators – enabling them to improve the quality of their teaching, share feedback, and inspire each other. She is delighted to see how teachers share their lessons with each other through the Nearpod Library or create a drive, which makes them more organized and gives them the peace of mind that they know where everything is.
Ready to bring Nearpod to your school?
We're honored to support the 2 million Nearpod teachers in +160 countries.
Are you Interested in learning more about how you can bring Nearpod to your school? Schedule a demo with one of our Nearpod Experts and learn how you can empower teachers with unlimited access to everything they need to engage students.
New to Nearpod? Learn more about international school and district licenses by clicking below.