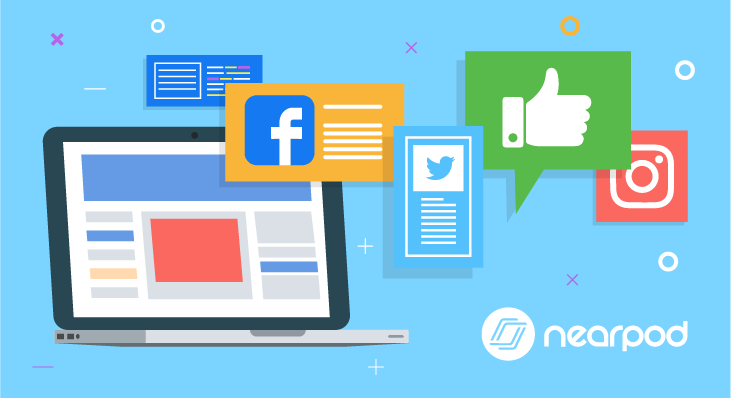 The Student Club and SM: Encouraging Responsible Behaviors for Student Leaders
Technology has an ever-changing role within education, and social media is one of the primary reasons for that. From gaining professional development ideas from Facebook communities to reaching out to authors on Twitter, social media sites allow for educators to broaden their professional learning communities to include educators from around the world. Every secondary educator likely has a story about the negative impact social media has had on at least one student. At the end of the day, teachers and students benefit from social media accounts. But, it's a great big ocean that many educators choose not to explore due to the dangers associated with it.
At the end of the day, social media is likely on any teenager's top ten list for things they can't live without. Students access Facebook, Instagram or Twitter to stay connected, and that's the absolute beauty of social media for schools. Want to remind students about an event or get the word out about a fundraiser? Invite students by creating a public event. Interested in promoting student achievements? Tweet a few lines about the growth a class has shown. Allowing your students the opportunity to invest in their school's identity on social media allows for great opportunities to change the narrative within the community. So who's most likely to be able to do this effectively? Students.
Student Organizations and Social Media Accounts
From student councils to honor societies and sports teams, every school across the nation has a group of students serving as activators. These students are those who look around and see opportunities for change. They revel in the ability to represent their school. Most of these organizations have a goal of involving the student body. This spans from gaining new membership or promoting attendance at sporting events. Student organizations have a stake in their own success that is dependent on their ability to promote themselves. Social media accounts allow for these groups to get the word out about events and display their members' hard work for the rest of the world to see.
These accounts offer the public a glimpse into what is actually going on at the school. Many clubs dedicate time and resources to the community. They require members to complete a certain number of community service hours. Because of this, there are dozens of opportunities for the community to see how invested their students are in the area around them. This increases opportunities for the organization to grow from, and it can also lead to more community support.
These opportunities beg the question: "What is the teacher's role in promoting safe practices for a student organization?"
Social media plays a key role among student organizations. Do you embrace the use and provide students with support to use them responsibly?
Click To Tweet
The Role of the Sponsor:
Putting a student organization's name out onto the world wide web is often daunting. There are a million "what ifs" that happen to go through a sponsor's mind upon creation of a Facebook or Twitter page. Student safety certainly needs to be at the forefront of the thought process. Below are some helpful ideas to consider when getting a student organization started on social media.
Know your district and school policy. This is critical. Many districts have developed policies specifically for social media practices. Majority of those apply to educator's personal sites as well as those of student organizations. Take the time to read the entirety of the policy.
Know which students are able to be included. Aside from ensuring that your students have signed electronic use agreements, also check on media agreements. Some students may not be able to have their images utilized. Respecting students and parents should be a priority.
Set clear expectations. Student leaders need to be aware that there may be consequences for posting information that is detrimental to the school or organization. This is an issue that adults struggle with. Outlining what is acceptable at the beginning of the academic year will help off-set any issues.
Model the expectations. Students don't want to be the only people working on creating this image of the organization or school. Consider establishing a professional account where you can show students what responsible social media use looks like. Be positive. Be professional. Students pay more attention to your view of the school than you would expect.
Using Nearpod to Support Your Goals
Once your students know the expectations, keep them engaged in the process. Aside from Nearpod's fantastic Digital Citizenship lessons, there are a few creative ways Nearpod can help your students remain focused on the purpose of social media.
Utilizing Nearpod in your meetings not only helps organize your presentation, but the Collaborate feature allows your students to bounce ideas around for hashtags, polls, event summaries, and so much more. The Draw It feature also allows for students to post ideas for clip art, share images, and express what they feel would help make a post pop for the rest of the student body.
Amanda Clark is a fifth-year Nearpod Certified Educator who employs digital tools daily in her English classroom. She believes that incorporating a variety of technology encourages students to branch out of their comfort zone and become more equipped for life after high school. She is currently teaching for Blount County Schools, a district where each high school is currently 1:1.