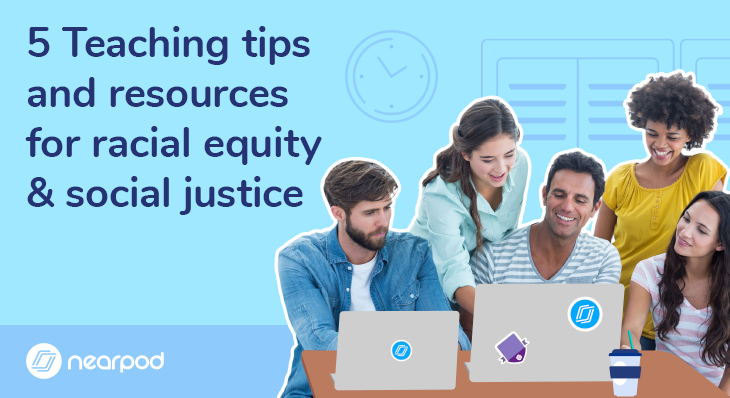 5 Teaching tips and resources for racial equity & social justice
At Nearpod, teachers and students are at the center of everything we do. Putting students in the center means meeting students where they are, elevating their values and perspectives, and bringing joy into the classroom. This is especially important for Black and brown students whose cultural backgrounds and perspectives are too often overlooked. Students of color should have access to an equitable education, which means centering Black and brown stories, rethinking traditional systems, and combating systemic racism and implicit bias with practices like culturally responsive teaching (CRP).
For educators and students engaging in racial equity and social justice
Our features and content offerings support CRP. Collaborate Boards and Polls invite students to express themselves to their teachers and peers, elevating student voice and fostering connections. Our Racial Justice collection features free lessons that aid in antiracist teaching with rich historical content and social and emotional skill-building to ensure safe and productive discussions.
New to Nearpod? Sign up for free to access standards-aligned content and create interactive lessons!
What resources do we have for you?
Our Racial Equity & Social Justice collection contains 100+ free lessons, activities, and videos to support antiracist teaching and learning from the Nearpod team and our trusted partners like Teaching Tolerance, iCivics, Common Sense Education, and Flocabulary.
In the folder, you'll find lessons on:
5 Teaching tips and resources for racial equity and social justice
Teachers are dealing with a lot (as if they weren't already!). And now, while many schools are prioritizing racial equity instruction, there isn't a designated time in the day to teach it. Here are some implementation guidelines that foster a safe learning environment, no matter your schedule.
1. Establish classroom norms & common vocabulary
For learning to occur, students must feel respected, included, and connected. To establish a welcoming environment, set norms with your students. These will help you approach sensitive and difficult topics together. Examples of norms might include: "First we seek to understand, and then to be understood," and "We are learning to be comfortable with being uncomfortable." Encourage student participation by using a Collaborate Board to crowdsource and vote on classroom norms. You can also use Nearpod's Developing Empathy, Following Classroom Rules, and Building Class Community lessons to establish guidelines and build skills for engaging in discussions.
A shared language is also important. Develop a common vocabulary and add to it over time. This might mean defining words like "accountability," "allyship," and "equity," as well as acronyms like POC and BIPOC. Add a Matching Pairs activity to provide an opportunity for students to practice and review key vocabulary before engaging in class discussion.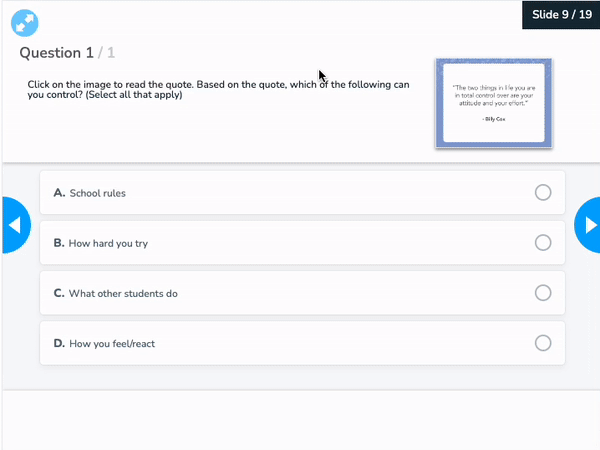 2. Tie racial justice to core subject areas
Racial justice affects all of us. Below are some tips for incorporating racial equity topics and themes into your instruction across academic subjects.
English Langauge Arts (ELA)
As you read fiction and nonfiction, ask students to consider whose story is being told and whose is silenced. What is the historical context for the work, and how does that context play a role in the text? Who is the intended audience for the story, and how does that shape the telling of it? Center texts and voices from diverse cultures and backgrounds. Integrate Black authors into classroom instruction with Nearpod's lessons on Langston Hughes and Maya Angelou. Lessons on James Weldon Johnson and Rosa Parks provide opportunities for students to practice reading comprehension skills while learning about Black historical figures.
Social Studies
In studying any event or period in history, consider whose perspective is being centered. Are there any racial or ethnic groups that are left out of the story? Use one of our Ethnic Studies lessons or a Flocabulary Topic Spark, like Katherine Johnson, to feature diverse perspectives, hidden figures, and leaders and activists in the ongoing fight for racial justice. Use iCivics lessons to help your students understand how political and social systems function and change, which is a key context for learning about Civil Rights struggles.
Science
Teach students about the contributions of Black inventors and scientists. Use our lesson on George Washington Carver as a starting point. Consider the ways in which science and technology have sometimes supported racism, such as the false belief that race is a real genetic difference among humans or facial recognition technology that tends to misidentify people of color. Then discuss how advances in science, technology, and engineering can help promote racial equity. For example, in what ways have cell phones with video capabilities helped advance social causes? What new inventions can students imagine that would help further this progress?
Math
As your students explore data and statistics, discuss the real-world applications that pertain to racial equity. What data exists or would be needed to quantify the problems that stem from racial inequality today? How can they analyze this data to better understand a situation, and how can they use mathematics to help represent these issues? Use our STEM by the Numbers lesson to analyze racial representation in STEM fields through the lens of data analysis. You can also bring your students' lived experiences into the classroom. Look to the local news for charts, graphs, and other data and ask students to answer questions based on them.
Elementary
Elementary students are not too young to learn about topics like race, diversity, and respect. Research shows that when parents and teachers avoid these topics, children come to their own conclusions based on the world around them, which often promotes racist ideas in subtle and not-so-subtle ways. We have lessons specifically designed for elementary students, like Discovering My Identity and Different Types of Families, that use vocabulary and examples that are relevant and appropriate but do not oversimplify the central concepts.
3. Use multimedia for culturally relevant teaching
We process new information by relating it to our own experiences and interests. By including diverse perspectives, cultures, and narratives in your instruction, you help ensure all students have access to the connections needed to process information effectively and meaningfully. You can use Nearpod's multimedia, such as virtual reality, video, and web content, to integrate culturally relevant content into your classroom instruction.
"Culture, it turns out, is the way that every brain makes sense of the world."

Zaretta Hammond in Culturally Responsive Teaching & The Brain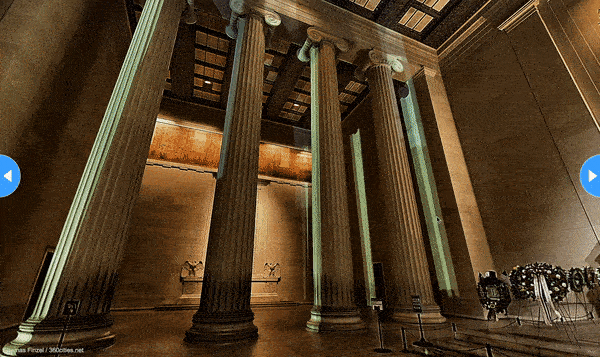 In Culturally Responsive Teaching & The Brain, Hammond describes three levels of culture: surface culture, shallow culture, and deep culture. Surface culture is observable and includes elements of culture, such as food, art, and holidays. Using virtual reality, you can transport students anywhere around the world to explore surface culture hands-on.
However, it is also important to discuss what aspects of culture are not visible in a VR image. Specifically, analyze whether the media includes shallow culture, which is unspoken rules, like types of non-verbal communication. Does the media include deep culture, which are the assumptions that control our worldview, including ethics and spirituality? To integrate deeper levels of culture, consider using primary source media, like video interviews and podcasts, and including SEL topics, like perspective-taking and appreciating diversity. We recommend exploring our Perspective Analysis lessons. These quick activities are centered around one piece of media designed to build critical thinking and reflection skills.
4. Build community with collaborative activities
If you have dedicated time each week for homeroom, study hall, or advisory, you can integrate racial equity and social justice discussions and continue the conversation all year. Using Nearpod's interactive features, you can provide all students with the opportunity to voice their thoughts and discuss difficult topics productively. Encourage participation by hiding student names and share out student responses to keep the conversation going outside of devices. Get creative and design activities that meet your classroom needs.
If you're looking for inspiration, you can check out the examples below!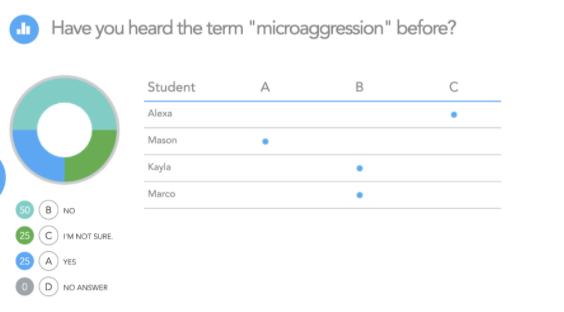 Use a poll for a quick temperature check of the room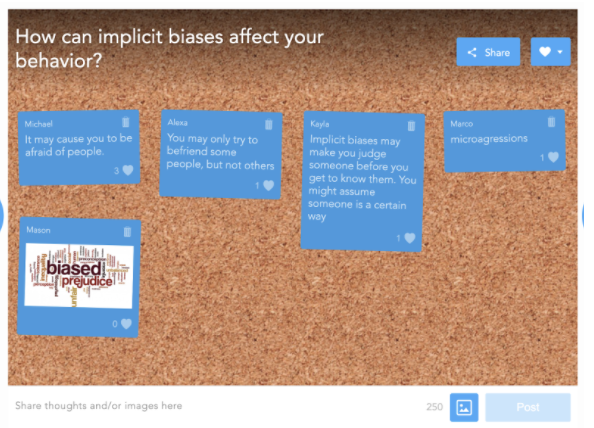 Launch a Collaborate Board for students to make their thinking visible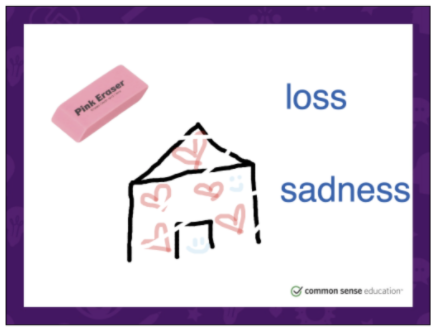 Share out student responses from a Draw It to promote further discussion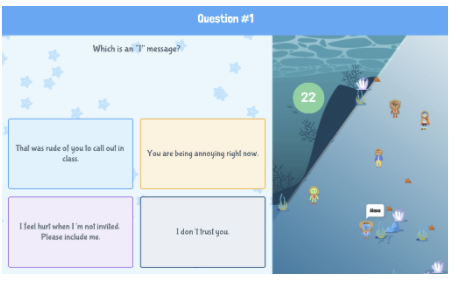 Add a Time to Climb into your lesson to bring the class together in a gamified learning experience
Some prep work for teachers
Many teachers will be having difficult conversations about race, racism, and bias for the first time, right alongside their students. And it's not going to be easy. Many resources are available at the intersection of race, culture, and education. Here are a few tools for self-learning from Nearpod and organizations, authors, and educators we trust as experts in the field.
Nearpod and Flocabulary
Nearpod's Learning Labs is a premium collection of professional development sessions designed for K-12 teachers across many disciplines. Check out the unlocked samples we have included in the Promoting Inclusion Folder.
Additional teaching resources
Reflect on your identity with this exercise from Teaching Tolerance and understand your identity and the identity of your students as the lens through which learning takes place. Consider the racial, ethnic, and cultural backgrounds that make up your classroom. Teaching Tolerance is a great resource for educators, and we recommend exploring the website.
Use social media to connect with and learn from your peers. Follow the #EduColor hashtag, used to facilitate "intersectional discussions of race and education." Here's a guide for using the hashtag.
Let's learn from one another!
What have you learned on your antiracist teaching journey? What are you eager to learn more about? We want to hear from you. Do you have a new implementation suggestion or a different perspective to share about one of our recommendations? Please contact us at [email protected] and let us know! It's important that we have dialogues to grow, consider new perspectives, and take action in support of racial equity and social justice so we can ensure the best for students. We also encourage you to engage with peers on these important topics.
New to Nearpod? Sign up for free to access the interactive activities, lessons, and videos shared on this post!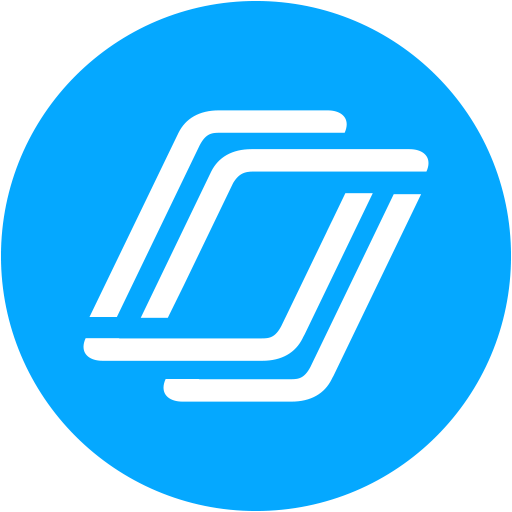 Nearpod's award-winning platform is used by thousands of schools around the globe, transforming classroom engagement.