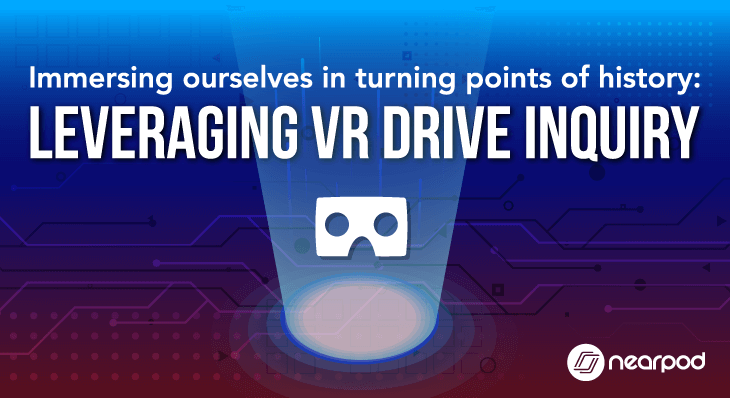 Teach the turning points of history with VR to drive inquiry
Give your history students a reading and they will likely retain 10% of what they read.  Lecture to students and they will likely retain 20% of what they hear. Show students a video, and that they will likely retain 30% of what they saw and heard (Samit 2017).  Read, watch, listen, repeat.
We can do better.  Our students deserve better.  Nearpod can help.
Using Nearpod's Historical Perspectives and Literacy supplemental curriculum, students can engage in immersive learning experiences.  By using the power of ThingLink + Virtual Field Trips, teachers can tap into the social-emotional learning (SEL) centers of the brain by creating entry points through primary source analysis, expanding their perception via empathizing with diverse figures, and learning to communicate with peers.   Getting students to "experience" learning increases emotional engagement by nearly 30% (Samit 2017).  Nearpod's new offering can instantly transform a passive classroom into an active, student-centered experience for learners.
Historical Perspectives from the NCSS C3 Framework
Nearpod's Historical Perspectives & Literacy follows the NCSS C3 framework and as a result, develops questions, applies historical thinking, evaluates sources and uses evidence, highlights communication and taking action.
Historical Explorations
I recently previewed one of the new World History lessons from the Historical Explorations series. I was blown away by how Nearpod is merging rich media, virtual reality, collaboration, and reading to bring historical events into the 21st century. Nearpod combines ThingLink+Virtual Field Trips and primary source analysis. By doing this, they create collaborative activities designed to drive inquiry and promote SEL among students is incredible.  Imagine being able to "take" your students to the Parthenon during your Ancient Greece unit using an interactive 360o VR Field Trip. Students can access primary sources, videos, web links, and Google maps (and more!). They are all embedded in the VR experience.
Nearpod is rolling out a collection of US and World History Historical Explorations, and equally as engaging as the VR+Thinglink is the design of the lessons. This supplemental curriculum is available for school and district licenses. There are sample lessons in the store that you can access here.
Instantly transform a passive classroom into an active, student-centered experience for learners with Nearpod's VR to drive inquiry. - @rkharrell22
Click To Tweet
Engaged Learning by Design
The integration of technology in these lessons is game-changing.  But what I loved was how the lessons designed assessed:
Prior knowledge pre-assessment (What students already know)
Interest surveys drive inquiry-based learning (What students want to learn)
Learning objectives + summative assessments (What students will learn)
On top of that, the lessons provide constant cues for learners to look for;
Connections to prior knowledge
Context to understand the time and place
Investigations that explore time and place using VR
Integration through compare/contrast in collaborative groups
Opportunities to demonstrate learning through real-time formative assessments and Nearpod activities (Nearpod "Quiz" feature is a great exit ticket activity)
But Wait, Thee's More!
I have only been describing Historical Explorations.  Historical Explorations is one of four new types of lessons Nearpod will offer in the Historical Perspectives and Literacy curriculum.  Other offerings include;
Ethnic Studies – uncover stories traditionally underrepresented in history classes
Historical Literacy – guided inquiry of primary source, and opportunities to practice literacy skills in social studies
Global Perspectives – to build global awareness by analyzing modern-day problems around the world.
This update will bring the world into the classroom while promoting critical thinking skills, collaboration, reading analysis, reading comprehension, information literacy, digital citizenship, empathy, and social and emotional learning.  I. Cannot. Wait.
My name is Kris Harrell.  I teach World History at The Dunham School in Baton Rouge, Louisiana.  I am a Certified Apple Teacher, a Level 1 Certified Google Educator, a Flipgrid Certified Educator, a Kahoot! Gold Certified Teacher, as well as a Nearpod Certified Trainer and PioNear.  I want to connect with teachers all over the world that are using technology in new and exciting ways!  I am always looking for new ways to get my students excited about learning, reaching a broader spectrum of learning styles,  and at the same time, building the skills necessary for jobs that don't even exist yet!