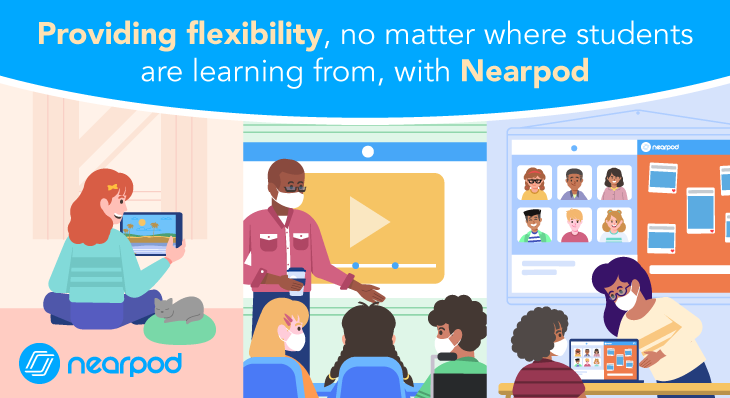 Providing flexibility, no matter where students are learning from, with Nearpod
There's no doubt that COVID-19 has had a profound and lasting impact on K-12 education, and there's no turning back now. We've heard countless stories and testimonies of how Nearpod helped teachers through the past year – from veteran and new users alike. Teachers who used Nearpod to track student progress and engagement through live and student-paced instruction.
When the pandemic first sent teachers, admins and IT directors, home, they turned to Nearpod to stay connected
"I am so excited to have the ability to track student progress on student-paced Nearpod lessons. This makes it so much easier to see in real-time how the kids are doing. I think Nearpod is essential for all learning. I have been using it for over 3 years now and it has made my transition to distance learning almost seamless. To my students, it still feels like school and they are still able to interact with each other."

Elizabeth Wilson, teacher in Florida
"The ability for live instruction with Microsoft Teams is really exciting. Nearpod ensures that educators can connect with students' and support student voice. It offers the capacity to integrate numerous mediums in one place to support synchronous and asynchronous learning, ensuring students are engaged and instructors can differentiate for their students."

Tiffanye McCoy-Thomas, Ph.D., AP instructor, District Instructional Specialist, and District Liaison for the 21st Century Grant in Louisiana
Nearpod helped teachers connect with all their students, and made a back-to-school unlike any other a bit easier for IT directors.
"Nearpod has been a great resource to use during virtual learning. Within a single lesson, I can assign several activities that provide multiple opportunities for speaking and listening. It has also been a great resource for parent engagement. Through the immersive reader/translation feature, my Non-English-speaking parents have been able to become more engaged in their children's work."

Christina Golgozeanu, elementary EL teacher at Hartford Public Schools in Connecticut.
"The implementation of our hybrid learning environment has reinforced the importance of having a dynamic instructional technology strategy in place, particularly when they are not all physically present. Nearpod has been one of those rare unicorns that has managed to help our district meet both of these demands – engaging lessons in the classroom and efficient setup by our IT team."

Chris Enck, IT Director in Pennsylvania
When schools began returning to the physical classroom fully or in a hybrid setting, Nearpod continued to be a must-have
Though in some cases, edtech platforms such as Nearpod were adopted specifically for distance learning, educators soon realized its value beyond the pandemic as they looked to return to the physical classroom.
For example, Blue Springs School District in Missouri gave families the option to learn in-person or at home, making different adaptations for elementary, middle and high school students. While elementary and middle school remote learners were grouped into fully distanced and fully in-person classrooms, the high school needed to find an alternative solution to allow for seamless live instruction for students both in-person and at home simultaneously.
Utilizing Microsoft Teams and Nearpod, educators were able to maintain consistency through Nearpod's live instruction. Some teachers also utilized asynchronous instruction to pre-record sessions, include voice recordings on slides to maintain connection, and ultimately provide a great instructional experience for all students.
"Nearpod allowed me to create one lesson for a course and share it out to both my in-person students as well as my distance learners without any alterations. Those who were unable to be a part of my class in real-time used the student-paced code to work through the same content later. With 3 different social studies preps, this kept me from having to create 6 different and unique lessons on a daily basis and allowed for my distance-learners to receive the same instruction."

Nolan Hochgrebe, Blue Springs High School History Teacher
Meanwhile, Dallas Independent School District, which also returned this year in a hybrid learning setting, has also been making use of Nearpod in the classroom as well as for teacher PD.
"Once the math department was introduced to the Nearpod platform, it was a game-changer. We use Nearpod to present our professional development training, so we can engage teachers virtually and have them experience topics from the student and the teacher lens."

Jackie Malone, Math Professional Development Coordinator, Dallas ISD
At Sioux City Community School District in Iowa, where approximately 20% of students throughout K-12 are enrolled in distance learning, virtual teachers have used both live and student-paced lessons to engage students in learning.
"Elementary teachers have used Nearpod as one of their primary "testing" programs as we have had to rethink how we administer assessments to students who are learning from home. Teachers enjoy the multiple opportunities and methods that Nearpod provides for students to demonstrate their understanding of a concept."

David Vickery, Digital Learning Program Coordinator, Sioux City Community School District.
Looking ahead
As teachers look to stay prepared for sudden shifts in instruction, reliable edtech platforms that provide fluency from in-person to virtual learning environments have grown incredibly more valuable than any other point in the digital era. As more classrooms become 1:1, a powerful, interactive edtech tool that consolidates everything a teacher needs in one place will remain critical. Our primary research revealed that 99% of teachers anticipate using Nearpod in some capacity after the pandemic ends.
Previously non-existent and infrequent users of Nearpod now see it as a vital tool and have invested in building content on our platform. There's been a massive behavior change in teaching over the course of the pandemic, as educators have become accustomed to using platforms that seamlessly integrate interactivity and formative assessment, and also provide real-time insights into student progress.
"I used Nearpod last school year to connect remotely with my students, but I switched schools over the summer. After a few weeks into the 2020-21 school year, I convinced my district leaders to bring Nearpod on board districtwide. Regaining access to Nearpod made me feel like a teacher again. I worry less about if my technology is working and can focus more on creating engaging, meaningful classroom experiences. It's also been an incredible tool for building my own curriculum, and ensuring the lessons I create are interactive and pedagogically sound."

Kathleen McKeveny, 6th-grade teacher in California
Instructional edtech is here to stay
It's clear that there's been a significant behavioral shift that's taken hold in classrooms across the country as educators have adopted instructional technology throughout the pandemic. Having an instructional platform like Nearpod that works for sudden distance learning, planned distance learning, in classroom environments and everything in between will remain an integral part of educational experiences as we look ahead.
"Student engagement is a top priority for our teachers and our community. As we looked for a solution to support this priority in distance learning, teachers overwhelmingly pointed us to Nearpod. It's been a game-changer for our district, and even as we look to return to the classroom, we know Nearpod will remain a critical component to our students' learning experience."

Aleigha Henderson-Rosser, Executive Director, Department of Instructional Technology at Atlanta Public Schools in Georgia
In the future, we expect districts and educators to look to bridge the experience gap through thoughtful use of technology – with seamless interoperability that merges all their favorite content and tools in one central location for ease of use.
"When I create materials for them in Nearpod, my students know that I am still there helping them study or prepare for a quiz just like I was when we were physically in the same room. I like Nearpod because it is very easy to use (and I'm no genius with super technology powers), it gives me individualized information on my students' performance, and I can reuse what I create. It's appropriate for both in-class and virtual learners. Nearpod has been a component of my hybrid, virtual, and in-person classes, and I will absolutely continue to use it!"

Joy Klotz, Blue Springs High School Project Lead the Way (PLTW) Biomed and Science Teacher
Sitting at the center of instruction for millions of teachers and students worldwide, Nearpod creates an intuitive and interactive learning experience regardless of where learning is taking place. On the other side of the pandemic, we can expect edtech to remain a vital part of the classroom in more device-rich learning environments.
How do you plan to use Nearpod in the future with your students?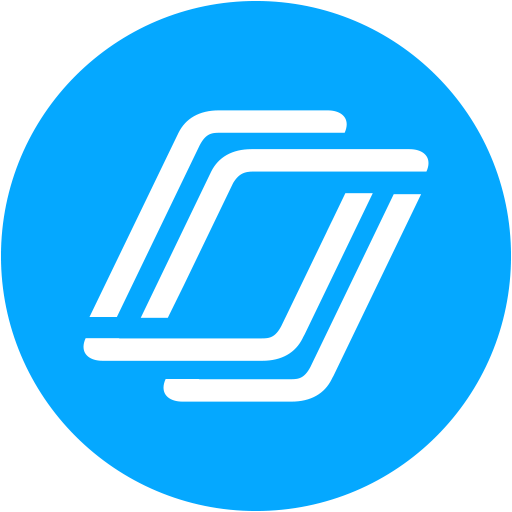 Nearpod's award-winning platform is used by thousands of schools around the globe, transforming classroom engagement.