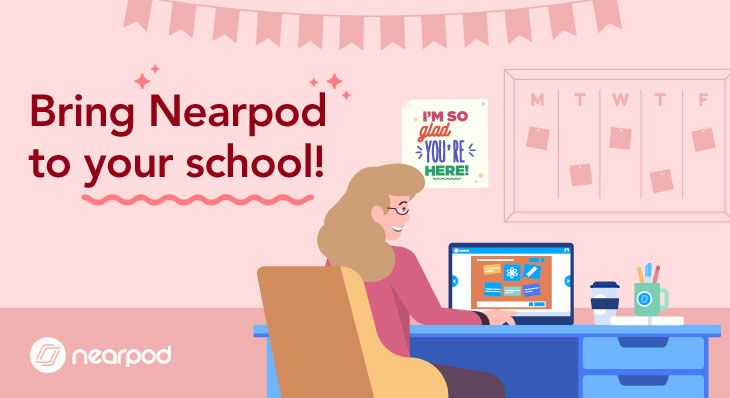 Bring Nearpod to Your School Challenge
Nearpod is hosting a challenge for teachers who have a Silver (Free) Nearpod account! The top 10 teachers who launch the most Nearpod lessons during the dates September 20th to October 24th will win a School License subscription. We will also be giving out weekly swag prizes by selecting the top teacher who has launched the most Nearpod lessons that week.
This means that if you're one of the top 10 Silver teachers to launch the most lessons during these dates, Nearpod will donate a Site License to your school! View all of the amazing features available with a School Site License.
Not only can you unlock all of Nearpod's features, your fellow teachers and administrators can also! That's the power of a Nearpod School License.
Keep reading to see our Challenge FAQ and learn tips and tricks for entering.
Challenge FAQ
What is it?
It's a contest for teachers who have a Silver (free) Nearpod account. Participants will launch Nearpod lessons each week for a chance to win weekly prizes and/or a Nearpod license for their school. Read the Terms and Conditions here.
When does the contest take place?
Monday September 20,2021 – Sunday October 24,2021
Who can enter?
This contest is only for teachers in the United States who currently have a Nearpod Silver account or sign up for a Nearpod Silver Account. You are automatically entered into our challenge if you have a Nearpod Silver account.
What is the prize(s)?
For the grand prize, Nearpod is donating 1 School License to the winning teacher's respective school on behalf of each of the 10 winning teachers. Each of the 10 winners will also receive a Nearpod swag pack.
There will also be weekly Nearpod swag packs given away to the top Silver teacher that week.
How can I enter/participate?
If you have a Silver account, you're automatically entered in the challenge. You can participate by launching Nearpod lessons you've created, edited, and/or downloaded from our lesson library. Launching a lesson means hosting the lesson with Live Participation and/or Student-Paced. Learn how to launch a lesson.
If you have any other questions, please reach out to [email protected]
You may be an expert when it comes to leveraging the power of Nearpod in your classroom, but it's important to recognize all the different ways you can infuse Nearpod into your practice to enter. Here are some tips and tricks for how to get there by expanding your idea of how Nearpod can support your instruction!
Making the most out of your Nearpod experience during the challenge
Teaching is about imparting skills and information into learners through a variety of means, but great teachers all have something in common- they are continually assessing and reflecting on whether students have grasped the concepts at hand. Nearpod provides the means to do just that in so many different environments and technology landscapes, all while ensuring the learning experiences are engaging, accessible, and inclusive for students. Let's review a few of my favorite ways to infuse Nearpod into your instructional practice, and keep in mind each of these will make you eligible for entry into our contest!
As a former HS social studies teacher, I leaned heavily on the lecture format to deliver information about events in US and World History. I prided myself on being the most enthusiastic and captivating orator I could possibly be and yet the evaluative feedback I got was always the same, "We'd like to hear the students more." They were right. I found Nearpod's platform and immediately recognized its ability to transform my lectures into interactive experiences where the content I delivered was all that more engaging and I was consistently injecting formative assessments in a variety of ways for students to demonstrate comprehension.
Simple ways to get started on creating your own Nearpod lessons
With Nearpod, you can make slides-based lessons interactive and gather data on student understanding.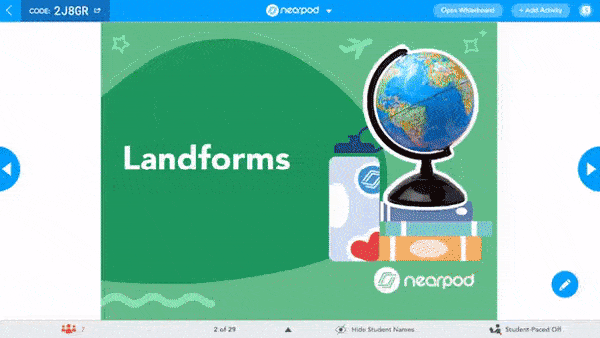 You can make any lesson interactive by searching Nearpod's lesson library for pre-made lessons according to standards, subjects, and grade levels. You can also create your own slide-based lesson with interactive formative assessment features.
Transforming one of your lectures is as easy as uploading an existing PPT or Google Slides presentation into Nearpod and infusing dynamic media and activities at strategic points, or modifying Nearpod's pre-made lessons from the lesson library to fit your classroom.
Some ideas include:
Add a poll or a VR field trip at the beginning of class to spark discussion or real world connection
Insert Draw Its, Open Ended Questions, or a Collaborate Board to let students make their voices heard throughout the experience
Embed a Quiz at the end to serve as an exit ticket
These 4-5 additions to my existing lesson transformed it from a passive to active learning experience for my students and I was more informed along the way because of it.
Interactive Video: Choose a pre-made video lesson, or create your own in minutes
On Interactive Video, you can create active video experiences in any lesson while checking for student understanding using built-in questions. Another aspect of my teaching practice involved sharing videos with students as a means to flip the classroom ahead of a discussion or after a lecture to extend their learning. My Government students adored Craig from Crash Course Government, and yet I always found sharing these videos to be too passive of an experience.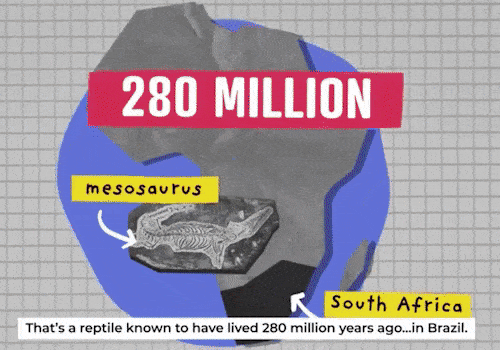 With Nearpod, I could make these videos interactive by injecting questions into strategic parts of the video just like I could with my lectures. 11 minutes is a long time to sit and watch, but by answering multiple choice or open-ended questions throughout the video I could ensure students would be paying attention and applying what they learned throughout.
When I used this strategy to flip the classroom, the data would give me confidence that students understood a given concept like Separation of Powers ahead of committing an entire period to a debate on the subject. What's even better was that Nearpod has a library of thousands of these videos with questions already written including some incredible Nearpod Originals, so I didn't have to start from scratch.
Here are a few teacher favorites! Use these video lessons as is, modify them, or use them as inspiration to create your own:
Choose from standards-aligned activities and gamification lessons, or create your own in minutes
An additional way I encourage teachers to unleash the power of Nearpod is by injecting some gamification activities into the classroom experience. Nearpod's gamification and activities include Time to Climb, Draw It, and Matching Pairs.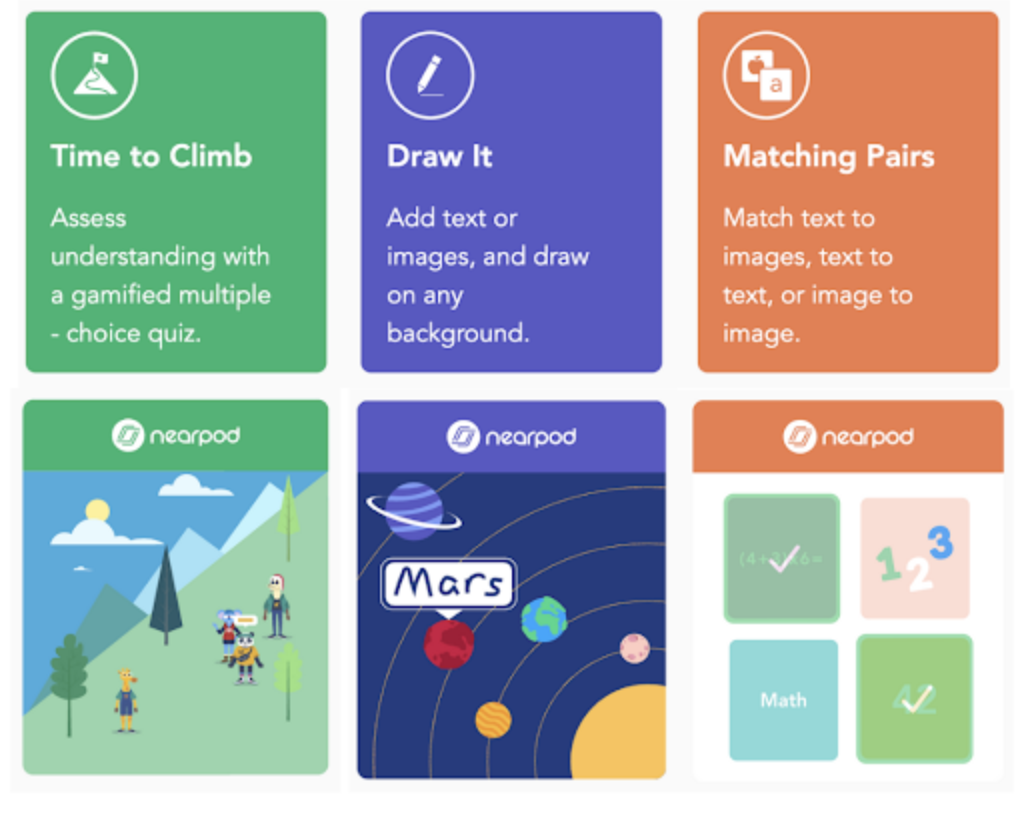 At the end of an especially rigorous week, I would make a 10-question Time to Climb trivia quiz and let my students duke it out for who would sit atop the mountain as the master of that week's knowledge base. This fun routine became a staple of my classroom's culture and Nearpod made it so easy by offering a huge library just like with video or letting me convert existing quizzes into Time to Climb with the click of a button.
Use these activities as is, modify them, or use them as inspiration to create your own:
Draw It Activities (K-12 ELA, Math, Science, Social Studies, Life Skills)
Matching Pairs Activities (K-12 ELA, Math, Science, Social Studies, Tech & Other)
Time to Climb Activities (K-12 ELA, Math, Science, Social Studies, Life Skills)
Any of the above strategies- turning a lecture into an interactive experience, flipping the classroom with interactive video, or injecting gamification with Time to Climb- are easy ways to dip your toe in the water of Nearpod and understand the power of the platform. The best part though, is that doing any of the above will automatically enter you in our contest!
Don't forget to use these tips and tricks as a guide for when you're creating, downloading, and launching lessons. Good luck, teachers!
If you're looking for resources to provide your administrators about Nearpod and/or looking for alternative ways to fund a Gold or platinum license, click below!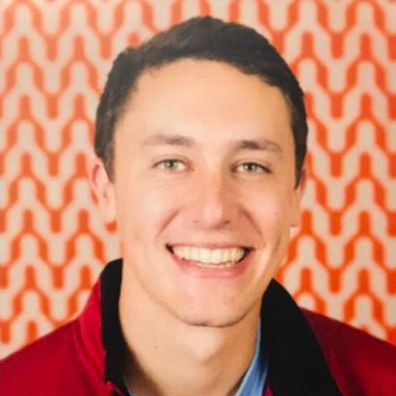 Adam is a Learning Experience Designer at Nearpod. He previously taught High School History teacher in Houston, Texas where he also served as the Social Studies Department Chair. Adam is currently in charge of the quality control of Nearpod's learning experiences. He is also the manager of the Digital Citizenship and Literacy program.