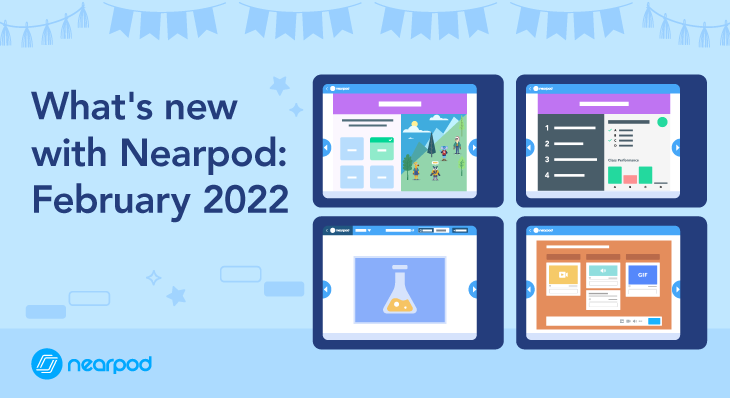 What's new with Nearpod: February 2022
At Nearpod, we're always looking for unique ways to support teachers. This winter, we're releasing new updates for your favorite Nearpod features, such as Collaborate Board, Time to Climb, and more. Keep reading to see a full list of winter updates and how you can use them in your classroom!
Create even more impactful instruction with Nearpod
As a teacher, you know how powerful it is when you have an incredibly engaging lesson or classroom discussion. Students are energized, motivated, and excited to learn more which boosts student achievement and outcomes. Great lessons empower classrooms and bring in opportunities to build community, master a new academic concept, and give teachers feedback on exactly where students may need additional support or enrichment. However, creating truly effective lessons that accomplish all of these things at once can be challenging. Many teachers struggle to ensure that every student has a voice in a lesson or classroom discussion. Others may grapple with creating engaging lessons that are also meaningful and purposefully aligned with lesson and curriculum objectives. Students struggle to stay motivated to learn in less engaging or empowering lessons.
According to the EdWeek Research Center students and teachers surveyed found that student motivation and morale are lower now than they were prior to the pandemic (2021).
50% of students surveyed self-reported less motivation, and 49% reported a lower morale.
The teachers surveyed on the same student motivation and morale reported that 87% of students were less motivated and 82% had even lower morale compared to before the pandemic.
To help solve the challenges of low student engagement and morale, we're excited to announce new Collaborate Board features and Time to Climb enhancements. These incredible updates will make it easier than ever for teachers to re-engage their students and help students feel heard, included, and empowered in the classroom.
1. Bring student-centered discussions into Nearpod with Collaborate Board's newest features
As part of supporting student engagement and impactful instruction, we are introducing a new and reimagined Collaborate Board that encourages student-centered discussions. This interactive discussion board allows for 100% student participation as well as provides students to engage with multiple and diverse perspectives.
With these latest updates, Collaborate Board offers:
New themes and backgrounds
Ability to add more reference media
New media options for students' posts
Ability for students to reply to posts*
Ability for teachers to organize posts into columns*
*Available in a School/District Premium Plus license only
With Nearpod's reference media in Collaborate Board, teachers can now scaffold and differentiate for student needs by allowing them to access images, PDFs, web content, videos, or audio files during a Collaborate Board discussion.
Collaborate Board's new media options enable students to add videos, audio recordings, and GIFs to their Collaborate board responses in addition to text and images.
For school and district users with a Premium Plus license, teachers will also have the ability to sort student responses into columns so students can organize their ideas. Additionally, Premium Plus users can allow students to thread replies to posts on a Collaborate Board, ensuring classroom discussions are student-centered and give students the opportunity to learn and add to each others' contributions, providing a platform for true collaboration and communication.
2. Transform quizzes into instructional moments with new Time to Climb enhancements
Using games to supplement learning experiences in the classroom is a wonderful way to re-engage students. With the latest updates to Time to Climb, teachers will be able to turn those fun, gamified moments into instructional opportunities.
Time to Climb is a teacher favorite for gamified quizzes in the Nearpod platform. In this gamified multiple-choice quiz, students answer questions correctly and quickly to race to the top of a mountain.
With these new enhancements, Time to Climb options increase to bring you:
New themes
Multiple correct answers
Volume controls
Pausing between questions
All new teacher data on the dashboard
New themes available in Time to Climb include beach, carnival, and sports adding to the existing underwater, space, mountain, and seasonal themes already included. These new themes will be available all year long, while our Valentine's, Halloween, and Winter Holiday themes will continue to be accessible during these holiday time frames.
Time to Climb users will now be able to create questions with multiple correct answers. Additionally, we know many teachers asked for more volume controls, which are now available. Both the teacher and student can access volume controls for smoother game play both in person and in virtual classrooms.
Two new features in Time to Climb are the ability to pause between questions and the ability to view data on student understanding in the Teacher Dashboard as students are playing. With the new capability to pause and student data, these features allow teachers to strengthen instructions and address any student misconceptions. Teachers can guide their instruction while engaging students and access additional data insights on every quiz question.
3. Save time creating lessons, videos, and activities with a growing library of standards-aligned resources
The support for teachers continues in how you prepare and how you teach. Our library of resources continues to expand, providing more options to meet the specific learning needs of students. Once you have chosen or built your lesson we have also made it easier to share that lesson with students with a new Teacher Dashboard.
We know that lesson resources are plentiful across the web, but we want to make searching and using quality lessons easier. The Nearpod lesson library has lessons that support differentiation, provides resources to fill in gaps in the core learning and meet the interests of students in the classroom. The new lesson, videos and activities add up to more time working with students and less time searching the web. Our latest release of new lessons, videos, and activities includes:
4. Access student responses in real-time and more with the new Teacher Dashboard
The update to the Teacher Dashboard in a Live lesson is one of those subtle but powerful changes. Everything you have always loved is still there, just in perhaps a slightly different spot, plus everything you didn't even know you wanted!
The Teacher Dashboard includes a new Menu that keeps your key teacher tools handy but out of the way, such as the option to add an activity on the fly or the option to send your post-session report to your email. But the best tool in that Menu is the Presentation option. This button opens a student view of the Nearpod lesson in a new window. This window can quickly be pushed to another screen for easy viewing from the front of the room leaving the teacher screen private for you.
Quickly and easily access the Whiteboard option from the Teacher Dashboard, allowing you to slide a blank screen in front of your lesson on student devices for an impromptu example or additional explanation. Close it when you are done and move on with the lesson.
But the favorite update only appears when you need it! When you include an Open Ended Question, Matching Pairs, Draw It, Poll, or Quiz in your lesson you will see the new Student Teacher toggle button. The Activity opens in student view automatically, giving you the option to model or provide instructions. Then you can click Teacher to toggle to quickly see student responses. Need to go back and discuss part of the Activity, toggle back to Student. Modeling for students has never been easier!
We're so excited to see you put these updates to use with your students! Remember to stay up to date with our Nearpod Updates blog post to see what's new biweekly. We're always releasing new enhancements, features, lessons, and activities to support you and your students.
Using games to supplement learning experiences in the classroom is a wonderful way to re-engage students. With the latest updates to Time to Climb, teachers will be able to turn those fun, gamified moments into instructional opportunities.