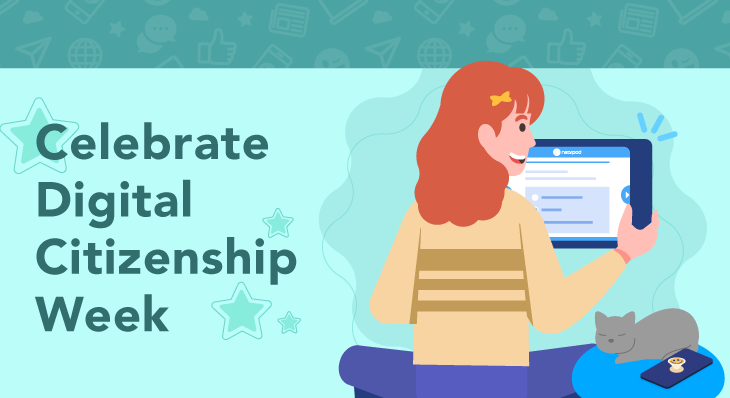 Free lessons for Digital Citizenship Week
What is Digital Citizenship Week?
Every year, the third week of October is coined
Digital Citizenship Week
. Teachers use this time to teach about digital citizenship and support students in developing the skills they need to use devices safely, ethically, and effectively.
Now more than ever it's important to empower students to think critically and participate responsibly in the digital world through media literacy and social emotional learning skills.
Free lessons for Digital Citizenship Week
Nearpod and Flocabulary have curated free resources for you for
Digital Citizenship Week
to teach about online safety, cyberbullying, and more. You can use these whether you are teaching virtually, hybrid, or in-person.
There is also a helpful PDF below to download and share with your teacher friends! Here's what we have planned.
Tweet a picture of your classroom (virtual or in-person) using these lessons with hashtag #DigCitwithNearpod!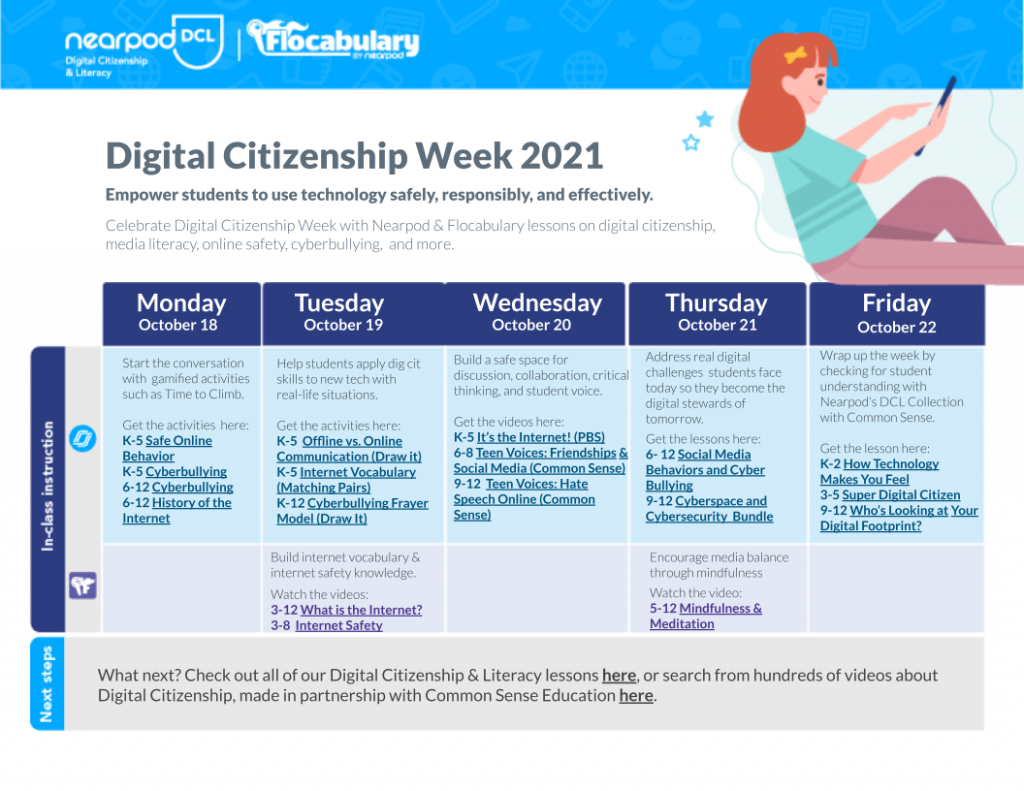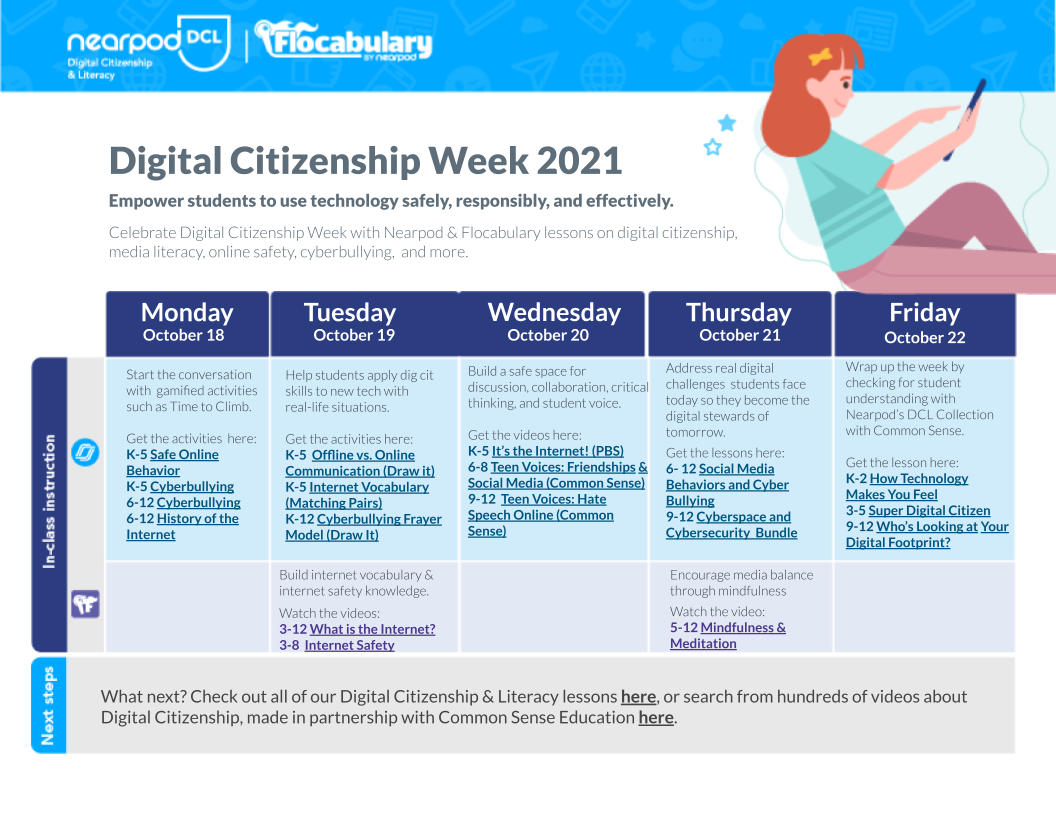 Day 1: Introduction to digital citizenship
Nearpod
Start the conversation with stand-alone gamified activity such as Time to Climb. Build awareness about dig cit week with these Time to Climb lessons:
Day 2: Navigate tech applications & the internet
Nearpod 
Help students apply digital citizenship skills to new technology with real-life situations that prepare for tech use in and beyond school. Use Matching Pairs and Draw It activities to balance tech use with regular instruction:
Day 3: Evoke discussion and critical thinking with videos
Nearpod
Build a safe space for discussion, collaboration, critical thinking, and student voice through Nearpod's Interactive Video lessons.
Day 4: Balance media literacy and mindfulness 
Nearpod
Address real digital challenges and dilemmas students face today so they become the digital stewards of tomorrow. Use these lessons to teach about social media behavior and cybersecurity:
Flocabulary
Mindfulness is a practice and state of mind that involves noticing your thoughts and bodily sensations. Studies have shown that it can help increase focus, manage stress, and avoid conflict. Play this Flocabulary video,  Mindfulness & Meditation to incorporate life balance.
Play now
Day 5: Wrap up the week by checking for student understanding
Nearpod
Nearpod's 21st Century Readiness Program includes 650+ ready-to-run digital citizenship interactive lessons, videos, and activities covering topics like cyberbullying, coding, keyboarding, social media, media literacy, and more. Every lesson includes social and emotional learning and college and career readiness resources connected to what you're teaching that day. Shape how your students participate in our interconnected digital world by using our sample lessons:
Interested in unlocking our full DCL collection?
Share these resources with an administrator to learn more.
Free Digital Citizenship posters!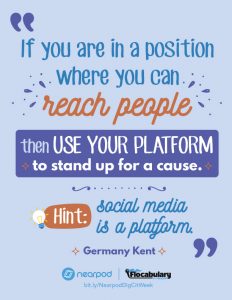 Download these FREE digital citizenship posters to hang in your remote classroom, grade level hallway or teacher's lounge. Also, If you have student devices, you can also use these posters as a tablet background to remind your students to be productive members of the online community, for all those times we aren't watching.
What to do when the week is over:
Continue the conversation about digital citizenship beyond this week. Nearpod has
Digital Citizenship and Literacy supplemental curriculum
to support instruction in computer science including digital citizenship, coding, applications of technology, and media literacy.
Reminder: Tweet a picture of your classroom using these lessons with hashtag #DigCitwithNearpod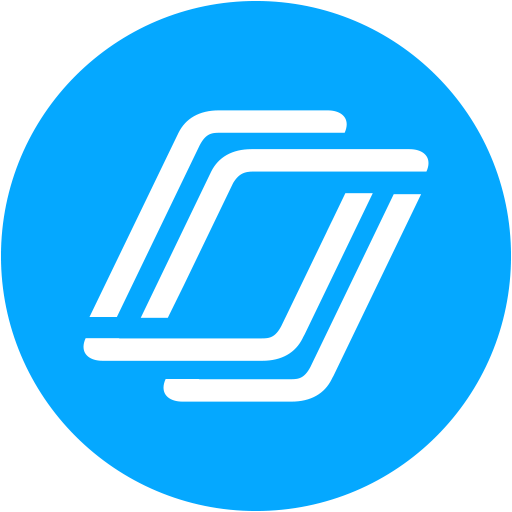 Nearpod's award-winning platform is used by thousands of schools around the globe, transforming classroom engagement.