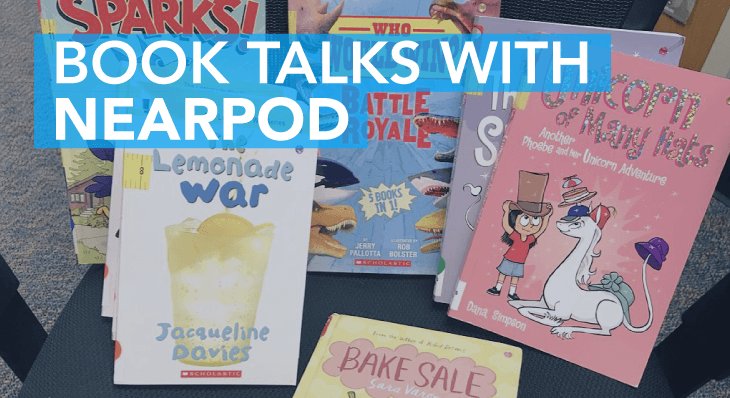 Book Talks with Nearpod
The library: once a spot for only library checkouts and sharing storybooks, and now a space full of technology and kids who are often more savvy on the tools than the teachers attempting to lead lessons about them.  For those of us in the library who still crave that time with the students; finding them their next best reads, using the perfect voices in a read aloud that keeps them chuckling for days, or (most importantly) teaching our students that a passion for reading is just as cool as the tablet, phone, or laptop that they can't wait to get home to; finding that balance can be tough.
After attending NerdCampMI this summer, I was more riled up than ever to get the best books in the hands of our kids.  And, yet, I knew that THEY were excited to get back to the tech tools, the websites, and the apps.  So how could I mix my hopes of sharing the best-books-ever with my students while getting them totally pumped to hear about them?  This became my goal for the upcoming school year.
This week our YGS and BGS 3rd graders are using @nearpod to respond to our library book talks! We are sharing a stack of "gems" from our shelves… can you tell which books match each response on Nearpod? #bookendgems pic.twitter.com/ZdVy6ZO2I6

— ???. ??ℍ??? (Steph) (@Mrs_McHugh) August 23, 2018
Our district purchased Nearpod at the end of last school year, and in my head, it was one more daunting tool to try to learn and understand before the kids came back to school.  But with my new mission in mind, I turned to Nearpod and decided to at least give it a shot, and I am so grateful for where it has taken us so far.
In our elementary libraries, we are promoting titles by referring to them as "book gems;" the students are going crazy over the gem stickers attached to each book to indicate so. The Nearpod platform is incredibly user-friendly and the interactive piece was just what I was looking for to increase student engagement in our book discussions.  Students were able to hop onto Nearpod – no username/password required for them which saves an exorbitant amount of time, and join my session by entering a 5-letter code.  (Even my first graders could do this easily! Hallelujah!)
Use Nearpod to respond to book talks! Learn how @Mrs_McHugh launched this initiative.
Click To Tweet
Students shared the book gems which they were most excited about by creating drawings characters, settings, or ideas in the stories that stood out to them!  (In one class, after book talking The Lemonade War series almost every student included a glass of lemonade in their drawing!) The kids were beyond excited to watch as each of their classmates' drawings were revealed on the screen, and the students left asking when we could use Nearpod again… AND talking about the books they were excited to read.
I'm still learning, but Nearpod has taught me that I can take baby steps to get me to the place that I need to be.  The library can STILL be a place where kids love stories, but we can use technology to keep them engaged with the books that we share with them.  What will I plan next using Nearpod? The possibilities are endless, but for now, I'm taking time to celebrate this small success as I watch our students walk out the door excited for the new books in their hands.
Mission: accomplished.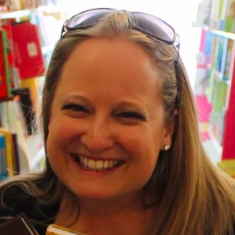 Steph is a book-loving elementary school librarian who loves incorporating new tech ideas into her story-filled adventures in the library.