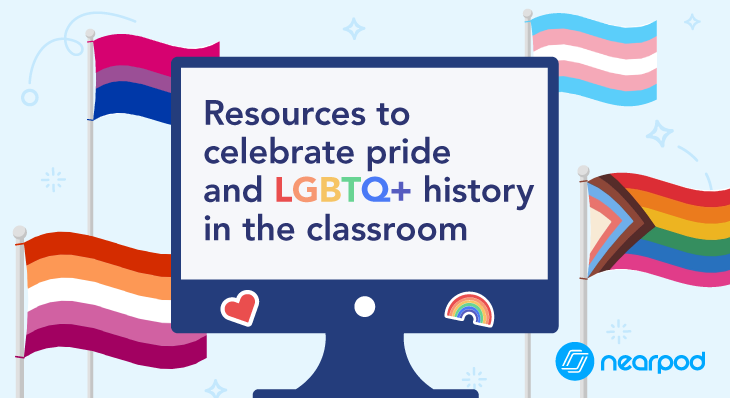 Resources to celebrate pride and LGBTQ+ history in the classroom
Included above are a few Pride flags. There are many different Pride flags celebrating the queer community and different queer identities.
In June, we celebrate Pride Month. The month was chosen to honor the 1969 Stonewall Uprising. While Stonewall was not the beginning of the fight for LGBTQ+ rights, the event is often considered a tipping point that helped raise awareness and galvanize people and groups to the cause.
Pride month is a great opportunity to bring LGTBQ+ topics into your classroom and to help increase representation to make sure all students see themselves reflected in their curriculum. Below, we've curated resources you can use to celebrate LGBTQ+ history in the classroom during Pride Month and all year long.
Resources from Nearpod and Flocabulary 
All of these Nearpod lessons can be found in our Pride Month folder. We recommend teachers preview these resources, as some of the topics covered may be emotional or sensitive for some students.
Other resources: 
Looking for more? Below, we've included additional teacher-recommended resources to celebrate Pride and honor LGBTQ identities in the classroom. Be sure to preview these materials to be sure they meet the needs of your learners and some of the topics may be emotional or sensitive for some students.
The learning doesn't end in June! You can use any of these resources at any point in the school year. And remember, a more inclusive classroom benefits all learners, creating more room for empathy and understanding and helping all students feel engaged, valued, and heard.
Happy Pride Month!