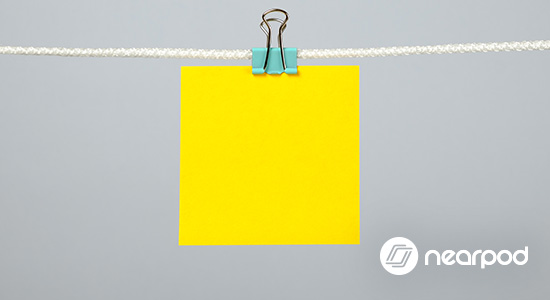 A Great Idea is Only 1%
This post is written by Melissa Pelochino, the Director of Teacher Professional Development at Nearpod.  
Design thinking…
I studied it
I taught it
I practiced it
at the mothership of design thinking: Stanford's d.school.
In fact, after completing a year-long fellowship there, I stayed as the Director of Teacher Professional Development in the K12 Lab.  I had the opportunity to teach hundreds of educators the power of design thinking.
I took great pleasure in watching group after group come through the glass garage doors, sit on the infamous red couches, challenge their own beliefs and assumptions and leave with new perspectives.  
My time at the d.school was no less transformational.  My experiences there not only changed the way I work, the way I collaborate, and the way I think…they changed the way I see the world.
And so, I re-entered the real world, ready to make a dent.
I had observed, researched, interviewed, analyzed, synthesized, prototyped, failed, iterated, tested and refined for YEARS.
I had identified an implicit need in teacher professional development.  I had thought of a feasible, innovative solution to meet that need, and according to my empirical data, educators really wanted it!  I had done the hard work.
Or so I thought.
Soon after I began bringing this solution to life, I quickly came to the realization that coming up with an innovative idea – even a really good one – is only 1 percent of the work.
Yep, that's right.  Just one percent.
This post is about what happens after you have cleared away all of the post-its and you are left with one idea.  This is about the other 99 percent.
I'm talking about implementation.
How Hard Can It Be?
If you look up the definition of "implementation" in the dictionary, you will find the following:
the process of putting a decision or plan into effect; execution
The definition seems simple enough: just do it.  
I consider myself a "do-er." As an inner city classroom teacher, I was able to pull off some major feats:
Get my students' art onto a highway billboard?  Check.
Close down city streets and run a street fair with no budget in 9 days?  Done.
Help my students grow 3-4 years in reading in a single year?  Yes!
So, how hard could it be to take an idea and make it real?
Well, as it turns out, very hard.
My first action in the real world was to turn my prototype for a new teacher professional development experience into a pilot. I spent three months building the content and six months testing it with 18 schools. I partnered with a third-party data collector and followed up with qualitative interviews.
The feedback was encouraging.  Yes, there were lots of suggestions on what to change, build, and try.  But overall, people loved it.
It takes REAL commitment
It was at this stage in the process that I came to a point of no return; I realized that in order to make this work, I had to put everything else on hold. This is when I started talking about the idea with friends and family. It's when I called my 91 year-old grandma and said, "Hey, I am working on this thing," even though I knew she would make it the focus of our weekly conversations.  
Opening myself to inquiry meant making myself vulnerable to judgement and evaluation by those closest to me. It meant allowing my personal world to hold me accountable for my professional world.  It was at this point that things started to feel real.
I had unknowingly already put major assets on the line:
my reputation
my financial security
my sanity
Doubt started to creep in. I had to cling to hope that my instincts, my data and my product was right.  
My 99 Percent  
I am sure that everyone's 99 percent differs.  My 99 percent represents everything I failed to consider as I daydreamed about millions of teachers using my product.  It's all the behind-the-scenes stuff, the nitty-gritty details people will never see.  It's the to-do list that is so mundane and detailed and complicated that talking about it literally puts my spouse to sleep.
Here is a glimpse into my 99 percent:
Legal work. How do you read and understand all that legal mumbo jumbo?  What is intellectual property again?
Cold calling. There is no better way to humble yourself than to cold call 1,000 people only to  be hung up on or stood up at 4 AM.
Marketing collateral. If you saw my closet, you would know I have ZERO design aesthetic. How do you make a one-pager that people will actually read?
Budget. Ever tried to predict a budget for a year-long project you haven't even started for a team you haven't hired?  
Fundraising. Can I learn how to create a competitive landscape, a go-to-market plan and a pricing strategy from a quick YouTube video?
Email campaigns. How exactly do you explain something that nobody has ever seen or tried?  It can't be too general or too specific and it has to appeal to several stakeholders in 20 words or less.
Hiring a team. Those online interview questions suck!
Engineering.  It turns out digital content is very complicated. I don't even understand what the engineers are saying, let alone what they are doing.
Sales.  How do you actually sell this?  I am an educator.  I don't like to talk about money, even at the bank.
Public Relations. Coming to the realization that all of the awards and "30 under 30" lists are a PR play took me back to my 9-year-old self when I learned the WWE was fake.  Devastation. You mean Brutus the Beefcake is not the best ever?
A Shift in Identity
After being on the inside of education for so many years, I was amazed to see how taking on new roles pushed me to the outside almost overnight.  I am now one of those people emailing and calling folks, asking them to buy my latest and greatest thing.  
It feels like I went from educator to designer to salesman in record time.  This shift still feels funny and I am actively working to communicate the "why" before the "what" in order to remind myself of the importance of this work.
I am still looking for my big girl pants when it comes to talking about money or IP or contracts.  It's all a work in progress.
The Fear of Failure is Real!
I have just begun a soft launch of this product.  As excited and committed to this solution as I am, I still lay awake at night, terrified people won't actually buy it. I find myself walking through stores, pointing at things that look innovative and helpful that I would never buy.
Only time will tell whether these fears become reality.
But in the meantime, I charge on, learning as I go.
I don't share this to scare people away from innovation.  
I share this because I hope people will carefully consider which problems are actually worth solving.  To me, the problems around teacher professional development are worthy of innovation. I believe that creating access to engaging and meaningful professional learning experiences at scale will have a significant impact on our future world.  
So, I ask that you please continue to Innovate! Create!  Fill out those post-its.
But heed this warning:
Remember that an amazing idea is only 1 percent.  
And ask yourself, is the problem I am solving worth the other 99?
Melissa Pelochino is the Director of Teacher Professional Development at Nearpod.  
To participate in the soft launch of Ready to Run PD, signup here.